10 Best Benchtop Jointers of 2023 – Top Picks & Reviews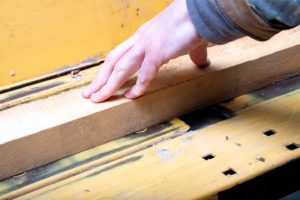 Regardless of what you're building, if you start with crooked, warped boards, you're going to have a very difficult time making the finished product even, level, and uniform. When working with bent boards, every step of the building process becomes more difficult.
Benchtop jointers offer a compact and portable way to flatten out those less-than-perfect pieces of lumber so that when you start to build with them, they're perfectly straight and even. These machines are small enough to fit on a benchtop and light enough to transport.
But we're never happy simply purchasing a tool and using it. We always have to make sure that we purchased the best tool, which is why we've written the following 10 reviews comparing our favorite benchtop jointers. These comparisons should help you determine which benchtop jointer is best for you without having to try each of them first.
A Quick Comparison of Our Favorites in 2023
Rating
Image
Product
Details

Best Overall

CRAFTSMAN CMEW020 Benchtop Jointer

Very solid build quality
Lightweight and portable
Covered by a 3-year limited warranty
CHECK PRICE

Best Value

PORTER-CABLE PC160JT Benchtop Jointer

Variable speed range
The fence is center-mounted for ample support
Weighs just 35 pounds
CHECK PRICE

Premium Choice

WEN 6560 10-Amp 6-Inch Benchtop Jointer

Protected by a two-year warranty
Filter bag and dust port keep the mess to a minimum
Solid
cast iron base prevents vibration and movement
CHECK PRICE

RIKON 20-800H

The fence tilts from 90-135 degrees
The table extends to 51.5 inches
Weighs less than 50 pounds
CHECK PRICE

Jet JJP-8BT 8" Benchtop Jointer Planer Combo

Compact size won't overcrowd your workshop
Can work with material up to 8 inches wide
Covered by a 3-year warranty
CHECK PRICE
The 10 Best Benchtop Jointers
1.

CRAFTSMAN Benchtop Jointer – Best Overall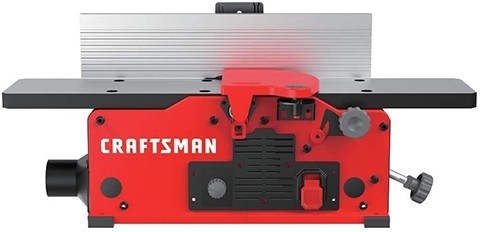 With the best mix of usability, durability, and affordability, the CRAFTSMAN CMEW020 Benchtop Jointer is our number one pick. Weighing in just under 40 pounds, this machine is small enough for you to move around and won't take up excessive space in your workshop. But it's still stout enough that it won't migrate while you're pushing boards through.
One of our favorite features of the CRAFTSMAN jointer is the variable speed. The blades are adjustable from 6,000-11,000 RPM, which allows you to tune the machine to different types of wood. Unfortunately, you're limited to boards that are no wider than 6 inches, but that's a limitation we found with most similar machines.
This machine just feels good. It's very solid and doesn't leave you questioning about its longevity. To that end, CRAFTSMAN warranties this tool for a period of three years, so you're sure to get a lot of great use from it. And even though it's loaded with great features, this machine is still priced more reasonably than a lot of the competition.
Pros
Variable speed from 6,000-11,000 RPM
Priced reasonably for what you get
Very solid build quality
Lightweight and portable
Covered by a 3-year limited warranty
Cons
Limited to boards 6 inches wide
---
2.

PORTER-CABLE Benchtop Jointer – Best Value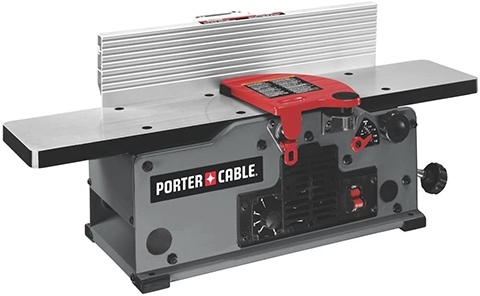 The PORTER-CABLE PC16OJT Benchtop Jointer is one of the least expensive models we tested. But don't let that fool you, this tool is more than capable. It's got a variable speed range from 6,000-11,000 RPM allowing you to change the settings to work better with different types of wood. Like with many of these machines, you're limited to wood that's no wider than 6 inches, but it can flatten the entire face of a 6-inch board without slowing down.
This machine weighs just 35 pounds, so you can easily move it around when you need to. We did notice that this unit vibrates a bit more than some of the others because it's so light. But since it's well built, it's still very stable and nothing moves while you're cutting. Even the center-mounted fence stays put while passing boards through.
Right when we unboxed it, we could tell this was one of the better units because of how easy it was to setup. Some of these machines required hours of fiddling to get them set right, but the PORTER-CABLE jointer was assembled and adjusted in about an hour. Altogether, this is one of the best benchtop jointers for the money.
Pros
Priced affordably
Variable speed range
The fence is center-mounted for ample support
Weighs just 35 pounds
Setup was quick and easy compared to other models
Cons
Limited to lumber that's 6 inches wide or less
The vibration is noticeable
---
3.

WEN 6560 10-Amp Benchtop Jointer – Premium Choice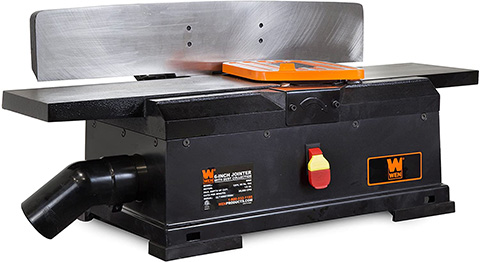 With a cast iron base that ensures this machine never walks or migrates during use, the WEN 6560 Benchtop Jointer is a solidly-built machine. WEN even backs this up with a two-year warranty. The base is made of cast iron, so the whole machine weighs about 80 pounds. This makes it a bit less portable but more stable simultaneously.
The fence on this jointer adjusts to 45 degrees in either direction. Unlike the fences on many of the other jointers we tested, this one is quite stable and doesn't move out of alignment during use.
This unit includes an oversized dust port and a large filter bag, keeping the mess to a minimum while you work. We found these to work exceptionally well on the WEN unit, and we had very little cleanup to do afterward. To be fair, you're paying a good deal more for the quality and stability of this machine. Unfortunately, it will still be limited to working with 6-inch and smaller boards, like many of the other benchtop models.
Pros
Adjustable fence tilts 45 degrees either direction
Protected by a two-year warranty
Solid, cast iron base prevents vibration and movement
Filter bag and dust port keep the mess to a minimum
Cons
Can't work with lumber wider than 6 inches
More expensive than other options
---
4.

RIKON 20-800H Benchtop Jointer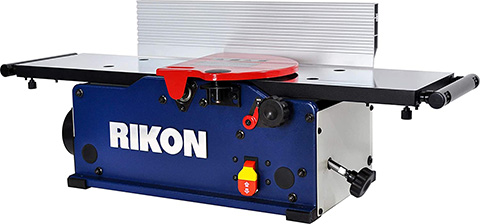 One of the most obvious limitations to many of the benchtop jointers we've gotten our hands on is that they can't work with lumber that's wider than six inches. But the RIKON 20-800H can work with boards up to eight inches wide, significantly expanding its capabilities. On the same note, it's got an extendable table that's 51.5 inches long when extended, making it possible to work with much longer boards than other jointers.
The fence on this machine tilts from 90-135 degrees. However, it's not very sturdy and tends to migrate a bit while you push your boards through. The whole machine weighs just 50 pounds, so it's not as solid as some that we've seen, but it's not so light that it migrates while working.
Setting up this machine was a bit of a headache. We had a difficult time getting everything properly aligned, so setup took a few hours. But once we had it assembled and adjusted, everything worked as it should. This machine is even equipped with the superior helical-style cutter heads that make cleaner, faster cuts and don't wear out as quickly.
Pros
The fence tilts from 90-135 degrees
The table extends to 51.5 inches
Weighs less than 50 pounds
Can work with lumber up to 8 inches wide
Includes helical-style cutter heads
Cons
Setup took several hours
The fence isn't very secure and easily becomes crooked
More expensive than many other options
---
5.

Jet JJP-8BT 8" Benchtop Jointer Planer Combo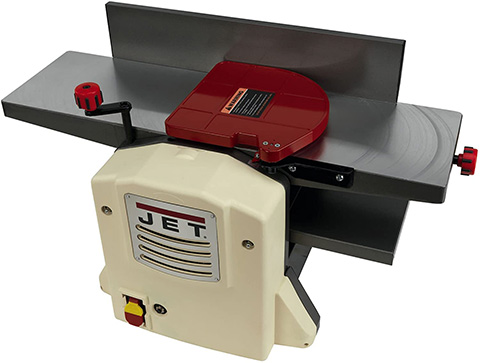 This Benchtop Jointer from Jet is more than just a jointer; it's also a planer, making it even more useful than most of the other models we tested. Rather than fit two large machines in your shop, you just need this single compact one. But it's a bit small for working with boards that are longer than four feet. Still, it can joint boards up to eight inches wide, which is better than much of the competition.
The fence on ours was bowed from the factory and since it's metal, we couldn't straighten it. That's not as bad as what we discovered about the tables though. There's no way to adjust them! They're not quite coplanar from the factory, but there's no easy way to adjust them. Still, we were able to get decently flat boards with this machine.
Where this machine is winning is in its expanded usefulness. If you need a planer and want to save money on purchasing both, then this is a great choice. It's even protected by a two-year warranty. But if you just want the best benchtop jointer possible and don't need a planer, then we'd skip this for the CRAFTSMAN in our top position.
Pros
Jointer and planer together in one machine
Compact size won't overcrowd your workshop
Covered by a 3-year warranty
Can work with material up to 8 inches wide
Cons
Lacks adjustment screws for the tables
The fence is slightly bowed
Small size prevents working with longer boards
---
6.

Delta 37-071 6-Inch Benchtop Jointer
Made almost entirely from cast iron, the Delta 37-071 Benchtop Jointer is a very solid machine. It won't vibrate or migrate while you work. Even the fence is sturdy and doesn't budge once locked into place at 45 or 90 degrees. In fact, this machine is so sturdy that Delta warranties it for five years from the date of purchase.
When operating, this machine can remove up to an ⅛-inch at a time. But burrs on the fence were marring our wood as we pushed it through, which quickly became frustrating. We filed the burrs down and the problem was solved, but it's a notable oversight from the factory.
Even though this machine is solid and heavy, the build quality leaves something to be desired. Surfaces don't want to lineup together on this jointer. We spent a long time getting the tables coplanar and they still weren't perfect. Some bolt holes didn't align properly and required some finagling to make work. In the end, we expected better from this Delta machine, especially since it is more expensive than some of our favorites.
Pros
Cuts at depths up to ⅛-inch
The fence is easy to adjust for 45 and 90 degrees
Cast iron construction prevents migrating and vibrating
Impressive 5-year limited warranty
Cons
Burrs on the fence were marring our wood
Questionable build quality
Surfaces didn't want to lineup together
---
7.

Wahuda Tools Bench Top Spiral Jointer
You'd be forgiven for having never heard of Wahuda Tools. But their Benchtop Spiral Jointer is worth taking a look at, even if it's not one of our favorites. It does have some great features like cast-iron tables that make it stable and reduce vibration while the machine is in use. We also really liked the spiral cutter heads that allow for quiet operation.
Our biggest complaint about this machine is how difficult it was to get everything level and lined up. The tabletops didn't want to align and getting them coplanar took some serious time. This was all made worse by the cheap adjustment knobs, which were made of plastic. By the time we had finished setting everything up, one of those knobs had broken. For our money, we prefer to see something with a much higher build quality.
Pros
The tables are cast iron
Cuts quietly
Cons
Very difficult to get the tables coplanar
Adjustment knobs are made of cheap plastic
---
8.

RIKON 20-600H 6" Benchtop Jointer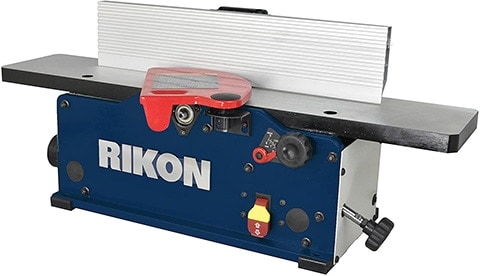 This version of the RIKON benchtop jointer can only work with lumber that's six inches wide or less. But it's still got a lot of the great features found on its bigger brother, though we didn't feel the quality was quite there. Still, we love the durable steel construction that's covered by an impressive five-year warranty. We also love the included helical-style blades that cut smoothly and last a long time.
But the fence on this one is very weak and flimsy. Every time we ran a board through the fence needed to be tightened afterward. We also noticed that this one clogs up with sawdust very quickly if you don't have a vacuum attached. With the vacuum running, the dust port ensures that your workshop won't fill with sawdust. But there's no bag included and the sawdust doesn't evacuate itself from the blades, so they clog up pretty quickly.
Pros
Made from durable steel
Covered by a 5-year warranty
Includes upgraded helical style blades
Cons
Limited to boards that are 6 inches wide
Clogs with sawdust if you don't use a vacuum
The fence isn't very stable
---
9.

Grizzly 6"x 28" Benchtop Jointer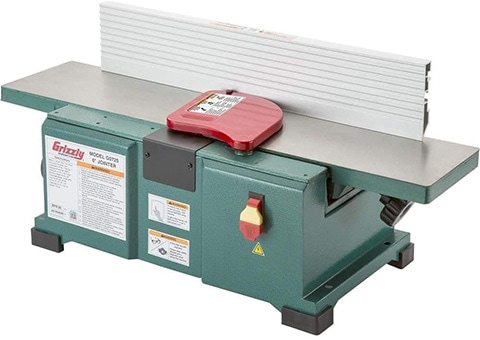 Most of the Grizzly tools we've used in the past were well made and sturdy, but this benchtop jointer didn't impress us. It's a lot more expensive than the competition but doesn't offer anything that you aren't getting from the cheaper options. This machine is still limited to 6-inch wide wood and narrower. Worse, the speed of the cutter heads is not adjustable. It's always at 10,000 RPM, regardless of what type of wood you're using.
The worst thing we noticed though was that several screws were overtightened from the factory. If you need to remove the cutter head or make adjustments somewhere, you're likely to run into one of these screws that won't come out. This can become a real nightmare if that screw snaps off like one did for us.
On the other hand, the fence is pretty sturdy and adjustable from 45-135 degrees. We also like that this machine can remove up to ⅛-inch at a time. But those aren't enough to redeem this tool, which is why it's relegated to the bottom of our list.
Pros
The fence adjusts from 45-135 degrees
Cut depth up to ⅛-inch
Cons
Far pricier than other options
Can't work with boards wider than 6 inches
Cutterhead speed is non-adjustable
Several screws were overtightened from the factory
---
10.

Shop Fox W1829 Benchtop Jointers

Shop Fox makes a lot of high-quality yet affordable tools, but not the W1829 Benchtop Jointer. This machine was a disappointment from the start. First, the speed is not adjustable. 10,000 RPM is where it's set and that's where it stays. At 80 pounds, this model also isn't very portable, though the extra weight does mean that it doesn't vibrate much.
The fence on this tool is not sturdy and it migrates every time pressure is applied. We also had trouble with the tables, which were far from flat. We couldn't get them aligned right because the table surfaces had too many imperfections.
We did like the dust collection system. It's one of the best ones we used and left us with a practically dust-free workshop afterward. But that's not enough for us to overlook flaws like screws that are so overtightened in the machine that they break when you try to remove them. This renders the machine nearly useless, and it's why this tool has earned the bottom position on our list.
Pros
Built-in dust collection system
Minimal vibration since it's so heavy
Cons
10,000 RPM speed is not adjustable
Not as portable as other models
The tables weren't flat from the factory
Weak aluminum fence migrates while cutting
Screws holding in the blades are overtightened from the factory

Buyer's Guide: How to find the Best Benchtop Jointer
Anytime you're picking out a complex piece of machinery like a benchtop jointer, there are going to be a lot of features and functions to compare between models. So, how do you narrow down the choices to the right one? We've gotten to try a lot of these tools, and over time, we figured out the most important traits you need to consider to ensure you make the right decision. In this short buyer's guide, we're going to share that information with you so that you're equipped to make the right decision for yourself.
Machine Size
Benchtop jointers are meant to sit on a table or bench and allow you to work. They need to be small enough to fit on the bench and light enough for you to put it there and remove it if you need the bench for other purposes.
But there's a caveat here. Smaller machines might take up less space and be easier to move, but they also vibrate more. That vibration can cause them to migrate while you're working. It's not the end of the world, but working on a machine that's vibrating harshly isn't the most enjoyable scenario.
Lumber Width
There's another aspect to machine size to consider; lumber width. How big are the boards you need to flatten? If you work primarily with wood that's four or six inches wide, then any of these jointers should fulfill your needs. But if you regularly use lumber that's eight inches or wider, then those boards won't fit on many of these jointers.
Most of these machines are limited to boards less than six inches wide. But some of them can handle boards up to eight inches wide. If you use eight-inch wood, don't forget to make sure you're picking a jointer that can handle it.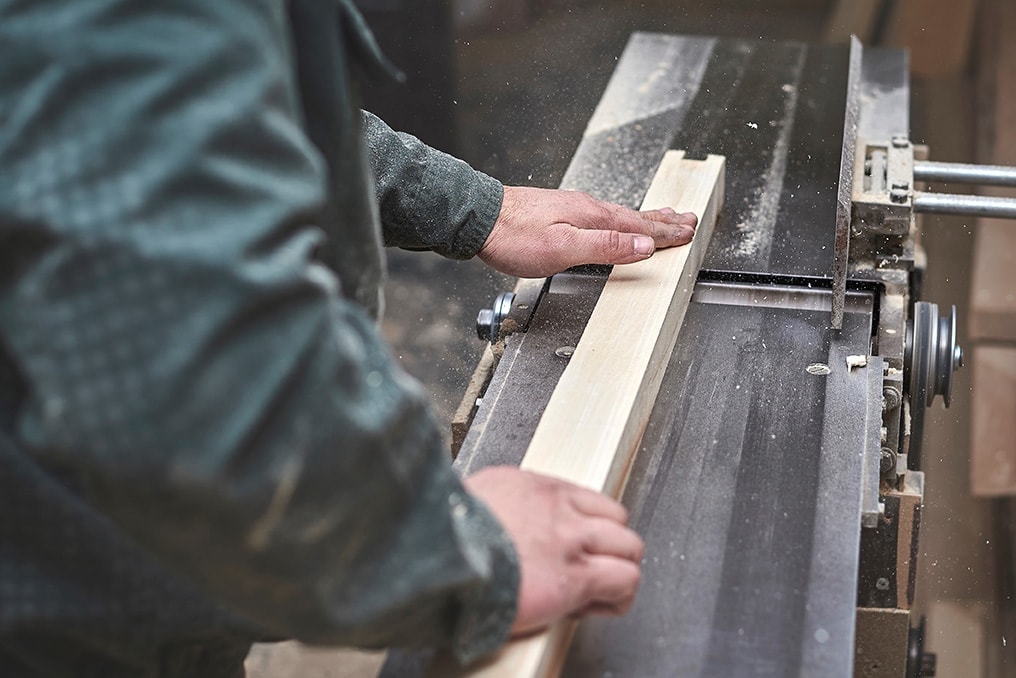 Lumber Length
There's still one more aspect to consider when picking the right size benchtop jointer and that's the length of the lumber you want to flatten. Some of these machines are very small and their tables don't extend very far. For many of these tools, that limits you to comfortably working with wood that's only about four feet long.
But some of these machines had extra-long tables or even extendable tables that you can adjust to the length you need. These features may not matter if you don't work with long cuts of lumber. But if you do, this might be a necessity.
Setup
Some of the machines we tried were mostly aligned right out of the box. They needed only minimal adjusting to make sure the tabletops were completely coplanar and the fence was straight and secure. These machines took about an hour to set up.
On the other hand, we encountered some jointers that we couldn't get lined up to save our lives! Some of them didn't even include adjustment screws to allow for alignment. These machines caused us more headaches than they're worth.
Remember, you may need to readjust after moving the jointer, so it's something you might have to repeat. The experience we had setting up some of these machines isn't something we'd be excited about doing again.
More buying guides like this:

Conclusion
When we set out to find a benchtop jointer to add to our workshop, we knew we couldn't settle on anything mediocre. We had to find the best tools for the best prices. After testing tons of them, we finally settled on ten to compare in our reviews.
Of those ten, our favorite was the CRAFTSMAN Benchtop Jointer. This compact beast is small enough to easily transport but solid enough that it won't budge while your boards are pushed through. It's well-built, feels very sturdy, and is even protected by a three-year warranty. Plus, we really love the variable cutting speed.
For the best value, we recommend checking out the PORTER-CABLE Benchtop Jointer. You can adjust the cutting speed from 6,000-11,000 RPM to get the perfect settings for different types of lumber. And this tool is built to last, which is proven by the three-year warranty covering it.
The WEN 6560 Benchtop Jointer earned our premium choice position in the third spot on our list. This is because of a variety of factors, starting with the impressive build quality. This machine is solid and sturdy. Even the fence doesn't budge when you run boards through.
---
Featured Image Credit: Andrei Metelev, Shutterstock