8 Best Celery Juicers in 2023 – Reviews, Guide & Top Picks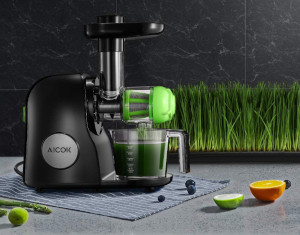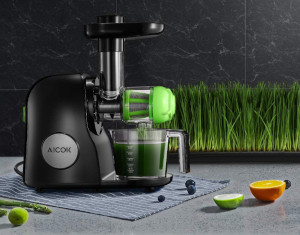 Celery is a vegetable that gives many juicers headaches. It sometimes sneaks through machines without getting juiced, and other times, even when cut and crushed, it stubbornly holds on to its juice.
If you're looking to make a healthy, nutritious beverage from celery, you're probably wondering what juicer to buy for celery. We've got the 8 best juicers for celery that can get the job done, and our reviews walk you through the best and worst attributes of each machine so you can find the one that suits your needs.
We've also included a buyer's guide, which is a great resource for those who are new to juicing or who want to make sure that they're getting the best possible value for their money.
A Quick Glance at our Favorites of 2023:
Rating
Image
Product
Details

Best Overall

Omega J8006HDS

15-year warranty
Very dry pulp
Relatively compact
CHECK PRICE

Best Value

Aobosi Slow Masticating

Quiet
80 RPM
Great price
CHECK PRICE

Omega VSJ843QS

Vertical juicer
Autocleaning system
Does well with leafy greens
CHECK PRICE

AICOK Slow Masticating

Wider chute
Easy to clean
Three-year warranty
CHECK PRICE

Tribest Greenstar Elite

110 RPM
12-year warranty
Stainless steel gears
CHECK PRICE
The 8 Best Celery Juicers:
1.

Omega J8006HDS Celery Juicer – Best Overall

The Omega J8006HDS Nutrition Center is our favorite juicer when it comes to celery. It excels with all kinds of produce, and with nearly everything, it produces very dry pulp, so you have the satisfaction of getting great efficiency out of the process. It moves at 80 RPM, which isn't fast enough to lead to heat-related degradation of the juice, but it is faster than some masticating juicers, which saves you some time. It has a 15-year warranty. It's hard to find any kitchen equipment with more than a five-year warranty, so this juicer is one you can trust. 
It's also relatively compact. Many powerful juicers tend to be on the large side, so if you have a smaller kitchen, you'll be very happy with how little space this unit takes up. While this is a problem common to many masticating juicers, this one has a pretty small chute. If you're used to centrifugal juicers, you may realize that you'll need to do a lot more cutting of your produce before you feed it in. Still, if you're looking for a machine that excels with celery, nuts, and leafy greens, this is the juicer for you.
All in all, we think this is the best juicer for celery out there.
Pros
15-year warranty
80 RPM
Very dry pulp
Relatively compact
---
2.

Aobosi Celery Juicer – Best Value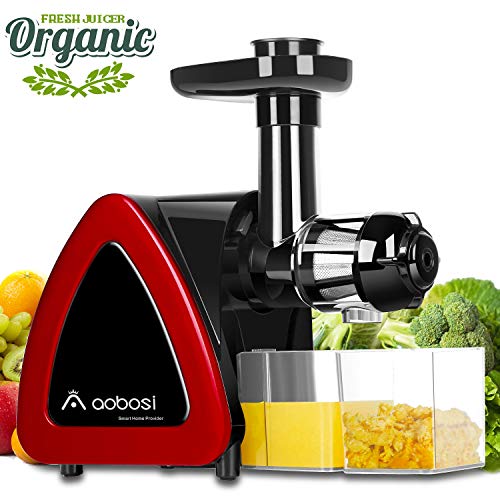 The Aobosi Slow Masticating Juicer is another good choice for those looking for a great juicer for celery. It's extremely quiet, which most users will appreciate. If you've used a centrifugal juicer before, you'll notice the difference immediately when you turn on this machine. It also turns at a gentle 80 RPM, so you still get good speed, but not enough heat to degrade the juice during the process. Like the top model on our list, this one produces consistently dry pulp, which is a must if you're planning to juice difficult produce like celery.
However, what sets this juicer apart is its price. You can get it for about a third of the price of the top one on our list, which is a really good deal. If you want to get into juicing, but don't want to break the bank, this is a safe investment, as it performs roughly as well as models that cost many times as much. The one thing we don't like is its relatively narrow chute, but that's not a dealbreaker for most people. This is a good juicer and a must-have for those looking for a deal.
Pros
Quiet
80 RPM
Dry pulp
Great price
---
3.

Omega Slow Masticating Juicer
The Omega VSJ843QS Vertical Slow Masticating Juicer works a little differently from the top two juicers on our list. Instead of working horizontally, it's a vertical juicer. That can make it a winner if you have limited counter or storage space. However, it also means the process is gravity-assisted, so it puts less stress on the machine and requires less work on your part. This model has a useful autocleaning system that keeps the screen free of pulp while you juice, so you get more of the juice. It also makes cleaning up afterward far easier. This juicer does well with leafy greens and celery, so you can count on it to get the job done.
It has a great reputation for producing dry pulp, so you won't have to try running the pulp through twice as some people do. However, it only rotates at 43 RPM. At that speed, there's no chance of heat-related damage to the juice, but you're also not going to get the job done as quickly as you would with other machines. If it were faster, we could rank it higher, but as-is it falls to third.
Pros
Vertical juicer
Autocleaning system
Does well with leafy greens
Dry pulp
---
4.

AICOK Masticating Celery Juicer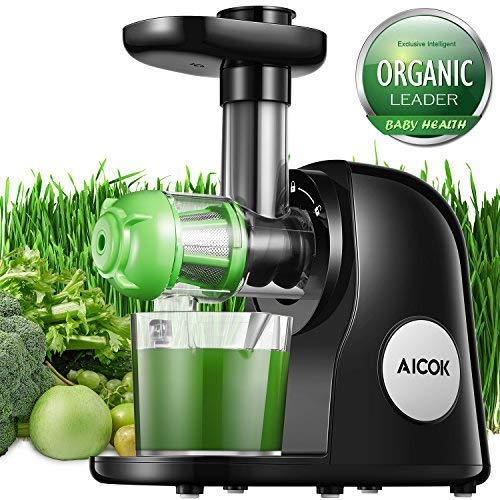 The AICOK Slow Masticating Juicer Extractor (AMR521) won't win any awards, but it does well enough in multiple areas to land on the top half of our list. While you'll still need to cut up your produce, this juicer's chute is a bit wider than those found on other ones. That means you won't have to cut as many small pieces, but it's still small relative to the chutes on centrifugal juicers. This juicer rotates at 80 RPM, which is faster than some masticating juicers, plus it won't get hot. While some juicers are hard to clean, this one is relatively simple and includes a cleaning brush that makes it a quick and easy task.
This juicer boasts a respectable three-year warranty. For the price, it would be hard to ask for much more. The one thing that could be better is this machine's efficiency. Some users have to run their pulp through twice to get it dry, and that's a bad sign for people who want to juice celery. Still, this is a good overall juicer at a good price.
Pros
Wider chute
80 RPM
Three-year warranty
Easy to clean
Cons
Less efficient than some models
---
5.

Tribest Greenstar Elite Juicer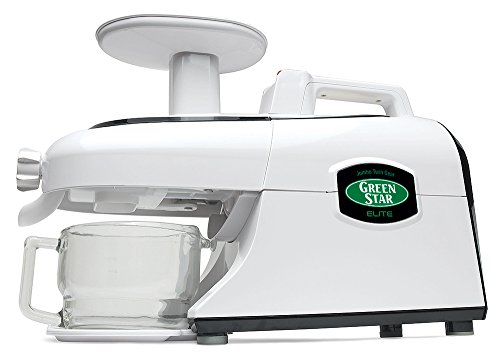 The Tribest GSE-5000 Greenstar Elite lands in a funny place. It's expensive and perhaps too powerful for home use, but it's also at the low end of what would be useful commercially. However, it does well with all kinds of produce, including leafy greens and trickier vegetables like celery. This is due to the very high overall build quality, and the great stainless steel gears that cut and pulverize produce. It has a 12-year warranty, which is fantastic. Plus, it runs at 110 RPM, so you can juice produce more quickly.
Unfortunately, this machine is very expensive. You could buy five quality juicers for what you'd have to pay for this one. If the price were lower, it could conceivably rise higher on our list. Something else to consider is that it seems designed for a commercial kitchen. If you've run it all day and are ready to clean it, ten minutes isn't that big a deal. But if you've only juiced for ten minutes at home, that's a long cleaning process. This unit makes sense for people who are willing to pay more for quality, or for small restaurants, but it's not going to make every user happy.
Pros
Stainless steel gears
12-year warranty
110 RPM
Cons
Expensive
Time-consuming cleaning
---
6.

SKG Q8 Slow Masticating Juicer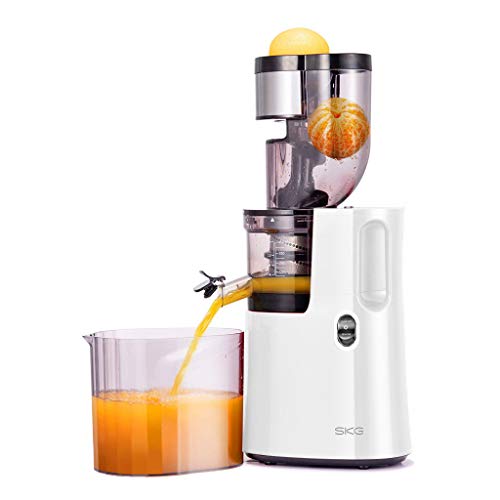 The SKG Q8 Wide Chute Slow Masticating Juicer is another vertical juicer with some potential. Its defining feature is that it has a very wide chute, allowing you to drop whole fruits and vegetables into the machine. Since it's a vertical juicer, it gets an assist from gravity, and you won't have to work as hard to ensure that your produce enters the system. Another great feature is its juice storage tank with a stopper. If you're pouring multiple glasses or making a lot of juice and using multiple storage containers, you can use the stopper to control the flow while you switch containers.
If you're looking for a speedy-quick machine, this one won't satisfy you. Since it's starting with whole fruits and vegetables, it runs more slowly, but with higher power. At just 45 RPM, this model isn't the fastest choice. It also produces relatively pulpy juice, so many users resort to running it through an aftermarket strainer before drinking it. If you're looking for a masticating juicer with a wide mouth, this may satisfy you, but many people won't enjoy this one enough to make it a good buy.
Pros
Very wide chute
Vertical juicer
Juice storage tank
---
7.

Mueller Austria Juicer Ultra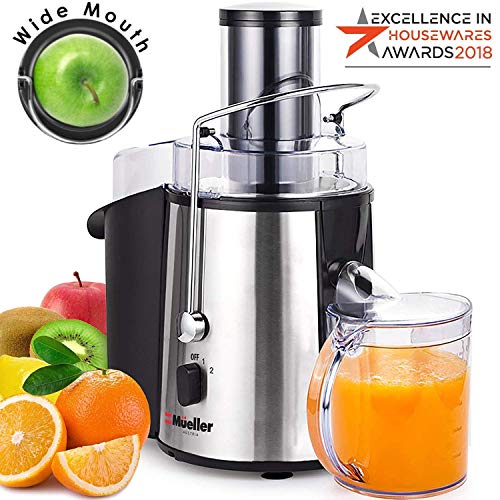 The Mueller Austria Juicer Ultra is an extremely powerful centrifugal juicer. While some people believe that the incredible power this juicer brings to the table is enough to make it good for celery and other tough vegetables, there are some reasons to be skeptical about its performance. On the plus side, it comes with 1100 watts of power, so it has the juice to make juice. It also has two speeds that range from 12000 to 18000 RPM. If that sounds fast, it is, and it will do a decent job of shredding most produce, at the cost of producing a lot of heat. The large, three-inch chute means you'll rarely need to cut your produce.
As you might expect, this juicer is extremely loud. While centrifugal juicers are louder than their masticating counterparts, this one is louder than most centrifugal juicers. It also tends to produce wet pulp despite its great power and speed. That means you won't get much benefit from harder fruits and vegetables, such as celery and carrots. This machine isn't expensive, but it doesn't work well enough to make most customers happy.
Pros
Very powerful
Extremely high speeds
Large chute
---
8.

BELLA 13694 Juice Extractor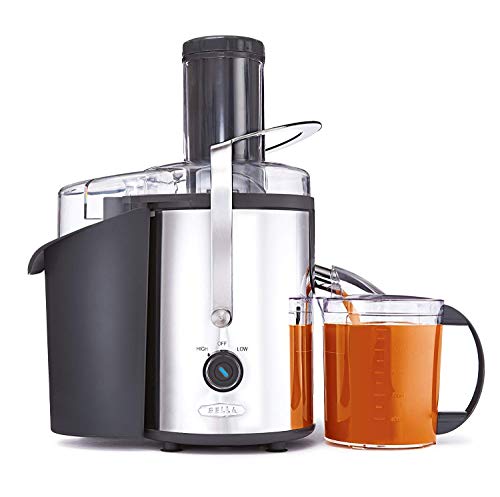 The BELLA 13694 Juice Extractor (BLA13694) is another centrifugal juicer with tons of power. It comes with a wide, three-inch chute, so you won't have to cut all but the largest fruits and vegetables to get them to fit in this juicer. Its 100-watt motor provides more than enough power to make short work of even the toughest produce. However, the number one complaint many people have about it is that it produces very pulpy juice, which means it isn't doing that great a job at separating pulp from juice.
It also suffers from a very small pulp compartment. It's hard to make more than a cup at a time with this juicer, since you'll have to stop frequently and empty the pulp basket. Worse, this unit doesn't have a great reputation for durability. You can expect it to last months, or a few years at the most. Given all these shortcomings, this isn't a juicer most people will enjoy using. Even if it does well with celery, there are better options out there.
Cons
Small pulp compartment
Pulpy juice
Poor durability
---
Buyer's Guide: Choosing the Best Juicer for Celery
Juicing efficiency
One of the most important things to look for when buying a new juicer is efficiency. While that term can bring up ideas about weighing fruit and doing math, it's pretty easy to tell how efficient your juicer is. If the pulp coming out is dry, your juicer did a great job squeezing out all possible juice. If the pulp is still wet, then it didn't do very well.
If you're focused on finding the best juicer for celery, which is one of the harder vegetables to juice, you'll need a machine with high juicing efficiency. Otherwise, you're likely to end up disappointed with the amount of juice you get from your celery.
Speed
Another thing to consider is the speed at which the grinders in a masticating juicer or the blades in a centrifugal juicer run.
Masticating juicers tend to be much slower, crushing the juice out of fruits. In most cases, this will lead to drier pulp and increased juicing efficiency. However, it can be a slow process, and juicing the same amount of produce may take longer with a masticating model than with a centrifugal one. You also typically have to cut pieces smaller to fit them in a masticating juicer than you would with a centrifugal one.
Centrifugal models can have blades that spin hundreds or thousands of times a minute. By cutting the fruits into very small pieces, juice is released. However, this typically isn't as efficient as using a masticating juicer, and the heat produced in this process runs the risk of damaging vitamins and lowering the overall nutritional content of your juice.
Ease of cleaning
If you're planning to be a frequent juicer, you'll want a machine that's easy to clean. Some can be cleaned in just a few minutes, while others require ten or more for disassembly and efficient cleaning. Some juicers come with dishwasher-safe parts. These tend to be centrifugal models more often than masticating ones.
It's important to clean your juicer after each use. Leftover juice will spoil, causing the machine to become sticky, start to smell, and negatively affect future batches of juice. If you're going to be juicing frequently, you can save yourself a ton of time in the long run by getting one that can be cleaned easily.
---
Final Verdict
The Omega J8006HDS Nutrition Center is the best overall juicer for celery due to its very dry pulp, 80 RPM grinders, and a 15-year warranty. The Aobosi Slow Masticating Juicer takes second place with its quiet operation, dry pulp, and 80 RPM grinders. However, its price is so good that it earns the title of the best value for the money. In third, the Omega VSJ843RS Vertical Slow Masticating Juicer is a vertical juicer with an autocleaning system that does well with leafy greens, though its slowness costs it a few positions.
The fourth-place belongs to the AICOK Slow Masticating Juicer Extractor (AMR521) which has a wider chute, 80 RPM grinders, and a three-year warranty. It falls out of the top three due to underwhelming efficiency. The Tribest GSE-5000 Greenstar Elite has stainless steel gears and a 12-year warranty, but its high price and time-consuming cleaning drop it to fifth place. In the sixth, the SKG Q8 Wide Chute Slow Masticating Juicer has a very wide chute and a storage tank, but its slow speed and pulpy juice make it unlikely to be a winner in most households.
The Mueller Austria Juicer Ultra is very powerful and capable of extremely high speeds, but it drops to seventh place because of its loud operation and wet pulp. The last place goes to the BELLA 13694 Juice Extractor (BLA13694), which does have a wide chute and good power. However, its small pulp compartment, pulpy juice, and poor durability mean that most people don't end up liking it.
Other juicers we recently reviewed: