Magic Bullet vs Nutri Ninja: Which Blender is Better?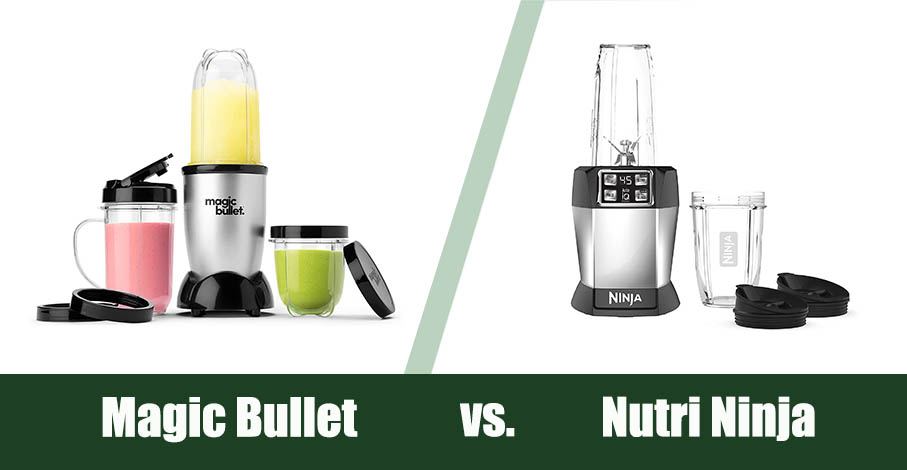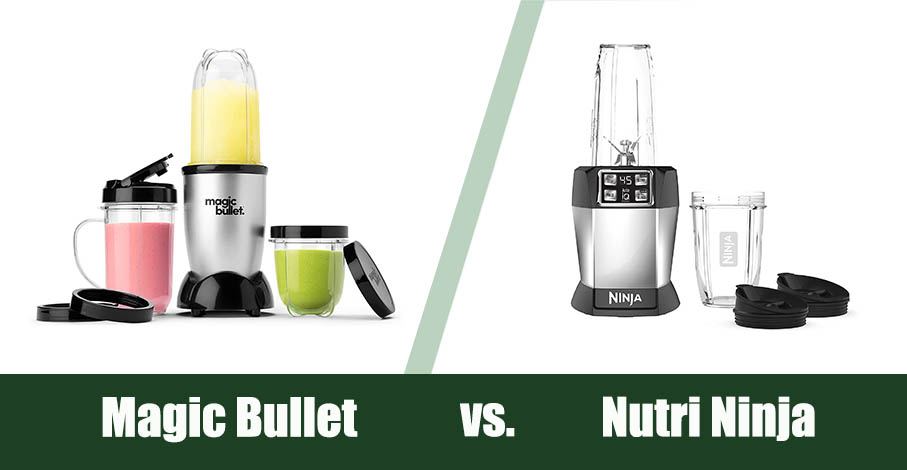 The Magic Bullet is one of the original capsule-type blenders. But over the years new models have appeared on the market with interesting technology, which has given Magic Bullet a run for its money. One of these top blenders is the Nutri Ninja by Shark. Nutri Ninja considers the effects of oxygen on cellular breakdown (which results in spoilage). It provides FreshVac Technology in the form of an air vacuum, which you can use to pull oxygen from your blender canister before storing it in the fridge. The Nutri Ninja also boasts 1100 watts of power, in contrast to the Magic Bullet's paltry 250 watts. You'll pay about three times more for the Nutri Ninja, however, so if budget is a top concern, you may have to forget the FreshVac addition and settle for the simpler Magic Bullet. Read on to see the biggest differences between the two models.


Image
Product
Details

Best Overall

Nutri Ninja

Added FreshVac and Auto-iQ technologies
Durable
Great for heavier blending
CHECK PRICE

Magic Bullet

Simple and easy to use
Less expensive
Easy to disassemble and clean
CHECK PRICE
What Are the Differences?
While the intent of each blender is the same, the main difference between them is power and technology. The Nutri Ninja wins in both categories, but let's break down the differences more carefully so you can see how each one performs, the price difference, a durability comparison, and each machine's overall design.
Performance
At 250 watts, the Magic Bullet can perform well with simple tasks, but it pales against the 1100-watt Nutri Ninja. Where the Magic Bullet struggles to chop frozen fruit or ice, the Nutri Ninja powers through harder substances with ease.
Price
The Magic Bullet sits at the lower end of all capsule-type blenders. Its lower power and limited options are mostly responsible for this. You'll pay more than three times as much for a Nutri Ninja, but the performance factor is much higher, which means a longer lifespan for your investment.
Durability
The Magic Bullet is known for its rubber seals and blades breaking down after repeated use. Replacing the parts isn't easy, either. If your Magic Bullet starts to deteriorate, you're better off buying a new one. The Nutri Ninja is known for being more durable overall, though as with any device, repeated, hard use will wear it out.
Design
The Magic Bullet has a cyclonic blending method that shoots liquid upward, then sends it back toward the blade in an arc. It has a simple push-button start, a locking lid that inserts into the motor base, and various container sizes to attach. The Nutri Ninja functions similarly, but its start buttons have some added speed variability, and it comes equipped with Auto-IQ Technology to automatically regulate the blender's speed. The FreshVac addition is a little gimmicky, but if you're planning to store your blend for more than a few hours, it'll keep the ingredients fresher.
Quick Rundown of the Magic Bullet Blender
The Magic Bullet is a bit of a stripped-down capsule blender. It's best for beginners, casual users, or anyone on a tight budget. It does tend to wear down faster than other models, however, and its parts aren't easy to replace. It also lacks speed variation or any attractive bonus technology.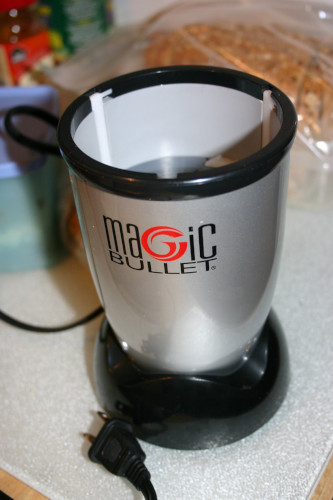 Pros
Simple and easy to use
Less expensive
Easy to disassemble and clean
Cons
Wears out quickly
Can't blend hard substances like ice
Lacks bonus technology
Quick Rundown of the Nutri Ninja Blender
The Nutri Ninja by Shark is powerful overall, easy to use, and comes equipped with FreshVac and Auto-iQ technologies for extra performance. It's a more durable product and can easily crush ice and frozen fruit. It does lean toward the more expensive side, however, and it tends to be noisier than other capsule blenders.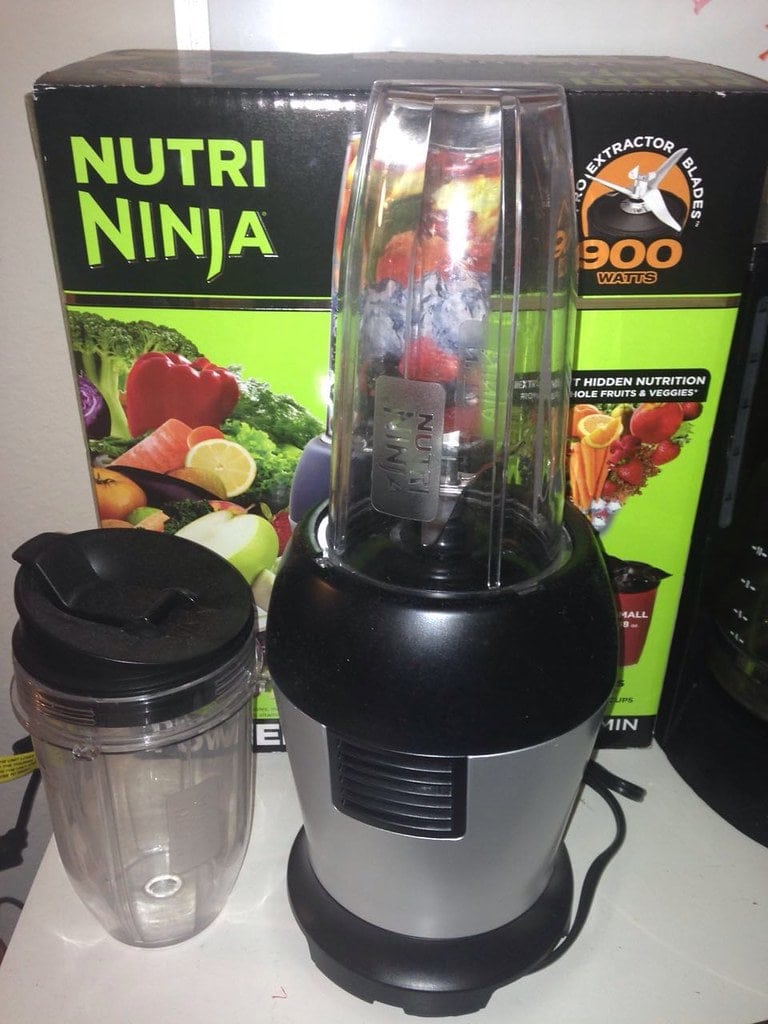 Pros
1100 watts of power
Added FreshVac and Auto-iQ technologies
Durable
Great for heavier blending
---
What Users Are Saying
Most users agree that the Magic Bullet is a handy little blender. The design is refreshingly simple, it takes up very little counter space, and it's perfect if you're in a hurry. Users also say the rubber seals and blades break down too quickly, and that they had to replace their units within a few months.
The Nutri Ninja is known for its performance and durability. It's high-powered enough to be used for a variety of needs, and the extra technology makes for a better blend. On the downside, some say it's difficult to clean thoroughly, and many cite its noise level as a definite drawback.
Conclusion
The Magic Bullet is a simple model, and the Nutri Ninja has more tech. Comparing the two is a bit like stacking apples and oranges against each other. The added features and higher power of the Nutri Ninja make it the clear winner. If money is tight, a Magic Bullet may be good enough. But if you can spring a little extra for the Nutri Ninja, what you shell out in dollars will make up for itself in performance.
Other Products We Recently Reviewed
---
Featured Image Credit: Pixabay