19 Awesome Woodworking Projects for Kids to Build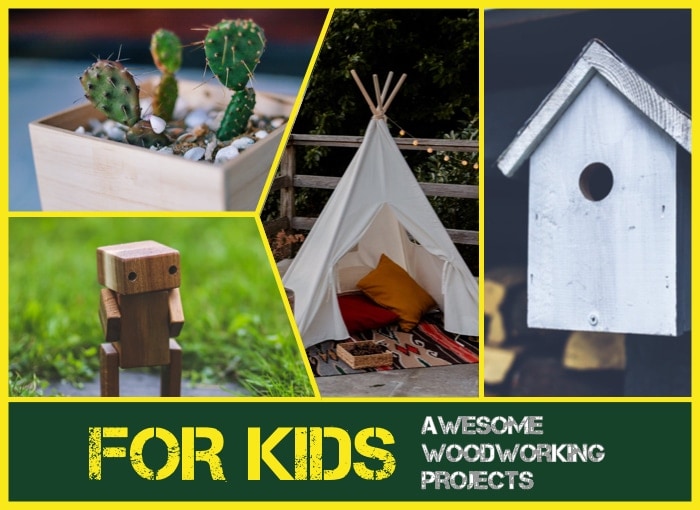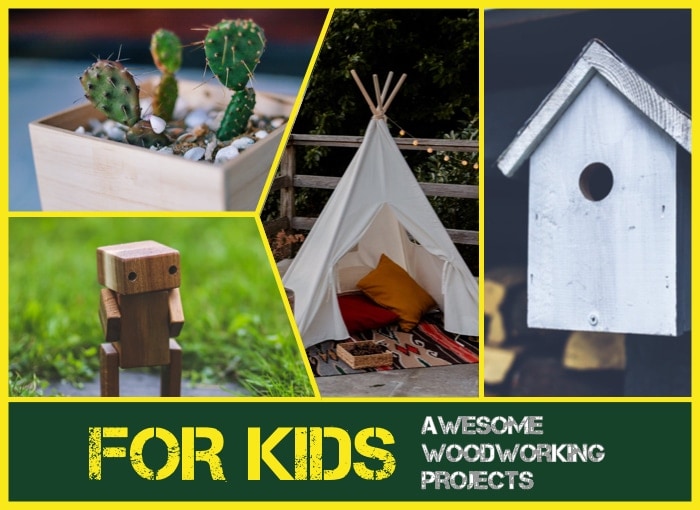 Few things are as fun and entertaining, yet rewarding, as finishing a woodworking project with your kids. They get the joy of using their imaginations and using tools like adults, parents get the joy of spending time with the youngsters doing something positive, that teaches and that creates something the family can enjoy for a long time.
These are great woodworking projects for kids. They offer a range of difficulties. You can create a progression of DIY wood projects so that if your kids really like working with their hands, you can move from one to the next with increasing difficulty. Some are very simple and feature only wood, paint and glue. Some require some power tools. That also means they also require a range of adult supervision. The great thing is that at their simplest, kids can focus their creativity on the grounds that there are no wrong answers.
Each one has its own different needs in terms of supplies and fasteners. They also include how-to instructions and photos of raw materials and what the finished product should look like. Pick the right woodworking project for your kids and make a rainy day special.

Woodworking Projects for Kids
1.

Homemade Candy Dispenser from Boys' Life
Did we say that a woodworking project can be rewarding? Learn how to build a candy dispenser – it isn't just a good learning experience, we think it's something your kids will love to build because it'll give them treats whenever they want.
This is one of the more complicated DIY wood projects, but it's also the most fun. It includes some basic hand tools, so depending on age and development of motor skills parents will have a little extra work to do.
---
2.

DIY Catapult
Nothing quite captures the attention as a toy that tosses things. That includes a toy catapult that you can use for games of skill or just for the joy of making a ball sail through the air. Plus, the kids will have the joy of knowing that as they build it, they're building a toy they can play with.
You can find other catapults, but we like this plan as being straightforward yet capable of modification so you can build one to the appropriate size for your kids.
---
3.

Wooden Robot Buddy
One of the simplest woodworking projects for kids we found, this one is bound to be a delight for younger kids. It'll be like making a toy friend for your kids, one that is big enough to be a joy to little ones and made of simple enough parts that it's like playing with blocks.
A wooden robot buddy is simple enough that you could just simply build from imagination. It's also a concept that is such that your kid's imagination could run wild in making it. Here are some plans you can go from in building this toy, just in case you want something to guide their creativity.
---
4.

Kids' Workbench
A workbench is a great way to teach kids that sometimes they have to build things in order to build things. If you're a handy kind of parent, this is just the sort of thing you'll want your kids to pick up. Plus, it'll give them a place to feel a little more grown-up as they start to accumulate their own collection of tools.
Like other things, this is something that you can probably build from your imagination. But, here's a set of plans to help you get started, or if you want to just get one built to provide a complete blueprint.
---
5.

Mason Bee House
This one is perfect for kids who also love Nature. Building a house for pollinators creates housing for bees, it also lets your kids feel like they're helping to help the environment. The great thing is that the kind of bees these attract only rarely sting, so it's a pretty safe way for your kids to help bees that help keep your garden bloomed.
This DIY wood project isn't all that complicated, with really just a drill the most complicated tool. You'll want to either do that yourself or give your kids a lot of guidance. You will also want to keep in mind that this comes with a roof to keep rain off the bees, so here's a set of plans you can follow to keep it as watertight as possible.
---
6.

Wooden Planter
This is another pretty simple project, and if your kids are into plants it's a great start for a summer-long project of growing a very simple garden. They can start with some simple fastening of planks and wind up with radishes, or peppers or even some basil.
Like other projects that we've included, this one is very customizable depending on your projects or what you want your finished planter to look like. Here are some pretty basic plans with a basic set of necessary tools and gear you'll need.
---
7.

Bird Houses
No list of DIY woodworking projects for kids would be complete without birdhouses. These are a good intermediate project that just about every kid at some point makes. They not only provide living space for our fine feathered friends but also let your kids take more complicated steps in working with wood and tools. Here are some DIY birdhouse plans that we like because they are detailed and easy to follow.
---
8.

Folding Tripod Camp Chair
If you're an outdoorsy family, a folding tripod chair is a quick, easy project that is collapsible and can provide you a place to take a rest while in the Great Outdoors. Either used by a campfire strumming a guitar or riverside tying a rig to a casting rod, your kids will enjoy thinking about their future adventures while learning how to not just work with wood but fastening leather to wood.
Here's a good set of how-to instructions, including materials that you'll need. This isn't just a simple project to build, it's also pretty cheap to put together.
---
9.

Kids' Playing and Camping Tent
There isn't technically much word working here. It's just fastening together some wooden poles and connecting fabric sheets along a beam holding them together. But, really, will your kids care when it means they can build a fort in the backyard in less than 10 minutes. Do you really care knowing that they can do that and it'll give them hours of enjoyment at less than $10 from you?
There are lots of designs and instructions for this all over the Internet, but here is a pretty basic set of instructions that not only tell you how to do it, but provide a template from which you can really unleash your creativity.
---
10.

Balance Board
an easy, cheap project the daredevils in your family. It's a perfect way to perfect balance while not running the risk of a broken collarbone or chipped tooth. Plus, it'll be fun for your kids to make. It does require some use of power tools, which might be a bit of excitement for kids who get bored at the safe and easy.
While it looks simple enough to be a thing of pure imagination, you'll still want to get the dimensions of the wheel right so that it's not unbalanced. That means you'll at least want a guide. Here is a pretty good one.
---
11.

Lego Coat Rack
While the idea of building a coat rack probably isn't going to excite anyone, building one out of colorful Lego shapes we think is likely to be a bit more fun. It's not hard to put together, plus it offers the added joy to parents of making a game of kids picking up their rooms.
At first blush, this probably doesn't look all that complicated, but you need to get the circular shapes and block bases consistent to get that Lego look. So, you'll want instructions, like these.
---
12.

Homemade Catapult (Intermediate Level)
One step up from the simple desktop catapult featured earlier on this list, this STEM-friendly catapult design is great for kids in the 7- to 10-year-old range. It's deceptively simple to build and can make for great fun launching for distance in the backyard. Plus, it requires minimal tools and time, making it a great single-day project with just a trip to the crafts store.
---
13.

Balsa Wood Wind Chimes
Easy to make and fun to personalize, these wind chimes will make a small hollow clacking noise and can be decorated further with bells or feathers. With a little bit of ingenuity, you'll probably only need to purchase balsa wood to make these musical adornments; the rest of the materials can easily be gathered from scrap wood and crafting supplies.
---
14.

DIY Picture Frame
A great stepping-stone project that bridges the gap between not measuring and measuring for cuts, this photo frame project can be made from almost any scrap wood that you might have lying around. You'll need wood joiners and/or wood glue for this project, however, so a trip to the hardware store might be necessary before starting. 
These frames are easily customizable with any paints, markers, or glitter you might have on hand as well. Once you've made the cuts for the edges, it's easy to get your kid's help in putting the finishing touches on each piece.
---
15.

Simple Trivet Coasters
Easy to construct and stylish enough to display when guests are over, learn how to make x-shaped trivet coasters like these. They can be painted in a variety of colors to match any kitchen décor scheme. Try making larger ones as well, and you'll be able to use them for holding hot pots or casserole dishes at the dinner table.
These coasters are also an especially easy way to learn how to make joints, like the one found at their center. Later on, that experience will come in handy as you and your kid learn to tackle more advanced woodworking projects.
---
16.

Wooden Stamps
Just about as easy as a woodworking project comes, the only thing you'll really need to get started on these DIY wooden stamps is a source of soft wood. Cut off a thick branch from your nearest tree, and you can use any metal pieces like nuts, bolts, and screws that you might have lying around to create interesting patterns in the ends.
Once you have these stamps prepared and ready, why not use them to decorate the frames of the other woodworking projects found in this list? It's an easy way to encourage your kids to personalize all of their projects without increasing the difficulty of the plans.
---
17.

Storage Bins
Composed of simple cuts on commonly sized wood pieces, these DIY storage bins require a fair bit of woodworking know-how but no truly challenging cuts. When you're ready to take on a bigger challenge, it's a great project for teaching planning, measuring, and layouts. Furthermore, it can be adapted to just about any size of wood that you might have available.
---
18.

Kids' First Toolbox
What better woodworking project for your child than a box for them to carry all of their woodworking tools in? This is a straightforward project that relies on wood glue instead of more complicated joints, it's a fairly easy design to tackle with adult supervision and help on the angled cuts.
This toolbox looks great for any woodworking tools and, but doubles just as well as a carrier for produce or an organizer in a bedroom. It's a truly versatile project that you can take on any time of year.
---
19.

Kids' Growth Ruler
Easy to make and simple to embellish, this tall wooden ruler also offers the benefit of not having to mark on your walls to mark your child's growth! Requiring little more than a large piece of standard-sized lumber, a measuring tape, and a permanent marker, it's an uncomplicated project that's sure to delight kids of all ages.
Once your friends see this ruler in your living room, they'll definitely want one for their own children as well. Consider asking ahead of time for anyone else that might be interested in this project, and you might be able to get a better price on a larger order of lumber.
See Also: