10 Best LED Pool Lights in 2023 – Reviews & Top Picks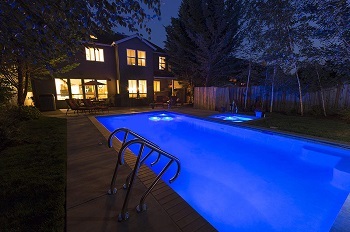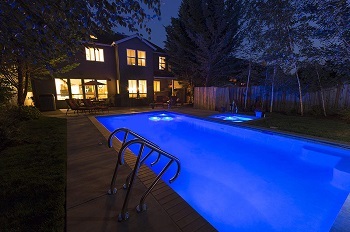 It's amazing what an underwater pool light can do to improve the appearance of your pool at night. More than helping you see for a quick swim in the evening, a good underwater pool light can completely illuminate the entire pool, giving it an elegant and luxurious look that enhances the entire surrounding area. For many years, incandescent bulbs were the only real option, but they used a lot of energy and needed to be replaced far too often.
Recently, LED technology has made its way into underwater pool lights, and now you can have a low-energy LED light illuminating your pool. However, the lights offer more than white light, like the older bulbs.
Now, you can choose from many light colors and enjoy multi-colored light shows that will liven up your pool and send colors dancing across the water. But which bulbs will last, and which ones aren't worth the cost? The following 10 reviews will compare some of the most popular LED pool lights available to determine just that.

A Quick Comparison of Our Favorites in 2023
Rating
Image
Product
Details

Best Overall

S.R.Smith

Power cord 30'-150' long
Serviceable for three years
5 trim ring colors
CHECK PRICE

Best Value

Intex Wall Light

Illuminates a pool up to 24' across
No modifications to the pool for installation
Very easy to install
CHECK PRICE

Premium Choice

Pentair IntelliBrite

Available with a cord up to 250' long
Very bright illumination
Low energy usage
CHECK PRICE

SEURON

11 static colors
Replaces 300-500W bulb
Should work for more than five years
CHECK PRICE

Roleadro

5 dynamic modes
7 static color options
Controlled by remote
CHECK PRICE
The 10 Best LED Pool Lights
1.

S.R.Smith FLED-C-TR-30 LED Pool Light – Best Overall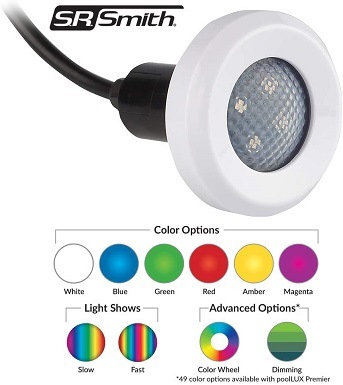 With 5 watts of underwater light in 49 color variations, the TREO LED pool light from S.R. Smith is a perfect replacement for fiber optic spotlights. It fits into 1.5-inch fittings for gunite, vinyl liner, and fiberglass pools. The TREO light gives you complete control over custom colors and lighting programs.
There are six colors, two color-shows, and loads of advanced options, including custom colors and dimmable brightness levels. You can even choose from five trim plate covers to complement your pool's surface. Depending on how much reach you need, you can purchase the light with a cord anywhere from 30 feet to 150 feet long. Once we had it hooked up, we were impressed with how well this little light illuminated the water.
The white light is even and bright with a wide disbursement that lit up the pool adequately. The color options were vibrant and added an ambiance to the pool area. The TREO light is field-serviceable for 3 years, so you'll get your money's worth from this investment. Overall, the TREO lights are the best LED pool lights you can buy this year.
Pros
Power cord 30'-150' long
6 solid colors and up to 49 variations
Serviceable for three years
5 trim ring colors to complement the pool
Cons
Not the cheapest solution
---
2.

Intex 28687E LED Pool Wall Light – Best Value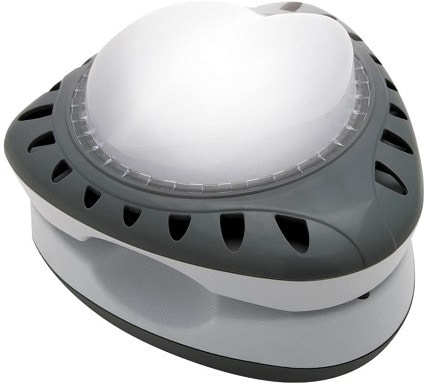 For lighting above-ground pools, it's hard to beat the simplicity and convenience of the Intex LED Pool Wall Light. They are one of the best pool lights we reviewed, and they don't require a permanent installation or any modification to your pool. This light is magnetic and is held to the inside of your pool by the other half of the magnet on the outside of the pool wall.
The outside portion of the magnet is plugged into the wall and provides a small amount of electricity to the light. This makes it easy and quick to install, and you never have to worry about modifying your pool or replacing batteries. We were impressed with how much illumination this inexpensive light provided. The Intex LED light will completely illuminate a pool up to 24 feet across for a fraction of the cost of other lights.
It can't be used with metal pools or in-ground pools and has a shorter lifespan of just 2 years. Considering the illumination the Intex LED pool wall light produces for an affordable price, we think it's one of the best LED pool lights for the money.
Pros
Affordably priced
No modifications to the pool for installation
Illuminates a pool up to 24' across
Very easy to install
Cons
Lifespan of just two years
---
3.

Pentair 601300 IntelliBrite LED Pool Light – Premium Choice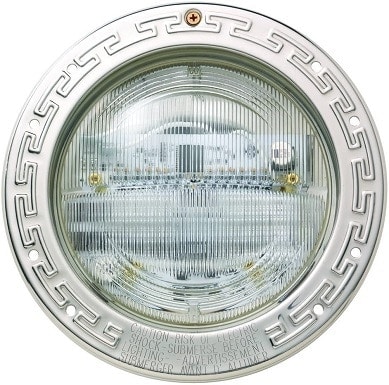 Pentair is one of the biggest names in pool equipment, so we knew that their IntelliBrite LED pool light should be a quality product. Depending on your needs, you can purchase this light with a cord that's anywhere from 30 feet to 250 feet long. If you install them yourself, you'll void the warranty since a Pentair-qualified installer must install them if you want your warranty to remain valid.
Consider this extra expense before purchasing since it is already one of the more expensive lighting options. We were pretty impressed with how much illumination the Pentair light provides. This light completely lit up a large pool and brought it to life. Even though it puts off a lot of bright light, the Pentair light uses up to 85% less energy than the older incandescent-style bulbs.
You can even rotate the lens for a wide or narrow beam to accommodate different mounting locations within your pool. You won't get any fancy colors or light shows offered by some of the LED lights we tested, but you'll get the Pentair name and reliability.
Pros
Can rotate lens for wide or narrow beam
Available with a cord up to 250' long
Very bright illumination
Low energy usage
Cons
More expensive than other options
Must be installed by Pentair installer
---
4.

SEURON LED Pool Light Bulb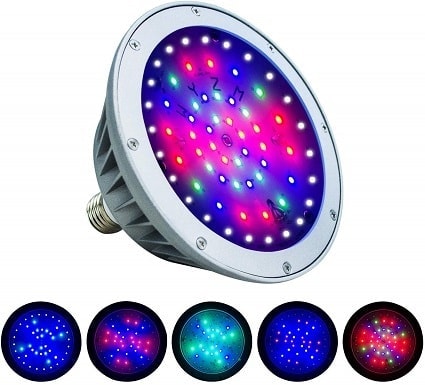 If a plain white light will not add enough festivity to your pool, the SEURON LED pool light bulb has 11 static colors and two multi-colored light shows to turn your pool into a dazzling display of dancing lights and reflections. This 40-watt bulb can illuminate your entire pool, replacing a 300-500-watt bulb and using up to 50% less energy than competing lights.
Moreover, it's built to last for 5 years underwater, so you won't have to replace it again very soon. Considering it's one of the cheaper LED pool lights we tested, the SEURON light provides great value. Whether your system is 12V or 120V, this light will work with your existing setup, but make sure you make the proper selection since the 12V and 120V models are different.
We loved the colors and bright light but had some trouble changing it to all the colors. There are no instructions, and it's difficult to figure out how to program without a remote. Once we started switching colors, some of them weren't very bright and vibrant, so they got skipped.
Pros
Should work for more than five years
11 static colors and two color-shows
Replaces 300-500W bulb with just 40W
12V or 120V to work with your existing light setup
Cons
Some colors aren't very bright
Hard to program with no instructions
---
5.

Roleadro Led Pool Light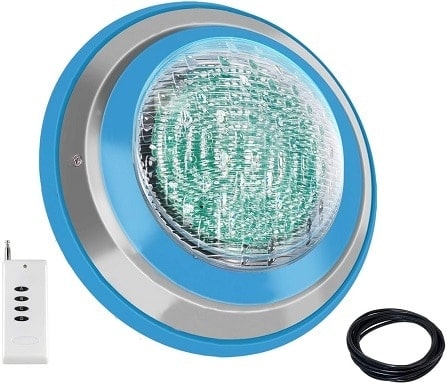 While some LED pool lights can get expensive, the Roleadro light provides adequate illumination at an affordable price. It has seven static color options and five dynamic modes that change through the colors for a unique look inside your pool. Those five dynamic modes have 10 speed levels for excellent control over your pool's lighting. Luckily, this light includes a remote control that makes it easy to change the colors.
While many of the lights we tested were available with cords that were hundreds of feet long, the Roleadro only comes with a 6-foot or 16-foot cord. It's also designed to work only with a 12V system, so you'll need to purchase a transformer separately if you don't already have one. It's a good light overall, but we'd like to see it with a standard 120V system and have options for a much longer cord.
Pros
5 dynamic modes with 10 speed levels
7 static color options
Controlled by remote
Cons
Only available with 6' or 16' cord
12V system only
---
6.

LOFTEK Submersible LED Lights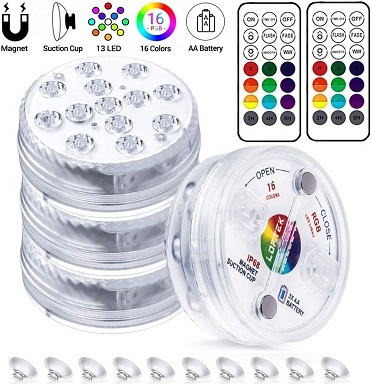 If you're looking for a more versatile lighting option for your pool, the LOFTEK Submersible LED Lights come with up to 12 separate waterproof lights in a package. You can position them throughout your pool to create interesting and unique light effects that enhance your pool's area. They have suction cups and magnets on the back, which will allow you to mount them nearly anywhere.
Luckily, they're all programmed by remote, so you won't have to fish them all out whenever you want to make adjustments. While we liked the concept of the LOFTEK lights, they didn't live up to expectations in the real world. Our first issue was with the suction cups. They don't stick well, and our lights kept dropping to the bottom of the pool.
There is also no white light setting, so it's other colors or nothing. Our final complaint was the poor battery life. The lights are powered by AA batteries that only provide 20 hours of light before needing to be replaced. Unless you want to collect them every other day to replace all the batteries, we suggest avoiding the LOFTEK lights.
Pros
Up to 12 in a pack
Magnet and suction cup allow for mounting them anywhere
Programmed by remote
Cons
Must change batteries every 20 hours
No white light settings
Suction cups don't stick well
---
7.

Bonbo YCDBAI1250 LED Pool Bulb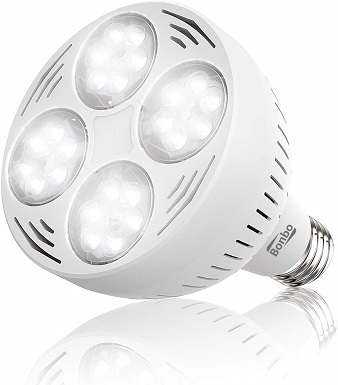 The Bonbo LED pool bulb is a basic underwater LED bulb with no extras or fancy light shows. You get white light only, but it's bright enough to illuminate an entire pool. On top of that, it's also affordably priced. Whether you need a 12V or 120V light, the Bonbo has you covered since it's available in either configuration.
While we would have preferred more versatility with vibrant colors or light shows, that's not our biggest problem with the Bonbo pool bulb. What bothered us was that it doesn't live up to the advertised lifespan of 30,000+ working hours. Ours never crossed the 1-year mark. We had it replaced since it is protected by a 1-year warranty. But the same problem occurred again. Within a year, our new bulb was dead. This seems to be a recurring issue, so we can't recommend the Bonbo bulb with such a poor lifespan.
Pros
12V or 120V
Affordably priced
Cons
White only, no color options
Doesn't live up to the advertised lifespan
---
8.

Eurus Home LED Pool Lights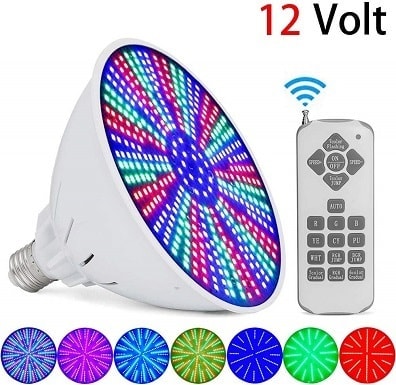 Available in 12V and 120V versions for improved compatibility, the Eurus Home LED pool light offers seven colors to illuminate your pool's water. You can program the colors by remote, and you won't need to keep flicking the power switch on and off dozens of times like with other models. However, the remote doesn't work if the bulb is in a metal housing or under three feet of water. You'll also need an antenna installed on the light.
Overall, we liked the illumination produced by this bulb. Most of the colors were vibrant and bright, but the red was very dim and didn't provide much light. The bulb is protected by a 1-year warranty in case anything goes wrong. However, the warranty doesn't cover water getting into the housing, making it much less worthwhile. Ultimately, we don't think the Eurus Home light is one of the best underwater LED pool lights.
Pros
Controlled by remote
12V and 120V versions
Cons
Warranty doesn't cover water getting into the housing
The red light is very dim
Remote only works with antenna installed on light
---
9.

iledlight LED Pool Light Bulb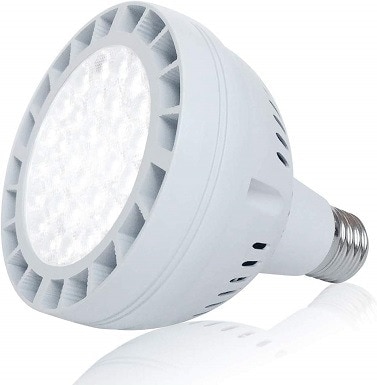 This little 50-watt bulb from iledlight can replace a 200-800-Watt traditional bulb to conserve energy and save money on your electric bill. It's compatible with most standard housings, including Hayward and Pentair. It only has white light, so you won't get any dazzling color shows or multiple hues to pick from. But it's a very affordable bulb, so we didn't expect many extras.
This light is 120V only, so don't try to plug it into your existing 12V system, but you don't need additional transformers to run it. The installation was easy, and when we first turned it on, the illumination was bright and filled the pool. Unfortunately, our first one died in less than a month.
We contacted iledlight, who sent out a replacement bulb, but it took several emails to get it. We were most disappointed when our second bulb was a repeat performance of the first. After witnessing two bulbs fail within a month, we decided not to test our luck with a third bulb. With such poor longevity, it's no surprise the iledlight bulb is near the end of our list.
Cons
120V only
Lasted less than a month
---
10.

CNBRIGHTER LED Underwater Pool Lights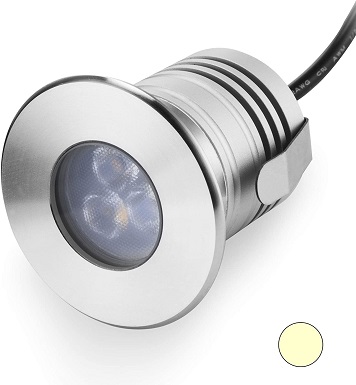 Since they're designed to run on DC 12V-24V circuits only, the CNBRIGHTER LED Underwater Pool Lights are small lights available in warm white, cool white, and blue hues. If you have a standard 120V circuit powering your current pool light, you'll need a transformer to convert to DC if you want to use the CNBRIGHTER lights.
They are small and simple, offering just a single color each. You won't get fancy colors or light shows, just a basic pool light. However,  they're very inexpensive and one of the cheapest underwater LED options.
One of our concerns was the very short leads on this light, and another issue we had was poor longevity. We purchased several, to begin with, but most of them stopped working within the first few months. While they're not expensive, the cost begins to multiply if you have to replace them. In the end, we don't think they're a great option, and we'd recommend another brand like the S.R. Smith pool light in our top position instead.
Pros
One of the cheaper lights we tested
Cons
Very short cable
No color options or light shows
12V-24V only

Conclusion
Whether you want to enhance your pool area by adding colorful lights and light shows under the water, or you just want to save money by using a longer-lasting, lower-energy bulb, underwater LED pool bulbs can be a great improvement to your pool. You've read about some of the most popular options in our reviews, but only three have earned our recommendations. The S.R. Smith TREO light was our favorite overall. The light offers six solid colors and up to 49 variations for a unique and ever-changing ambiance. Plus, you get five trim ring colors to complement the pool and a power cord up to 150 feet long.
The Intex LED Pool Wall Light was our pick for the best value. It's magnetic, so it attaches to above-ground pool walls easily, and no permanent installation is necessary. It's affordable, easy to install, and illuminates a pool up to 24 feet long. Finally, the Pentair IntelliBrite LED Pool Light was our premium choice recommendation. It's bright, uses very little energy, and the lens can rotate to provide a wide or narrow beam depending on its placement in your pool.