9 Best Floating Pool Lights in 2023 – Reviews & Top Picks
Floating pool lights can serve multiple purposes. For one thing, they add a nice aesthetic to your backyard oasis, bringing light and color to your home's favorite feature, even at night. They also serve an important safety function. It's not always advisable to swim at night in the dark.
A few strategic pool lights will go a long way towards alleviating this concern. The products featured on this list are the best of the best.
Whether you want a high-end statement piece or a solid budget pick, you will find something awesome on our list of the best floating pool lights.
So, without further ado, read on!

A Quick Comparison of Our Favorites in 2023
Rating
Image
Product
Details

Best Overall

Esuper Floating Pool Lights

LED bulbs
8-hour run time
Durable housing
CHECK PRICE

Best Value

LOGUIDE Floating Pool Lights

Attractive design
Changes colors
Affordable
CHECK PRICE

Premium Choice

LOFTEK Floating Pool Lights

Remote
Large housing
16 different colors
CHECK PRICE

MicroTronixx Floating Pool Lights

12-pack
Changes color
9 different colors
CHECK PRICE

Blibly Floating Pool Lights

Remote
16 colors
4 different modes
CHECK PRICE
The 9 Best Floating Pool Lights
1.

Esuper CT-800 Floating Pool Lights – Best Overall
The Esuper is a beautiful set of floating pool lights that feature brilliant pastel shades of pink and green. The units are solar-powered, which means they charge during the day to produce light during the night.
They can run for up to 8 hours on a single charge, which is far more juice than your average pool party will require. Esuper also benefits from LED light bulbs that will essentially last forever, with no need for replacement.
Naturally, the housing is also water and weatherproof. You may want to note that these lights are a little bulky, though. For people with smaller pools, they may create a crowded aesthetic. Otherwise, it's an attractive product that the majority of people will appreciate, and our pick for the best floating pool lights overall.
Pros
LED bulbs
8-hour run time
Durable housing
Brilliant design
---
2.

LOGUIDE HONKE010-06-3 Floating Pool Lights – Best Value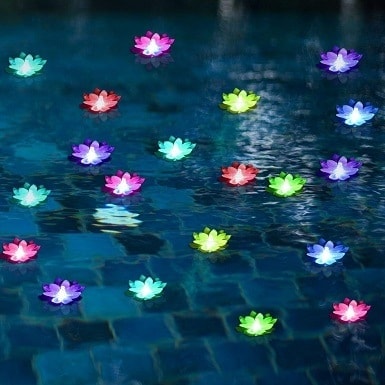 Next, we have our best floating pool lights for the money pick. The Loguide lights are affordable, low profile, and clever in their design concept. The bulbs are shaped like leaves that float elegantly atop your water, and they come in a variety of attractive colors.
Each light is able to slowly change color to create a dazzling effect, and they are powered by batteries, which can run effectively for over 100 hours at a time.
They are a great way to add class to your pool. However, you should note that they are not extremely effective at producing a ton of light. These units are mostly decorative and won't do much to enhance visibility.
Pros
Attractive design
Changes colors
Affordable
Cons
Don't produce a ton of light
---
3.

LOFTEK 049-010130 LED Light Ball – Premium Choice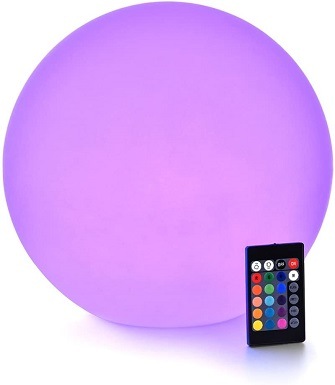 The Loftek features a 12-inch acrylic housing that is completely waterproof. The unit is multicolored and can be adjusted with a touch screen remote control, making it easy to shift from any of the 16 different colors available.
As with most of the lights on this list, the bulb is LED, which means that it should basically last forever. The ball-shaped design is 12 inches in size and can run for 6 hours on a 2-hour charge. Unfortunately, though, all of these bells and whistles don't come for nothing. This is one of the most expensive products featured here.
There is also a value concern. While many of the lights we are highlighting come with multiple units, your money buys you a single light with this purchase.
Pros
Remote
LED
Good battery life
Large housing
Waterproof
16 different colors
---
4.

MicroTronixx Floating LED Light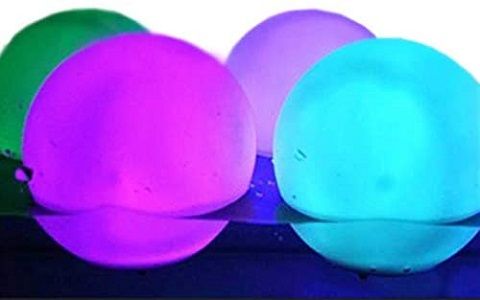 The MicroTonixx features a rounded shape. The units are 3 inches in diameter and benefit from multicolor lighting that changes as the evening progresses. With the press of a button, you can choose from 9 different colors, or let the light do it for you in a fast, or slow progression.
And, while the sticker price of this unit is fairly high, the quantity does well to compensate for it. You get 12 lights—more than enough to fill out even larger pools.
Some users have reported issues with the battery pack. They claim it can become loose fairly easily, exposing sensitive components of the light to water. Still, with careful use, this issue may be avoided.
Pros
12-pack
Changes color
9 different colors
Cons
Low-quality battery housing
---
5.

Blibly Swimming Pool Lights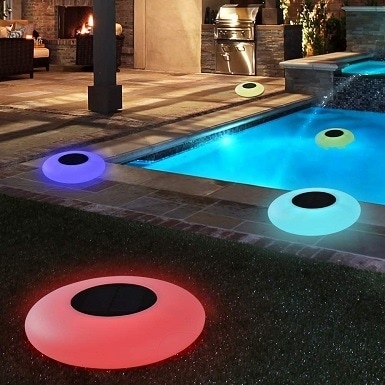 The Blibly lights are solar-powered units that can run for up to 8 hours on a full charge. Each light is disc-shaped and features 16 different colors, as well as 4 different lighting patterns. You can navigate through these various settings effortlessly through the use of a wireless remote.
The remote has a range of 12 feet, which, while not enormous, is still more convenient than diving in the pool to change your light settings.
Buyers will want to note that the light itself is not very bright. While it is suitable for cosmetic purposes, it won't do much to provide clarifying illumination. Still, if you want to spruce up the look of your pool a little bit, this is a good choice to consider.
Pros
Remote
16 colors
4 different modes
---
6.

Poolmaster 54504 Portable Floating Lights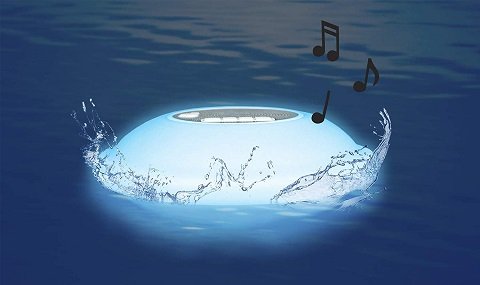 The Poolmaster is something of a jack of all trades. In addition to lighting up your pool, it also features musical output capabilities. It comes with a speaker, as well as Bluetooth connectivity that allows you to play music, listen to audiobooks, and even answer phone calls from the pool.
Unfortunately, the quality of the Bluetooth connection is fairly unreliable, but it is still a cool feature to have when it is working.
It also can make use of seven different colors. The Poolmaster is a rechargeable unit and can run for 10 hours on a single charge. Granted, this is a pricey light, but considering the special features, some buyers may be willing to pay a little bit more.
Pros
Bluetooth
Answer calls
10-hour battery life
---
7.

UNIQLED LED Floating Mood Lights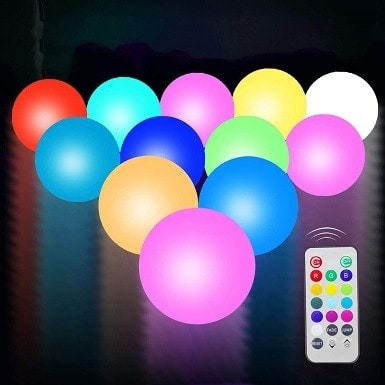 The UniqueLED features 12 floating mood lights, all shaped like balls. Each has a diameter of 3 inches, and all of them can be controlled easily via a wireless remote. The balls feature 13 different color options that can be displayed in a variety of patterns, changing at different speeds to match the tone of your gathering.
The package even comes with 5 extra batteries to help you get started. Unfortunately, though, the lights are pretty inconsistent in their performance. The bulbs tend to short circuit over time and may stop working abruptly without cause.
Of course, not every user will experience this, but it is certainly a problem to be aware of.
Pros
12-pack
5 extra batteries
13 color options
---
8.

Intex 28695E Floating LED Pool Light
The Intex is simple but effective. The LED bulb produces a white light that activates on a timer, turning on at night. When you are feeling festive, you can activate color change mode, to enjoy any of the five hues available.
Though it is a pretty decent product in its own right, the rest of Intex's features don't stack up so well against the other options we've seen to this point. The battery life is very short, only holding out for several hours at a time. The light itself is very dull, and some even report that theirs stopped working entirely after a short period of use.
Pros
Timer
Five different colors
Cons
Poor battery life
Very dull light
Some report poor life expectancy
---
9.

SUNWIND Floating RGB Swimming Lights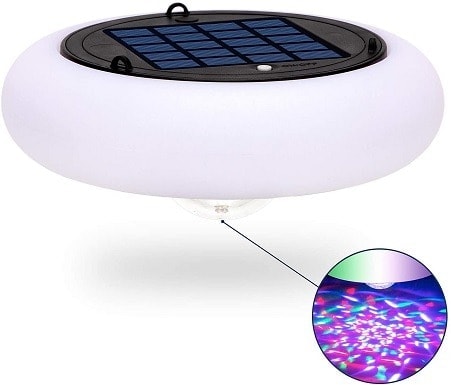 Last but not least, the Sunwind. This solar-powered unit is designed to produce a multicolored strobe pattern on the bottom of your pool. It is a fun effect for pool parties, but unfortunately, the product does have some rather pronounced limitations.
For one thing, it seems to have a major problem holding a charge. Many users report that their light lasted for less than an hour before shutting off. It's also fairly dull in the amount of light it does output, and it is fragile, which means it won't hold up well against a bump or a drop.
Pros
Solar-powered
Strobe light effect
Cons
Dull
Bad at holding charge
Fragile

Buyer's Guide – Finding the Best Floating Pool Lights
And now, here are some handy buying considerations that should help make your decision much easier.
Remote
Some of the higher-end units on our list today featured remotes. This is a nice inclusion because it allows you to adjust, and deactivate your light without fishing it out of the pool after a long night. Typically speaking, remotes are only found on top-tier products, but if you have a little bit of extra money to throw at this purchase, it is a worthwhile feature to consider.
Bluetooth
Remotes are great, but what if you could control your pool lights from your phone? It seems every year, more and more products join the interesting  and fast-paced world of IoT, and pool lights are no exception. While Bluetooth-enabled pool lights are somewhat rare right now, they do make it even easier to control your pool.
Lightbulb Life Expectancy
Pretty much all modern pool floating lights are LED. These bulbs are great because they consume modest amounts of energy, and they typically last for what basically equates to an eternity (many LED lightbulbs can last for literally decades if used as intended).
However, you shouldn't necessarily bank on the basically eternal life expectancy of LED bulbs. There are always exceptions, so take some time to check how many hours of use the bulb gets before you finalize your buy.
Intent
User intent is also really important. Some of the lights we looked at are pretty much strictly for decoration, while others can be used in a more practical way—lighting your pool waters for safe nighttime swimming.
Still, others are able to accomplish both objectives nicely. In any case, you will want to consider your intentions as you look at each product. For example, units like our runner up pick are going to make your pool look great during a party, but they won't be much good for anything else. Knowing this in advance can save you time and money.
Power Source
How are your lights powered? It used to be that pool lights required intricate wiring that was costly and difficult to repair. Indeed, for built-in lights, this is still the case, but those of the floating variety are much more user-friendly.
There are three main power sources you are like to come across: solar, battery, and rechargeable battery. Solar is great because you benefit from a basically unlimited power supply source. A good unit will be able to run all night from the light that they soak up during the day.
Still, this approach does have its flaws. If you really need your lights to work in the middle of a cloudy spell, you may find yourself out of luck.
Then, we have your standard battery-powered lights. You can get these bad boys fired up with a pack of triple-As. Some benefit from very impressive battery life expectancies of around 100 hours. However, they can be pricey to power over time.
Finally, we have the rechargeable battery. Rechargeable batteries are highly convenient, but they also tend to cost a little bit more than the aforementioned options.
Charge Time
If you decide to go with a rechargeable unit, you will want to pay attention to the charge time. A good battery will be ready to go within a couple of hours, but occasionally you find units that need to charge overnight. While this isn't the end of the world, it does mean that you'll probably be out of luck if you need your lights in a pinch.
Design
Whether you are buying for practicality or style, you should still look into getting something visually appealing. Pools are more than just for recreation—they are the main feature of your backyard. Some of the units on our list benefit from unique and enjoyable designs that can be both practical and stunning.
Color
For pure practicality, soft, white light is probably your best bet for cutting through dark waters. However, that isn't to say that this is the only option you're left with. More colorful units can still be effective.
Quantity
It's also important to factor for how many lights the package you are buying comes with. For most pools, just one light isn't going to do you much good. You'll need at least a few to ensure that the entire surface of your pool is receiving coverage.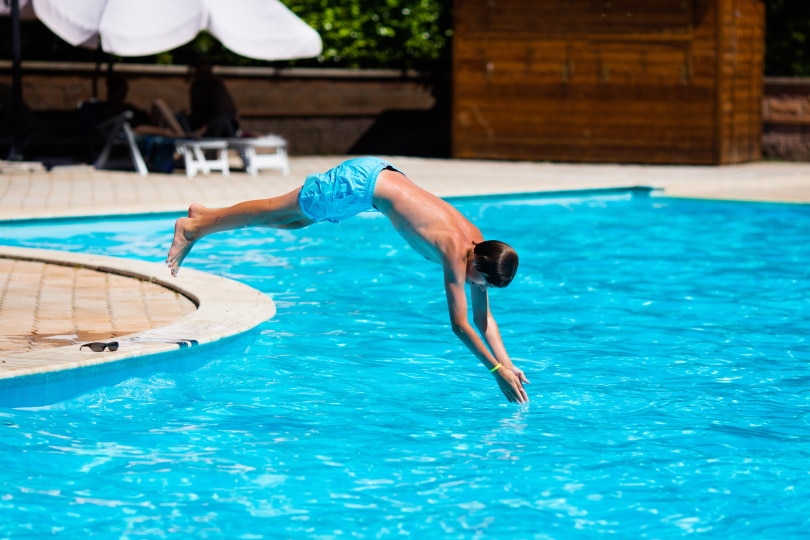 Size
The size of your light does matter. Little units tend to produce a very limited amount of light, which may not be great for people with big, or particularly deep pools.
However, bulkier lights have their own set of cons. In smaller pools, they tend to overwhelm the space that they occupy, creating a claustrophobic effect. Consequently, you need to invest in something that is sized to suit the dimensions of your pool.
Price
Floating pool lights are always going to be more affordable than the built-in alternative. However, the price will vary. For a rough estimate, consider budgeting for around $50.
While it is certainly possible to find decent options for less than this, that number gives you access to some higher-end options that are well suited to go the distance.
---
The Difference Between Waterproof and Water-Resistant
There is a difference between waterproof and water-resistant. Waterproof lights can be splashed, submerged, and essentially exposed to all the water in the world without issue. Water-resistant lights aren't quite so fortified. While they will be able to float on top of your pool safely, they may break down if they get submerged.

Conclusion
Hopefully, you aren't even reading this because one of our floating pool light reviews has connected you with an awesome product. However, if you did make it to the end, it may help to revisit a couple of standout picks from the top of our list.
Buyers who want a really solid piece of equipment (and willing to pay more) will appreciate our top choice of the best floating pool lights, the Esuper CT-800.
However, that's not to say that you have to spend a ton of money to get something good. Budget buyers can still achieve great results with something like our runner up choice for the best floating pool lights, the LOGUIDE HONKE010-06-3.
See Also: 10 Best Waterproof Shower Speakers: Reviews & Top Picks