9 Best Chainsaw Bar Oils in 2023 – Reviews & Buyer's Guide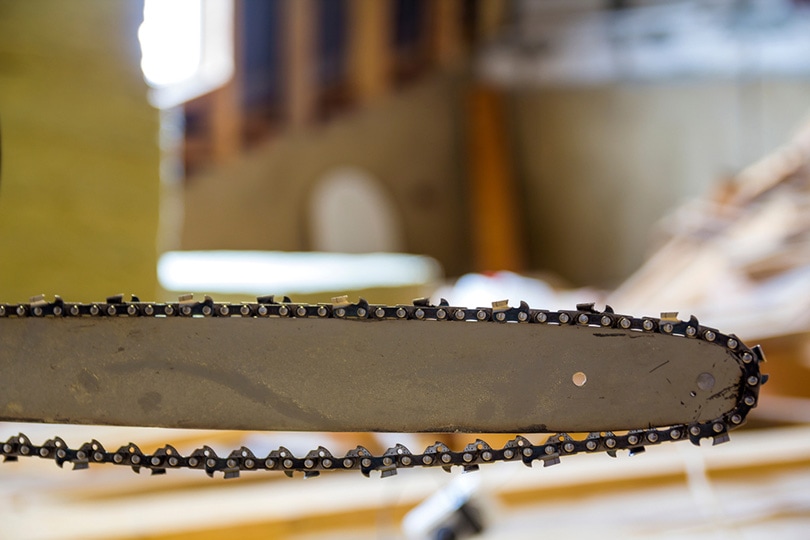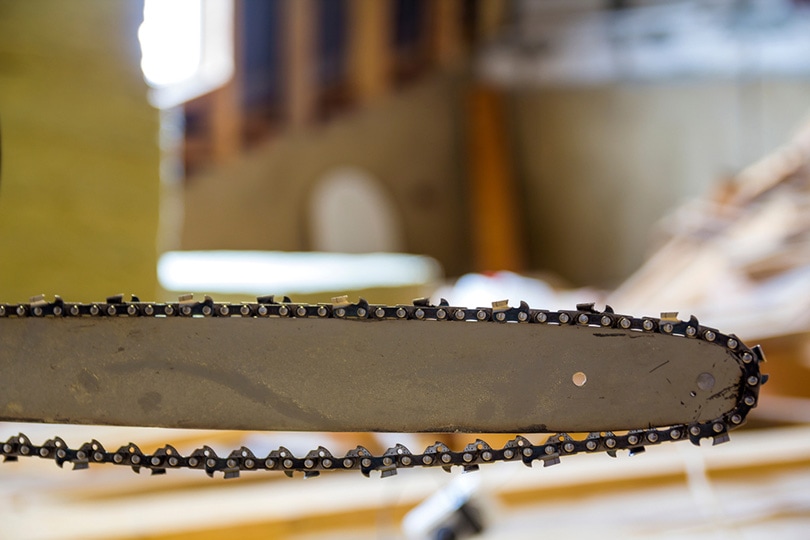 Chainsaw bar oil lubricates the chain and bar in order to protect it against wear and tear, rust, and corrosion and, along with motor oil, is one of two different oils you will have to replace with chainsaw use.
How often you replace the oil depends on the oil's quality, as well as the sawing jobs you regularly tackle, but you should expect to refill bar oil at least every other time you will up with gas. Some oils may require that you top up every time you refill the fuel tank. Avoid using motor oil as a replacement for bar oil, and, although some users have reported reasonable levels of success using vegetable oil, this may not be suitable in all climates.
There is a surprisingly expansive range of bar oils available and choosing the right one minimizes the need to top up too often while preventing the saw from seizing up and prolonging the life of your chainsaw. We have tested dozens of saws, looked at ratings from other buyers, and created a list and reviews of the best chainsaw bar oils so that you can find the right oil first time
A Quick Comparison of Our Favorites in 2023
Rating
Image
Product
Details

Best Overall

HUSQVARNA Premium Chainsaw Bar & Chain Oil

Superior performance
2-pack
Works in extreme temperatures
CHECK PRICE

Best 2-Stroke Oil for Chainsaws

Echo Power Blend Oil Mix

Great value
Versatile
CHECK PRICE

Best Value

Poulan Pro Bar & Chainsaw Oil

Great value
Good performance
Versatile
CHECK PRICE

Oregon Chainsaw Bar & Chain Oil

Smooth
Great second-tier chainsaw lube
Affordable
CHECK PRICE

Stihl Platinum Bar and Saw Chain Lubricant

Does a good job coating
Lasts a long time
CHECK PRICE
The 9 Best Chainsaw Bar Oils
1.

HUSQVARNA Premium Chainsaw Bar & Chain Oil – Top Pick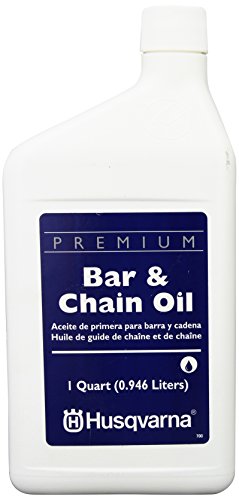 Husqvarna premium bar and chain oil is widely considered the best chainsaw bar oil overall. It uses premium stock and includes additives designed to reduce throw-off and improve the tackiness of the oil. Tackiness is important because it ensures that the oil can adhere to the surface of the chainsaw bar and the teeth. Despite its high quality and exceptional reviews, the premium bar and chain oil from Husqvarna has a similar price point to thinner and lower quality liquids. It's not the cheapest option but it's also not the most expensive. Plus, you get a 2-pack with this purchase, which is nice.
This particular oil has proven useful in warmer climates, too, which means that it can be used all year round to protect your chainsaw investment. Husqvarna states that the oil is compatible with any chainsaw, and there are multiple reports of owners using it with electric and battery-powered saws, although it may not be suitable for use with every single gas-powered chainsaw ever made. Double check to make sure it works with yours.
Pros
Superior performance
2-pack
Works in extreme temperatures
Smooth
Cons
More expensive than other options
---
2.

Echo Power Blend Oil Mix (6-pack) – Best 2-Stroke Oil for Chainsaws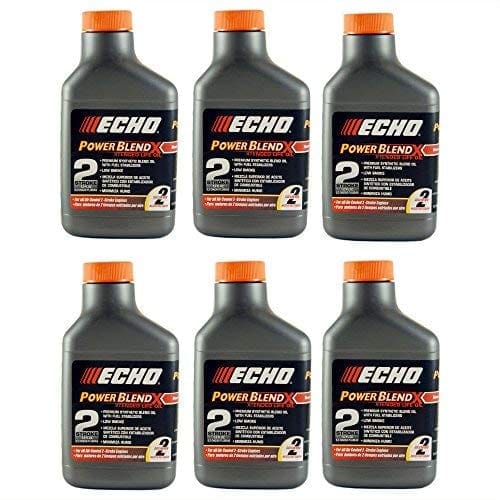 If you're looking for something a little more general, the best 2-cycle chainsaw oil is Echo's PK6. It's a lot less expensive than Husqvarna's chainsaw oil, and the size is perfect if paired with an Echo chainsaw.
Because this is technically two-stroke engine oil, it's versatile enough to use in any two-stroke engine. It's designed to be mixed with gasoline and used as fuel oil to run two-stroke engines, so you can buy it for your chainsaw and use it for anything that requires a gas-oil mix for fuel.
Keep in mind, however, that it's not designed for use on chainsaw blades. This is an oil for engines. If you're looking for an oil to lubricate the blade, get something specifically for that. If you want an oil to lubricate a two-stroke engine, this is a great one.
Cons
Not designed specifically for chainsaw bars
---
3.

Poulan Pro Bar & Chainsaw Oil (1 quart) – Best Value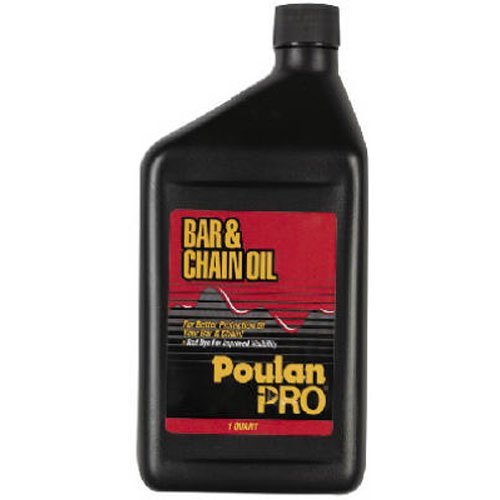 Poulan Pro's Bar & Chain Oil is the best chainsaw bar oil for the money. It is made from a premium oil base and utilizes additives to make the liquid stickier and tackier. This ensures that the oil can bond to the surface of the bar and the teeth, rather than running or firing straight off, referred to as throw-off. Throw off occurs when the liquid is not tacky enough, and it not only means that a lot of the oil you use is wasted, but it means that your bar oil is doing very little to protect the working components of the saw.
Despite offering the same high level of tackiness and performance as the majority of other oils, the Poulan oil works out less expensive than some of the premium brands. Unfortunately, the Poulan oil is especially tacky, and this can be detrimental for use in cold climates and cold weather conditions. You will get a fair amount of use from a 1-quart bottle, but you will want to look elsewhere if you live or work in very cold conditions.
Pros
Great value
Good performance
Versatile
---
4.

Oregon Chainsaw Bar & Chain Oil (1 Gallon)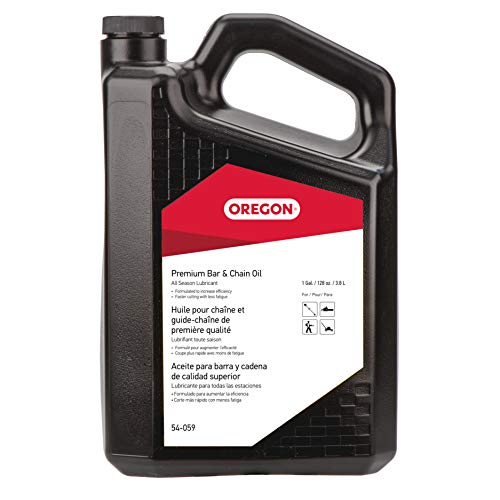 Oregon has built a reputation for good quality, low-cost parts, and accessories, and their 1-gallon bottle of bar and chain lube continues this trend. It is very competitively priced, only costing a little per gallon than the budget Poulan choice.
It includes a premium oil base with tacky additives to prevent throw off and it enables users to prevent a buildup of dirt and debris including leaves, bark, and gum. Many buyers have reported that it has reduced their oil usage because it sticks well to the chain and they have had to use less of this.
There have been some complaints that the oil seems thin, although thickness of the oil is not the same as tackiness. Thin oil is not well suited to use in cold conditions but is preferred in warm conditions, and the thinner the liquid, the more often you are likely to have to refill the reservoir so it can prove more expensive.
Pros
Smooth
Affordable
Great second-tier chainsaw lube
Cons
Not designed for serious work
---
5.

Stihl Platinum Bar and Saw Chain Lubricant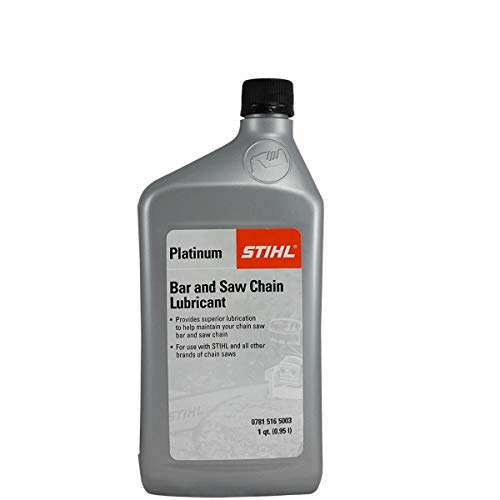 If we were comparing based on raw performance, Stihl's Platinum Bar And Chain Lubricant would rank at the top. It coats all of the blade's moving parts and keeps everything running smoothly for a long time. It also doesn't break down very easily in the heat, so it's effective for a good long while.
It has a significant drawback, however, and that is its price. It's just really expensive, and you can get similar results from a lubricant that is a lot more affordable. When Stihl calls this platinum, it's not just talking about the performance. The price you'll pay for it hints at a far-flung mine in the darkest recesses of the world.
It can also be a bit sticky. You have to be careful about how much gets applied to the chain and bar, because if there's too much it might attract dust particles and sawdust.
Pros
Does a good job coating
Lasts a long time
Cons
Expensive
Sometimes sticky
---
6.

Maxpower Bar and Chain Oil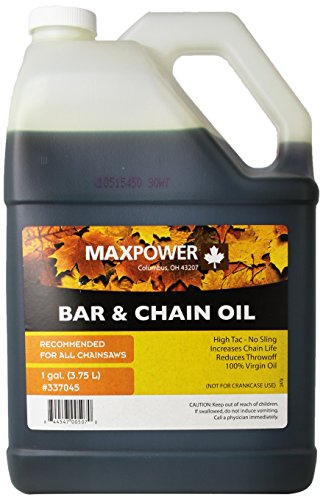 Maxpower 1-Gallon Bar and Chain Oil is another oil with additives designed to increase the tackiness of the liquid. This helps prevent or reduce throw off and it keeps your guide bar and chain in better condition for longer.
A good quality oil, like Maxpower, can also help make the sawing process easier because the lubrication prevents dust and debris from clogging up the teeth. The Maxpower bar and chain oil is recommended for use in all chainsaws and this 1-gallon tub is priced very competitively.
Buyers praise its tackiness and viscosity and have likened it to the Husqvarna oil. Husqvarna retains its top position for the positive reputation that the company has in the chainsaw industry, but Maxpower's oil runs it very close.
Pros
Additives improve resistance
1-gallon bottle represents a bargain
Can be used in electric and battery saw
Cons
Shouldn't be used in gas saws
---
7.

Makita 1-Gallon Bar & Chain Oil for Chainsaw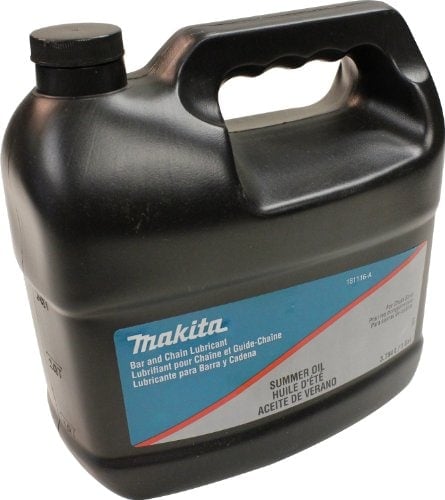 We don't normally make it this far down our rankings and have almost all positive things to say about a product. When it comes to Makita's 181116-A 1-Gallon Chain Bar Oil, we do, though. It's a good quality bar oil that lubricates nicely and keeps everything working well. It does a good job protecting your chainsaw, which you probably paid a lot of money for.
We dropped it down this far for a couple of reasons. It's thick and sticky enough that it won't drop glops everywhere while you're cutting. It'll stay on the chain bar. But that also means that sometimes it'll have a hard time getting onto the bar to do its job. You might find yourself using a thinning agent on it so your bar doesn't overheat and damage your chain.
It's also pricey. It's hard to argue in favor of skimping on bar oil because it's so crucial to the proper operation of your chainsaw, but there are other options that cost a lot less.
---
8.

Chain-Guard Chainsaw Chain & Bar Oil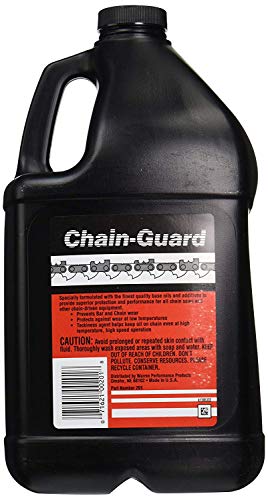 If you don't spend a lot of money on a chainsaw, don't use it very often, and only use it on light branches or for pruning fruit trees, you might not want to invest a lot of money in a bar lubricant. You might be tempted by the very affordable Mag 1 Bar and Chain Oil. Compared to some of the other oils we've reviewed, it probably looks downright attractive.
We would advise serious caution, however. It's inexpensive, but it's also really thin. Bar oil needs to be thick to keep everything running smoothly, and so it doesn't get flung off as the chain goes around. That is likely to happen with something as thin as Mag 1.
---
9.

Arnold 20 oz. Chainsaw Bar & Chain Lubricant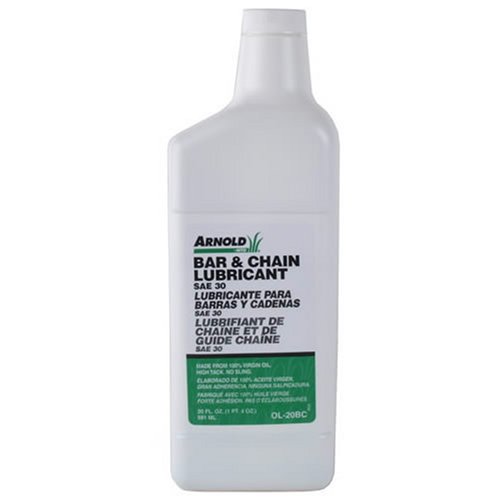 Arnold's 20 oz. Bar and Chain Oil offers a pretty basic transaction. It's very inexpensive for chain bar lubricant, but it's also almost as thin as motor oil. For a chainsaw bar, you need something thick and maybe even a little sticky. What you don't want is something that will run out onto the chainsaw bar and fly all over the place when you turn your chainsaw on. That's what you get with Arnold.
This doesn't just make a big mess where you're working; it means that the chainsaw bar doesn't stay lubricated. The entire point of bar oil is to keep that bar lubricated, which means that in addition to being ineffective, Arnold's bar and chain oil is also a bad value.
Cons
Too thin for use on chainsaw bars
Bad value
---
Buyer's Guide – Finding the Best Chainsaw Bar Oil
The best chainsaws can run to several hundred dollars and the work they do is difficult and challenging in any conditions. They are used to rip through green wood, as well as to cut dry wood. They are also used in very challenging conditions.
The bark, leaves, and gum of the tree can easily get trapped in the teeth of the chain, effectively rendering them useless until you unblock them, and this buildup can also cause the chain to rust and become damaged. Chainsaw bar oil is used to help prevent this. It lubricates the chain, and the guide bar, which keeps the mechanical parts moving more freely, makes cutting jobs easier and more effective, and it can help to prevent rusting and other forms of corrosion from damaging the teeth and chain.
While you would be forgiven for thinking that oil is oil and, therefore, any oil will do, this isn't the case. Motor oil is not considered suitable for the task because it is an incorrect viscosity, and while some users have reported success using recycled vegetable oils, it can be very difficult to find a reliable source of this oil and because it is quite thin, it will mean regular refilling of the bar oil reservoir.
Chainsaw Bar Oil Manufacturers
Thankfully, there are plenty of bar oils on the market, usually available in quart or gallon bottles, and from some of the biggest and most widely respected names in chainsaw and accessory manufacturing. Well-known manufacturers include:
Husqvarna
Oregon
Stihl
Makita
You don't have to use oil from the same brand that manufactured your saw, although some buyers prefer to do so because they believe it has been formulated to optimize performance and reduce wear and tear on their particular model of chainsaw. When buying any bar oil, you will need to consider several factors to ensure that you get the best possible type for your saw.
Viscosity
Viscosity is essentially the thickness of the oil in question. Manufacturers have to find a happy compromise with oil to ensure that it is thick enough to aid in adhering to the surface and preventing runoff, but thin enough that it can flow freely between the moving parts and keep them lubricated. Thickness also determines how freely the oil will flow in certain conditions.
Pay Attention to Climate
Oil thickens in cold conditions and thins in warm conditions. As such, you should consider using a thin oil in winter so that it won't become too thick to be beneficial. You can use a thicker oil in summer when it will naturally thin as a result of the hot weather. Oils with a medium viscosity will perform moderately well throughout the year and negate the need to have to buy separate oils for use in different seasons.
Check User Reviews
Unfortunately, because bar oil is not automotive oil, manufacturers are not required to display a measure of viscosity and even manufacturer websites tend to lack this information. As such, you will have to rely on reviews and ratings from other users to determine how viscous the solution is and what conditions it performs best in.
Tackiness
Tackiness is another important consideration when choosing bar oil, and while it is often spoken in the same breath as viscosity, the two are not the same. While viscosity is the thickness of the liquid, the tackiness is how well it bonds or sticks to other surfaces. Thin and thick oils can have varying degrees of tackiness and this is important in lubricating the chain and bar of your chainsaw.
The oil is essentially dripped onto the bar and if it has poor tackiness, it will run off before properly lubricating the parts. Standard oil, no matter how high the quality, is not considered tacky enough for use in this situation, so manufacturers include additives that increase the tackiness of the oil and enhance its performance. Ensure your bar oil has these additives for the best results.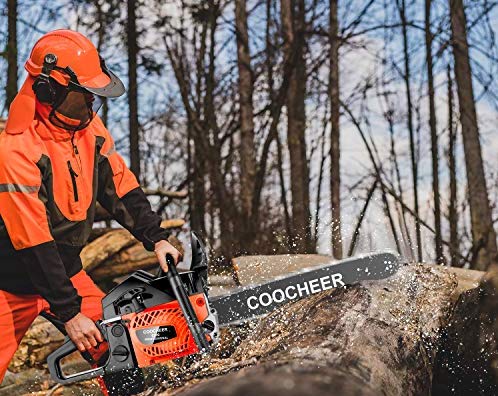 Can You Use Motor Oil Instead of Bar Oil?
Most of us have automotive oil laying around, and it can be tempting to use this in place of bar oil. Despite being dark and thick, motor oil does not have the level of tackiness that is required to stick to the chain. It will run off quickly, so even if you do enjoy some success using this kind of oil, it will be short-lived and you will need to keep refilling the reservoir to ensure the longevity of your saw.
Can You Use Recycled Vegetable Oil Instead of Bar Oil?
Recycled vegetable oil has been used with some success in place of bar oil, but again this is not recommended. It does give a nice smell, but it is a lot thinner than oil that has been made specifically for the purpose of lubricating chainsaw chains. As such, it is likely to run off the chain and if you leave vegetable oil in the reservoir when the saw isn't in use, you could even find that it leaks out of the chainsaw. What's more, because it is thinner, it will need to be refilled regularly and it is unlikely that you will have a constant supply of recycled vegetable oil to keep filling up.
How Often Do You Need to Refill Bar Oil?
You should get into the habit of regularly checking and refilling the bar oil of your chainsaw because it is an essential component that will make your job easier and protect your saw. Depending on the viscosity and tackiness of the oil you use, it is likely that you will have to refill the reservoir every one or two times you fill-up with gas. For electric and battery saws, check every hour or two to ensure that you are still suitably lubricated.
---
Conclusion
Bar and chain oil should be considered an essential purchase if you own and use a chainsaw. It reduces the effort it takes to saw through even the most challenging of wood, it can help prevent corrosion and rust, and it can also prevent a buildup of leaves, bark, and gum: all of which are capable of causing serious damage to the saw and even to the user.
Choose according to viscosity, tackiness, and, of course, budget, to ensure that you get the best chainsaw oil for your needs. You can also use our ratings and extensive reviews to get the best oil and avoid having to do all the research yourself. In our reviews, we found Husqvarna Premium bar and chain oil offered the best viscosity and tackiness, although it can be pricey, while Poulan Pro offers some of the best prices available while being a high-quality bar and chain oil.
---
Featured Image Credit: Bilanol, Shutterstock