Best Chainsaws Under $400 – Reviews, Top Picks & Buyer's Guide 2023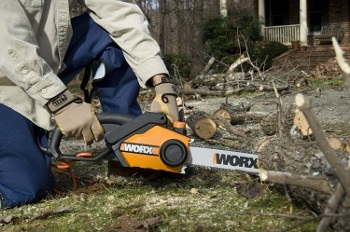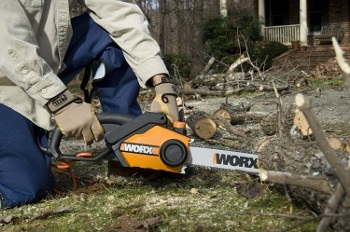 As the saying goes; there's more than one way to fell a tree. Before all of our modern technology made it quick and easy, it required a lot of manpower. Axes, long crosscut saws, and tons of human effort were necessary to bring down a big tree.
Today, we have powerful chainsaws that empower a single man to do the work that once required several men, many tools, and a lot of time. Those tools have even become affordable enough for most homeowners to afford, though some are still quite pricey.
We set ourselves a budget of $400, which is about the limit that the average person might consider spending on a chainsaw. Then, we set out to see what was available. After all the dust settled, we had narrowed down the choices to eight saws that we will share with you in the following reviews.
---
A Quick Comparison of Our Favorites in 2023
| Rating | Image | Product | Details | |
| --- | --- | --- | --- | --- |
| Best Overall | | Husqvarna 450 Rancher II | Quick and easy starting,Powerful motor ,2-year homeowner's warranty | CHECK PRICE |
| Best Value | | Remington RM4618 Outlaw | Powerful 46cc gas motor ,Robust diecast chassis ,2-year limited warranty | CHECK PRICE |
| Best Cordless | | DEWALT DCCS620B | Tool-free chain adjustments ,Weighs just 8.8 pounds ,Very quiet | CHECK PRICE |
| Best Corded Electric | | WORX WG304.1 | 15-amp electric motor ,3-year warranty, Auto-tensioning system | CHECK PRICE |
| | | OppsDecor XP2300 | Very affordably priced, 2-stroke 58cc gas engine,Spare pull cord included | CHECK PRICE |
8 Best Chainsaws under $400 – Reviews
1.

Husqvarna 450 Rancher II – Top Pick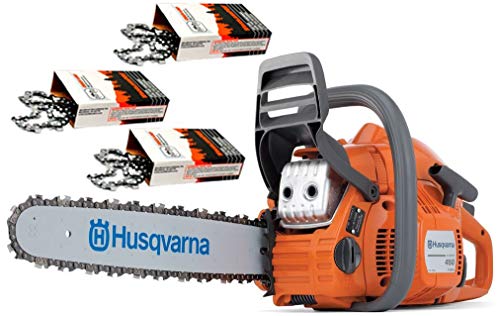 When you need reliable power from your chainsaw, Husqvarna is the name that many people trust. The 450 Rancher II is an impressive chainsaw with a 50cc motor that's putting out a stout 3.2 horsepower. That's enough to spin the chain at 9,000 RPM!
One problem with many gas-powered chainsaws is how difficult they are to start. Husqvarna knew this, and they set out to tackle the issue with Smart Start technology. Luckily, it works well since this chainsaw starts more reliably than other gas saws we've worked with.
Your chainsaw is asked to live a very difficult life. Because of this, things break and need repairs. For that reason, this chainsaw is protected by a two-year warranty for homeowners. As long as you're not using it commercially, any issues you run into should be covered.
After a few hours of cutting, the loud gas engine can start to leave your ears ringing. You'll hear over 100dB at your ear while operating this saw. Better get some good ear protection! But even though it might wear out your ears, it probably won't wear out your arms since it weighs just 11 pounds. Overall, we think this is the best chainsaw under $400 you can buy this year.
Pros
Quick and easy starting with Smart Start
The powerful motor makes 3.2 hp and 9,000 RPM
2-year homeowner's warranty
Weighs just 11 pounds
Cons
Very loud – over 100dB at the operator's ear
---
2.

Remington RM4618 Outlaw – Best Value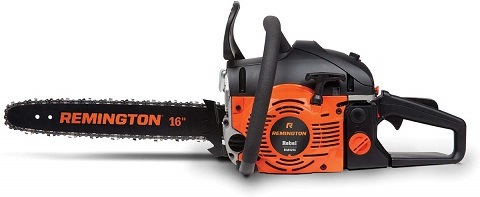 Looking for a powerful workhorse chainsaw that will slice through lumber without slashing your savings? Check out the Remington RM4618 Outlaw. It's a gas-powered machine with a stout 46cc motor that costs quite a bit less than our first pick from Husqvarna. That's why we think it's one of the best chainsaws under $400 for the money.
To make this saw easier to start, Remington has employed their Quickstart technology, and it works very well. What doesn't work is the killswitch! We had to pull out the choke and let the motor die to get it to shut off. This could be a potential safety hazard, though it may not happen with every saw.
A chainsaw needs to be robust, which is why this one is built with a diecast chassis. It's even protected by a two-year limited warranty, so you can rest assured that it can handle whatever you throw at it. Speaking of handles, this handle is well padded and comfortable to hold thanks to the 5-point anti-vibration system that stops the vibrations from impacting your arms so much.
Pros
5-point anti-vibration system
Starts easy with Quickstart technology
Powerful 46cc gas motor
Robust diecast chassis
2-year limited warranty
Cons
Killswitch doesn't function properly
---
3.

DEWALT DCCS620B – Best Cordless
There's no doubt that a gas-powered chainsaw is a valuable and powerful tool, but they have some notable drawbacks. In response to those downfalls, power tool manufacturers have started to create more and more powerful cordless electric saws, such as the DeWalt DCCS620B. This compact saw runs on the DeWalt 20V batteries, providing tons of freedom in a lightweight 8.8-pound package.
But the compact size can also be a hindrance. The bar on this saw is just 12 inches, so don't expect to be dropping behemoth oaks to the ground with this saw. But if you have smaller trees in your yard or mostly need to trim larger branches or chop a tree on the ground, then this saw is an excellent choice.
We were pleasantly surprised at just how much power this little chainsaw produces. It glides easily through most cuts, only showing signs of slowing in thick cuts that push the limits of the saw.
What we really love with this saw is the convenience. The low kickback Oregon bar and chain can be adjusted without any tools and the cordless design allows total portability. But the battery won't last as long as a tank of gas.
Pros
Low kickback Oregon bar and chain
Tool-free chain adjustments
Weighs just 8.8 pounds
Very quiet
Cons
Short 12-inch bar doesn't provide much reach
Batteries don't last as long as a tank of gas
---
4.

WORX WG304.1 – Best Corded Electric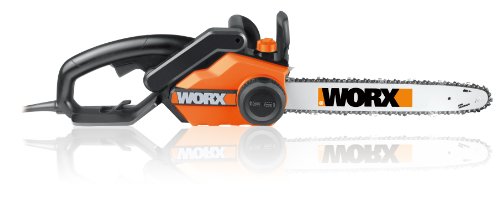 There used to be no question; gas chainsaws were far more powerful than electric ones. But today, that line is starting to get blurry, especially when you look at powerful electric chainsaws like the WORX WG304.1. This saw has an 18-inch bar and a 15-amp motor that puts out an impressive four horsepower of quiet power.
Even when cutting through trees that were nearly as thick as this bar is long, we never had this saw quit. It didn't even bog down, powering through our cuts as if it were running off combustion. But you know it's not because you're not going deaf!
With this saw, you'll never run out of battery power or fuel. But you'll always need an electrical outlet or a generator in the facility, which definitely limits portability.
For convenience, this saw includes an auto-tensioning system that prevents over-tightening. Unfortunately, it also stops the chain from getting quite tight enough, so it needs a bit of adjustment. But with a three-year warranty protecting this tool, you can be sure that it's covered no matter what happens.
Pros
Never runs out of batteries or gas
15-amp electric motor provides 4hp of quiet power
3-year warranty
Auto-tensioning system prevents over-tightening
Cons
The auto-tensioner doesn't tighten the chain enough
---
5.

OppsDecor XP2300
The OppsDecor XP2300 chainsaw is a gas-powered beast with a 58cc two-stroke motor that pushes 3.5-horsepower. Despite the power, this is an affordably priced chainsaw that should be within most people's budgets.
We did have trouble getting this saw started initially. When it's cold, it doesn't want to start up quickly. Once warm though, it will restart with no issues. Yanking the cord repeatedly got tiring, and we worried about its longevity. Thankfully, a spare pull-cord is included in case the first one does break.
We also weren't thrilled with the chain adjustments on this saw. Many saws today allow for tool-free chain adjustments, but not the OppsDecor. You'll need to carry a screwdriver with you in order to keep tensioning the chain as you work.
Pros
Very affordably priced
2-stroke 58cc gas engine provides 3.5 HP
Spare pull cord included
Cons
Difficult to start initially
You'll need to carry tools for chain adjustments
---
6.

WORX WG322 40V
Battery-powered chainsaws have been around for a while, but they weren't powerful enough for serious use. However, companies like WORX have boosted the power of these saws by allowing for higher voltages using multiple batteries. The WG322 40V Power Share Chainsaw utilizes two of the WORX 20V batteries to make for a much more powerful, portable saw.
Because this saw is equipped with brushless motors, you can expect it to lead a long service life. Plus, it will also get improved battery performance. But the biggest draw is the nearly-silent operation. Unless you're pulling the trigger, you won't hear this saw. And since there are no cords, you have ultimate freedom of movement.
We did have one major complaint, this saw operates at just one speed. We prefer variable speed, but it's not a dealbreaker. The battery life was sufficient, and both batteries can be charged in just an hour to get you back to work. But we did also notice that the chain likes to come off the bar, so you'll need to pay attention and make adjustments as needed.
Pros
Brushless motor for a long lifespan and better battery life
Uses two 20V batteries for 40V of total power
Quiet operation
Easily portable
Both batteries can be charged in an hour
Cons
Operates at one speed
Chain likes to come off the bar
---
7.

Poulan Pro PR5020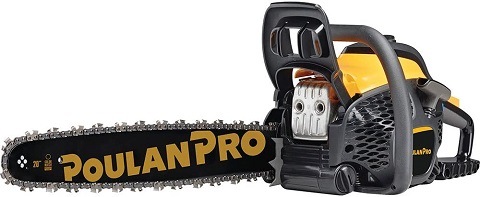 Poulan Pro used to be one of the bigger names in chainsaws, but the PR5020 isn't one of our favorites. That said, it does still have some notable positive traits. For instance, it's powered by a stout 50cc gas motor. We never experienced it bogging down or jamming, so it's definitely got some power. Plus, the Oregon chain reduces kickback and should last a long time.
We were disappointed right away when this saw was far more difficult to start than we had anticipated. A call to Poulan Pro customer support went unanswered since they don't have any weekend hours!
After getting it running and warmed up, we hoped that it would start easier. It did not. No matter what we did, this saw was a pain to get started. And with chain oil constantly pouring out, it's also messy. In the end, we don't think it's worth the headache.
Pros
Combi-tool integrated into the handle
Powerful 50cc gas motor
Includes an Oregon chain
Cons
No weekend hours for Poulan Pro customer support
Chain oil continually pours out
Difficult to start, even when warmed up
---
8.

Blue Max 6595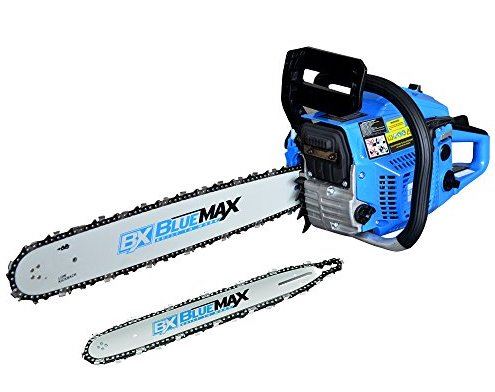 Powered by a stout 45cc gas motor, the Blue Max 6595 seemed like a great saw when we pulled it out of the box. It has a maximum cutting speed of 10,500 RPMs, which is the fastest we've seen. Plus, the fuel-efficiency is very good.
As soon as you hold it though, you'll know that it's gonna be a hard day. This saw weighs 18 pounds; nearly twice what some of the other saws we tested weighed in at. And you'll need to carry around the included tool if you plan on adjusting the chain tension at any point!
Of course, this saw was also plagued with typical gas chainsaw problems. For example, it was a royal pain to get started. And since the pull-string is so hard to pull, this results in the user getting worn out before the work even gets started!
Pros
Max cutting speed of 10,500 RPM
Good fuel-efficiency
Cons
Very heavy at nearly 18 pounds
Requires the included tool to adjust chain tension
Quite difficult to get started
Very heavy pull-string
---
Buyer's Guide – Purchasing the Best Chainsaw under $400
There are several ways to shop for a chainsaw. You could just run down to the local shop and pick one at random, hoping it will fulfill your needs. Or, you could take a few minutes to read our short buyer's guide and narrow down the criteria until you've discovered the perfect chainsaw for your needs.
How to Choose a Chainsaw Under $400
So, what criteria should you be looking at when deciding on which chainsaw is right for you? After testing so many of them, we have a good idea of which traits you should be prioritizing. Let's take a closer look at the important factors to decide.
Types of Chainsaws
Before you can choose a specific chainsaw, you need to figure out which type of chainsaw will best suit your needs. For a long time, gas-powered chainsaws were the only way to go for real tree-cutting. But today, all three major types of chainsaws are completely viable.
Gas-Powered Chainsaws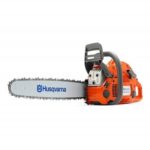 Noisy but powerful, these are the chainsaws that most of us are familiar with. They run on a mixture of gas and oil and can put out well over three-horsepower in some cases. A big
gas-powered chainsaw
is still the most powerful option, so if you plan on doing hard work like chainsaw milling, then you'll probably want to stick with a gas saw. And they're also very portable since there are no cords to mess with.
On the other hand, they're obnoxiously loud and require a lot of maintenance. You'll need to change the oil, spark plug, and air filter regularly. Plus, you need to drain the fluids for winter. And don't forget how hard they are to start! Gas chainsaws are notorious for being difficult to get started.
Cons
Requires a lot of maintenance
Very noisy
Can run out of gas
Corded Electric Chainsaws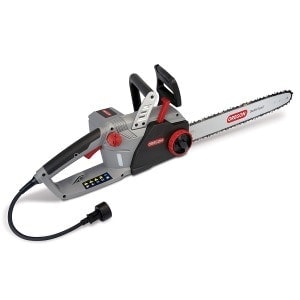 Corded electric chainsaws
have been around for a while, but they weren't powerful enough to be seriously considered until the past few years. Today, some of them can rival gas chainsaws in raw power. That said, you're still not going to use one for anything extremely strenuous, such as chainsaw milling.
A corded chainsaw will never run out of gas or batteries, but you'll always need an electrical outlet in the vicinity. They're also very quiet and don't make any noise unless you're actually turning the chain.
Another advantage of an electric saw is that they require no upkeep. There are no oil or spark plugs to change. Just make sure you keep chain oil in the reservoir so your chain stays lubricated.
Pros
Quiet operation
Never runs out of fuel
Very little maintenance
Cons
Tied to a power cord
Not the best bet when maximum power is needed
Battery-Powered Chainsaws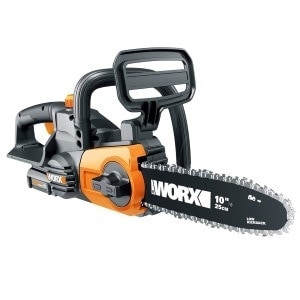 What if you could get the portability of a gas chainsaw with the low maintenance of an electric? With a cordless electric chainsaw, you can! These run on batteries, allowing for absolute portability. But batteries don't last as long as a tank of gas and you'll have to recharge them when they die.
Newer cordless chainsaws often use multiple batteries or very large ones to increase their power output. They're plenty powerful enough to chop down most trees, but if you need the most power available, you're still going to want a gas saw.
Cordless electric chainsaws need almost no maintenance and they're extremely quiet. You'll only hear it when you pull the trigger since there's no engine to idle.
Pros
Cordless portability
Very little maintenance
Nearly-silent operation
Only makes noise when you pull the trigger
Cons
Not the most powerful option
Batteries don't last as long as a tank of gas
Bar Length
Once you've decided what type of chainsaw to get, you need to figure out how long of a bar you'll need. The best way to do this is by determining how large of trees you plan to cut. Try to get a bar that's a bit longer than the diameter of the trees you wish to fell. That way, you can easily make it through in a single pass.
Chain Tensioning System
This one may seem trivial until you start putting the saw through its paces. You'll likely need to make chain tension adjustments pretty often. With some saws, this requires carrying a tool around. But our favorite saws have tool-free chain tensioning systems that let you make adjustments without the need for any extra tools.
Weight
After a long day of woodcutting, you're going to be exhausted. But if your saw is a heavy behemoth, your arms may wear out before you get the job done. We recommend looking for a lightweight chainsaw since they're much easier to maneuver and will be much more comfortable when using them for long periods.
Considerations Before Purchasing a Chainsaw
Before you go right ahead and purchase a chainsaw you have to think about everything that makes up a good model and ensure that the one you buy is up to standard and your money isn't getting wasted.
Make sure the model is the right level for you. If you're a professional looking for a chainsaw to purchase, and you decide on one that is only ideal for starters or beginners, you're not going to be able to do what you want with it. Likewise, if you're a beginner or hobbyist who needs something that is easy to handle and adjust rather than complex (like the professional grades ones are!) then ensure your model is suitable.
Factor in your budget, once you have had a quick look around you might want to factor in what price you're willing to pay. Don't be unrealistic though, ensure that you have an ideal budget that will get you a good quality chainsaw but also won't break the bank.
Brand names aren't always the best to go with, whilst there are some popular brand names out there that produce good quality products, a lot of the time when you're paying money to a brand it is only funding their name, not a good product. Make sure to be careful and always read the reviews surrounding the chainsaw before you purchase it so you don't regret it later.
Conclusion
Whether you're felling trees, trimming them, or just chopping up firewood, a good chainsaw can be an invaluable tool. But if it's temperamental and malfunctions, then it can be a lot more frustration than it's worth. After reading our reviews, you know how these chainsaws stack up against each other, but we'll summarize our suggestions once again so they're fresh in your mind.
The Husqvarna 450 Rancher II was our favorite chainsaw under $400. It's got a powerful 3.2-horsepower gas engine that starts easily thanks to the Smart Start technology. Plus, it weighs just 11 pounds and is covered by a two-year homeowner's warranty.
For the best value, we recommend the Remington RM4618 Outlaw. This gas-powered saw starts easily, thanks to the integrated Quickstart technology. It's also comfortable to use because of the 5-point anti-vibration system, and the two-year limited warranty provides some peace of mind.