10 Best Oil Based Primers for 2023 – Reviews & Buying Guide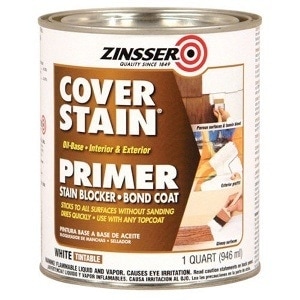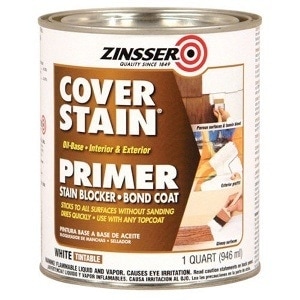 Adding primer to your next paint project can greatly improve the quality of the final coat of paint. Not only does primer help paint adhere to the wall, but it can make the paint look better as well.
However, not all primer is created equally. Some brands and formulations are great, and others don't work as well, leaving you with the feeling that you got ripped off. This risk is much greater when shopping online, as it can be harder to get a feel for the product's quality.
We want you to be confident when you shop online, which is why we've assembled these reviews of some of the best oil-based primers of the year. We also created a buyer's guide designed to help you learn about primers so that you know what you want in a primer before you go to buy.
---
A Quick Rundown of the Winners in 2023
Rating
Image
Product
Details

Best Overall

KILZ Interior

Blocks stains and smells
Good for most wall surfaces
Dries in one hour
CHECK PRICE

WeatherAll Exterior

Exterior primer
Weatherproof
Good for basement floors
CHECK PRICE

Best Value

Zinsser Cover Stain

Interior/Exterior
Adds shine
Good for beginners
CHECK PRICE

Rust-Oleum

Comes in spray can
Powerful spray
Easier application
CHECK PRICE

INSL-X Prime Lock Plus Alkyd

Fast-drying
Adheres well to glossy surfaces
Seals stains from water and smoke damage
CHECK PRICE
Top 10 Best Oil Based Primers – Reviewed
1.

KILZ Interior Oil-Based Primer – Best Overall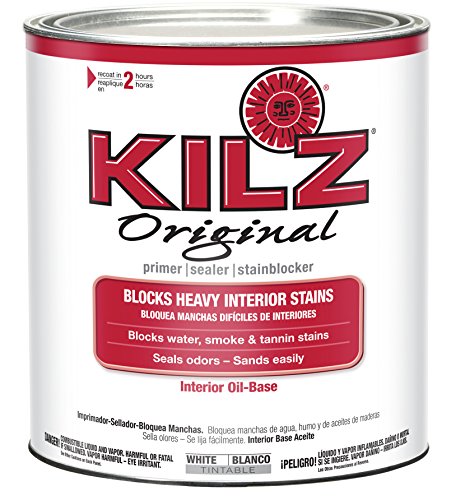 The KILZ 10902 Interior Oil-Based Primer is the standard-bearer for interior priming projects. It's an old brand used by professionals for a long time, and it has continued to get better over the years. In its modern integration, it does a fantastic job of covering stains. If you have wall damage due to leaking water, this primer does a great job of making your final coat of paint look the same on damaged and undamaged wall. But, not only does it look good, but this primer also blocks smells.
Water-damaged materials can smell awful, but this formula also blocks smells from pets and smoking that have seeped into the walls over time. This primer dries to the touch in 30 minutes and is ready to be painted over in as little as an hour, though you get the best result if you let it dry completely, which takes a day or two. It's also compatible with most wall surfaces, including masonry, brick, and painted metals with which other primers struggle. While it does have strong fumes until it dries, you're getting the best primer on the market when you buy this brand.
Pros
Blocks stains and smells
Good for most wall surfaces
Dries in one hour
Achieves good color consistency
---
2.

WeatherAll Exterior Oil Based Primer Sealer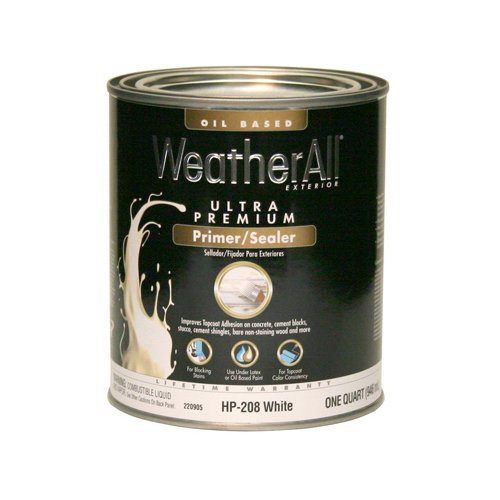 True Value HP208-QT Exterior Oil Based Primer is an excellent oil-based primer that is designed for the rigors of working outdoors. Any paint or paint-like product that you use outdoors is going to be subject to not only potential damage from water, but also must deal with the sun's damaging rays. And, this brand lives up to those expectations, performing well in all outdoor applications.
This formulation also works well on raw basement floors, which is uncommon among primers. The frequently damp, dirty conditions of basements is no match for this primer's resistance and durability, even before paint is put down. Plus, it has the added bonus of helping your paint stay a consistent color, which is good for situations where there's damage, even if that damage wasn't your fault. However, this brand is very expensive, even among primers, so while it works very well, it's not going to fit into everyone's budget, and that's what drops it out of first place.
Pros
Exterior primer
Weatherproof
Good for basement floors
---
3.

Zinsser Cover Stain Oil Based Primer – Best Value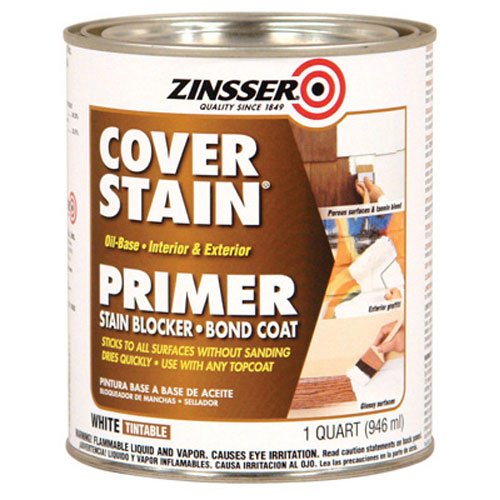 The Zinsser 03504 Interior/Exterior primer is some of the best on the market for beginners. First, it's good for both interior and exterior application, so if you're not sure where your next project will take you, this formulation is a good choice. It also adds a bit of shine to whatever pain you end up using, so it makes your job have a bit of extra pop, even if you're new to this kind of project. It also sticks well to most surfaces, even if they're poorly-sanded, or not sanded at all, which makes them great for beginners.
Even better, it's reasonably-priced, which in the world of primers is saying a lot. You're getting really good value with this formulation, so you don't want to miss out on this opportunity for your next project. The one knock on this primer is that it isn't mold or mildew-resistant, which means that you're going to have to use an additive or buy a different brand if you're in an area where that is a concern. Overall, you can get this primer for a great price, but given how easy it is to use, it's also the best primer for beginners.
Pros
Interior/Exterior
Adds shine
Good for beginners
Reasonably-priced
---
4.

Rust-Oleum Oil-Based Primer

The Rust-Oleum Corporation 03609 has all the features and flaws that you would expect from aerosol-based primer. The good parts include the fact that it comes in a spray can, which means that application is going to be generally easier than using a brush and typically will involve less clean-up, too. If you're applying primer to in irregular object with a lot of nooks and crannies, then an aerosol spray primer is probably the right direction to go. This brand also comes with a powerful spray mechanism, which means you can spray vertically, which isn't possible with all brands.
However, you're getting a limited quantity with a spray can, and you must replace the can each time you run out, which means you're paying for spraying mechanisms each time that you wouldn't pay for if you had bought a regular can. There's also the risk of over-spraying onto things behind or beside what you're priming, so you need to be careful and cover things you don't want to be primed. While there are some upsides to a spray primer, it's not going to be the best choice for most large-scale projects, which sinks it to the bottom of our list.
Pros
Comes in spray can
Powerful spray
---
5.

INSL-X Prime Lock Plus Alkyd Primer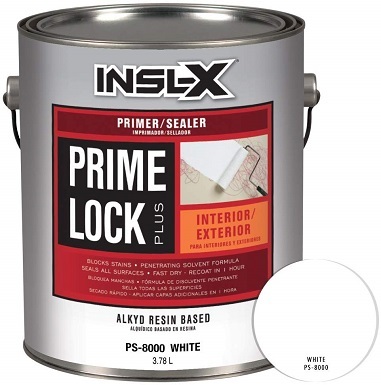 If you need an oil-based primer that can adhere to glossy surfaces, then the INSL-X Prime Lock Plus Alkyd primer is one you may consider. While it is on the higher end of the price spectrum, it is quite effective. It's fast-drying, so you can add your second coat in just one hour. In our testing, it did require a few coats to get the same coverage as some of the other primers, so the quick-drying became a noticeable time-saver. Once several coats were applied, this primer was very effective at blocking all sorts of stains. It also had pretty impressive coverage that does help mitigate the high price. Overall, it's a great product, just not the best one that we tested.
Pros
Adheres well to glossy surfaces
Seals stains from water and smoke damage
Fast-drying, recoat in one hour
Cons
Very expensive
Needs multiple coats for stain blocking
---
6.

Rust-Oleum Zinsser Odorless Primer & Stain Blocker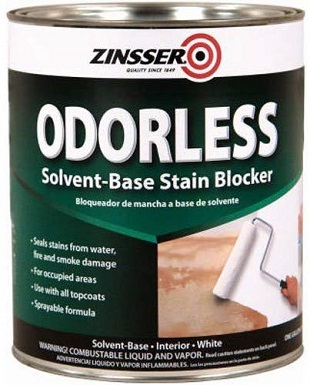 The first thing you're likely to notice about the Rust-Oleum odorless oil-based primer is its very low price. At first glance, it seems like a great deal, until you realize how small the coverage area is—100 square feet for a gallon is not very impressive. That said, it does offer sufficient stain-blocking characteristics, even with just one coat. The low-VOC formula is good, though the claim of odorless isn't exactly true. In our experience, the odor wasn't overwhelming, but it was certainly noticeable. In all, this is a useful product, but the poor coverage means it's just not that great of value and there are other products that we're more comfortable recommending.
Pros
Very affordable
Low-VOC formula
Cons
Poor coverage area
Not odorless, despite the claim
---
7.

Diamond Brite Oil Base Primer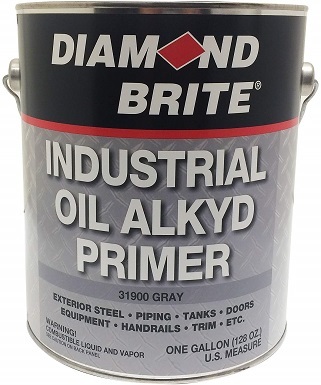 This affordable primer from Diamond Brite is available in volumes as large as five gallons for covering jobs of any size. It can be brushed, rolled, or sprayed on and has a respectable coverage area of 300 square feet. The six-to-eight hour drying time isn't amazing, but it's not as bad as some.
Where this primer fails is in durability. We first noticed that the finish was rapidly losing its glossy sheen in just a few weeks. Aside from this, it scratches very easily from only light contact. Most disappointing though, was the flaking and peeling that we experienced in several areas where the primer just didn't seem to stick properly. Where it worked, it was great, but the spotty performance means we can't recommend it over other primers that performed better.
Pros
Affordable
Can be brushed, rolled, or sprayed
Cons
Finish faded in only a few weeks
Scratches easily
Flakes and peels
---
8.

Rust-Oleum Primer Spray Paint

As far as spray primers go, the Rust-Oleum 7528383 professional primer spray paint is pretty affordable. However, once you factor in the minuscule coverage area of just 14 square feet provided by one can, you'll quickly realize that it's not such a bargain. The spray can does make application quick and easy, and the rust protection this primer provides is adequate.
Once we evenly coated our surface with the Rust-Oleum spray, we waited for several hours. Unfortunately, it didn't seem to tack up yet. Days later, it was only just reaching a fully dry condition. This was a big drawback in our opinion. Making matters worse, it wasn't even sandable once dry. Instead of smoothing out, it simply gummed up our sandpaper. Some areas even cracked when drying was complete, meaning more work would be necessary to achieve a clean finish.
Pros
Easy and quick application
Rust protection
Cons
Takes days to fully cure
Can't be sanded for a clean finish
Prone to cracking when dry
---
9.

Rust-Oleum Zinsser Bulls Plus Spray Primer

Affordably priced and easy to use, the Bulls Eye 1-2-3 spray primer from Rust-Oleum will be attractive to many consumers at first glance. Unfortunately, the poor coverage of just 12 square feet means it's not as great of a deal as it first appears. This product does sand well, but it does not apply well. No matter what we tried, our finish was chunky, and the nozzle was continually clogging. When we tried to use this on plastic, it stayed tacky for over a month, refusing to dry completely. Overall, we didn't think this spray provided sufficient value, even at its low price.
Cons
Stays sticky on plastic
Gets chunky
Spray nozzle clogs easily
Not waterproof
---
10.

RUST-OLEUM Bullseye Oil Base Primer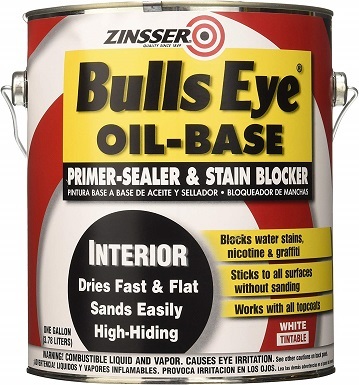 Available by the gallon in a paint-on or roll-on form, this oil-based primer from Rust-Oleum rounds out the bottom of our list. It did sand well in our testing, but that was our favorite thing about it. And for what it offers, we feel it's overpriced. It only works on unpainted surfaces, so you may be doing a lot of sanding, depending on what you're trying to cover. While it did work as a stain blocker, it wasn't as effective as some of its competitors. When you figure in the high cost, we just can't suggest this product when there are better priced and more capable alternatives.
Cons
Expensive
Only works on unpainted surfaces

Not as effective at stain blocking
---
Buyer's Guide – Finding the Best Oil Based Primer
We hope that our reviews have given you some starting ideas about what you ought to be looking for when you go to shop for primer. If you still have questions, that's okay. This buyers' guide is designed to give you the lowdown on primer, so if even if you've never used primer before you can know everything to consider before you go to buy. Or, if you're an experienced painter, this guide should serve as a good refresher course so that you make sure you haven't forgotten anything important.
Stain coverage
One of the best features that you can find in modern primer is the ability to cover up stains in the base material. In theory, paint is supposed to cover up stains, but paint, and especially cheap paint tends to look different when put on different materials. Sometimes the stains "show through," since the spots where they look less glossy or have a slightly different color than the rest of the wall. Consequently, finding a primer that does a good job of covering up stains by providing a consistent base for the paint you use is important.
You should also keep in mind that some stains should be removed instead of covered up. Primer can do a lot of things well, but it can't repair structural damage. If your drywall is still wet, covering it up with primer and paint can lock in the moisture and lead to further damage. And, water coming from behind will cause your paint to seal and run, so make sure that you take care of severe problems before starting your paint job.
Smell
Smell is another important factor that you should consider before embarking on your paint job. Some primers can lock in smells that have accumulated in your walls, especially if those walls are drywall. If you're in a house that used to have smokers or pets in it, then smell-fighting primer can be a lifesaver. In these instances, you must make sure that the smell is coming from the walls. If it's locked into the carpet, then painting the walls isn't going to do much good.
You also must consider the smell of the primer itself. Painting or using primer is a smelly task in most instances. If you're especially sensitive to smell, you may consider purchasing a low-smell formulation. That may cost you more, but it can be worth it. In some instances, outdoor primer would work just as well indoors, but it's labeled as outdoor because its fumes are overwhelming in an enclosed space.
You also want to make sure that the area in which you're working is properly ventilated. Opening windows while painting inside, or moving portable projects outside can be a great way to reduce the amount of fumes that you breathe in.
Drying time
How long your primer takes to dry is an important consideration. Different brands have different drying times, which means that the brand you buy should be somewhat dependent on the amount of time that you have to finish the project. Some companies make primer that they claim dries in as little as 30 minutes or an hour. This is only partially true. You can add a layer of paint after just 30 minutes or an hour, as the primer will be dry to the touch and also dry enough to hold paint.
However, even with quick-drying primer, it's generally better to wait 24 to 48 hours after you apply the primer to let it dry completely throughout. That extra time generally results in a better bond between the paint and the primer and the primer and the wall, and also generally makes the whole project look a tad better.
How each primer affects paint
Every oil based primer has a slightly different effect on the paint you later apply. While all primers are designed to keep your paint firmly bonded to the wall or other surfaces, some can change how it looks as well. Some primers make the final paint you apply look glossier or more matte, so it's important that you take the time to research what effects specific primers have on paint.
You'll also want to keep in mind the fact that some primers do a better job than others at covering up stains. If you're dealing with stains, make sure that you get a primer that is meant for stain-covering. Otherwise, you're probably going to have to paint over everything again shortly.
Which primer is right for you?
There are a lot of brands of primer on the market, and a lot of people make the mistake of buying the cheapest variety they can find. However, not all primers are created equally, and there's a chance that you're cheating yourself out of a good deal by being cheap. Remember that you have to look at your walls every day, and if your primer doesn't live up to your expectations, you're going to be constantly reminded of that fact. Make sure that you get a primer that covers your needs, even if it costs a bit more.
---
Conclusion
The KILZ 10902 Interior Oil-Based Primer is one of the best primers on the market and rises to the top of our list due to its smell-blocking properties and compatibility with most wall surfaces. True Value HP208-QT Exterior Oil Based Primer comes in second because of how well it works but is kept out of first by its very high price. The Zinsser 03504 Interior/Exterior primer provides the best value and is also the best for beginners due to its low price and versatility.  The Rust-Oleum Corporation 03609 is a good spray primer but falls short of the value that you can get from traditional primers.
Hopefully, our reviews and buyer's guide have helped you learn about primer and what you should be looking for when you buy. You're now ready to find the perfect primer for your next big project.