5 Best Cordless Impact Wrenches of 2023 – Top Picks & Reviews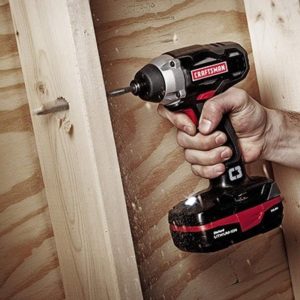 Buying a cordless impact wrench should make your work easier. We want to make your life easier by providing you with all the important information so that you can choose a great tool.
That's why we've compiled a list of the best cordless impact wrenches with detailed information including all of the pros and cons.
There's also a buying guide full of tips for you to not only choose well but also get the most out of your product. Let's dive in!

A Quick Comparison (Updated in 2023)
Rating
Image
Product
Details

Best Overall

DEWALT DCF899P1

Great motor
Very durable
LED light with 20 second delay
CHECK PRICE

Best Value

DEWALT DC820B

Good value
Small and light
Anti-slip grip
CHECK PRICE

DEWALT DCF880M2 

3 LED lights
Excellent batteries
Compact size
CHECK PRICE

Craftsman C3

Solid construction
Good value
CHECK PRICE

Ryobi P261

3-speed selector
Good grip
CHECK PRICE
The 5 Best Cordless Impact Wrenches
1.

DEWALT DCF899P1 Impact Wrench – Best Overall
Featuring a brushless motor for superior performance, the DeWalt DCF899P1 is the best cordless impact wrench on the market. The motor is great because it's particularly durable and offers great overall performance and run-time. It offers up to 700 ft-lbs of max torque and 1200 ft-lbs of max breakaway torque which is great for the most demanding applications. While the motor is great, one of our favorite features of this unit is the 3-speed selector switch which allows you to choose the level of control needed for specific applications. If you need greater control, lower the speed but when you're pressed for time you can simply speed it up.
Another great feature of the DeWalt DCF899P1 is the LED work light which helps light up those dark areas. You will particularly appreciate the 20-second delay on the light which means that you can easily check the work you've done without straining your eyes. While this isn't the lightest cordless impact wrench on the market (it weighs 10.6 lbs), it does at least have an ergonomic design which makes it easy enough to hold. What's more, it's extremely durable and DeWalt have said that the unit can handle a 6-8 ft drop. This impact wrench is great for heavy-duty work and is easily the best impact wrench for automotive work.
Pros
Great motor
Very durable
LED light with 20 second delay
---
2.

DEWALT DC820B Impact Wrench – Best Value
While the DEWALT DCF899P1 is a great cordless impact wrench, the DeWalt Bare-Tool DC820B is a great alternative to consider. In particular, this is because it is the best cordless impact wrench for the money. So if you're on a budget, read on! First of all, it's worth knowing that this cordless impact wrench is very light and weighs just 2.5 lbs. This combined with its small size ensures that the DC820B is able to get into smaller spaces larger impact wrenches simply can't reach. The weight and size also contribute to the ease with which it can be held over long periods of time. An anti-slip grip is another welcome feature of this model.
Regarding performance, the 18-volt, 1/2-inch cordless impact wrench has a frameless motor with replaceable brushes which saves on money and maintenance. 1,740 inch-pounds of torque means that you can perform a wide range of fastening applications such as driving fat lag screw or loosening corroded nuts. Faster application speed comes from the no load speed 0-2,400 rpm/0-2,700 rpm. Keep in mind that this is sold as a bare tool and that the battery is sold separately. While this is a more affordable option, it does lack some torque for more heavy-duty applications.
Pros
Good value
Small and light
Anti-slip grip
Cons
 Lacks torque for heavy-duty tasks
---
3.

DEWALT DCF880M2 Cordless Impact Wrench Kit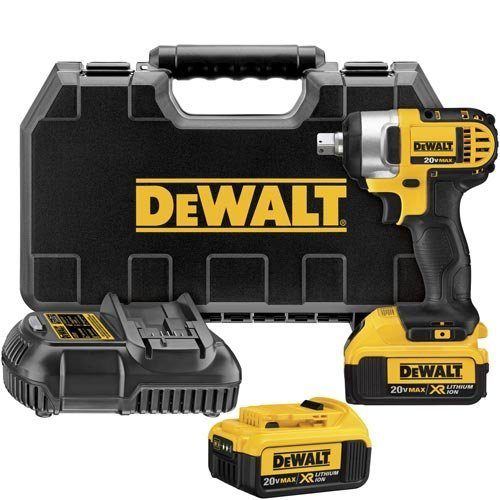 Much like the DC820B, the DeWalt DCF880M2 is compact and lightweight (3.4lbs) which makes it more versatile than bigger, bulkier cordless impact wrenches that struggle to reach certain areas. Hand fatigue is reduced thanks to this and the textured anti-slip comfort grip only adds to the usability of this product, particularly over longer periods of time. What is undoubtedly this model's unique selling point is the three LED lights that provide plenty of visibility when working. What's more, these have a 20 second delay after trigger release so you're not immediately plunged into darkness!
The 20-volt 1/2 inch cordless impact wrench is powered by XR Li-Ion batteries with fuel gauge. These are said to have 33% more capacity over standard packs meaning that you can work for longer. While this is a very useful compact tool, it is not the tool to choose if you're looking for serious power. What's more, some consumers say that removing sockets with them can be particularly tricky. But for most jobs the DCF880M2 will perform well. Meanwhile, the compact size of this unit as well as the good battery life are welcome additions and make it a solid option.
Pros
3 LED lights
Excellent batteries
Compact size
Cons
Lacking in power
Removing sockets is tricky
---
4.

Craftsman C3 Cordless Impact Wrench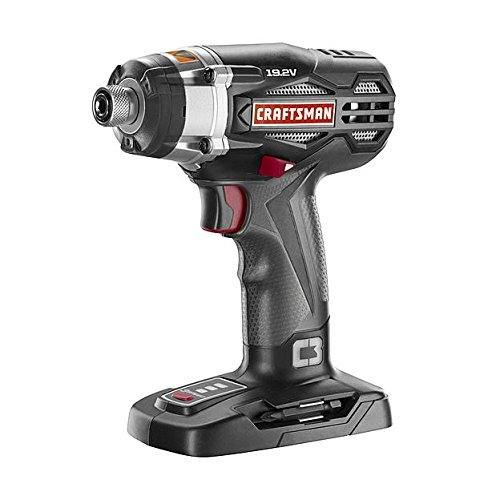 In a list dominated by DeWalt, it's nice to see some of their competitors getting in on the action! The Craftsman C3 has a 19.2-Volt variable speed motor and is capable of 200 ft-lb of torque. The wrench kit of this model comes with a 19.2 battery, a charger and of course, the cordless impact wrench itself. The fact that the kit is so portable and easy to transport makes it ideal for situations such as roadside recovery as well as DIY jobs in and around the home.
It's a cordless impact wrench that is particularly easy to use thanks to the ergonomic design of its handle which has a nice, firm grip that will withstand hot and cold conditions alike. As with most good cordless impact wrenches, the Craftsman C3 features a LED that acts as a flashlight, allowing you to see even when it's dark. This is a sturdy, well-built unit that will perform well with most low to medium duty applications. However, it may well lack power for more heavy-duty work. Despite this, it's a very good value cordless impact wrench for the price point and should prove durable enough to last a long time.
Pros
Solid construction
Good value
---
5.

Ryobi P261 Impact Wrench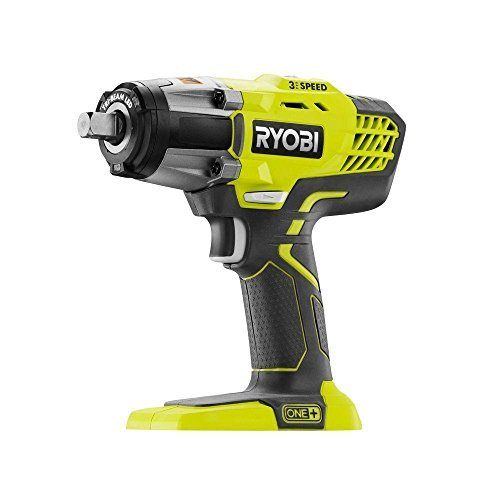 Intended to be more compact and more powerful than the previous model, the Ryobi P261 is worthy of consideration. The impact mechanism produces 300 ft lbs torque and up to 3,200 impacts per minute. In theory, this means that the tool can then be used for a wider range of applications including more heavy-duty projects. The Ryobi P261 comes with a few features including a tri-LED light which increases visibility in the work area. There's also a textured grip on the handle which should reduce the risk of the tool slipping even with sweaty hands.
The versatility of this cordless impact wrench is particularly good with the 3-speed selector. This allows 0-2,900 RPM for maximum torque, 0-2,300 RPM for greater control when driving and fastening and 0-1,800 for the greatest precision when fastening. It's definitely worth knowing that this particular tool is sold without the battery and charger which can be purchased separately. This is a very reliable cordless impact wrench which is great for DIY projects and in particular, automotive work. It won't win any prizes in terms of power but unless you're looking to do heavy-duty applications, this won't matter at all.
Pros
3-speed selector
Good grip
Cons
Battery and charger sold separately

Buying Guide: How to Select the Best Cordless Impact Wrench
Now that we've read about the very best cordless impact wrenches, let's take a look at a few things that should help you narrow down your options even further.
What are the advantages of using one?
Saves time: One of the main reasons to buy a cordless impact wrench is that you can save so much time by using one. Attempting to loosen nuts and bolts that just won't budge can be time-consuming, especially when done manually. A cordless impact wrench can make light work of this. This is especially useful when you're striving to meet a deadline because you're renovating your house or because a customer needs their car!
Saves energy: It takes muscle to remove some nuts and bolts and while it's perfectly good exercise, sometimes you just need a break. A cordless impact wrench does the hard work for you, ensuring you don't overstrain yourself. Sometimes using an impact wrench requires being in uncomfortable positions on the knees, for example. The fact that it can deal with this quickly means you'll have more energy for other tasks.
Saves money: We're not going to claim that everybody who buys a cordless impact wrench will save money. After all, you have to spend money to get it in the first place. However, there are certain situations in which it can save you money, long-term. For example, if you have a business that relies on machines, an impact wrench can help maintain them which helps you avoid any costly losses. This is much the same in a car repair shop. The quicker you can fix a car, the sooner you can move onto another job and more money!
Saves space: Impact wrenches are very useful but this is especially true of a cordless impact wrench. That's because it can save you so much space compared to a pneumatic impact wrench. There's no air compressor to lug around and keep in storage just as there's no need for extensive cable management as with an electric! Cordless impact wrenches just don't take up much space and are extremely portable.
Pneumatic, electric and cordless
There are actually 3 types of impact wrench: air, electric and cordless. Each one has its own unique advantages and disadvantages. Since you're here reading about cordless impact wrenches, we assume that's exactly what you want. But just in case, here's everything you need to know about all 3 types. After all, a little extra information never hurt anyone!
Pneumatic
Also referred to as an air impact wrench, the pneumatic impact wrench tends to be fast and powerful. This makes them particularly ideal for professional environments such as in workshops. Since they're powered by air, they do require a lot of high-pressure air which is obviously an additional cost to consider. What's more, they require regular maintenance which means that they're not the most suitable choice for irregular use at home. However, they are arguably the most robust of the 3 types of impact wrenches. They're not the most portable since you have to lug them around with the air supply in order to use them.
Electric
An electric impact wrench (or corded impact wrench) is similar to a pneumatic in the sense that it can also be fast and powerful. However electric impact wrenches are not as durable as pneumatic impact wrenches. This is a great option for home since having a constant power supply means you'll never run out of power. The only problem with this is the fact that the cable can hold you back. Not only can you move around as freely with a cord attached, it also makes working in certain environments impossible if you don't have a power supply nearby. Despite this, it's recommended for home use since it's more cost effective than the pneumatic.
Cordless
As technology has improved, the cordless impact wrench has become an extremely popular choice. More expensive options have entered the market offering longer battery life and most importantly, more power. In fact, the power provided by the very best cordless impact wrenches is comparable to some pneumatic and electric impact wrenches. The best thing about the cordless is that you have the freedom to move around without a long cord or a bulky supply of air. As a result, cordless impact wrenches are very portable and this allows you to reach difficult areas including those with little to no access to power. One setback of the cordless impact wrench is that it can be heavier due to the battery.
4 Uses of an impact wrench
So you've chosen which type of impact wrench you want. We're guessing you still fancy the cordless impact wrench and we don't blame you! But what are some examples of how this tool can be used? While the tool's job is essentially the same, here are some applications to give you an idea:
Building and construction projects: If you're carrying out a big project then you'll need to tighten (or loosen!) a few nuts and bolts. A cordless impact wrench can save you time and energy as well as prove useful thanks to its portability.
Automotive: Tightening nuts and bolts of vehicles quickly and effectively requires a lot of torque. An impact wrench (especially a pneumatic) can help you do this not only quickly but efficiently.
Heavy equipment: Heavy equipment requires regular maintenance. Because of this, there simply has to be ways to save time and effort. An impact wrench certainly does this, ensuring machines stay up and running.
Product assembly: Product assembly requires a remarkable amount of work. This workload can be eased by tools. Using an impact wrench can speed up the process, saving significant money.
5 Key features
It's all well and good knowing what you can do with an impact wrench but what should you be looking for in terms of features? Here we'll take a look at 5 very key features which should help you decide what's important to you:
Torque: The higher the torque, the more capable the impact wrench is. You really want to look for a minimum of 150 ft-lbs in order to remove a fastener quickly and easily.
Size and weight: In terms of size, you want to strike a balance. On the one hand, you want to reach tighter spaces but on the other, you don't want to sacrifice torque. Try to go for something in between. Cordless impact wrenches tend to be heavier than pneumatic and electric impact wrenches. It's worth checking the weight because the longer a project, the more likely you will experience fatigue during use.
Impacts per minute: The best impact wrenches have a higher impact per minute (IPM). This refers to the number of times it makes contact with a targeted screw or nut. This means that it can tighten or loosen more effectively.
Ergonomics: A lot of people overlook ergonomics but it's very important, particularly for regular use. Choose a cordless impact wrench that has an ergonomic handle with a good, comfortable grip. This will make all the difference when you're working for an extended period of time. It should be well-balanced and not cause too much hand fatigue, allowing you to work for longer and more efficiently.
Battery: The battery obviously isn't much of an issue when it comes to the pneumatic and electric impact wrenches! The longer the battery, the better but beware that some batteries can be heavy and this can contribute to the heavy weight of a cordless impact wrench. Try to look for a unit that offers a battery with a long life and quick charge time (especially important when you're working to a deadline) but isn't too heavy so that it causes discomfort.

Conclusion
Choosing the first cordless impact wrench you find is unlikely to work out. It's much the same as when you're buying a new mobile phone or refrigerator. At the end of the day, the more research you do, the more informed you can be as to which product best suits your specific needs.
There are so many high-quality cordless impact wrenches on the market this year. Our pick for the best cordless impact wrench overall is the DeWalt DCF899P1, while we think the DeWalt Bare-Tool DC820B is the best cordless impact wrench for the money. They come with a variety of features that can make your life easier. By trusting our reviews of cordless impact wrenches, you can be sure that the tool you choose will do a great job. What's more, the various tips including features to look out for help you narrow down those final options.
Deciding on a cordless impact wrench need not be a time-consuming experience. We hope that the information provided in our guide helps you reach a decision. And of course, we wish you the best of luck with your new purchase!