5 Best Oster Blenders in 2023 – Reviews, Top Picks & Guide
Oster-brand blenders have a reputation for proving both high-quality models that will last for years and some lemons that aren't worth the money that you spend on them. It's not always easy to tell which models fall into which category, especially when shopping online.
That's why we've created this list of reviews of the best Oster blenders this year. We've done the hard work for you, evaluating each model and compiling the results in a list so that you can compare them yourself and figure out which model is right for you. If you're still not sure after reading our reviews, then we've also created a buyer's guide, which is packed full of great general information about blenders, that should help you gain the understanding you need to pick the perfect model.
Our Top Picks in 2023 Compared
Rating
Image
Product
Details

Best Overall

Oster Reverse Crush BVCB07-Z00-000

Powerful
Great blade
Pre-programmed
CHECK PRICE

Oster 4096-009 Designer

Powerful
Good Blade
All-metal drive
CHECK PRICE

Best Value

Oster 6684

12 speeds
Good blade
5-cup container
CHECK PRICE

Another Budget Pick

Oster BLSTPB-WBL

Quiet
Stylish Bottle
Dishwasher safe
CHECK PRICE

Oster 6812-001

BPA free
16 speeds
Stainless steel blades
CHECK PRICE
The 5 Best Oster Blenders
1.

Oster Reverse Crush Blender – Best Overall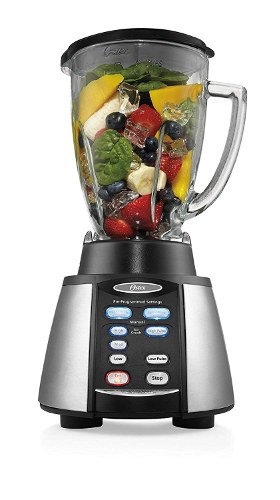 The Oster Reverse Crush BVCB07-Z00-000 is our favorite Oster model. It's the most powerful blender on our list, and yet it achieves all that power without breaking the bank. It also comes with some pre-programmed blending settings, meaning that it will perform some common blending tasks with a single touch. But, what sets this model apart is its fantastic Crush Pro 6 blade, which will do a great job even with the hardest materials, like ice and nuts.
This blender also automatically reverses the spin of the blade during the blend, which unsticks stuff that might otherwise get stuck under the blade pulls more food down to the blade, and makes for a higher-quality blend overall. One small downside is that it comes with a 6-cup, or 48-ounce, container, which is smaller than the 8-cup containers found on top-of-the-line models. However, if you're looking for a great Oster blender, and want a great experience without spending a ton of money, this model is perfect for you.
Pros
Powerful
Pre-programmed
Great blade
---
2.

Oster Designer Series Blender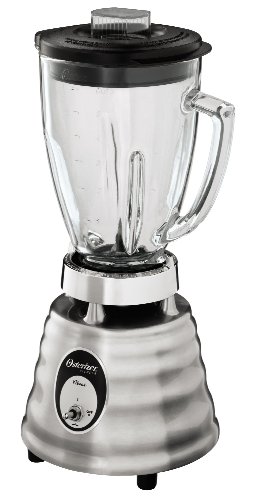 The Oster 4096-009 Designer Series looks great. If you just want a blender to serve as a display model in your kitchen, you'd be hard-pressed to find a better model at anywhere near the same price point. However, blenders shouldn't be judged on looks alone. The good news is that this blender can blend well. It comes with a good "ice crusher" blade and enough power to deal with ice, if not enough to make it the easiest or fastest model on the market. It also comes with an all-metal drive that should give you peace of mind that his model will last a very long time.
However, it only comes with two speeds and a crushing mode, which is underwhelming for a blender that costs this much. That's part of what keeps it out of first, but you also have to keep in mind that while it has a good blade and good power, neither rises to the level found on our first model. This blender is best for those who want a blender that looks great and works well but doesn't need the most powerful blender on the market.
Pros
Good Blade
Powerful
All-metal drive
---
3.

Oster 6684 12-Speed Blender – Best Value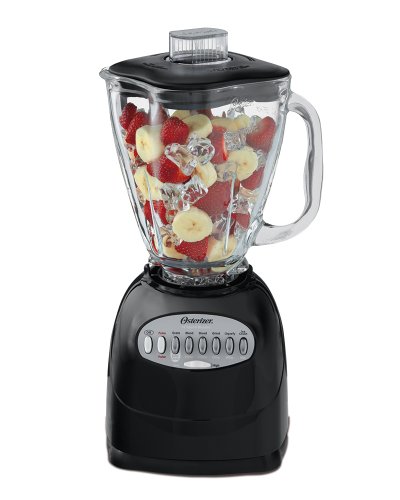 Finally, a model with a ton of speed options! The Oster 6684 comes with 12 different speeds that give you the control you need to get the exact texture you want using any kind of starting foods. It also comes with a 5-cup container, which while still not topping out at the elite 6 cups, is one of the best capacities that can be found in the Oster line.
This model also comes with a Crush Pro 4 Blade, which while good in its own right, isn't as good as the crush Pro 6. It also lacks the power found on top-end models, as it comes with "700 power watts/450 blending watts," falling under the critical 500-watt mark that makes blending ice easy. Consequently, you have good power, but you're still going to have to help this machine along some, as it's not going to blend harder materials easily. However, this blender can be gotten for a very low price, and it provides the value of a much more expensive model.
Pros
12 speeds
5-cup container
Good blade
---
4.

Oster Blender BLSTPB-WBL – Another Budget Pick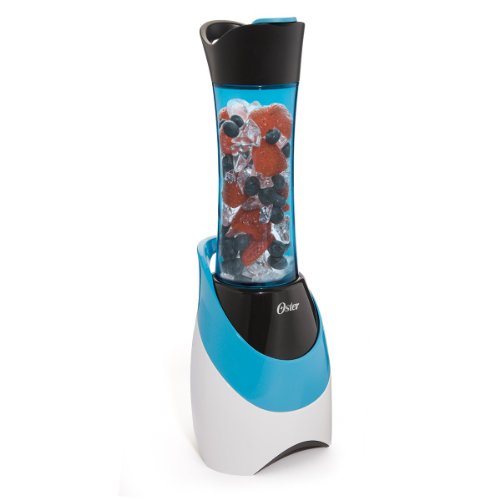 The Oster BLSTPB comes with a stylish blending container that doubles as a bottle with the included lid. It's also a fairly quiet model, as far as blenders go. However, the lack of noise reveals a deeper problem. This model has a 250-watt motor, which is terrible when it comes to blending. 350 watts is generally regarded as the minimum amount of power for dealing with ice, and 500 is recommended for getting the best results when you're blending ice on the regular.
So, this is a poor model for doing any of the harder blending tasks. You're probably going to have to cut things up beforehand and add a lot of liquid to make sure that things run smoothly. There's also no speed control on this model, meaning that you just push a single button to blend. No precision control here. If the speed is wrong for the task at hand, there's little you can do about it. However, if you're looking for a cheap blender and want a cup that you can take places, this model could be what you're looking for.
---
5.

Oster 6812-001 Blender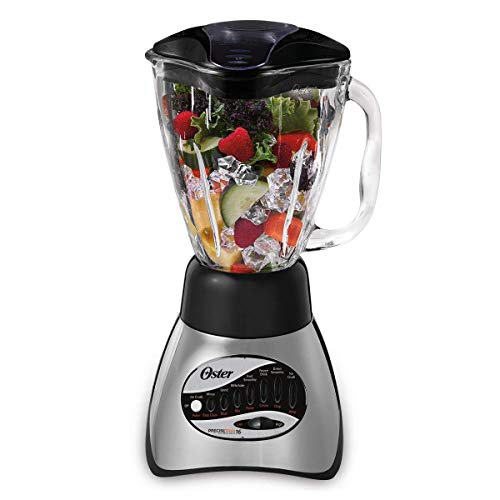 The Oster 6812-001 can be a very frustrating model. The manufacturer included the ability to switch between 16 speeds, but that's not the most useful feature for this blender to have since its power is so weak that you won't notice a big difference in performance between speeds. Since its so weak, it tends to make a ton of noise, even when doing simple blending tasks.
This model also has huge durability problems. Frequently, it has bad vibration issues, which make it hard to control, and put a lot of extra wear on the internal components. It's prone to producing a burning smell while in operation, and that's probably due to how overstrained it is, even with simple tasks. It's also prone to breaking. You should probably expect a lifetime in terms of months rather than years. While this model is exceptionally cheap, you may want to spend a bit more money and get a unit with greater value.
Cons
Weak
Durability problems
Noisy
---
Buyer's Guide: Factors to Consider When Buying the Best Oster Blender
Hopefully, our reviews have helped you understand some of the Oster models on the market and have helped you figure out which model will best suit your needs. If you haven't figured that out yet, be sure to check out this buyer's guide, which is designed to teach you about how we ranked these blenders. With this knowledge, you should be able to find the perfect model for you.
Blades
Something that you should keep in mind when shopping for a blender is that power is not the most important feature. Instead, the quality of a blade can make a big difference in your blending experience. Poorly-designed blades or those made from inferior materials can easily offset gains in power. In some situations, blenders with a lower wattage but better blades will do a better job than those with more power and lesser blades.
The best blades on the market tend to be stainless steel. Some blades also have a Teflon-coating that extends the life of the blade, helps it hold its sharpness, and helps prevent scratches. You should also pay attention to the blade mount, which can make it significantly easier or harder to clean out the blender when you're done.
Power
Power, of course, is still an important feature, even is people sometimes overrate it. Wattage doesn't always tell the whole story, as we discussed in the blade section, but that doesn't mean that you can learn something about a blender from its wattage.
350 watts is generally regarded as the threshold at which blending ice and nuts become possible. You're going to have to add a bunch of liquid and coax the machine along, but it's still doable. 500 watts is where blending ice becomes easier with you assisting the blender. So, if you see a power significantly over that, the blender is probably strong enough to deal with most tasks, unless there's a flaw elsewhere that offset some of the power.
Which blender should you choose?
One of the most important things you can do when looking for an Oster blender is to make sure that you choose the model with the best value for you. That's going to be the model that has all of the features and power that you need, without adding a lot of extra features that drive up the price. If you can do that, you should be satisfied with your blender for a long time to come.
---
Final Verdict:
The Oster Reverse Crush BVCB07-Z00-000 is our top Oster model, due in large part to its phenomenal power and great blade. The Oster 4096-009 Designer Series looks great and also blends well, earning it the second spot on our list. The Oster 6684 is a 12-speed blender with a good blade, at a price that can't be beaten, earning it the title of "best value." While the Oster BLSTPB doesn't have great power, it comes with a stylish bottle and will make a great pick for people on a tight budget. The Oster 6812-001 is more likely to cause frustration than give a pleasant blending experience.
Hopefully, these reviews have helped you understand what separates the best Oster models from those at the bottom of the pack. Armed with this information, you should be able to find the model that works best for you.
Related blending posts: