5 Best Paint Sprayers For Deck Staining of 2023 – Reviews & Top Picks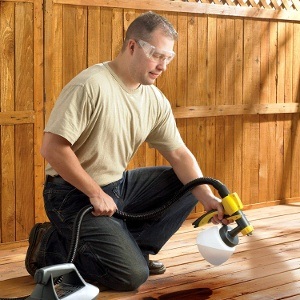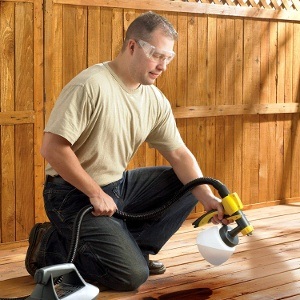 Staining a deck by hand is too time-consuming for most people these days, so they switch to paint sprayers and get it done in a fraction of the time.  Great.  But which sprayer is best for the job?
As with most products, there is a fierce dog-eat-dog competition for your business with manufacturers offering a bewildering cornucopia of products, features, and prices.  Sorting through it all can take hours of endless searching through reams of product reviews.  But we can help.
We'll do that for you.  In fact, we already have.  We've gone out and taken a hard look at the various manufacturers and what they have to offer. We've also studied the benefits, functions, and features of the various models. Upon completing our in-depth research, we've come up with a list of the ones that we believe are the best.
We've put all that information in a series of handy reviews to make your life simpler.   Read on to find out which sprayer is best for you.
---
Our Favorites of 2023 (compared)
Rating
Image
Product
Details

Best Overall

Fuji 2203G Semi-PRO 2

Excellent results
Fast application
Use stain right out of the can
CHECK PRICE

Graco Magnum X7

Easy operation
Excellent manual
Fully adjustable pressure
CHECK PRICE

Best Value

HomeRight C800971.A

Lightweight
Less thinning
Fast and easy setup
CHECK PRICE

Wagner 0518080

Fairly quiet
Cleanup is simple
Two attachable cans
CHECK PRICE

TACKLIFE 1100ml/min Sprayer

Portable design
Nice refill method
Wide applications
CHECK PRICE
The 5 Best Deck Stain Sprayers Reviewed
1.

Fuji 2203G Semi-PRO 2 Paint Sprayer – Best Overall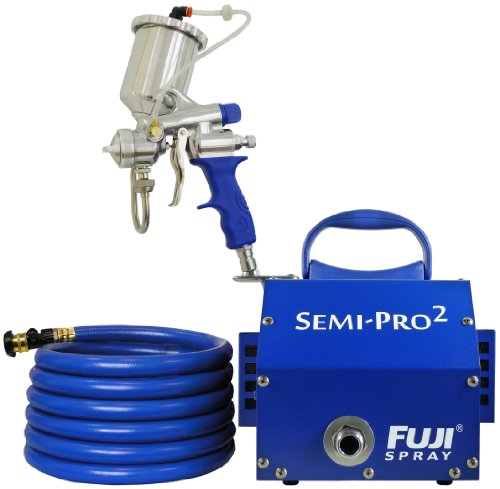 This high-quality HVLP (High Volume Low Pressure) spray gun from Fuji delivers excellent results that are easy for even a novice to achieve.
For the most part, stains can be used right out of the can without diluting or mixing.  The adjustments are easy to work out.  A little practice is all it takes to figure them out.  Set up some practice boards and you'll be proficient in record time.
A stain job that might take two hours by hand, might take only a matter of minutes with this gun.  It's very useful and the results actually look better than if it was stained by hand.  A little wipe off at the end is the only manual labor required.
The gun is easy to disassemble and because the cup is gravity fed, cleaning takes less than ten minutes.  Once your staining is complete, you'll be able to tear it apart, clean it, put it back together, and store it in no time.  Then you'll be on your way to starting your next project.
The compressor is a bit noisy, but that's not really unexpected.  If you're spraying deck stain, this is the one you want so this sprayer deserves its place as the top pick.
Pros
Excellent results
Fast application
Easy to disassemble
Easy to clean
Use stain right out of the can
---
2.

Graco Magnum X7 Paint Spray Gun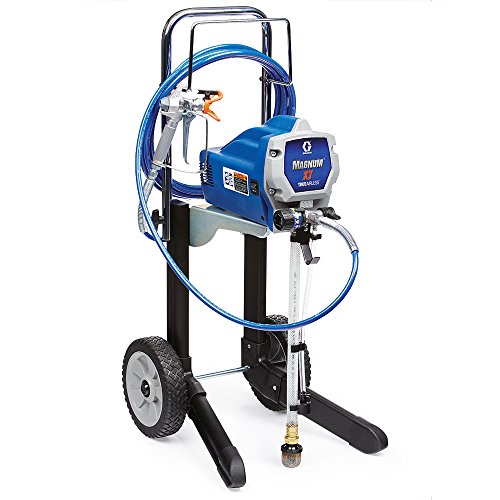 This electric, airless sprayer represents the runner-up in the list.  It's fast and easy to use, but you definitely need to read the manual before you start.  If you do that you won't have any problems operating this spray gun.  The stainless steel pump has the power to spray unthinned paint directly from the can.  It does this with stains as well for a nice, even finish.
Cleaning is essential with this machine, and it's a bit time-consuming compared to our top pick.  There is a Powerflush adapter, however, which connects to a regular garden hose to speed up the cleaning process.  You must thoroughly clean this sprayer after each use or it won't work the next time you need it.
The pressure is adjustable, giving you control of the paint or stain flow for any size project.  The included hose is very stiff; you might consider replacing it with another one if you don't mind the added expense.   It's also much noisier than other airless sprayers.
It's not quite up to the standards of our top pick, but it's not a letdown either.  This sprayer will get the job done.
Pros
Spray directly from the can
Fully adjustable pressure
Easy operation
Excellent manual
Cons
Hose is very stiff
Noisier than most sprayers
---
3.

HomeRight C800971 Paint Sprayer – Best Value
Another electric spray gun that will spray almost any paint, varnish, or stain.  The advertising claims it works with less thinning than other sprayers, but this isn't true.  Thinning is required in order for it to work properly.
It will handle a wide variety of paints, stains, primers, and varnishes—but only after thinning.  Some (but only some) thin stains can be used "as is."  Don't skimp on the cleaning afterward or this sprayer will turn into a one-time wonder.
On the plus side, it's lightweight and the clean-up is easy.
The quality of the spray is too coarse for indoor work, no matter which tip you use.  The spray pattern isn't consistent either.  For outside work on decks and fences, this is a good tool.  Unlike the top two on the list, it can't spray from a paint can; you have to use the included spray jar, which means you'll have to stop and refill it on a regular basis.
You get what you pay for and this sprayer is no exception. But as long as you limit it to outside work, this is the "best for the money."
Pros
Lightweight
Fast and easy setup
Less thinning
Cons
Can't spray from a can
Thinning required
Spray quality is too coarse
---
4.

Wagner 0518080 Control Paint Gun
This sprayer isn't going to compete with the top two on the list. But first, the good news.
Cleanup is very simple on this machine, and it's also fairly quiet.  It comes with two attachable cans, a plastic one and a metal one.  The metal can is able to withstand more pressure and thus delivers a slightly better spray.
The problem with the metal can is that it's so small you have to constantly stop to refill it.  The plastic can is slightly larger, but the refill problem persists there too.  With either can, at any pressure, this sprayer is significantly slower than the others on this list.  It also has a bad overspray problem.  No matter how you adjust the tip, you're going to wind up dusting adjacent areas you didn't want to spray.  There doesn't seem to be any way to avoid this.
Finally… it's slow!  The whole idea of a power sprayer is to speed up the painting or staining process, but this one does the exact opposite.  This sprayer works after a fashion, but it will never be a threat to the top two.
–> See which Wagner Paint Sprayers we think are the best ones <–
Pros
Cleanup is simple
Fairly quiet
Cons
Slow
Bad overspray
Constantly have to refill
---
5.

TACKLIFE 1100ml/min Paint Sprayer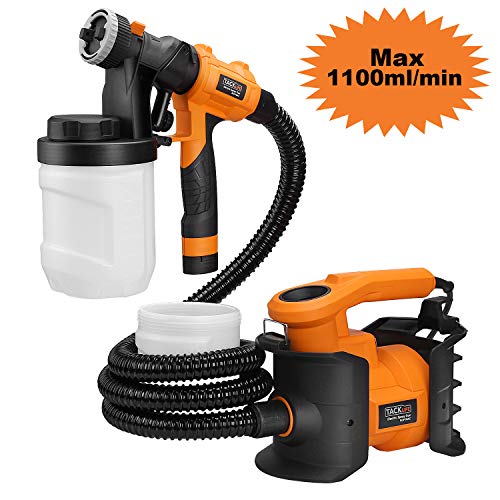 The method for refilling the paint jars on this sprayer is nice.  Screw the jar onto the bottom of the unit, then pop open the small cap on top and pour in your paint, varnish, or stain.  Unfortunately, this is the only good thing about this sprayer.
The spray is inconsistent.  It's lumpy and uneven.  This isn't quite as important with stain as it is with paint, but it will require a lot of manual touch-ups to even it out.  It also has a lifespan that seems to be measured in hours rather than years.  The most reliable thing it does is die.
Trying to disassemble this sprayer will often result in it breaking.  Parts pop out and if you're not careful they'll roll away, leaving you with a useless machine. Why? Because customer service absolutely will not respond to repeated attempts to contact them.  Maybe they replacement parts in stock, but how can you tell if they won't answer?
This sprayer was badly designed.  The spray tips jam and get stuck, and often they can't even be removed without them breaking.  This sprayer will also be stuck—in last place.
Cons
Can't contact customer service
Dies quickly
Inconsistent spray
Cheap design
Spray tips are bad
You might also be interested in: 10 Best Paint Sprayers – Reviews & Top Picks

Buyer's Guide: Choosing the Best Deck Sprayers
Make sure you read the fine print on the warranty information before you buy anything and, if you're buying your sprayer online, double-check that you've met the retailer's requirements for free shipping.  Throw in a few drop cloths and tips, and you'll be ready to go.
Conclusion
Hopefully, we've managed to eliminate the confusion concerning all the paint sprayers that are available so that you can find the best one for you and your deck.  That's the whole point of these reviews.
The winner (a.k.a. top pick) is the Fuji 2203G Semi-PRO 2 sprayer.  It's fast, easy to use, easy to assemble and disassemble for cleaning, and it provides great results. This sprayer will take on the biggest deck and handle it like a champ.
The "best for the money" spot goes to the HomeRight C800971. An electric sprayer.  Small and lightweight, this tool won't compete with the top two on the list, but when it comes to painting or staining fences and decks, this puppy pays for itself in no time flat.
Now that you have all the facts in hand, you'll be able to make the decision that's best for you.