5 Best Breville Juicers in 2023 – Reviews, Top Picks & Guide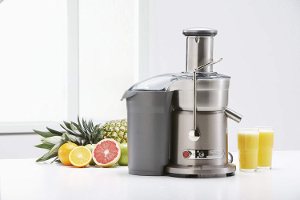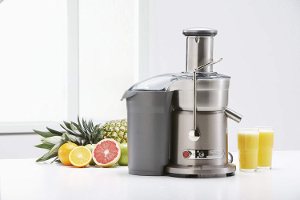 Breville is a reliable name in the world of juicing machines and it would be hard to make a bad choice from amongst their products.  Our reviews and buyer's guide will help you identify which juicer is the best Breville juicer for you.
Once you've chosen, all you have left to do is make a quick trip to your local produce aisle.  Let the juicing begin!
---
A Quick Glance at the Winners of 2023:
Rating
Image
Product
Details

Best Overall

Breville 800JEXL

13,000 and 6,500 RPMs
Feels high quality
Easy to set up
CHECK PRICE

Breville JE98XL

12,000 and 6,500 RPMs
Dishwasher-safe
Easy to clean
CHECK PRICE

Best Value

Breville BJE200XL

Compact
Lightweight
Long lifespan
CHECK PRICE

Breville JJE100

Quiet
Handles a lot of produce
No cleaning in-between
CHECK PRICE

Breville BJB840XL

Two appliances in one
5 speeds for each
1-year warranty
CHECK PRICE
The 5 Best Breville Juicers:
1.

Breville 800JEXL Fountain Elite Juicer – Best Overall
Breville's 800JEXL Fountain Elite is a crowd favorite.  Users praise its extracting abilities, pointing to the mostly dry pulp it produces, as well as the easy set-up and clean up, with several parts top rack dishwasher-safe.  It is sturdy, at 17 lbs., and feels unbreakable, but looks sharp sitting out on the counter.  Two-speed options allow you to pick the best setting for the produce you're sending through and it does the job relatively quickly every time.  Does it do a great job on the leafy greens and grasses?  Not always, but it doesn't claim to either.  For anyone serious about the next step in their juicing adventures, this reliable workhorse (with a 1000-watt motor) will make quick work of just about any fruit or vegetable you throw at it.
With all that said, it should be clear why this is our top pick for best Breville juicer this year.
Pros
2 speeds – 13,000 or 6,500 RPMs
Easy to clean and dishwasher- safe
Dry pulp tells you it's extracted most of the juice
Easy to set up
Feels high quality – it's a tank
Beautiful to have out on the counter
1-year warranty
Cons
Some say it struggles with leafy greens
Pricey
---
2.

Breville JE98XL Juicer Fountain Plus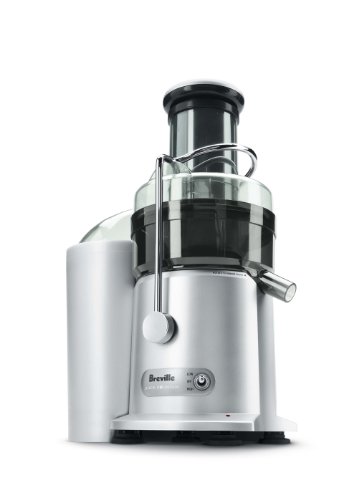 This Breville JE98XL Fountain Plus is a very close second to our Top Pick.  Like its big brother, it has two-speed settings and dishwasher-safe parts, and it also sometimes struggles with leafy greens and herbs. But otherwise, it reliably extracts juice, leaving behind mostly dry pulp.  It's quieter, likely because of a slightly less powerful motor (only 850 watts), and noticeably less expensive.  No one raves about it being sturdy and beautiful, though, and at the same footprint size but only 13 lbs., it lacks the tank-like, professional feel of Breville's Fountain Elite.  But this is a fantastic entry-level juicer that will please all but the pickiest users.
Pros
2 speeds – 12,000 and 6,500 RPMs
Easy to clean and dishwasher-safe
Roughly half the price of our Top Pick
Quiet, relatively speaking
1-year warranty
Cons
Lacks a professional-quality feel
Doesn't excel at the leafy greens
---
3.

Breville BJE200XL Compact Juicer – Best Value
Breville's BJE200XL Compact Fountain is a steal of a buy for the entry-level juicer.  At only about a third of the cost of our Top Pick and with a less powerful motor – only 700 watts – it still does a great job extracting.  As the name suggests, it's got a much smaller footprint, and only weighs about 10lbs, so it doesn't necessarily need a permanent spot on your counter.  And with fewer parts to clean, it gets high marks for easy setup and takedown.  Perhaps more surprising, users applaud its longevity, even with daily use, making it even more of a bargain.  Where it doesn't measure up is volume – it can't quite handle large quantities of produce without becoming a hassle – plus it has only the one speed.  And it's unexpectedly loud for such a small motor and appliance.  If you're single – juicing for one and no one else to wake up with the noise – this is a perfect way to stick your toe into the juicing pool.
Pros
About one-third the price of our Top Pick
Compact and lightweight design
Very good at extracting
Long lifespan
1-year warranty
Cons
Loud
Only makes enough juice for 1-2 people
One speed – 14,000 RPMs
---
4.

Breville Joe Cross JJE100 Juicer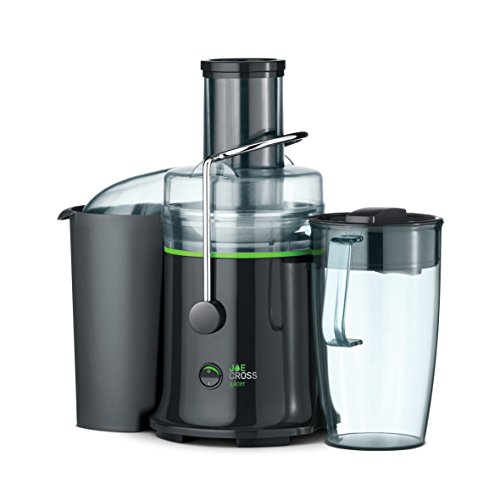 For diehard fans of Joe Cross, the juicing guru, the Breville Joe Cross Juicer JJE100 seems like an obvious purchase.  It gets high marks for the enormous 60-ounce included pitcher, which it can readily fill without needing to stop for cleanouts.  It's one of the quietest juicers out there, a real plus if you don't want to wake up all those people you're going to serve from the giant pitcher.  But despite its large footprint, it's a lightweight machine (8 lbs.) that lacks real power, getting only mixed reviews for its extraction abilities.  Although there's nothing glaringly wrong with it, it's merely an adequate addition to your kitchen and not quite on par with other Breville's.
Pros
Quiet
Handles a lot of produce without cleaning in-between
1-year warranty
Cons
Big footprint
One speed
Mixed reviews on extracting ability
Doesn't feel as sturdy as other Breville's
---
5.

Breville BJB840XL Juicer Blender Combo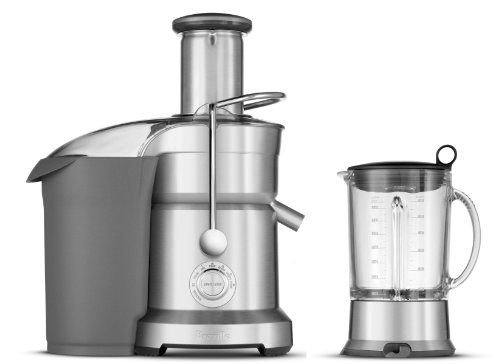 It seems like the perfect way to use every last molecule of your produce – start with juicing, and then throw the pulp in the attached blender!  In theory, this is a terrific product, but the execution seems to be a little unreliable.  Users are generally happy with the juicer and its extraction capabilities, but there are quite a few who report the blender leaking profusely.  Others point to their machines just dying, for no apparent reason, within a few years of moderate use.  Each appliance does have five speeds, but if the one motor shared between them breaks, you'll be needing to replace both.  Although it might seem like a major convenience having your juicer and blender all in one package, you'd be better off buying two separate machines of better quality, which you can almost certainly do for less money.  You might also find yourself frustrated with Breville's customer service on this model, as it no longer manufactures replacement parts, making repairs impossible.  And as a funny but not funny footnote, more than one person complained of the blender turning on . . . by itself.
Pros
The convenience of two appliances in one
5 speeds for each
1-year warranty
Cons
1 motor – if it breaks, both machines are useless
Blender leaks
Pricey
Lemons seem common
No replacement parts available
---
Buyer's Guide: Picking the Best Breville Juicers
Breville is a trusted name in the world of juicers and it is hard to go wrong with one of their products.  They make several that are a good fit for those new to juicing.  But before you pull the trigger and spend your hard-earned money, let's extract some basic information about juicers.
The Three Types of Juicers:
There are three types of juicers: centrifugal, masticating, and triturating.  Try to remember that masticating juicers are known by several other names – single gear, cold press, and slow juicer – but they are all the same kind of machine.  Triturating juicers are more commonly labeled as twin gear or dual gear.  Having the same expectations of all three kinds is like expecting an apple, an orange, and a carrot to all taste the same.
Triturating
Triturating juicers are high-end, specialized machines for the pickiest of dedicated juicers.  With their hefty price tag comes the ability to juice absolutely anything and retain the highest percentage of nutrients and enzymes.  If you had no idea you were even supposed to be thinking about enzymes in your juice, or you're not an Olympic athlete, you probably don't need one of these.
Masticating
Masticating juicers are much more common in the average household.  As their other names suggest, they work much more slowly and little to no heat is generated by the pulping mechanism.  These slow juicers are preferred by some precisely because they're slow – because they take their time, they extract a greater amount of juice.  This results in more juice for your dollar.  This may not seem like a big difference until you actually start buying all the produce you intend to juice – it's expensive!  You'll want every drop of juice in your glass, not left in the pulp that you throw away.  Masticators also generate no heat, which is preferable because heat degrades your juice, causing it to lose nutrients and those fancy enzymes.  Masticators are better at staving off oxidation, too.  Have you ever taken a bite out of an apple and walked away, only to return a few minutes later to see it's begun to brown along the edges?  That's oxidation.  It is primarily an aesthetic concern, although it does indicate the beginning of nutrient loss, too.  (But you probably don't want to drink brown juice, do you?)  Your masticator can also handle non-juicing tasks, like making nut butter, or baby food, jobs for which a centrifugal is unsuited.
Centrifugal
Centrifugal juicers are the most common type found in the home.  They can be had for less money, or even much less money, and for all but the most fanatical juice consumer, they extract plenty of juice and nutrition from your produce.  Centrifugals also allow you to juice whole fruits and vegetables, with little to no chopping ahead of time.  Many of the promotional photos for these will even show someone dropping in an entire untouched apple.  Masticators and tritulators require finely chopped produce, making them much more labor-intensive.  If you have a life outside of juicing, you're going to want the centrifugal juicer in your home.  All the Breville models we've reviewed here are centrifugals – most people prefer time-saving appliances.
So, what do you look for in a centrifugal juicer?
Extraction.  Every juicer will suck your fruit and veggies through and give you a glass of juice to drink and a pile of leftover pulp to throw away.  You want as much juice extracted from the produce and a dry pulp is a great indicator of that.  But juicers can vary widely in their effectiveness, with some machines and settings leaving you with a soggy, dripping mass of pulp you'll want to squeeze out by hand, and others leaving behind a tidy, moist pile with no more liquid in it than a wrung-out sponge.
Speed settings.  You've got places to be, so you might think you only want one setting – fast.  But give your centrifugal juicer just a few extra minutes and it might reward you with a much higher extraction rate.  You'll also come to appreciate, probably through trial and error, how different settings work better for different fruits and veggies.  Your juicer doesn't need settings, but it is a very nice feature to have and worth holding out for.  The slow speed on a centrifugal is around 6,500 RPMs and the fast is around 12,000 RPMs.  Those with just one setting tend to have just the higher speed.
Easy to set up.  Your juicer will have something like 5-10 parts you have to assemble onto the base.  You want something that can be assembled by a monkey without an engineering degree.  If you get frustrated every time you try to use it, it will gather dust in the back of the cabinet next to the fondue pot you got from your great aunt.
Easy to clean.  This is a big one.  You should know up front that all juicers will make a mess, and all of them will require varying degrees of work to clean.  Once you've wrapped your head around that, you'll be happy to hear that there are juicers with some dishwasher-safe (top rack only please!) pieces.  Not all of them, but some.  All juicers have at least one piece you will have to clean by hand.  Not a stickler for cleanliness, are you?  When your juicer stops working because the filter is clogged with dried and crusted dregs from last week's juicing party, or when you can see green scuz growing on the pieces, you might be inspired to wash stuff. Know going in that you'll need to clean right after using it, or at least leave the pieces in a tub of warm soapy water to deal with later.  It is users who don't appreciate this commitment who have the loudest complaints about cleaning difficulties.  Not to sound like your mother, but if you take care of it, it will work noticeably better and longer.
Loudness.  Juicers are either loud or louder.  You won't be sneaking out at 5 am with a to-go cup of freshly pressed juice while your roommate or family sleeps in.  The best-case scenario is that it doesn't wake your neighbors.
Leafy greens.  It's impossible to learn anything about juicers without hearing all about leafy greens.  Leafy greens, grasses, and herbs – they will all be a struggle for your centrifugal to handle.  But some models rise to the occasion, if treated properly, and can add kale, wheatgrass, or mint to your juice without too much leaf winding up in the pulp.  If you have your heart set on using lots of these greens regularly, you might want to pay a little more for a masticator, because it will reliably pulverize them for you as a matter of course.
Instruction manual.  Read it.  What?  Who reads instruction manuals?  With a juicer, it's borderline imperative.  Nearly all complaints about juicers stem from users who a) don't understand what their juicer is designed to do well and b) users who just fire them up right out of the box without even glancing at the instructions.  For instance, your centrifugal juicer is designed to handle most fruits and vegetables, and although it might tolerate small quantities of kale, or wheatgrass, or parsley, it's never going to excel at juicing those items.  You need a fancier machine for that.  Juicers that leak (no, you can't send through an entire watermelon), or shoot food particles all over the kitchen (use the plunger piece to keep the food in the feeding chute), or send giant, un-juiced pieces through to the pulp pile without juicing them (too many hard substances at once), are almost always victims of user error.  Read the instruction manual so that you can extract all the magic your machine can offer you.  (Breville offers their manuals online, so you can read them before you buy anything.)
Warranty. If anything goes wrong, a good warranty can come in handy. Breville offers a 1-year limited warranty on all of these juicers, so if something fails, contact the company directly for repairs or replacements.
---
Conclusion:
Breville is an industry leader in juicers and it is hard to go wrong with any of their machines.  In a crowded field, the Breville 800JEXL Fountain Elite came out as our Top Pick.  It does a great job extracting and is a machine that looks and feels professional.
If you don't quite have the coin for our Top Pick Breville, you'd do almost as well with the BJE200XL Compact Fountain.  Our Best for the Money choice will go the distance, does a fine job extracting, and won't take up your entire countertop.
Know that you're comparing apples to apples as you've read our reviews of these Breville centrifugal juicers. Good luck on your journey to a healthier you!
More juicing brands we've reviewed: