Graco 395 vs Titan 440: Which One's Best for You?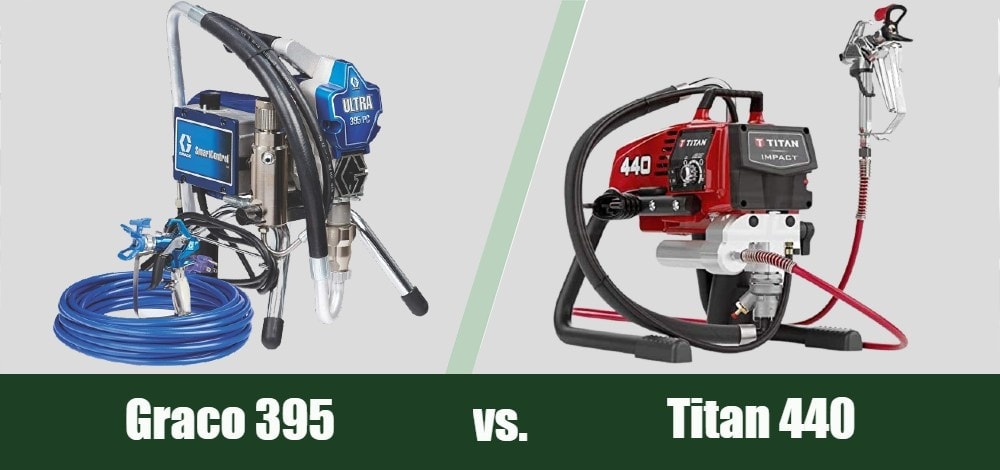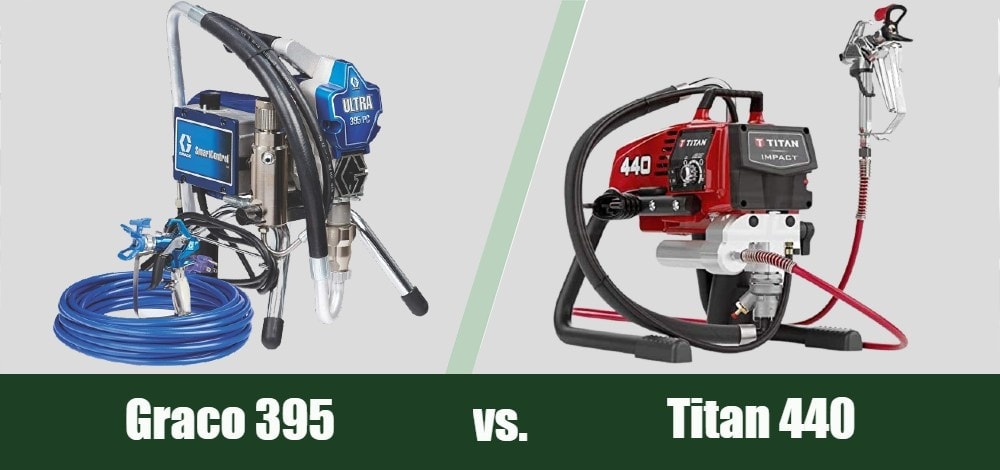 Rating
Image
Product
Details

The Winner

Titan 440

Excellent on-pump controls
AutoOil feature
Can move the finish up to 300' from the pump
CHECK PRICE

The Runner-up

Graco 395

Metal drive gears
Totally enclosed
fan-cooled DC motor
Exceptional application control
CHECK PRICE
We are comparing a pair of top-tier airless sprayers in this review, the Graco Ultra 395 and Titan's Impact 440. Both are manufactured and marketed by two of the leading companies making airless sprayers and both hail from the State of Minnesota. Nothing like a little in-state rivalry to keep things interesting.
Both sprayers are designed to handle smaller projects for professional painters; typically, small residential, small commercial, property management, and exterior in nature. While engineered for small jobs, neither sprayer skimps on delivering a quality sprayed finish, durability, or reliability.
These are going to be the sprayer professionals go-to for those small jobs mentioned, leaving their larger equipment free for larger projects. These are also excellent choices for contractors just getting started. Homeowners and DIYers should look at different tools for their spraying needs. Both these sprayers are overkill for those types of projects and are not designed with novice users in mind.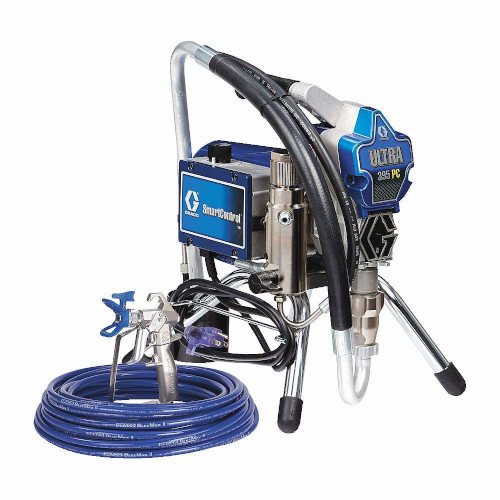 What are the differences between them?
Both sprayers have taken the field (not really a pun as they can be used for painting stripes on pavements and other surfaces), primed (that is a pun) themselves, and are ready to slug it out. Let's see who comes out the victor.
Power and application rate – it's a tie.
A common measure for the capacity of a sprayer to perform in the power of its motor and the maximum gallon per minute (GPM) application rate. Both sprayers feature a 7/8 hp DC motor and can apply finishes at .54 GPM.
Price – point to the 440.
Price is generally an important consideration unless you happen to be made of money. In the price battle, the Titan Impact 440 comes out on top. Perhaps that's why Titan advertises it as the top seller in its class.
Longest reach without moving the equipment – point to the 440.
A nice feature of a professional sprayer like these is the oomph to pump the finish material long distances. A longer reach means fewer equipment moves which eat into production time. The 440 tops the 395, delivering a maximum hose length of 300' compared to 200'.
Design – point to the  Graco 395.
Both companies add their special touches in an effort to make their products stand out from all the rest. However, the design point goes to the 395 for attention features that allow users to correct a problem in the field in minutes rather than hours or longer. The Graco 395's motor can be replaced in under a minute, and both filters are easily accessible for clog clearing, especially the primary filter at the pump. On the other hand, Titan has designed the 440 for ease of rebuilding, allowing users to get extra miles, or gallons in this case, from their equipment.
Warranty – point to the Titan 440
Both sprayers come with excellent warranties but, the 440 gets the point here with its 4-year coverage against defects in materials and workmanship compared to 3-years from Graco. In nearly every other respect, the warranties are quite close.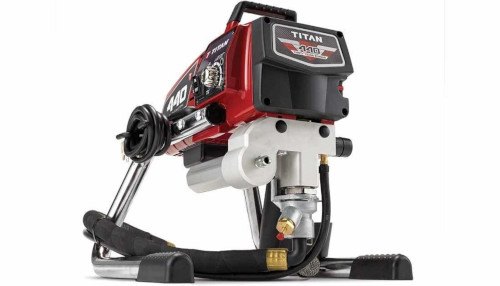 Quick Rundown of the Graco Ultra 395:
Graco Ultra 395 Stand Electric Airless Paint Sprayer (233960)
Patented Endurance™ Pump for exceptional pump life with QuikAccess™ intake valve to easily clean or clear debris.
Includes Contractor Gun, LTX517 Tip and 1/4" x 50' BlueMax II Hose
SmartControl™ 1.0 Pressure Control - delivers a consistent spray fan.
One of the original sprayer manufacturers, Graco builds a quality product designed for long life and ease of use. The Ultra 395 fills the bill in every respect.
Pros
Metal drive gears for an exceptional life
Totally enclosed, fan-cooled DC motor that keeps finish residue out of the motor for longer life, 2x longer than competitive offers according to the literature
Exceptional application control at the pump and the gun for perfect results every time
Cons
Not the least expensive of the pair
Doesn't reach as far as the Titan without moving equipment and finishes
You might also be interested in: 10 Best Paint Sprayers – Reviews & Top Picks
Quick Rundown of the Titan Impact 440:
Titan might be newer to the market (starting in the 1970s versus the 1920s), but they have introduced a lot of innovations and push their product designs to meet every need a professional painter might have.
Pros
Excellent on-pump controls and indicators for easy setup, operation, and monitoring
Can move the finish up to 300' from the pump
AutoOil feature to keep packings lubricated
Cons
Not as easy to get back into operation as the 395
More difficult to clean and clear clogs
What the Users Say:
It's coming down to the wire, and with the contest this close, we turn to the users, researching their opinions on the two airless sprayers to see if one wins by a length or by a nose.
When it comes to the quality of finish applied, users of both sprayers praise the results produced. Airless sprayers provide an amazing degree of control and uniformity of finish application. Properly adjusted, one coat is often all that is needed to complete a job. Fewer coats = fewer hours, fewer gallons sprayed, and more profit. As a contractor, what's not to like?
Reliability and durability come up as well. In the contracting game, you want tools you can rely on to perform every time. Both sprayers are reliable, and each has a rugged design. As we mentioned, the 395 has an edge in clearing clogs and replacing major components rapidly.
When it comes to negatives, the comments are sparse. Cleaning complaints come up, but that is to be expected when working with equipment that sprays finishes. If you don't clean them right, they aren't going to perform. Period. A couple of other issues were found that can be classified as manufacturing or user related. In each case, the issue was handled to the user's satisfaction.
---
Conclusion
At the end of the day, we have to give the nod to the Titan Impact 440. Better warranty, better price, longer working distance all combine into a superior choice for contractors in need of a sprayer to handle smaller projects. As icing on the cake, Titan makes it easy to rebuild the 440 so users can keep it in service for longer periods of time. Just don't rebuild anything until the warranty is up. That's a sure way to void coverage.
Related Reads: