Can I Build My Own Deck? Risks, Costs, and Considerations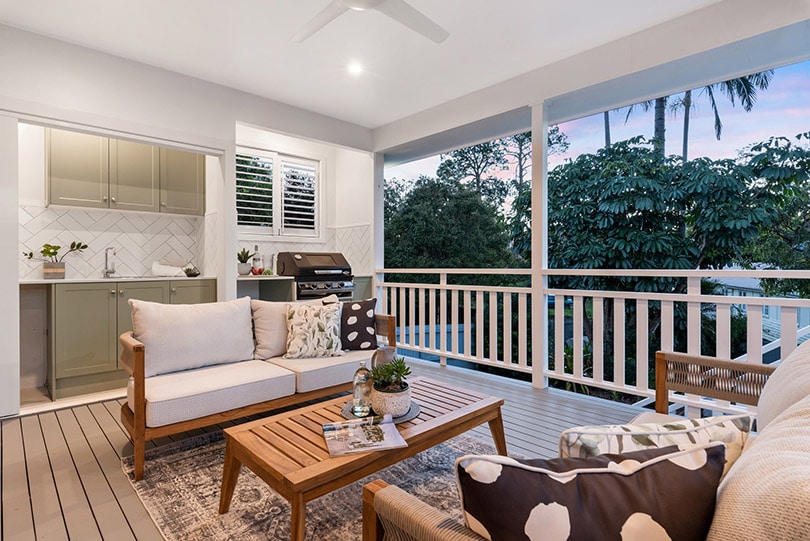 A deck is an excellent addition to your house, but have you ever thought about building one on your own? Yes, you can construct a deck with several simple tools. But you must plan for it carefully, or you may wind up with a nightmare.
To know more about building a deck, read this article. It may be the first step to empowering yourself with the knowledge you need to bring your dreams—and future—closer to reality. We'll discuss the risks, costs, and everything else you need to know if you decide to build your own deck.

Risks Involved When Building Your Own Deck
If you are a DIY enthusiast ready to build a deck, you may already have researched the steps and materials involved in building one. You will feel confident that you have the skills and know-how to complete this project yourself.
But still, there are some risks involved. While it's no guarantee that you'll face one of these challenges, it's crucial to be aware of the risks before starting your deck construction project. Some of the risks involved include:
Footing Foundations
If you don't build solid footings, your deck could sink or move over time, causing cracks and unevenness in the concrete footings and posts. It's particularly true if you'll install your deck on soil that freezes and thaws throughout the year.
Wood Touching the Ground
It's easy to forget to treat the ground-touching sections of the deck. It's especially true if you're using composite wood. It's more resistant than untreated lumber.
But even composite lumber needs protection. It's best to use pressure-treated wood for any section that touches the ground, such as the posts or beams.
If you're planning on staining your deck later on, it's best to use matching colors for treated and untreated sections.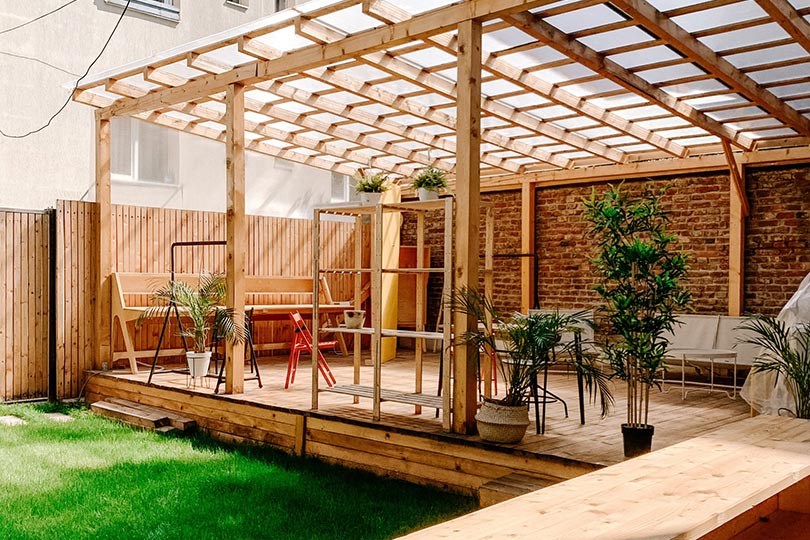 Poor Planning
Most people don't realize that deck building is a complex home improvement project. As such, there's a lot of planning and preparation involved before you can even begin the actual construction.
Besides, a big part of the project comprises planning and prepping alone. If you get this part wrong, there's a good chance that you'll end up with a weak and unstable deck.
The results can be devastating when the deck comes crashing down, causing injuries.
Failure to Install Flashing
It's one of the most common mistakes homeowners make when planning their deck. Siding is crucial to protect your home from rain and other elements.
Flashing (also known as cap flashing) covers the seam where your house meets your deck. It prevents water from seeping between the two materials.
If you don't install this flashing, not only will moisture get trapped in this space, but it can also lead to rotting wood and mold growth.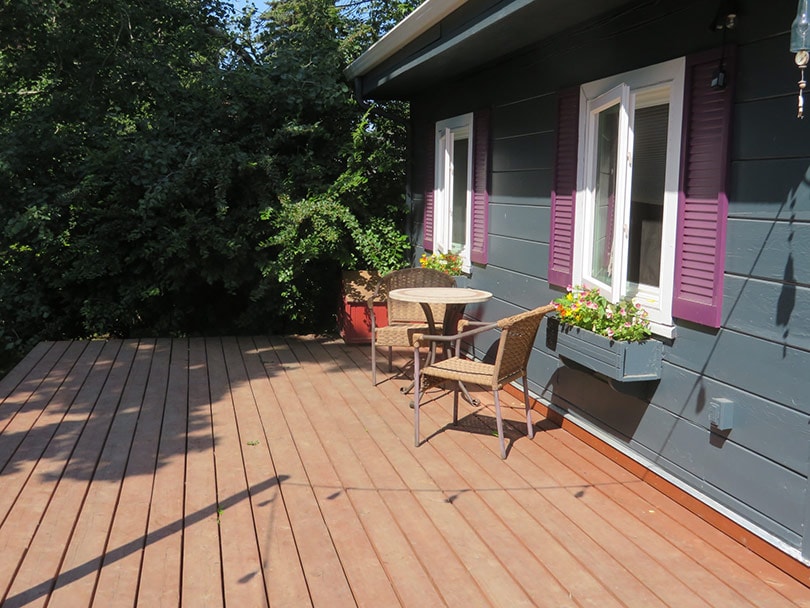 Fastening Joist Hangers
Joists support your entire structure. As such, these must be fastened to each other at a 90-degree angle securely using joist hangers and nails.
But, if you use nails instead of screws, you run the risk of stripping out holes or losing grip entirely when attaching joists to headers. Headers are the beams that lay perpendicular across all your joists.
Fasteners
Trying to cut costs with generic fasteners is not an excellent idea. If you don't want your deck to fall apart, use stainless steel screws (not nails) or properly-rated and high-quality galvanized bolts for the job.
A problem with nails is that they loosen over time. The solution is to use screws, which are easier to remove and replace if necessary.
Fasteners are a crucial part of your project. So, it's essential to get them right. Use corrosion-resistant fasteners with flashing installed under the ledger board.
Use carriage bolts instead of lag screws when installing posts and support beams. They offer many benefits over traditional lag screws and make your deck look more professional too!

What Do You Consider In the Deck Design and Planning Stage?
There are many aspects to consider before designing and building your dream deck. They'll vary. But, it depends on the deck you're planning on building.
Some considerations include:
Building Inspections
If you're planning an addition or major renovation to your house, your local building code will factor in how you proceed with your project. You may not be familiar with building codes. But it's crucial to educate yourself before starting any home improvement project.
Always check with your municipality for their requirements and regulations. You may need to get a permit or schedule inspections to keep up with the local code enforcement.
Time
Time is a major factor that will help determine the deck you can afford. Time can be split into the design and planning stage and the deck construction.
Also, you can split it into the ongoing maintenance requirements of the decking materials chosen. Ensure you give yourself ample time.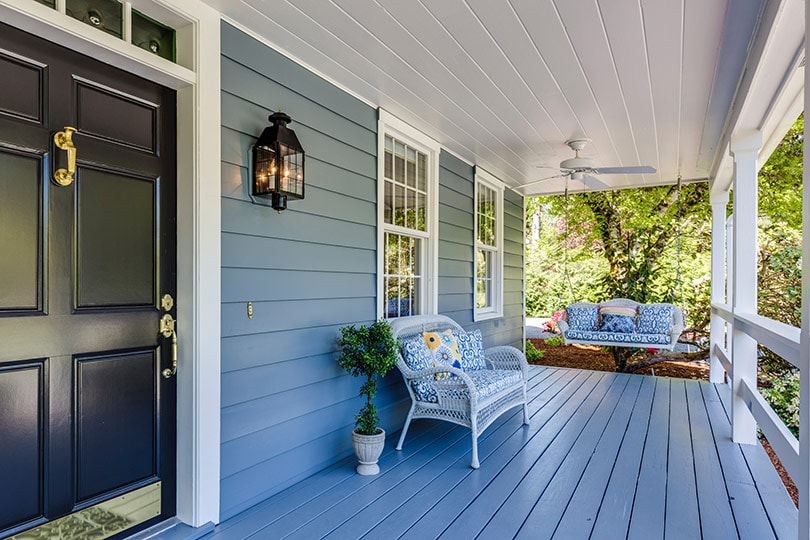 Materials Needed
There are different materials you can use for your decks, such as wood or composite lumber. Some materials will last longer than others. It'll depend on the environment you live in and how much care and maintenance is needed on your part.
Take time to consider all your options before deciding what material will be most suitable for your deck.
Permits
Check local codes for any requirements for your project, such as permits. Make sure that your new deck will not interfere with the safety and functionality of your home.
It's also crucial to check with your homeowners' association if you have one before you begin planning your deck. There may be rules about decks or other structures. They protect the curb appeal of homes in the neighborhood.

How Much Does It Cost To Build A Deck On Your Own?
Hiring a contractor to build your deck may seem like the best option. It's because a contractor will construct it faster and with professionalism. But a contractor can be expensive, and you lose the chance to do the work yourself and save money. Contractors charge an hourly rate or a flat fee besides charging for materials needed.
If you choose to build your deck, you can save money. You're not paying someone else to do it for you. You have control over how much money you spend throughout the deck-building project.
When you decide to build your deck, there are several factors to consider before you begin. You will need to decide on the materials you'll use in its construction.
Another crucial factor to consider is the cost of permits. It varies according to the local rules and regulations in various areas.
Once you have finalized these plans and factored in all the costs involved, you can buy the lumber and other supplies needed for construction.
You may be having most of the basic tools, but you must also factor in the cost of power tools as they can be costly.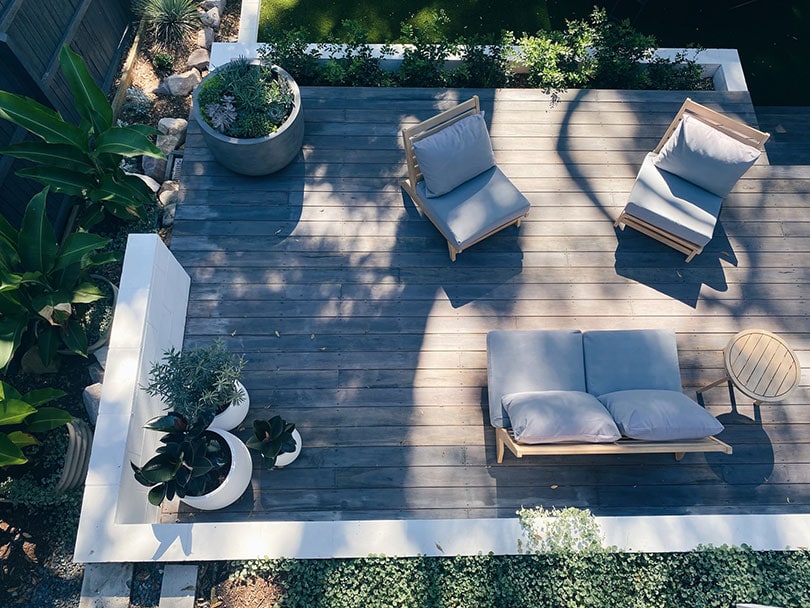 What is the Cheapest Way to Build a Deck?
If you've decided to build a deck for your home but are worried about the cost, don't worry. There are many other ways you can save money on your deck project apart from those discussed above. Here are four ideas to get you started.
Build It In Stages
Building a deck is no small task. You'll have to spend time designing it, picking out the materials, and then constructing it. If you're not careful, you can end up spending more than you wanted.
One way to keep costs down is to build your deck in stages. That way, you can work on one section at a time instead of trying to complete the entire project all at once. You also don't have to buy all the materials in one big chunk. It'll help reduce the overall costs of your building project.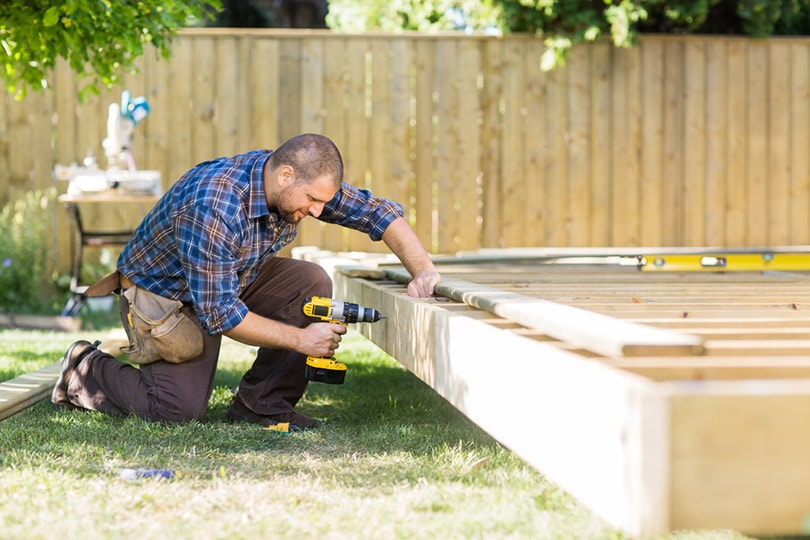 Rent Tools Instead of Buying Them
Another way that you can save money on your deck project is by renting tools instead of buying them. You should have high-quality tools when working on a home improvement project. But they don't need to be brand new. For example, if you don't use power tools often, then buying them doesn't make sense. It's because they'll sit around most of the time. So, renting is the best option.
Limit Deck Size
Also, consider the size of the deck. It will have the largest impact on the overall cost of your deck project. Choose a size that matches the needs and scale of your house. Besides, make sure that it's within your budget.
Use Pressure-Treated Wood
Pressure-treated wood is often chosen for its low price point and easy maintenance. This type of wood is treated under high pressure with chemicals that prevent mold and termites from affecting it. It can last much longer than untreated lumber. Depending on the size of your deck and other factors, labor costs may be as much as half the total construction costs!

Conclusion
Building your deck is an awesome DIY project. It's exciting to imagine the possibilities of your new deck. You may find yourself wanting to try out new woodworking skills as you begin.
But, you must factor in the risks, costs, and considerations before you begin. Be sure to understand what's in store for your DIY project before you climb the ladder!
With these tips in mind, you can properly plan the project but be prepared to deal with the challenges involved.
---
Featured Image Credit: Steven Ungermann, Unsplash