5 Best Paint Sprayers for Kitchen Cabinets of 2023 – Top Picks & Reviews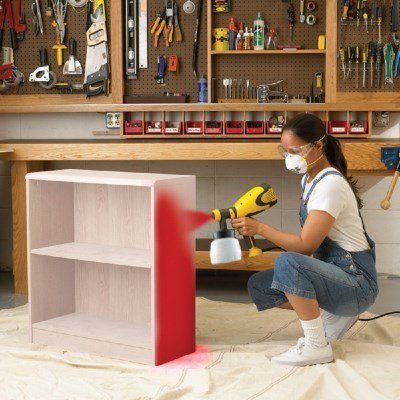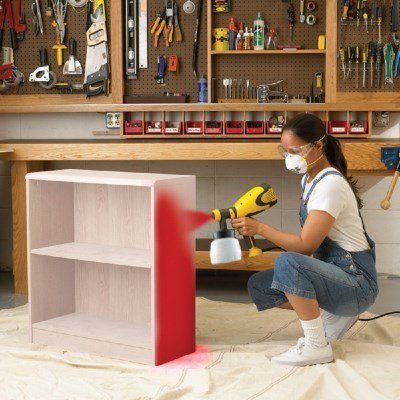 Are you thinking about throwing out those old kitchen cabinets? You can save yourself a lot of time, money, and effort by investing in a paint sprayer! This means that you can keep your kitchen cabinet and simply give them the facelift that they require. Paint sprayers for kitchen cabinets help provide a very smooth finish that other types of painting simply cannot reach.
The best place to start when looking is with the very best products on the market. Therefore we did the hard work for you. We tested, measured, and painted with over 83 different paint sprayers. Afterward, we compared them and then ranked our favorite models from #1 to #5.
That way, you can learn about the various features as well as some of the pros and cons that come with them. Following our in-depth reviews, you can find our buying guide which contains all of the essential information you could possibly need on this highly useful tool.
---
Comparison of our Favorite Picks for 2023
Rating
Image
Product
Details

Best Overall

Wagner Flexio 590

Versatile
Very quiet
Lightweight design
CHECK PRICE

Best Value

HomeRight C800766

Simple to use
Fairly comfortable
Adjustable spray controls
CHECK PRICE

Wagner 0518050

Setup is quick
Sturdy plastic
Three different spray patterns
CHECK PRICE

Graco TrueCoat 360

Great-looking product
Airtight design
Dual speed adjustment
CHECK PRICE

PaintWIZ PW25150

Different spray sizes and patterns
Comes with various accessories
Easy to clean
CHECK PRICE
The 5 Best Paint Sprayers for Cabinets
1.

Wagner Flexio 590 Paint Sprayer – Best Overall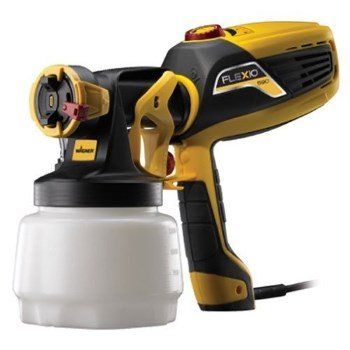 A paint sprayer that can be used easily indoors or outdoors, the Wagner Flexio 590 is a versatile tool that can be used on many different projects. The advanced turbine technology of the product features 9 different speeds and has a power dial for a precise level of control. There are also two nozzles and cups which provide a degree of flexibility. As you can probably tell, this is very much designed for convenience and this is reflected in the design itself as well. The hand-held sprayer is just 2.1 lbs in weight which makes it much more comfortable to hold for long periods of time.
When it comes to using this paint sprayer, it's simple. The gun design allows for quick nozzle changes while pattern adjustment can also be done in seconds. While the Wagner Flexio 590 packs good power for the price, you will have to watch out for overspray which can create a bit of a mess! However, this is fairly common with paint sprayers. And while this is a powerful paint sprayer, it's surprisingly quiet in comparison to many other products on the market. We can't argue with the many advantages this product has to offer though the 1-year warranty is a little shorter than we'd like. Despite this, we highly recommend the Wagner Flexio 590 and feel it is the best paint sprayer for kitchen cabinets on the market.
Pros
Versatility offered via power controls/speed dials
Lightweight design makes it more comfortable to use
Easy to use with quick nozzle changes and pattern adjustment
Very quiet when in operation
Cons
Due to the high power, there is a fair amount of overspray
Only comes with a 1-year warranty
---
2.

HomeRight Finish Max HVLP Paint Sprayer – Best Value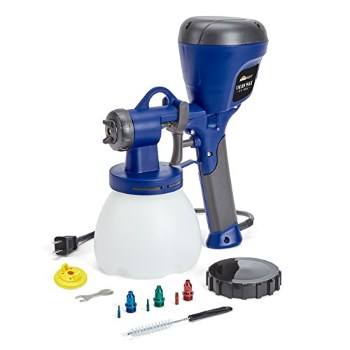 Take a look at the low price of the HomeRight Finish Max and you'll see why we feel it's the best paint sprayer for cabinets for the money. Requiring no hoses, pumps or air compressors, it's a simple option for anybody who is doing a little bit of DIY in and around the home. Spray controls are adjustable and allow you to select three different spray patterns which are horizontal, vertical and circular. This means that you can make adjustments as you go, depending on the job. An HVLP sprayer, it comes with a 27-ounce container and weighs just under 3.4 lbs which, while not quite as light as some other handheld paint sprayers, is still reasonably comfortable.
When you're paying less for a paint sprayer, there are naturally some drawbacks to consider. First of all, it does require regular cleaning. On the plus side, cleaning the HomeRight Finish Max is relatively easy and doesn't take too long. One fairly common issue experienced by consumers is that the cup is prone to some leaking on occasion. Thankfully, this is not a major issue. Any concerns over the product are partially eased by the fact that it comes with a 2-year limited warranty which should cover in the event of any significant problems. The pros certainly outweigh the cons in the case of this product.
All in all, this is one of the best HVLP spray guns for cabinets out there.
Pros
Simple to use with no additional accessories required
Adjustable spray controls for different types of projects
Fairly comfortable since it's light in weight
Includes a 2-year limited warranty for peace of mind
Cons
Regular cleaning is required
Cup is prone to leaking on occasion
---
3.

Wagner Control Spray HVLP Paint Sprayer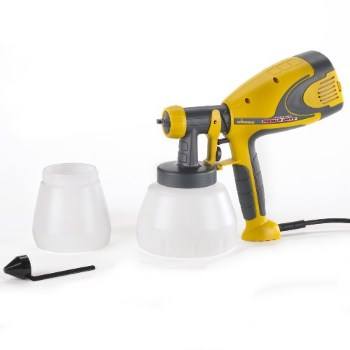 Another affordable paint sprayer is the Wagner 0518050. This HVLP paint sprayer offers you an element of control with three different spray patterns and variable control. Spray patterns can be anything from 1-inch to 10-inches which is great for a variety of different DIY projects, indoors or outdoors. Whether you want vertical, horizontal or round pattern shapes, you'll be able to change this quickly and easily. Setup and cleaning after spraying are designed for convenience and doesn't take too much time at all. As such, you can spend the majority of your time actually spraying and not worrying too much about complications.
As with any budget paint sprayer, you can only really expect to be able to use this product on smaller jobs. It's not a heavy-duty paint sprayer as you'll be able to tell from the plastic construction. However, it feels sturdy enough and should be able to withstand the odd bump or scrape. One small area of concern is in the weight which is 4.2 lbs. This isn't terribly heavy but does become noticeably uncomfortable during extended periods of use. Regardless of such issues, it simply does the job required without too much fuss. You'll save time and energy over using a paintbrush or roller so it's well worth the investment.
Pros
Setup and cleaning are quick and easy
Three different spray patterns for versatility
Construction is of plastic but feels sturdy enough
Cons
At 4.2 lbs it's quite heavy and can cause hand fatigue
It's only really designed for smaller paint spraying jobs
---
4.

Graco TrueCoat 360 Kitchen Cabinet Paint Gun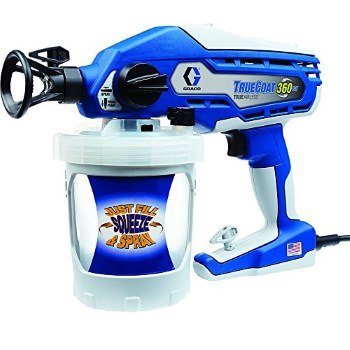 While most paint sprayers look fairly forgettable, the Graco TrueCoat 360 wins our design award! Looking like a futuristic sci-fi gun, the sleek blue and white unit is similar to a power drill in profile. Of course, performance is more important than appearance and this is where the product is hit and miss. In our opinion, this product has a steep learning curve and misuse can result in patchy spray and, of course, a fair amount of overspray. As such, we recommend it most for those who are already familiar with paint sprayers. In terms of features, with the dual speed adjustment, you can take your time to apply detail or simply speed up to get the job done.
Another feature we like is the piston pump which is made of stainless steel. This allows you to spray unthinned paint at high pressure – no more having to thin paint before use. An airtight design means that you're able to spray in a variety of positions without having to worry about inferior performance or leakage. We do have a concern regarding the longevity of this product as some consumers have stated that it simply hasn't stood the test of time, lasting less than a few months. There is a 1-year warranty but be sure to check what it covers before purchase.
Pros
This is a great-looking product with a unique design
Airtight design for spraying in various positions
Dual speed adjustment for different situations
Cons
Steep learning curve so not ideal for novices
There's a fair amount of overspray to contend with
We question the product's overall durability
---
5.

PaintWIZ Cabinet Paint Sprayer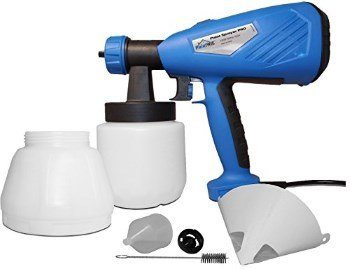 The PaintWIZ PW25150 is a handheld paint sprayer that features a 400W indoor and outdoor motor. It offers vertical, horizontal and round spray patterns so that you can complete a wide range of small DIY tasks. Because it's an HVLP paint sprayer, you can expect to be able to spray thinner materials such as sealers and varnishes. The spray fan pattern can be controlled to have a spray of anything from 1 to 12-inches. All of this means that you have a great deal of flexibility when you're using this product.
In terms of the product build, it's made of plastic and weighs 4.2 lbs which is not as light as some of the more expensive options on the market. As such, you'll want to use two hands for greater control and comfort. It comes with a few accessories that should prove useful. These include a 1.3L cup, additional nozzle and cleaning brush. Speaking of cleaning, it's said to be quick and easy to do, much like the setup itself. Performance-wise, we are impressed by the quality of spray for the price but it cannot be expected to do anything other than smaller DIY jobs.
Pros
Different spray sizes and patterns for different projects
Comes with various accessories which are useful
Both setup and cleaning are quick and easy
Cons
Quite heavy so you'll want to hold it with both hands
Performs well but lacks the power for anything other than small tasks
---
Buyer's Guide: How to Choose the Best Paint Sprayer for Cabinets
If you're planning on replacing your old kitchen cabinets, take a minute to reconsider! You can make your old kitchen cabinets look like new with a paint sprayer. Not only can this job be done quite quickly and easily, but it will also save you a lot of money in the process!
What are the 3 types of paint sprayers?
As our reviews above demonstrate, there are some great paint sprayers for kitchen cabinets on the market and these meet all levels of budget. But how are you supposed to choose between the various types? First of all, we'll explain the different types of paint sprayers and their various pros and cons. This will help you better decide which is best for your kitchen cabinet project! The three types of paint sprayers are all perfectly suitable for painting kitchen cabinets. However, they each have specific pros and cons that set each other apart.
Airless paint sprayers
First of all, there's the airless paint sprayer. This is the most powerful type of the 3 as it is usually powered by a motor. They're very fast performance-wise since they spray paint at high pressure creating a thick coat. As such, you're unlikely to need to apply several coats which can be something of a time saver. In order to change the paint flow of an airless paint sprayer then you'll need to apply a different tip. We recommend having a variety of tips so that you have more flexibility when you're working. Overall, the airless paint sprayer is a good option for those who are looking to have quick results.
Pros
Powerful
Quick
Great for covering large areas
Cons
Not ideal for small surfaces
Compressed Air Sprayer
Next, we have the compressed air sprayer. This produces thinner coatings than the airless paint sprayer. However, the coatings produced are nice and smooth. The use of an air compressor means that compressed air sprayers do use up more paint and produce more overspray. This means that there can be more cleaning up to do afterward! However, they are quite versatile since they almost always have a range of customizable controls with which you can adjust the paint flow, pattern and paint thickness. While not the easiest of the three types of paint sprayers to control, the flexibility the compressed air sprayer produces makes it a good choice.
Pros
Smooth coatings
Very versatile
Great for kitchen cabinets
Cons
Bigger risk of overspray
Learning curve
HVLP Paint Sprayer
Last but not least is the HVLP paint sprayer. Referring to high volume low pressure, this is the slowest of the three options. As such, they're not ideal for big projects. Yet one of the advantages of this slower speed is that less overspray is produced. As such, the HVLP paint sprayer is probably the cleanest and safest paint sprayer type available. A great deal of accuracy is offered by the HVLP paint sprayer which makes it very well suited to smaller surfaces such as kitchen cabinets! This is because you can take your time and apply a level of detail which is not as easily offered by airless paint sprayers. Settings are adjustable which allows for a level of customization, as with the compressed air sprayer.
Pros
Less overspray
Cleaner and safer
Accuracy
Adjustable settings
Cons
Slow
Not suited to big projects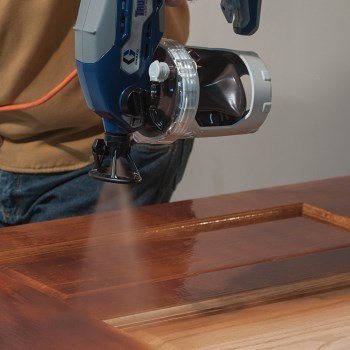 Which is the best type of paint sprayer for kitchen cabinets?
Based on the information we've provided above, any of the three types are perfectly suitable for spraying kitchen cabinets. But if we had to choose, we'd say that compressed air sprayers and HVLP paint sprayers are the best choices for spraying kitchen cabinets. This is because they both typically allow you to adjust the spray flow, pattern, and thickness. Also, they're not as powerful as airless paint sprayers so are better suited to smaller projects such as this.
Key Features to Consider
Here are the key features to consider when buying a paint sprayer for kitchen cabinets. Having such features will make your work much easier!
Adjustable Pressure: When you're paint-spraying kitchen cabinets, you want as much flexibility as possible for the job. With adjustable pressure, you can change the paint flow, pattern, and thickness which is extremely useful.
Filters: Filters help prevent your paint sprayer from clogging. This means that you can continue working without having to stop to clean them as often. Furthermore, it helps your product live a longer life.
Capacity: The capacity of paint sprayers can vary a great deal. This will dictate how often you have to stop to refill it with paint. Remember, the bigger the capacity, the bigger and heavier the unit is likely to be as a result.
10 Step Prep for Paint Spraying Kitchen Cabinets
The chance to save money by paint spraying your kitchen cabinets is just too good to miss! But remember, it's only worth spraying cabinets that are in decent condition. Those that are falling apart will need replacing. Here are our tips for using your new paint sprayer product on your kitchen cabinets:
Preparation is key when it comes to paint spraying. First of all, remove the cabinet doors and drawers. You may wish to label them so that you can better identify them when you want to refit them afterward.
You'll likely want plenty of space for paint spraying your kitchen cabinets. A garage or large work area is best so that you can lay them flat on a work surface.
The kitchen cabinets will need to be washed before they're sprayed. This helps get rid of any dirt, dust, grease or oils that would limit the effect of the paint.
Any cosmetic damage to the kitchen cabinets should be treated before paint spraying. For example, any holes or scratches can be filled with spackling compound.
If your kitchen cabinets have a very smooth and hard finish then the paint may not transfer well. You can solve this by lightly sanding the surface to take away some of the shine.
For best results, apply a primer coating to the kitchen cabinets with a paintbrush and give it an hour or two to dry.
Make sure there aren't too many brushstrokes from the primer stage by lightly sanding the surface once again.
Now you're almost ready to get started! Be sure to practice your paint spraying first on a throwaway piece of cardboard. This will help ensure that your settings are correct.
When you do start spraying, be sure to keep the nozzle of the paint sprayer a consistent distance from the surface of the kitchen cabinets. This should be around 10-12 inches.
We recommend that you let the kitchen cabinets dry overnight and apply a second coat the next day. A second coat may not be necessary depending on the product that you buy.
---
Conclusion
There's just so much choice when it comes to paint sprayers for kitchen cabinets. The chance to save so much money by refurbishing old cabinets rather than buying new ones is one well worth taking. Different types of paint sprayers are available at all sorts of different prices to suit all budgets. So you shouldn't have any problem finding a great product.
Our reviews of paint sprayers for kitchen cabinets are designed to show you how many options you have available. Whether you want an airless paint sprayer or an HVLP, each type has its own pros and cons which are well worth keeping in mind. Remember, you will be able to use your paint sprayer for much more than kitchen cabinets which will make it a very worthwhile purchase. We hope you enjoy it!
If you came here looking for the top paint sprayers for all purposes, we recommend that you check out our popular best paint sprayer picks.