9 Best Pool Algaecides of 2023 – Reviews & Top Picks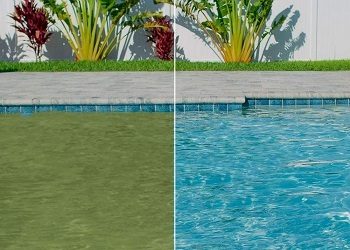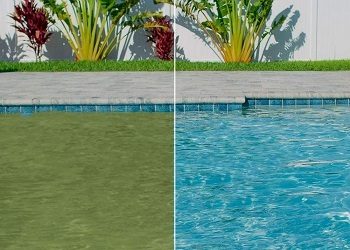 Shopping for algaecide is never pleasant. If you are reading this, you are likely dealing with a green swimming pool.
We are sorry that you have a swamp in your yard, but the good news is that we can help. This list of the nine best pool algaecides will give you a good head start to getting your pool swimmable again.
Algaecide can be used as both a treatment and a preventative measure, so hopefully, this will be the first and last time that you need to research algaecide.

A Quick Comparison of our Favorites in 2023
Rating
Image
Product
Details

Best Overall

In The Swim Super Pool Algaecide

Powerful
Powerful and concentrated
Safe to swim in fifteen minutes
CHECK PRICE

Best Value

hth Pool Algaecide

Great price
Treats all types of algae
Non-copper-no stains
CHECK PRICE

Premium Choice

PoolRx Pool Algaecide Treats

Very effective
6 Month solution
Works to prevent algae as well
CHECK PRICE

SeaKlear Algae Prevention & Remover

Good as a preventative
Fair price
Will last for ninety days depending on pool size
CHECK PRICE

Kem-Tek Pool Concentrated Algaecide

Non-foaming
Good for preventative maintenance
CHECK PRICE
The 9 Best Pool Algaecides
1.

In The Swim Super Pool Algaecide — Best Overall
First on our list is the In The Swim Super Pool Algaecide. In The Swim is a well-known brand in the pool chemical world. Their chemicals are usually strong, capable, and moderately priced. This In The Swim Super Pool Algaecide contains 23.5% Copper Triethanolamine Complex as the active ingredient.
If you are looking for a powerful algaecide, this In The Swim will qualify. You can use the In The Swim Algaecide in either an above ground or an in-ground pool; you just need to be careful with the amount you use. Knowing your pool size is imperative when adding chemicals.
You only need 4ounces of algaecide for every 10,000 gallons of water in the pool. This is a highly concentrated algaecide, and over-treating your pool will lead to a variety of issues. Make sure to use the required dosage and follow all manufacturers recommendations when adding to the pool. After adding the algaecide, it is safe to swim within fifteen minutes. If you had a bad algae breakout, then you may need to wait quite a bit longer before it is recommended to swim. Overall, in our opinion, this is the best pool algaecide you can buy this year.
Pros
Powerful
Safe to swim in fifteen minutes
Powerful and concentrated
Moderately priced
Cons
Using too much could stain pool
---
2.

hth Pool Algaecide — Best Value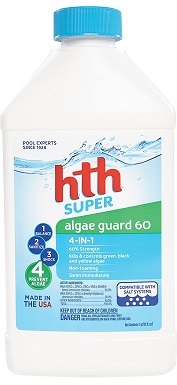 If price is the most critical aspect for you when choosing an algaecide, then the hth Pool Algaecide may be the best option for you. This hth is the best pool algaecide for the money because of the benefits it offers for the price.
This algaecide is a both a preventative and remedial treatment, and it claims to be no foaming. We say "claims to be" because several customers mentioned having plenty of foam in their pool after using this algaecide. Foam is not the most significant issue when it comes to pool problems, as it will eventually go away.
The hth Pool Algaecide will treat all types of algae, which is a serious benefit. After putting this chemical in the pool, you can swim immediately. This algaecide is copper-free, so you won't have to worry about stains, and the remedial treatment should work for 90 days. Preventative treatment is something that should be done weekly.
Overall, this product is an excellent value for the money.
Pros
Great price
Treats all types of algae
Non-copper-no stains
Cons
Says non-foaming but does foam
Not as powerful will struggle with some severe algae breakouts
---
3.

PoolRx Pool Algaecide Treats — Premium Choice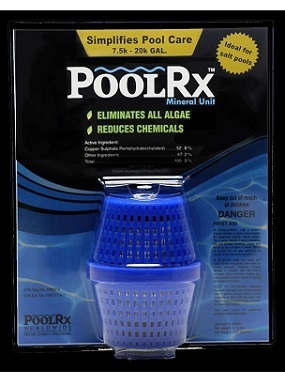 If you are looking for the premium choice to keep algae out of your pool, the PoolRx is the way to go. This option is not the best if you are looking for a one-time quick treatment. This is best for a long-term preventative remedy.
The PoolRx Algaecide goes into a device that you just leave in your pool simmer for six months. The PoolRX will absolutely help to eliminate existing algae and work to keep algae from coming back. Since this is a slow-release option, we wouldn't recommend it for a bad outbreak.
You can use this PoolRx algaecide in your chlorine, salt, UV or ozone systems. The PoolRx will be useful in any size pool, and it will help to make pool care easier overall.
This algaecide will release minerals into the pool as soon as you put it in the skimmer. Then each time the water passes over the unit, it will again treat the water. This method is not the cheapest at preventing algae, but it has proven to be effective. If you are willing to spend the money, customers that purchased this product swear by the results and say their water clarity and pool color has never been better.
Pros
Very effective
6 Month solution
Works to prevent algae as well
---
4.

SeaKlear Algae Prevention & Remover

Next up is the SeaKlear SKA-B-Q Algae Prevention and Remover. This bottle should last you for ninety days. It is both a preventer and a remover. The SeaKlear is a non-foaming and non-staining algaecide.
This SeaKlear algaecide is used to prevent green, yellow, and black algae. Every three months, you must use 16 ounces of the SeaKlear for every ten thousand gallons. If you have a large swimming pool, you will likely need a few bottles of this solution.
Some users report that the SeaKlear is not an effective algaecide. We found that not to be true unless you are starting with a large algae outbreak. The SeaKlear is best used as a preventative treatment. If you are using this because your pool turned bright green, you may need to look at a stronger, quicker solution and then use this SeaKlear to keep the algae away.
Pros
Good as a preventative
Fair price
Will last for ninety days depending on pool size
Cons
Large pools will need a few bottles
Does not work well to clear up a large outbreak
---
5.

Kem-Tek Pool Concentrated Algaecide
The Kem-Tek Pool Concentrated Algaecide is a good option if you need both a treatment and a prevention. This solution requires putting 16 ounces in for every 10,000 gallons of pool water.
The Kem-Tek Algaecide is a non-foaming algaecide, and it does not contain copper. This solution should help clarify the water even after an initial outbreak. Most users reported that this product does a great job of keeping their water clean on a long-term basis, but it does not work for yellow algae.
The fact that it doesn't work well on yellow or mustard algae may not be the product, and it could be more of the user issue. Yellow or mustard algae is tough to get rid of and requires several treatments and lots of scrubbing and decontaminating. If you don't follow the proper guidelines, you will likely end up with yellow algae in your pool for quite some time.
This bottle is priced a bit higher than some of the other options we have reviewed, and we are not sure of the reasoning behind that. Overall the Kem-Tek does an excellent job as a treatment and a preventative for green algae in your swimming pool.
Pros
Non-foaming
Good for preventative maintenance
Cons
Priced a little higher
Doesn't work well with yellow algae
---
6.

McGrayel Algatec Super Algaecide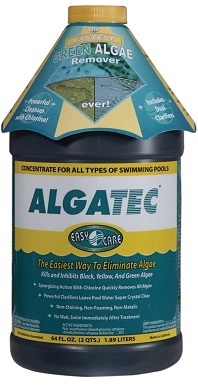 When you first take a look at the McGrayel Algatec, you will notice that it is quite a bit larger than some of the other options. The price is higher, but you will get quite a bit more solution than you do with some other algaecides.
The McGrayel Algatec will not interfere with pool water pH or sanitizer levels. Immediately after putting this solution in your pool, it is safe to swim. Of course, if your pool is still covered in algae, we recommend waiting until that is cleared up before swimming.
Most algae will die in eight to 24 hours of being exposed to the McGrayel Algatec. Black algae is a bit harder to kill, and it could take closer to 10 days.
If you have a terrible outbreak in your pool, this is a great option to consider. If you want a preventative algaecide, there are less expensive options that could do the trick.
Pros
Works well on all algae types
Has had some success with black algae
Cons
Expensive larger bottle
Not as effective as a continued preventative
---
7.

Clorox Pool & Spa XtraBlue Algaecide

The Clorox Pool&Spa XtraBlue Algaecide is a pool algae solution that claims to work for black, yellow, and green algae. One package of this solution will treat up to 25,000 gallons of pool water.
The Clorox solution is supposed to work in a 24-hour period, and the lingering chemical will help to prevent for some time. This algaecide can work as a weekly preventative as well as a treatment. The XtraBlue is also compatible with saltwater pools.
The reason this solution is not up higher on our list is that for the cost of the product, we don't think it is any more effective than some other solutions. Most pool owners had luck with preventing and treating green algae, but the black and yellow algae seemed unaffected by the presence of this product. Some people like the Clorox brand pool products and say that they work quite well, while others believe you are paying for a bit of the Clorox name.
Pros
Works quickly on green algae
Can swim after putting in water
Cons
Higher price than other options
Not all that effective on black algae
Need several bottles to treat large pools
---
8.

Pool Mate Algaecide

The second to last option on our list is the Pool Mate Algaecide. This is a non-metallic algaecide that will work will all pool types. Like most of the other algaecides, the Pool Mate claims to treat green, black and yellow algae.
The Pool Mate Algaecide is useful as a weekly maintenance algaecide or a full treatment as it can both kill and prevent algae.
For the weekly pool maintenance, you will only need about two ounces of this to treat ten thousand gallons. You can swim about 15 minutes after treating the pool. This option is moderately priced and moderately effective. This is not going to be the most potent algaecide you can find, but it will work to help keep your pool looking good. It's not an option that customers rave about, but it is also not a product that people complain about. The Pool Mate is placed so far down on our list, mostly because there are more effective options out there.
Pros
Good for preventative treatment
Cons
More effective options for the money
Removes moderate algae outbreaks
---
9.

United Chemical No Mor Problems
Last on our list is the United Chemical No Mor Problems pool treatment. This option is to help gain some pool water clarity after an algae outbreak. The No Mor Problems product can work as both a preventative and a treatment for an infestation.
This package is sold as a two-pack, and for the price, you really do get quite a bit of product. The reason we had to put this option so far down on the list is the range in the effectiveness. For some pool owners, this product works great and saves money as well. Other pool owners had absolutely no positive results when using this product. With the full range of effectiveness, it didn't seem fitting to put the product up higher on the list.
Pros
Fairly priced
Preventative and a treatment
Cons
Mixed results
Doesn't seem capable with black or yellow algae

Buyer's Guide: Finding the Best Algaecide for Your Pool
So now you have a list of great algaecides, but your pool is still green. Choosing the correct algaecide for your particular situation involved a few simple steps. Here are the most important things to know about choosing the right algaecide.
Price
The pricing of algaecide will vary considerably. Pay very close attention to the amount needed for every 10,000 gallons of water. If you find a large jug of algaecide but then find out that you need 32 ounces for every 10,000 gallons, you may not be getting a great deal. Other smaller containers may be more concentrated and only take an ounce or two to treat your pool.
Staining
Many pool owners are afraid to use an algaecide and cause staining in the pool. The truth is that not all algaecide has the potential to stain your pool. Some algaecides are copper-based, and some are ammonia-based. The copper-based algaecides can leave metal stains in your pool. This does not happen to every person that uses it, but it is a risk you take with copper-based algaecides.
For ammonia-based algaecides, there will be no issues with staining, but they can cause foaming in your pool. The foaming problem is a bit annoying, but it will dissipate in time as long as the filter is kept running. Most of the time, foaming happens if too much of the chemical is added and if it is not appropriately dispersed.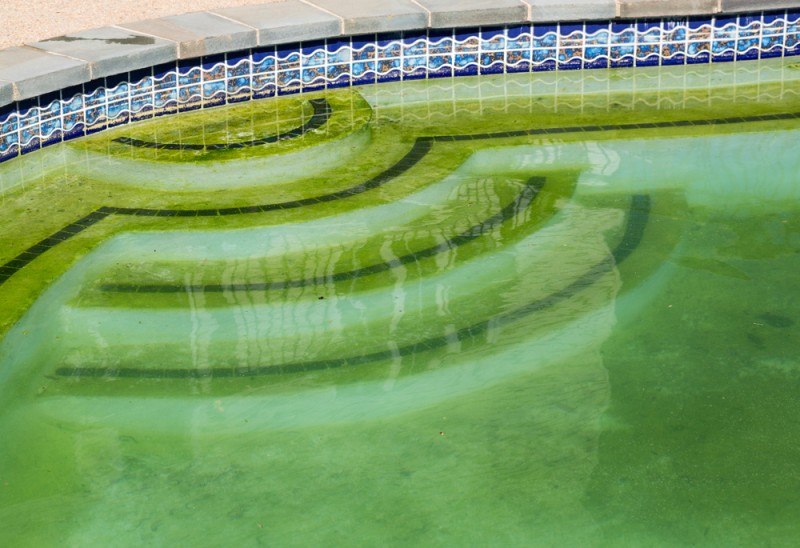 Type of Algae
When choosing an algaecide, it is crucial to know what kind of algae you are dealing with. The three types of algae that pool owners will see are green, yellow (or mustard), and black.
Green algae is the simplest to get rid of. Most of the time, a little extra chlorine and some algaecide will keep green algae away for good. If pool chemicals are correctly managed, green algae should be preventable. Most of the time, it starts when someone brings green algae into your pool from a lake or another pool. Then it spreads into your pool, and you have to kill it, or it will continue to grow.
Yellow or mustard algae is a bit harder to remove than green algae. One of the reasons that yellow algae is hard to treat is that it can be hard to spot at first. Once you know you have yellow algae shocking the pool, brushing the pool and following up with an effective algaecide will hopefully work to keep it away.
Black algae is the most dangerous type of algae. This will look like specs of dirt on the floor and walls of your pool. If left untreated black algae can cause structural damage to a pool. When treating black algae, you will be dealing with a long process. Most algaecides struggle to manage black algae entirely on their own, and they will need quite a bit of help from the homeowner. Getting rid of black algae involves lots of sanitizing, lots of scrubbing, and quite a few chemicals.
Preventative or a Treatment
Algaecides can be used as a preventative measure or a treatment for an outbreak of algae. If your pool chemicals are kept at appropriate levels, and you are continually vacuuming and cleaning your pool, you may not need an algaecide as part of your regular pool regime. If you struggle with algae outbreaks and are unsure of the reason, certainly use an algaecide to keep the pool water bright and clean.
Most algaecides will come with dosage instructions on the bottle. You will notice that there will be a high dosage application used when dealing with an algae outbreak, and a lower weekly preventative does. Make sure that you buy the appropriate size bottle for your task at hand.

Conclusion
When wondering choosing an algaecide for your pool, pay close attention to the size of the bottle you purchase and the dosage instructions on the algaecide. Although our number one choice is a copper-based algaecide, it has very few reports of staining, and it is very effective at removing any type of algae. The In The Swim Super Pool Algaecide is powerful but still safe for swimming only fifteen minutes after pouring it in the pool. The In The Swim Super Pool Algaecide is offered at a moderate price considering its effectiveness, but if you want something that is the best value, the hTh Pool Algaecide should do the trick. The other reason we like that hTh is that it is an excellent non-copper alternative.