5 Best Pool Cleaners for Pebble Tec Pools in 2023 – Reviews & Top Picks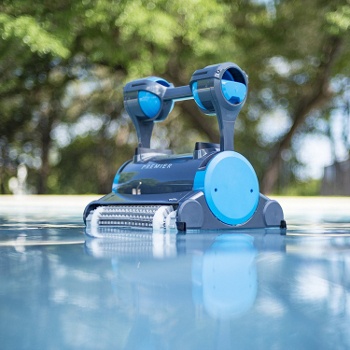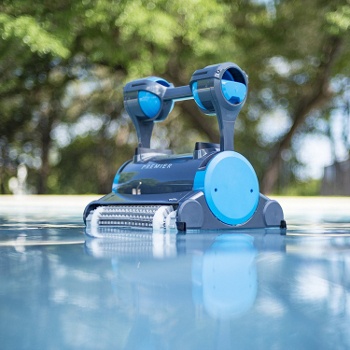 Owning a Pebble Tec pool is a dream for some people. Not only is the pool more natural looking, but it also hides dirt well and makes chemical damage less likely. With all the benefits of a pebble tec pool, it is crucial to ensure that the pool cleaner you choose can work well with the finish.
Preventing damage to your pool and your pool cleaner is the ultimate goal. We have compiled a few reviews of what we consider the best pool cleaners for Pebble Tec pools.

Comparison of our 5 Favorite Picks in 2023:
Rating
Image
Product
Details

Best Overall

Dolphin Premier

Three filter options
CleverClean technology
Cleans sides, waterline, and bottom of the pool
CHECK PRICE

Polaris F9550

Programmable
Remote control
Good at getting dirt out of corners
CHECK PRICE

Best Value

Polaris Vac-Sweep 360

Fair price
Climb walls
Clean the floor
CHECK PRICE

Hayward Poolvergnuegen

Good for smaller pools
Pre-programmed sequences
CHECK PRICE

Polaris Vac-Sweep 3900

Powerful model
TailSweep helps to clean hard to reach areas
CHECK PRICE
The 5 Best Pool Cleaners for Pebble Tec Pools:
1.

Dolphin Premier Robotic Pool Cleaner – Best Overall
Dolphin is one of the leading names in robotic pool cleaners. Having a robotic cleaner is not cheap, but it is well worth the price in the long run. Robotic cleaners do not run through your pool's filter system and will not require a booster pump. That is excellent news and should provide added savings and less wear and tear on your pool equipment.
This Dolphin Premier Robotic is designed for a pool up to 50 feet, and it comes with three-year quality assurance from Dolphin. The Dolphin Premier pool cleaner will have this job done in three hours. Cleaning the walls and sides of the pool is accomplished quite easily with this model. The Dolphin Premier uses a CleverClean algorithm to ensure all areas of your pool are accounted for.
The Dolphin Premier can be set to clean your pool daily, every other day, or every third day. This system has three filter options: bottom-load fine cartridge filters, ultra-fine cartridge filters, and an oversized fine filter bag. With the programmable options and settings, the filter can work exactly how you need it to.
The only real downside of the Dolphin Premier is the price, but a lower price would not make much sense with the features you get. Overall, this is the best pool cleaner for Pebble Tec pools available this year.
Pros
CleverClean technology
Cleans sides, waterline, and bottom of the pool
Three filter options
Programmable
---
2.

Polaris F9550 Pool Cleaner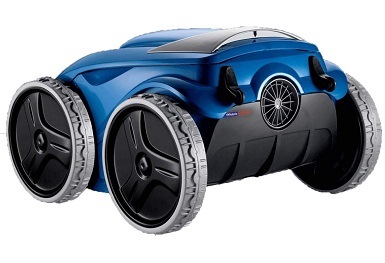 For just a few dollars less than the Dolphin Premier, you can purchase a Polaris F9550. This is a four-wheel-drive robotic cleaner that is capable of cleaning all pool surfaces. Similar to the Dolphin CleverClean technology, the Polaris has what they call ActivMotion Sensor Technology.
This unit will scope out your pool and develop a plan for cleaning it with no problem getting in and out of tight corners, and it will work for pools up to 60 feet. There is also a programmable timer on this model and a remote.
The problem that some users have with the Polaris is longevity. Although this model has worked well for several years, it does not seem to hold up as long as the Dolphin. It may be worth going with the top model for the slight difference in the price range.
Pros
Programmable
Remote control
Compatible with the IntelliTouch, Easy Touch, and SunTouch remote systems
Good at getting dirt out of corners and tough-to-reach places
Cons
Expensive
Some users have issues with longevity
---
3.

Polaris Vac-Sweep 360 – Best Value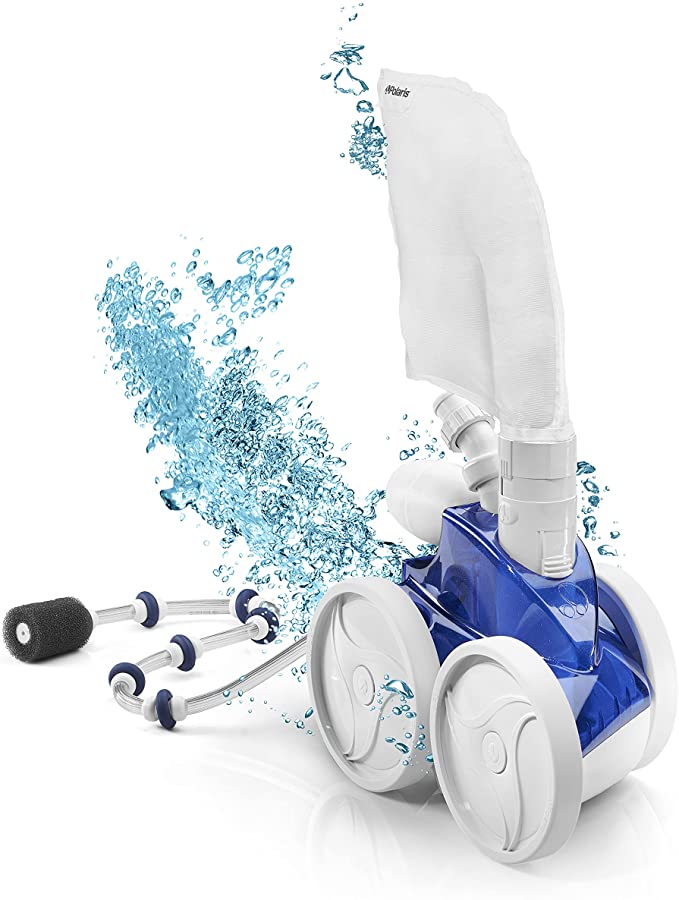 If we blew you out of the water (pun intended) with the pricing on our first two models, we will bring things back down to reality now with the Polaris Vac-Sweep 360. The Polaris Vac-Sweep 360 is the best value for the money when looking for a pebble tec pool cleaner.
The Polaris is not a robotic unit; it will plug directly into your existing pump, but it does not need a booster. Regardless of the shape and size of your pool, it can clean it effectively.
Also, the Polaris Vac-Sweep can climb walls, scrub, and vacuum the bottom. The unit comes with a single chamber bag capable of capturing large debris. The problems you see with this filter include clogging and missing certain areas of the pool. It's pretty typical for a non-robotic, automatic vacuum. Even considering those issues, the Vac-Sweep 360 is a great value.
Pros
Fair price
Will climb walls and clean the floor
Cons
Prone to clogging
Not programmable
---
4.

Hayward Poolvergnuegen "The Pool Cleaner"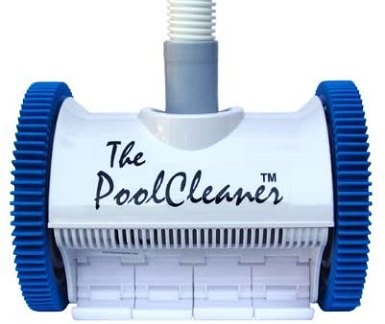 Although this is still a decent pool cleaner, some things keep it out of the top spots. This Hayward is only a two-wheel drive unit, and it is capable of cleaning pools up to 16' x 32'. If you remember, our top models could clean up to 50 feet.
This is not considered a "smart" model as it will not scan your pool and develop a course of action. There are, however, multiple pre-programmed steering sequences. Based on your pool type, these sequences could very likely get the job done.
The biggest issue customers seem to have with the Hayward Poolyergnuegen is that it doesn't hold up over time. As the years go by, some parts break and become less effective. The warranty on these products doesn't quite hold up to the issues you will be dealing with. The problems are likely not on every unit, but you may take a slight risk with the Hayward model.
Pros
Pre-programmed sequences
Good for smaller pools
Cons
Does not hold up over time
Expensive, considering short lifespan
---
5.

Polaris Vac-Sweep 3900 Pool Vacuum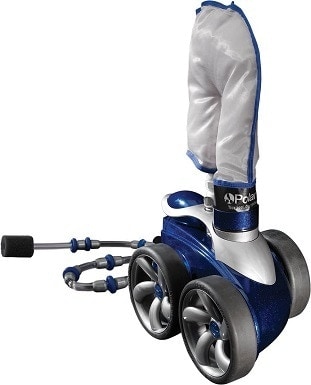 Last on our list is the Polaris Vac-Sweep 3900. This model is similar to the Polaris Vac-Sweep 360 we reviewed as our best-value pool cleaner. The Vac-Sweep 3900 costs much more than the Polaris Vac-Sweep 360. The Polaris Vac-Sweep 3900 claims to work in all in-ground pools regardless of size or shape.
It requires a Polaris booster pump to work correctly. Make sure to consider this expense when purchasing this unit. A booster pump is frustrating to buy, but it will make the vacuum work with much more power.
The Polaris Vac-Sweep 3900 includes the TailSweep Pro, which provides a sizeable sweeping action behind the unit. The sweeping helps to ensure all areas of the pool are scrubbed and swept. It also keeps water from spraying outside of the pool.
Some customers swear by this pool cleaner, while others struggle with the price for the quality of the job. It's known to clog frequently, and you have to remove the clog to get the cleaner back up and running.
Pros
TailSweep helps to clean hard-to-reach areas
Powerful model
Cons
Requires booster pump
Frequently clogs

Buyer's Guide – Choosing the Best Pool Cleaner for Pebble Tec Pools
Most robotic pool cleaners and vacuums work well for pebble Tec pools. Suction-type vacuums are the ones to avoid. Here are a few other things to remember when searching for the perfect automatic pool cleaner.
Robotic or Pump
Do you want a unit that runs off of your current pump, or do you want a stand-alone robotic unit? There are advantages and disadvantages to each. The robotic units are usually priced slightly higher but are programmable and have great features.
The more traditional style that runs off of your pump will save you some money but cause extra wear and tear on your pump. Some of these require an additional booster pump to make the unit function. Check all requirements before purchasing; an underpowered automatic pool vacuum will not effectively clean your pool.
Programmability
Features come at a cost. We are all accustomed to this, whether a car or a phone, extra features cost more money. It's the same when it comes to programming an automatic pool cleaner.
If you want to ensure that your pool is cleaned in a specific pattern covering every square inch, you will have to pay for it. These models are a bit more expensive, but you can program your pool's shape and size and when to run the cleaner.
Price
You are mistaken if you think you have to spend thousands of dollars on an automatic pool cleaner. There are models available for less than $500. The most important thing to keep in mind is the value. A very inexpensive model that needs a booster pump, hoses, fittings, and connections is not all that inexpensive.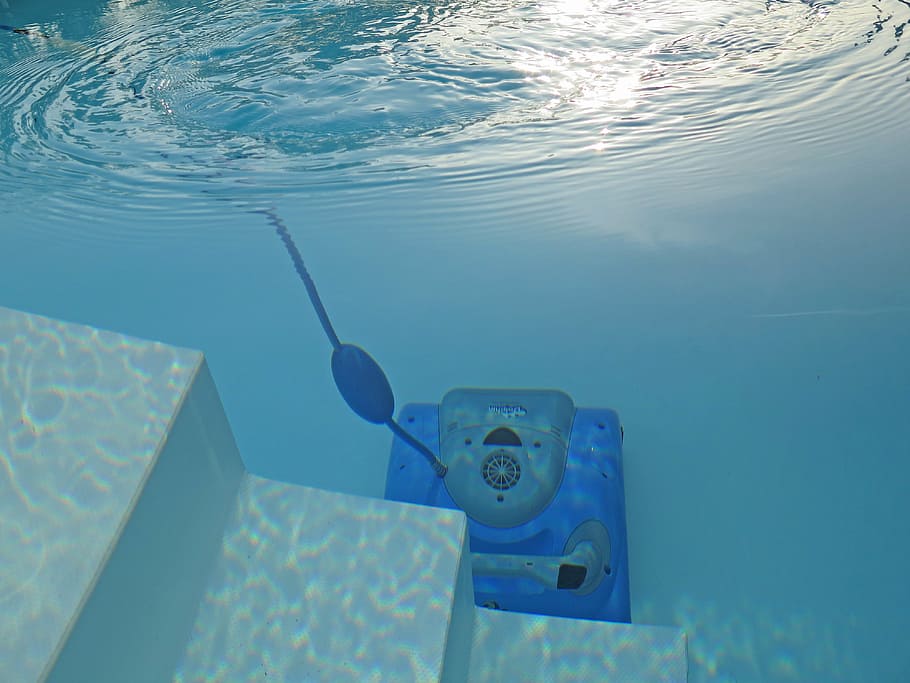 If you are looking to save some money but want a high-quality machine, look at giving up a few of the bells and whistles. Do you need the remote? Is blue tooth something that matters to you long term? These are the things you can lose while still having a clean pool.
Sensing Capability
When we talk about additional features that can cost money, sensing is one of them. Sensing capabilities give your pool cleaner directions on where to go to get the job done. This is a premium technology, and lower-priced units will not feature it.
Quality of Hoses
Don't focus solely on the quality of the vacuum. The quality of the hoses should be considered as well. The vacuum will be useless if a hose is known to kink and split. Keeping your pool vacuum hose untangled is vital for long-term effectiveness with the pool vacuum.
Some lower-powered automatic vacuums will struggle when there is any type of resistance. A pool hose that has not been cared for properly could cause resistance that keeps the unit from traveling. This is primarily an issue when climbing the walls or reaching all corners of the pool.
Sides/Bottom/Stairs
Three main areas must be cleaned in a pool (aside from the actual water). The bottom, the sides, and the walls should be included in weekly maintenance. When purchasing an automatic or robotic pool vacuum, choose a model that can climb the walls. If the sides of your pool are not cleaned, they will be subject to algae growth.
It is relatively common for a pool vacuum to struggle with stairs in a pool. The robotic pool vacuums do a much better job than the automatic options run off of your pool pump. The difference in price between these models may make it worth it just to clean the stairs yourself. The ability to clean stairs should not be a deal-breaker on a lower-priced model, just something to consider before purchasing.

Conclusion
Pebble tec pools are beautiful. The pebble tec finish can make your backyard feel natural and your pool shine unless it is dirty! It's certainly not worth paying for an exceptional finish on the inside of your pool and leaving it a mess with leaves and dirt. Our top pick, the Dolphin Premier Robotic, will ensure your pool is clean.
Although you will pay more for a Dolphin Premier Robotic, you will have options and settings that other models don't have. The difference in the price of this model justifies all of the extra features you get. The Dolphin Premier Robotic is a pool cleaner you will have for many years if it is properly cared for.
Also, we just released a buying guide for automatic pool cleaners. This guide is for all types of pools and not just pebble tec.
Related Articles: