5 Best Dolphin Pool Cleaners – Reviews & Top Picks 2023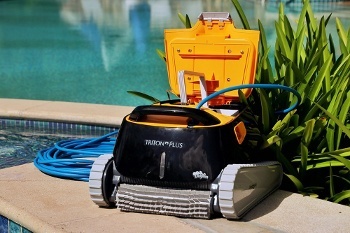 Lots of pool owners think Dolphin makes the best pool cleaners, and it's easy to see why. Many of Dolphin's cleaners are among the best in their class, and leave pools sparkling clean with little effort on your part.
However, many Dolphin models share design features, and that can make it hard to tell which one is right for your pool. This list reviews some of the company's best units, so you can figure out which one suits your needs. Above all, we've given our reviews in light of maximizing your value for the money.
We've also included a buyer's guide so you can learn everything you need to know about robotic pool cleaners and make a well-informed decision.

A Quick Rundown of Our Favorites in 2023
Rating
Image
Product
Details

Best Overall

Dolphin Premier

Very efficient
Uses cartridges or bag
Three-year warranty
CHECK PRICE

Best for the Money

Dolphin Nautilus CC Plus

Energy-efficient
Easy program interface
Top-load filter cartridges
CHECK PRICE

Dolphin Oasis

Cartridge-based
Smartphone-ready
Clever Clean scanning
CHECK PRICE

Best for Above-Ground Pools

Dolphin Escape

Lightweight
Oversized debris cartridge
Designed for above ground pools
CHECK PRICE

Dolphin Nautilus

Good price
Anti-tangle swivel
Single button control
CHECK PRICE
The 5 Best Dolphin Pool Cleaners
1.

Dolphin Premier Robotic Pool Cleaner – Best Overall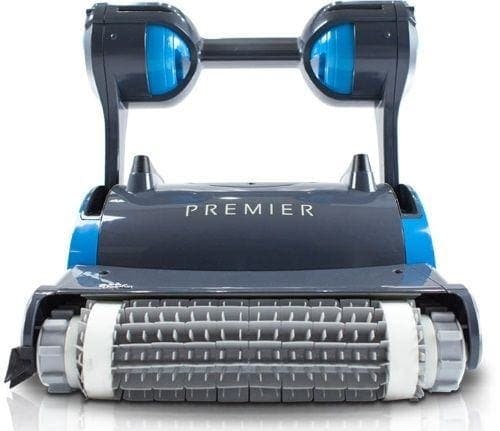 The Dolphin Premier Robotic is the top-of-the-line unit from Dolphin and an extremely versatile cleaner, which isn't something we often say about pool cleaners. This cleaner can use multiple filter cartridges or a bag. Because they're interchangeable, you can optimize the machine for a variety of cleaning operations, ranging from algae scrubbing to leaf removal. Its proprietary Clever Clean algorithm also keeps track of where it has been to help ensure it gets your whole pool clean.
Like many Dolphin machines, this one is very efficient compared to other kinds of robotic cleaners, but also versus those that make use of a pool's pump system. The Premier Robotic also has an extensive three-year warranty that's hard to find with other brands of pool cleaners. If we had one reservation, it would be that it's not inexpensive, although that's typically expected when a machine is the best of its kind on the market. If you're looking for a Dolphin robotic pool cleaner that won't let you down, this one will keep you happy.
---
2.

Dolphin Nautilus CC Plus Automatic Pool Cleaner – Best for the Money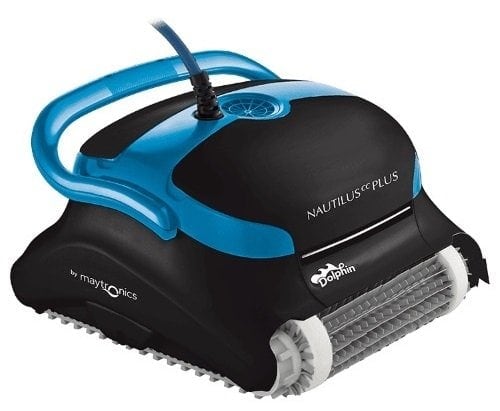 The Dolphin Nautilus CC Plus is another great choice for those who want a Dolphin-brand pool cleaner with top-load filter cartridges. This robotic model keeps track of where it has been to clean your entire pool. Its smart-scanning technology helps it target areas that need extra cleaning. Its program interface has just a couple of buttons and you can schedule it to run daily every other day, or every third day. Electric pool cleaners tend to be energy-efficient, but this one has a very frugal reputation.
Many people balk at the price of Dolphin products. Fortunately, you can get the Nautilis CC Plus for 30 percent less than the top Dolphin model, so this one is easily the best value for the money. The one area where it struggles is with steps; but if you're willing to experiment with the floats on the hose, you should be able to add those to its range, too. Overall, this is a good pool cleaner, but its price makes it great and the best Dolphin robotic pool cleaner for the money on this list.
Pros
Easy program interface
Top-load filter cartridges
Energy-efficient
Great price
---
3.

Dolphin Oasis Z5i Pool Cleaner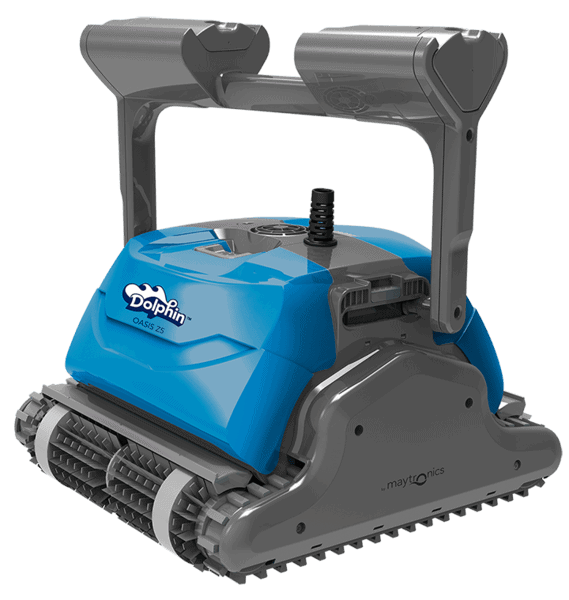 The Dolphin Oasis Z5i was one of the first pool-cleaning robots with any kind of smartphone connectivity. It works largely like most robotic cleaners with the exception of its Bluetooth-ready base. You can use Dolphin's app on your phone to guide the robot manually through spot cleaning, or you can get your pool in tip-top shape by running a full cleaning cycle on automation. This cleaner uses cartridges, so emptying it is fast and easy. It has a three-year warranty, so you won't have to worry about anything going wrong.
The Oasis Z5i also comes with Clever Clean scanning, which runs an algorithm on the pool to find areas that need extra attention. What's puzzling about this unit is its price. It's nearly 50 percent more expensive than our top choice. For that extra premium, you're only getting one feature that you don't get on other models: controlling it with a smartphone. While this is a good pool cleaner, most people won't get good value from that premium price.
---
4.

Dolphin Escape Pool Vacuum – Best for Above-Ground Pools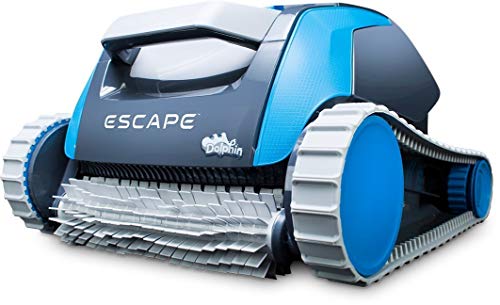 Dolphin's great robotic pool cleaners are just as effective in above grounds pools as they are inground. The Dolphin Escape Pool Vacuum is designed for use in above ground pools and comes with an oversized debris cartridge for multiple cleanings without having to empty it out. And it's super easy to remove and clean the filter cartridge. Plus, this model weighs just 14 pounds, which makes it easier to get it in and out of above ground pools.
Now, the drawbacks. Many above ground pools need fine particle filtration. You'll spend extra and get Escape's fine particle filtration basket. The power cord also lacks a dongle, so it can get tangled upon itself. It is one of your best options if you have an above ground pool, but it won't be the best choice for all pools.
Pros
Designed for above ground pools
Oversized debris cartridge
Lightweight
Cons
Fine particle filter sold separately
Cord sometimes tangles
---
5.

Dolphin Nautilus Pool Vac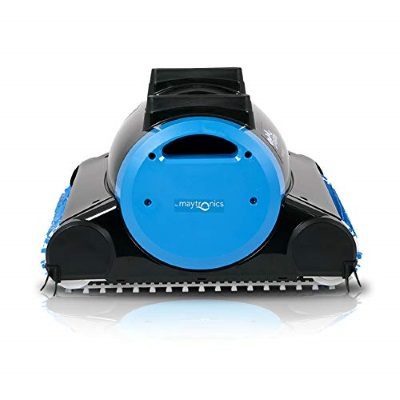 The Dolphin Nautilus does some things right, but it also has some flaws. It's got the single-button operation that's nearly universal on Dolphin cleaners and makes it easy to use. It also comes with an anti-tangle swivel, which isn't found on all robotic cleaners. Plus, it's relatively inexpensive. While it does cost a few hundred dollars, the models on the list above can set you back far more than that.
We don't like the lack of a handle. This makes it harder to lower it into the pool, and also makes it harder to get it back out when the cleaning cycle is over. The Nautilus also suffers from a relatively small storage capacity, which means frequent changes of the filter cartridges. Ultimately, this machine isn't a terrible deal for the money. If you're looking for a discount model that gives you some of the features you expect from higher-end Dolphin pool cleaners, you've found it.
Pros
Single button control
Anti-tangle swivel
Good price
Cons
No handle for removal
Relatively small storage capacity

Buyer's Guide – Choosing the Best Dolphin Pool Cleaner
What is a robotic pool cleaner?
The three common types of automatic pool cleaners are suction-side, pressure-side, and robotic. Suction-side cleaners attach to the intake port of your pool and use the power from your pool's pump to collect debris. Pressure-side models work similarly but instead attach to the other side of the system, the one that's pushing water into your pool.
These two cleaner types generally aren't smart. They move around at random, and if you let them go long enough, they'll eventually cover your entire pool. Another big downside is that they're dependent on your pool's pump to work. If your pump is on the weaker side, you may get very mediocre results from pressure- or suction-side pool cleaners.
Robotic models differ in that they don't attach to your pool's pump system. Instead, they're powered by electricity and carry a filter and either a basket or bag. That means they're a great choice for pools with weaker pumps.
While you may think robotic cleaners would have a higher cost of operation, the opposite is often true. Suction-side or pressure-side pool cleaners draw many times the energy of a robotic pool cleaner. It will also put less strain on your pool pump, which could extend its life.
What can the robotic pool cleaners do?
One of the hallmark features of a robotic pool cleaner is smart technology. That means it can either keep track of where it has been in your pool, use information from a suite of sensors to figure out where it should go next, or both.
Most Dolphin cleaners have some version of this technology. However, it seems to work best on high-end machines. The downside is that you typically have to shell out thousands of dollars to get one of those high-end models. Less expensive models may still have this feature, but they tend to be more hit-or-miss in terms of how well they work.
Robotic cleaners also have an advantage over other kinds of pool cleaners in that it's harder for them to get tangled. Since they use narrow cords, there's a lower chance of them getting caught on themselves relative to the hoses other kinds of cleaners use. Plus, they often have swiveling dongles, which further reduce the chance of a tangle.
Since they don't rely on water pressure to move around, they're generally more reliable when it comes to climbing steps in your pool or doing waterline cleaning, where they clean above the water for a nice finish. Keep in mind that waterline cleaning isn't a feature all Dolphin machines have, so if it's something you want, double-check that your model has it before you buy.
Filters
Another nice thing about Dolphin pool cleaners is that they sometimes come with a choice of filter. There are two major categories of filter, each with its own subtype.
The most commonly used type on robotic models is the cartridge. The cartridge is a hard-sided filter that lives inside the cleaner. When it needs to be emptied, you just pop the lid on the robot and dump the filter out. Generally, it needs to be washed off as well, but as soon as that's done, you're ready to go again.
Filter cartridges are designed to last for years. Usually, they do last year. However, they tend to be very expensive to replace, so it's a good idea to treat yours with care.
Other Dolphin cleaners use bags or soft-sided filters. These sometimes fit in the same place cartridges do, and other times they ride externally. While cartridges often have the excellent capacity, bags can sometimes hold more, and they tend to be much less expensive to replace.
If your pool is in really bad shape, and has a lot of sharp or hard objects, such as small branches, at the bottom, you may benefit from replacing a cartridge with a bag, as damaging the bag is a much more affordable problem to solve.
Both cartridges and bags come with regular and fine particulate options. If you have serious dirt or algae problems on the walls or a lot of fine dirt in the water, use a cartridge or bag that's fine-particulate ready. Otherwise, the holes in the filter will be large enough for the dirt or algae to slip through, which ultimately leaves it in the pool.
Which Dolphin pool cleaner is right for you?
Many people look at the prices on Dolphin cleaners and immediately opt out of the purchase. It's understandable, given the price; but it's important to understand the value that these cleaners can bring. They tend to work very well and have great durability and excellent warranties. They can save you a lot of time when it comes to cleaning your pool, which allows you to spend more time doing something else.
While you might be tempted to buy the lowest-priced Dolphin you can find, that's not necessarily the best idea, either. If it doesn't have the features you need, you'll be upset, but still out a few hundred bucks.
It's a better idea to start by evaluating your pool and then selecting the model with the features and the filter cartridges or bags that will do the job. Then, you'll be able to relax and let the robot do its job for years to come.

Conclusion:
The Dolphin Premier Robotic is our favorite due to its use of cartridges or bags, effective cleaning, and a three-year warranty. The Dolphin Nautilus CC Plus comes in second with its easy programming, top-load filter cartridges, and great energy efficiency. Its great price means that it's the best overall value for the money. The Dolphin Oasis Z5i has Clever Clean scanning, smartphone compatibility, and a cartridge-based filter system. Its high price keeps it in third on our list. The Dolphin Escape has features that make it good for above-ground pools, but it lacks a fine particle filter and has a cord that sometimes tangles, which makes it poor for other situations. Coming in at last place is the Dolphin Nautilus. It's a decent discount buy but lacks a handle and has a small filter space, which makes it less convenient than most other units.
While it may seem hard to figure out which Dolphin cleaner is right for you, we hope our reviews and buyer's guide have made the decision much easier.
Individual reviews: