10 Best Pressure Washer Hoses of 2023 – Reviews & Top Picks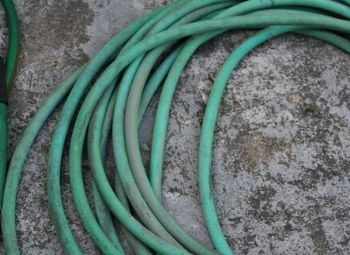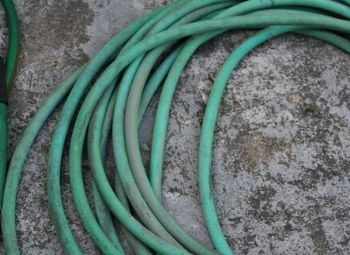 No matter what pressure washer you use, you'll always be at the mercy of the hose. If you try to run pressure that's more than your hose is rated to handle, you're going to experience a blown hose. Is your hose too short? Have fun carrying your pressure washer all around your yard to reach everything. Purchasing a durable and high-quality pressure washer hose of an adequate length can solve all of these problems and save you a lot of headache. After trying out as many as we could find, the following ten reviews compare our favorite pressure washer hoses on the market this year.
---
A Quick Comparison of Our Favorites
Rating
Image
Product
Details

Best Overall

Simpson 41030 Cleaning Monster

High-strength and durability
High-strength and durability Quick connect fittings
Non-marring abrasion-resistant
CHECK PRICE

Best Value

Schieffer Pressure Washer

Inexpensive
Textile braided reinforcement
Thermoplastic cover
CHECK PRICE

Premium Choice

Pressure-Pro AHS285

Non-marking
4000-psi max pressure
Abrasion-resistant covering
CHECK PRICE

Apache 10085591

Lightweight
3700 psi max
Scuff resistant
CHECK PRICE

Briggs & Stratton 196006GS

Affordable
Very lightweight
CHECK PRICE
The 10 Best Pressure Washer Hoses – Reviews 2023
1.

SIMPSON Monster Water Hose – Best Overall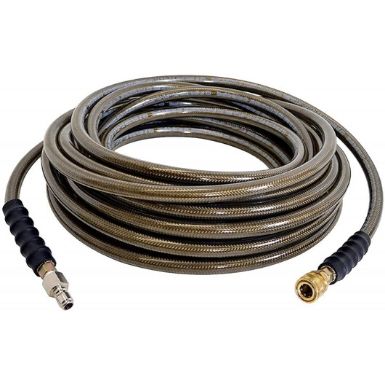 When it comes to picking a water hose for your pressure washer, you're going to want two things above all else, length and durability. The Simpson 41030 cleaning monster excels in both of these important areas. To start, it's 100-feet long, plenty of reach for any application. Quick-connect fittings make it easy and simple to get set up and running. The best qualities of this hose though are in its strength and durability.
Featuring dual-braided construction of steel and polyester with a polyurethane jacket, it's about as heavy-duty as you can find in a pressure washer hose. You can safely run up to 4,500 psi through this hose, and it can handle temperatures up to 140 degrees. Keep in mind, all that strength also carries some hefty weight. Plus, it's very stiff, making it difficult to roll back up. Despite how robust and long it is, it's priced quite reasonably. Altogether, this pressure hose from Simpson is our pick for the best overall.
Pros
Steel over polyester jacketed with polyurethane
High-strength and durability
Quick connect fittings
Non-marring abrasion-resistant translucent polyurethane outer jacket
---
2.

Schieffer Pressure Washer Hose – Best Value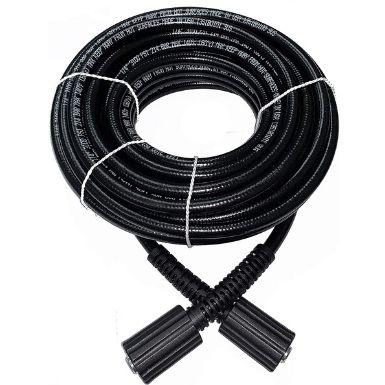 If you're looking for the best pressure washer hose for the money, it's pretty hard to beat this one from Schieffer Co. It's got textile braided reinforcement and a thermoplastic covering for maximum strength to stand up to high-pressure use. It's great for pressure washers up to 3,100 psi and features a 4:1 burst to operating pressure ratio, so it shouldn't even be close to bursting at its maximum pressure level.
The 0.25-inch twist connects fittings were a bit of a disappointment since we've gotten used to the ease and convenience of quick-connect. However, at this affordable price, it's hard to complain. In all, this is a robust hose that should excel at most pressure washing duties and we think it's the best value overall.
Pros
Inexpensive
Textile braided reinforcement
Thermoplastic cover
---
3.

PressurePro Pressure Washer Hose – Premium Choice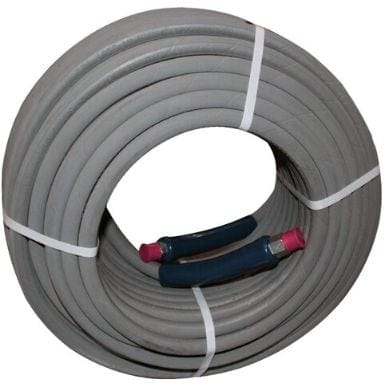 Though it's a bit more expensive than many of its closest competitors, the PressurePro has earned its spot as our premium choice pressure washing hose. At a length of 100 feet, there's plenty of line so you won't have to move the machine every time you take more than five steps.
With a 4,000-psi maximum pressure rating, this hose should be sufficient for pressure washers of any power level. This hose is non-marking, so dragging it along floors won't leave any black spots for you to take care of later. Abrasion-resistant covering protects the hose when it is dragged along the ground, ensuring that this tool will live to see a long service life. Our only gripe with this hose is the high price, though we do feel that it provides extra value to match its price tag.
Pros
Non-marking
4,000-psi max pressure
Abrasion-resistant covering
100' length
---
4.

Apache Pressure Washer Hose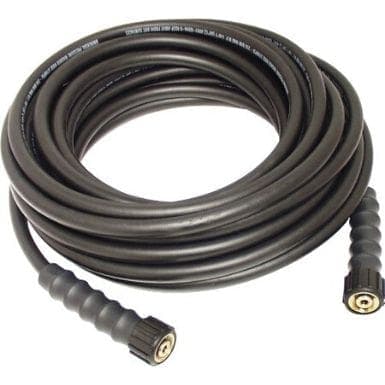 Moderately priced, the Apache pressure washer hose is a basic hose with a plain black covering. It's scuff resistant, so it's less likely to leave marks on anything it touches. The 3,700 PSI max pressure this hose can handle is sufficiently respectable.  This hose is made from thermoplastic rubber, which allows it to be much lighter weight than many other pressure washer hoses. It weighs in at just five pounds, meaning it's very manageable to move around. That said, it's not very durable.
After just a few uses, we noticed some serious abrasion across the length of the hose. If you're going to be working over rough surfaces such as asphalt, the Apache hose may not hold up to the repeated abuse. All told, for the price, it's a good deal, but we think the Schieffer Co. hose is a better choice overall for an even lower price.
Pros
Lightweight
3,700 psi max
Scuff resistant
Cons
Hose doesn't hold up to abrasion
---
5.

Briggs & Stratton 196006GS Pressure Washer Hose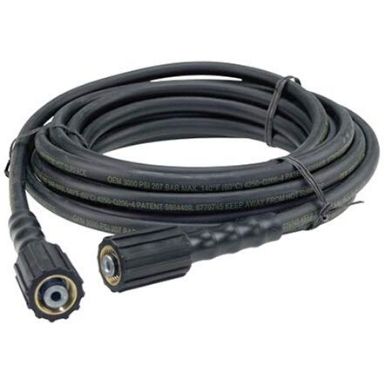 This hose is one of the shortest ones we reviewed at just 25 feet long. At under two pounds, it's also one of the lightest. It features 0.25-inch screw-on connectors, which we can't complain about given the low price. One thing we noticed right away is that this hose is only rated for use up to 3,000 psi. This should still be sufficient for most pressure washers, but it's not one of the more robust ratings.
Speaking of robust, the exterior of this hose is not. After just a few hours of light use, we found multiple areas of abrasion that were cutting through the outer hose and exposing the inner hose beneath. While this is a very low-priced hose, we don't think it's a worthwhile tradeoff to sacrifice durability to save a few bucks. You'll end up replacing the hose soon anyway and that money will still be spent. At just 25 feet, this hose is also too short for most applications and is most suitable for occasional use.
Pros
Affordable
Very lightweight
Cons
Not rugged
Only rated for 3,000 PSI
Only 25'
---
6.

Sun Joe Pressure Washer Extension Hose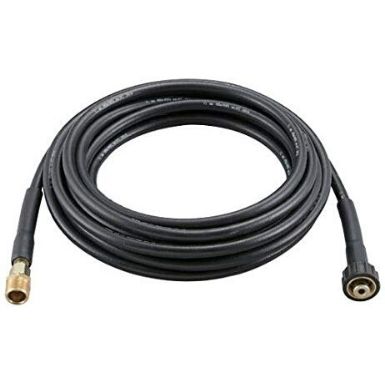 This heavy-duty, universal pressure washer hose from Sun Joe is strong enough for electric and gas pressure washers up to 2,900 psi. It's very durable, sporting a weather and abrasion-resistant exterior. Though in our experience, this was the downfall of this hose.
Our unit was visibly damaged from basic use, and we don't think this hose is built to withstand the rigors of daily operation. It's also very short at just 25 feet in length, but be aware, this is an extension hose and not a replacement hose. This means it has a female connector on each side to extend an existing hose to a greater length. Standard 22-mm connectors adorn each end for a universal fit.
Pros
Standard 22-mm connections
Durable and heavy-duty
Cons
Only rated to 2,900 psi
Very short – 25'
---
7.

JGB Enterprises Pressure Washer Hose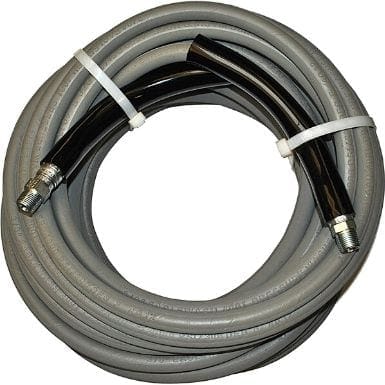 Supplying 50 feet of heavy-duty pressure washer hose, this JGB Enterprises product is good up to 4,000 psi. What's more, this hose is usable at temperatures up to 310 degrees. The nitrile tube is resistant to abrasion, oils, and solvents, and so is the neoprene outer cover that adds another layer of protection. Braided wire reinforcement provides a final layer of defense against damage and high pressure.
Although this hose is built quite tough, the connections are a noticeable weak point. Our hose started leaking at the connector after just a few hours of use. Though we love the high-temperature and high-pressure capabilities of this hose, we would like to see better care taken with the connectors so they can hold up as well as the rest of the hose does. As it is, the hose is too prone to leaking at the ends, ruining its longevity.
Pros
4,000 psi max
Temperatures up to 310 degrees
Cons
Expensive
Weak connections prone to leaks
---
8.

YAMATIC Anti-kink Pressure Washer Hose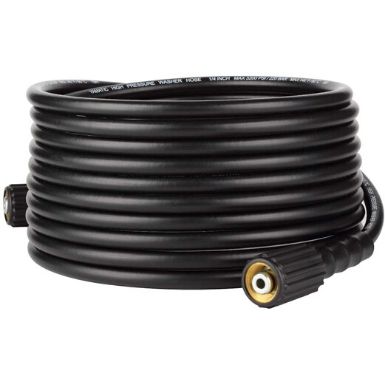 This affordable anti-kink pressure washer hose from YAMATIC is built to withstand a maximum 3,200 psi of pressure. Not exactly top of the line, though not bottom of the pack either. The anti-kink feature seemed to work, though it also made the hose extremely stiff and difficult to work with. It became very hard to roll up and even more difficult than other hoses for regular use.
At 25 feet in length, this hose doesn't give enough distance to complete most tasks without moving the sprayer. Naturally, we prefer the convenience of a longer hose, but this one is only available in one length. The real problem with this hose is that it doesn't quite live up to its 3,200 psi max rating. Ours actually blew from a 3,100-psi pressure washer at full blast. It had no problems at lower pressures, but we would like to see our hoses exceed their rated pressure levels.
Cons
3,200 psi max pressure
Extremely stiff
Doesn't quite live up to max rating
---
9.

PEGGAS Power Washer Hose
This power washer hose from Peggas was one of the most affordable models we tested, so we didn't want to expect too much from it. In our experience, it lived up to its price tag perfectly. It's a very short hose at just 25 feet, which is part of why it's priced so low. When you pull the trigger, the hose expands and pulsates very hard, letting you know that it doesn't enjoy the high pressure.
The outer covering is supposed to be durable, but in our experience, it wears off at the slightest hint of abrasion. Our hose looked very rough after only a few uses, gaining a full-blown hole just a few weeks in. Though it's priced cheap enough to make it attractive, you'll be replacing it soon anyway. Save yourself the money and the extra trip by buying a pressure washer hose that will hold up to repeated uses.
Cons
3,200 PSI working pressure
Reacts strongly to pressure
Covering wears off easily
---
10.

Flexzilla Pressure Washer Hose
Though this pressure washer hose from Flexzilla is priced at the premium end of the spectrum, it doesn't offer features and durability to match the other products at the same price. Thankfully, it's a respectable 50 feet long, though we generally prefer a 100-foot hose instead. Rated for 3,100 psi, the Flexzilla should have had no problem handling the pressure washer we hooked it up to.
The first problem we noted was that the hose wouldn't straighten out properly, remaining partially coiled, even when extended. When pulled tight, the coils all became kinks, cutting off all the pressure. Worst of all, this hose is prone to puncturing. Ours developed a hole after just one month of light use, rendering it unusable. For the high price the Flexzilla sells for, this is unacceptable. We can't recommend this hose since there are superior quality hoses available for much less.
Cons
Prone to puncturing
Kinks too much
Doesn't straighten out properly
---
Buyer's Guide – Finding the Best Pressure Washer Hoses
Now you know exactly which pressure washer hoses we think are the best on the market, and you've seen how they all compare to each other. But, that's only half the battle. How are we comparing these models? What should you be looking for when you go to purchase a pressure washer hose for yourself? In this section, we're going to cover the basic things to keep in mind when looking for a new pressure washer hose.
Length
What you plan to use your pressure washer for is going to have a pretty big impact on how much hose length you need. If you're only working in one space inside your workshop, you probably don't need a hose that's over 25 feet long. On the other hand, if you're trying to pressure wash your home's exterior, a 25-foot long hose would have you constantly moving your sprayer to be able to reach the next part of the house. In contrast, a 100-foot hose will allow you to cover a very long distance before needing to move the machine. It's a good idea to figure out exactly what you plan to use your pressure washer for before you go and purchase a new hose.
PSI
If your hose isn't strong enough to stand up to the pressure being supplied by your pressure washer, then it's going to burst. Luckily, manufacturers make it easy to determine the output capabilities of your sprayer, as well as the max pressure limit of your hose. Make sure to purchase a hose that's rated for use up to the same psi that your sprayer puts out, preferably a few hundred psi higher if possible. This is one area where more is definitely better, so err on the side of caution. If your sprayer is a 3,100-psi unit, don't purchase a 3,100-psi hose to run it full blast every day. Purchase a more robust 4,000-psi hose and save yourself the headaches.
Durability
At the end of the day, your hose is worthless to you if it isn't durable enough to withstand the rigors of use. Whether you need it daily, weekly, or just once a month, if your hose lets you down at a critical moment, it's a complete waste. Many hoses today are built with several layers on top of each other for added strength. They can be constructed from a variety of materials, though steel and polyester is a popular mix.
Look for hoses with abrasion-resistant exteriors. Your hose will likely be dragged across the ground on all different types of surfaces. If your hose is weak it won't stand up to these abuses. In such a case, you'll find holes in the outer shell of your hose that may easily become leaks.
Anti-Kink
If you've ever struggled with trying to unkink a hose in the middle of washing your driveway, you understand the frustration the anti-kink technology sets out to solve. While it's not perfect, it does generally provide a much less kink-prone hose. That said, it also tends to make the hoses very stiff and more difficult to work with, so it's a decision that you'll have to weigh for yourself.
---
Conclusion
Though it seems like it should be an easy decision, choosing the best pressure washer hose to purchase can be more difficult than it first appears. Hopefully, these reviews have helped to simplify the process for you. For our money, we think the best choice overall is the Simpson 41030 Cleaning Monster water hose. Durable steel and polyester construction with a urethane coating provide it with high strength and longevity. The 4,500-max PSI is one of the highest available and it's affordably priced to top it off.
TheSchieffer Co. pressure washer hose is our pick for best value since it's priced very economically without sacrificing on quality. Textile braided reinforcement with a thermoplastic cover help make this hose a robust yet affordable option. Finally, the PressurePro pressure washing hose is our top premium choice. Featuring a non-marking and abrasion-resistant covering with a 4,000-psi max pressure at a length of 100 feet, it's worth shelling out a few extra dollars for. That said, all three of these are excellent choices that are sure to meet the needs of your power washer.
Related Reads:
---
Featured Image Credit: creative commons, peakpx