7 Best Propane Tankless Water Heaters of 2023 — Reviews & Top Picks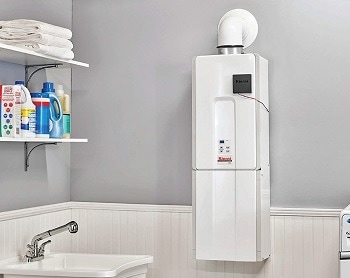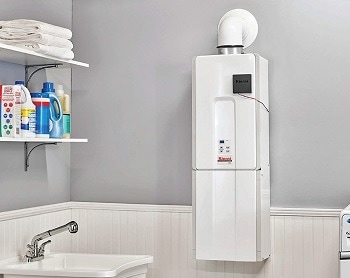 A propane tankless water heater will give you the benefits of instant, piping hot water without the associated electricity bills of common tank-based heating systems. Tankless heaters will also save you the hassle of finding storage space for the water tank and insulating the tank.
Traditional electric heaters are often inefficient, unreliable, and expensive to run. Additionally, a tanked system will require more energy to heat and reheat the water in the tank constantly, whereas tankless systems are only in use when you turn on the faucet. Although a tankless propane system may cost more initially, it may save you hundreds of dollars in utility bills in the long run. Around 18% of the energy needs in your home are due to water heating, and switching to a tankless heater will lower this drastically.
Switching to this new system can be stressful, though, and it can be difficult to find the right water heater in the sea of available options. But don't worry! We've created this list of in-depth reviews to help you find the right water heater to suit your unique needs.
---
A Quick Glance at Our Favorites in 2023
Rating
Image
Product
Details

Best Overall

Marey GA10LP

Easy installation
Battery-powered
Energy efficient
CHECK PRICE

Happybuy Propane

Inexpensive
Anti-rust casing
Easy to read LCD
CHECK PRICE

Premium Choice

Rinnai V65iP

Super compact design
Powerful 6.5 GPM flow rate
Wi-Fi enabled
CHECK PRICE

Eccotemp FVI12-LP

6 GPM flow rate
Clear and easy to read display
Compact design
CHECK PRICE

GASLAND Outdoors

Highly portable
Low noise output
Compact and lightweight design
CHECK PRICE
The 7 Best Propane Tankless Water Heaters
1.

Marey Power Propane Tankless Water Heater — Best Overall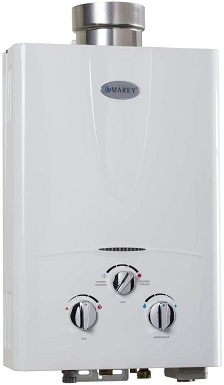 The GA10LP Power propane tankless water heater from Marey is the best choice overall according to our tests. The eye-catching sleek and compact design is both space-saving and a cinch to install, a great blend of form and function. The unit does not require an electrical connection, so it is a great choice if you're not connected to the grid or if you experience frequent power outages. Both the water and gas flow can be easily adjusted and regulated to your needs via the dials and can provide up to 3.1 gallons of water per minute. This heater can be used with gas or propane and will only activate when you open a faucet, saving you around 60% of your annual electricity bills.
Unfortunately, the battery compartment on this unit is designed poorly, making changing the display panels batteries extremely difficult. Some users also report minimal change between "hot" and "cold" settings, leaving you with either freezing or scorching hot water. Overall, this is the best tankless gas water heater available today.
Pros
Easy installation
Battery-powered
1 GPM water flow
Energy efficient
Cons
Batteries difficult to change
Little difference in temperature settings
---
2.

Happybuy Propane Hot Water Heater — Best Value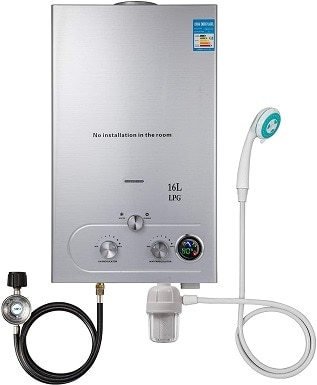 The best tankless propane heater for the money is from Happybuy. It has a decent 4.3 gallons-per-minute flow rate, anti-rust steel casing, and high-temperature-resistant copper water fittings. The circular LCD is clear and easy to read, and changing the temperature settings is as simple as turning a knob. There is also a nifty summer/winter mode to save you on energy costs during different times of the year. The heater has several safety protection modes, including a temperature limit controller and water flow protection for peace of mind. The space-saving, wall-mounted design is also quick and easy to install.
Installing the batteries into this unit may be a frustrating hit-and-miss, as there are no polarity markings on the battery housing and no indication in the manual. The operating instructions for this unit are not clear, and neither is the labeling on the fittings, making connecting up water and gas hoses confusing. Several users report that the temperature would not get sufficiently hot, often never above 60 degrees, and this keeps this unit from our top position.
Pros
Inexpensive
Anti-rust casing
Easy to read LCD
Several safety protection modes
Cons
No polarity markings on the battery compartment
No clear labeling for pipe fittings
Temperature does not get that high
---
3.

Rinnai V65iP Tankless Hot Water Heater — Premium Choice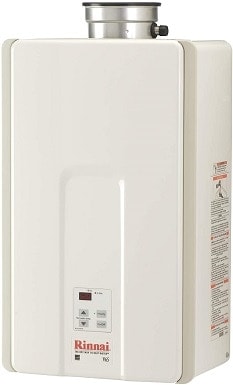 The V65iP tankless heater from Rinnai has a powerful 6.5 GPM flow rate, with premium quality fittings and a price tag to match. The compact design allows you to install the unit in places that you wouldn't usually otherwise, such as a closet or in the attic, and it is only around the size of a large suitcase. Every component of the heater is individually replaceable, so should something go wrong, you won't need to purchase an entirely new unit. The heater has a highly advanced Wi-Fi monitoring system too, meaning that the Rinnai technician will likely know if something is not functioning even before you do!
This unit doesn't take batteries, so you'll need an AC outlet to get power for the ignition switch and LCD. This is a frustrating aspect, considering the heater's portable dimensions. The unit also requires a specialized vent pipe for condensation reasons and does not come included with the unit, adding extra costs on top of an already high price. This keeps this already pricey unit from our top two positions.
Pros
Powerful 6.5 GPM flow rate
Super compact design
Components are easily replaceable
Wi-Fi enabled
Cons
Expensive
AC power outlet required
Extra venting pipe needed but not included.
---
4.

Eccotemp FVI12-LP Liquid Propane Gas Tankless Water Heater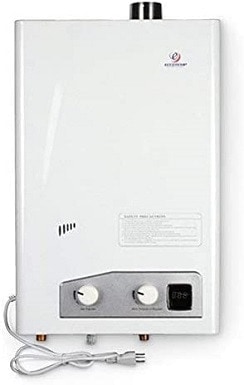 The FVI12-LP heater from Eccotemp has a decent 3.6 GPM flow rate, and a water temperature range of between 80-140 degrees Fahrenheit. The big control knobs make temperature adjustment a breeze and can be used to control both water flow and gas pressure. The digital temperature display is clear and easy to read and is mounted on a sturdy and compact unit that is designed to save space with minimal noise output. It ignites instantly when it senses any water flow, providing instant heat while saving energy, with lower power needs from the AC power plug.
While these units may work well with showers or baths, sinks may not have enough of a flow rate to trigger the ignition consistently, which can be frustrating. The unit also does not function well when mixing hot and cold water, causing it to intermittently shut off at times. Also, beware using this in below-freezing conditions, as several users report the pipes in the unit exploding in extremely cold temperatures.
Pros
6 GPM flow rate
Clear and easy to read display
Compact design with minimal noise
Cons
Needs an AC power point
Smaller flow rates may not trigger the ignition consistently
Not suitable for extremely cold conditions
---
5.

GASLAND Outdoors BE158R Portable Gas Water Heater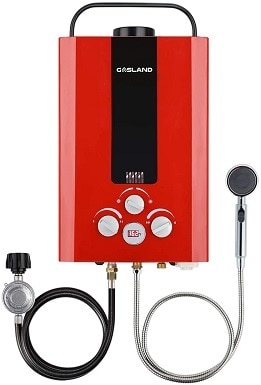 The BE158R portable heater from Gasland Outdoors has a 1.5 GPM flow rate, with fully adjustable temperature control and water flow control. It features automatic shutoff protection mode if the pilot flame unexpectedly goes out and anti-freeze protection with a useful drain plug to discharge any residual water in freezing conditions. This is a great addition to prevent pipes from freezing or bursting. It is ideal for camping and travel, as it is compact and lightweight and easy to transport. The heater is great for home too, as it is easy to install for more permanent applications. It has unique energy-saving technology to save on gas consumption and reduce operation noise output. The unit is battery powered for use where there is no electricity, making it a great choice for traveling and camping.
Several users report that the temperature does not reach optimal levels with low-pressure outputs, like sinks, and even when in use in a shower, it may not get up to desired temperatures. The heater is also prone to shutting off intermittently, likely due to the safety mechanism working overtime. Many users reported that the pilot igniter stopped working fairly quickly after installation, even with fresh batteries. The installation instructions are also confusing and frustratingly difficult to follow.
Pros
Highly portable
Automatic shutoff protection modes
Low noise output
Compact and lightweight design
Cons
Low GPM flow rate
Doesn't work properly at low pressure
Shuts off intermittently
Confusing instructions and operation
---
6.

Camplux CA318 Propane Tankless Water Heater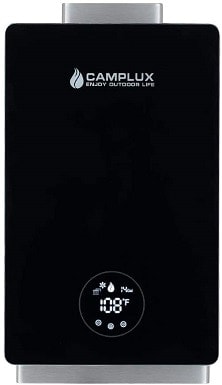 The CA318 tankless heater from Camplux has a respectable 3.1 GPM flow rate and a sleek, black, modern design aesthetic. The glossy front black panel has an easy-to-read circular LED touchscreen display, with options for both Fahrenheit and Celsius readings. The display also has a nifty flow rate and output temperature readings for accurate control. It has multiple protection modes, including dry combustion, flame failure auto shutoff, and anti-freezing protection, plus fully automatic temperature controls and a child safety lock for added protection.
This unit is not battery powered, so you'll need an external power source to run it. This heater takes time to heat up to the desired temperature, even when installed close to the output, and the igniter works intermittently at best. The units also seem to break quickly and to not last more than a year in most cases. Plus, when it does break, the customer service is questionable.
Pros
Decent 3.1 GPM flow rate
Great-looking and compact design
LED touchscreen display
Multiple protection modes
Cons
Not battery powered
Takes a long time to heat up
Pilot flame intermittently turns off
Poor build quality
---
7.

Camplux Pro AY132 Portable Propane Tankless Water Heater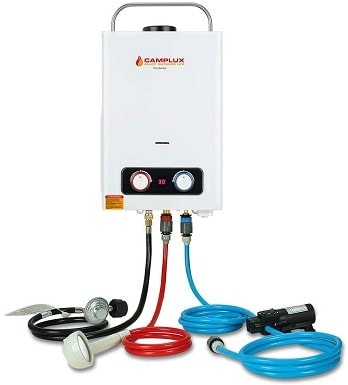 The AY132 from Camplux has a flow rate of 1.58 GPM and has a low-pressure ignition, making it ideal for low water pressure houses or camping. It is small, compact, and lightweight, with a foldable handle for easy transportation. The heater has a temperature range of between 46 and 114 degrees Fahrenheit, with big knobs for easy adjustment. It also has several protection modes, including flame failure shutoff and anti-freeze protection. The igniter is powered by two D cell batteries, making it the ideal choice for camping, power outages, or off-grid living.
Many customers report the unit shutting off repeatedly after only a few minutes of use, so you are drenched in cold water, and lighting intermittently even with high water pressure. The unit is also not well designed, with the copper pipes located to close to the heating element. This may easily cause them to weaken and burst after extended use. The heater also takes time to heat the water to desired temperatures, and even then, it will rarely get as hot as the manufacturer claims that it will.
Pros
Small and compact
Several different protection modes
Battery-powered operation
Cons
Low GPM flow rate
Ignites intermittently
Sometimes shuts off after only a few minutes of use
Copper pipes prone to bursting due to poor design
Water takes a long time to heat up
---
Buyers Guide – Purchasing the Best Tankless Gas Water Heater
Benefits of Tankless Water Heaters
Energy-saving. A tankless water heater can save your water heating bill by up to 30%, depending on your use and how many people it is servicing. The traditional tank-storage heater takes a great deal of power to heat all the water in the tank, which is typically around 50 or 60 gallons of water. It also requires a massive amount of power to keep the water inside the tank constantly hot, 24 hours a day. When you use some of the water for a shower or in your sink, the water in the tank then gets topped up and needs to be heated up to temperature again, using even more power. A tankless system only heats water on demand, saving you a great deal of power and thus, money.
A tankless water heater mounts simply and easily on the wall and is typically the size of a large suitcase. The point-of-use design negates the need for a bulky storage tank, and it only requires space for the propane tank, which can be stored outside. This also makes the units highly portable, and most can be taken on camping trips or used in RVs.
Endless hot water. Because there is no tank to keep hot or refill, using the heater does not deplete any tank of hot water, giving you almost endless amounts of piping hot water on demand (or until your propane runs out). The hot water is also instant, whereas a tank-style system requires the cold water inside the pipe to be flushed out first, wasting both power and water.
Choosing a Tankless Water Heater
There are a couple variations that tankless water heaters may come in, and the one you choose will depend on what you need to use the heater for, how many people it needs to service, installation, and portability.
Propane heaters have a pilot light that stays on and only ignites the burners when water flow is detected (when you turn on a tap). The pilot light on your water heater requires gas or propane to stay on and to heat the water flowing through the pipes. Although there are electronic versions available, propane heaters are far more efficient. One downside is that propane heaters will require a flue for the ventilation of gases, which can be a challenge to install and may create extra costs, depending on where you install it.
Power. Some heaters have battery-powered ignition and displays, while some will require an AC PowerPoint to run. An AC-powered unit will save you on the cost of batteries, although they are not as versatile. They will not work for off-grid use or for camping or RV use either. The addition of a plug is also a limiting factor in where you can store and use the heater.
Flow. When looking for the right flow rate to choose, it depends entirely on your unique needs. If you are using the heater solely for a shower or a sink, a lower flow rate will be fine. However, when the heater needs to service multiple outputs at once, the higher the flow rate is, the better. For example, if you are in the shower and someone else is using another shower and then the sink tap gets turned on, the hot water will drop in temperature or turn off entirely. The number of points that the heater needs to service will determine the flow rate you need to buy.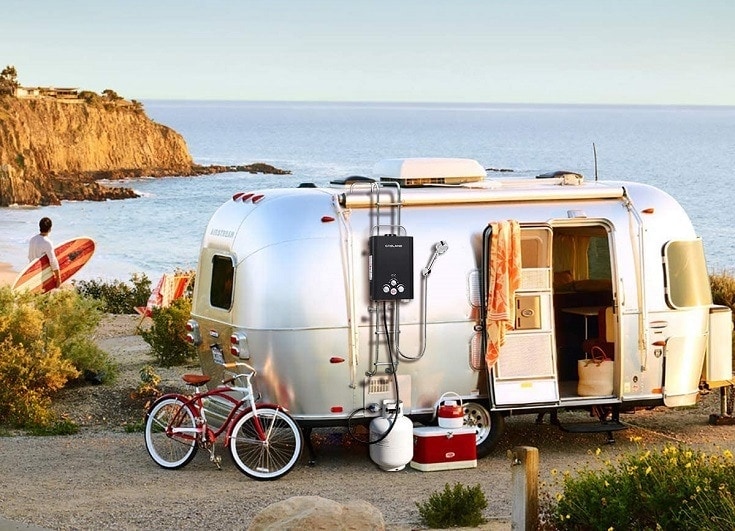 If you live in a cold climate, you'll need to consider the incoming water temperature too. If the incoming water is cold, the heater will naturally have to work harder to heat the water. This will affect both the flow rate and the outgoing temperature of the water. The location of the heater relative to the output will also affect the flow rate you need. If you are using the heater for the shower or sink and your heater is installed nearby, you can have a lower flow rate.
Most tankless heater flow rates vary from around 1.2 GPM to 6 GPM, and the higher the rating, the more usage the heater can accommodate.
Water Usage. A tankless water heater will not only save you on energy usage but water usage too. A tank-based system requires the cold water in the pipe to be flushed out before the hot water from the tank gets to the tap. While you are waiting for hot water to travel from your tank to your bath or shower, you can potentially waste around 10 liters of water every time. Just this simple process could lead to wasting almost 4,000 liters of water a year, per person, just waiting for hot water!

Conclusion
Our top choice of propane tankless water heater for the money is the GA10LP from Marey. It is compact, lightweight, and battery-powered, making it highly versatile. The water and gas flow are easily adjusted and can provide up to 3.1 gallons of water per minute.
The best water heater for the money is the Happybuy tankless propane heater. It has a high 4.3 GPM flow rate with an anti-rust steel casing and high-temperature resistant copper water fittings. It also has several safety protection modes for safety and peace of mind.
There are many different tankless heaters to choose from, and it can be confusing to find the right one. Hopefully, our in-depth reviews have helped you narrow down the options, so you can find the right model to suit your unique needs.