Best RJ45 Crimpers 2023 – Reviews & Top Picks
Wire crimpers are not only professionals on construction sites who work with network connections. More and more homeowners have found them to be extremely useful. Crimpers are becoming more popular and the marketing is expanding rapidly, so it's difficult to know which ones are the best.
To save you time of searching for good products and comparing them, we compiled a list of five reviews that will help you to know their features, how they can help you to do the best job possible and where they may impede you in delivering a desired result.
Checking out several high-quality products is important, but what's more important is knowing which features to look out for. That's the reason this article contains a buyer's guide, which will help you to know exactly the features a product needs to do the job you require.
---
A Quick Comparison of Our Favorites in 2023
Rating
Image
Product
Details

Best Overall

Klein Tools VDV226-011-SEN All-in-One Cable Crimper

Sturdy
Good safety mechanism
CHECK PRICE

Best Value

TRENDnet TC-CT68 Crimping Tool

Affordable
Ratchet mechanism for safety
Perfect for DIYers
CHECK PRICE

Premium Choice

Platinum Tools 100054C Clamshell Crimp Tool

Durable
Delivers great results
Professionally used
CHECK PRICE

UbiGear Network/Phone Cable Crimp Crimper

Versatile kit
Affordable
CHECK PRICE

WORKPRO RJ45 Crimping Tool Kit

Durable
Affordable
CHECK PRICE
The 5 Best RJ45 Crimpers 
1.

Klein Tools All-in-One Cable Crimper – Best Overall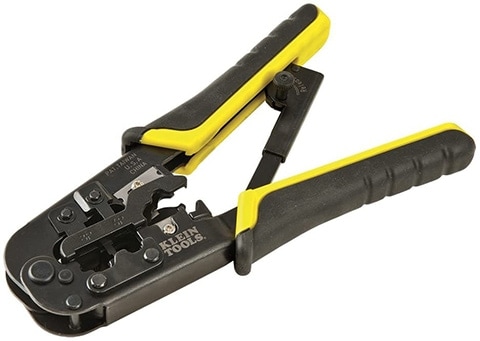 Klein Tools crimper has an ergonomic grip and sturdy steel construction. It works well with flat-satin phone cable and round STP/UTP. The high-carbon steel crimping dies provide modular-crimp connector installation for data and voice applications.
Klein Tools Cable Crimper is suitable for Twisted Pair, RJ45 and Ethernet cables, though you shouldn't use it with AMP connectors. It works well on 4, 6 and 8-position modular connectors. You're less likely to get injured with this tool because of the ratchet safety-release and the blade guard on the cutting knives that provide protection. The full-cycle ratchet mechanism prevents the connector from releasing before full compression.
This tool is 7.5-inches long and weighs 11 ounces, so it's light and compact, and Klein Tools used yellow and black grips so that you can easily identify the tool. One of the drawbacks of the VDV226-011-SEN All-in-One Cable Crimper is that the ratchet sometimes gets stuck. After comparing this product to the rest on the list, we found that it was definitely the best RJ45 crimping tool.
Pros
Sturdy
Good safety mechanism
---
2.

TRENDnet TC-CT68 Crimping Tool – Best Value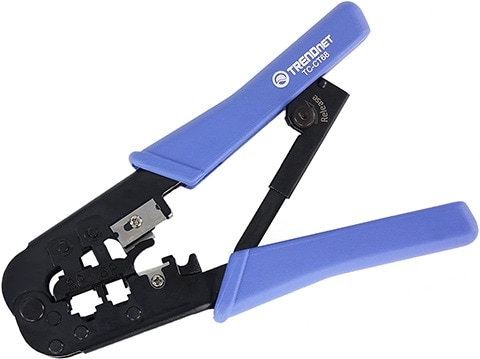 This crimping tool from TRENDnet is geared towards homeowners who don't want to splurge on fancy tools. It works great with Ethernet and telephone cables, and it's easy to use and convenient. The crimping tool is great at stripping, cutting, and crimping cables for 6 and 8-position modular plugs.
It's made from steel, so it will last if you take good care of it. The handles are comfortable, and it's 10-inches long and weighs only 11 ounces, so it's light and compact. The ratchet mechanism allows you to close the tool when not in use. Besides the fact that it's affordable, TC-CT68 also comes with a 1-year warranty. Just make sure that the ratchet mechanism doesn't get in the way while you're crimping or that it causes damage to the tab.
The features of this tool and its price make it a great product for DIYers. After we compared TRENDnet's climper to the rest on the list, we discovered that it was the best RJ45 for the money.
Pros
Affordable
Ratchet mechanism for safety
Perfect for DIYers
Cons
Suitable for very basic use
---
3.

Platinum Tools Clamshell Crimp Tool – Premium Choice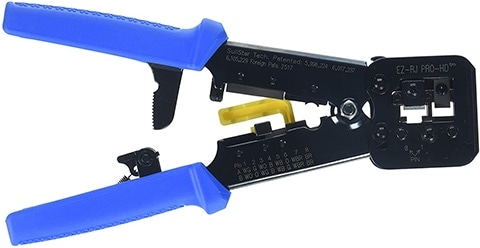 If you don't mind splurging a bit to get a premium tool, then the Platinum Tools Clamshell crimp has features to justify the price. The patented crimp and trim system works well at flushing trims on extended conductors for all EZ Connectors. It's got a ratcheted, high -everage platform that helps you get consistent terminations, and the tool steel die head assembly has 360-degree connector support.
Professionals will like this tool, especially its built-in cutter and stripper for flat and round cables. It works great on large OD cables that can be challenging to terminate because of the thicker insulation and wire gauges. Platinum Tools made the 100054C compatible with EZ-RJ45 and EZ-RJ12/11 connectors but not AMP. It's 10-inches long and weighs 16 ounces, so it's slightly heavier than the other crimpers on the list.
This is a high-quality crimper, but you have to pay a higher price for this kind of specialized performance.
Pros
Durable
Delivers great results
Professionally used
---
4.

UbiGear Network/Phone Cable Crimp Crimper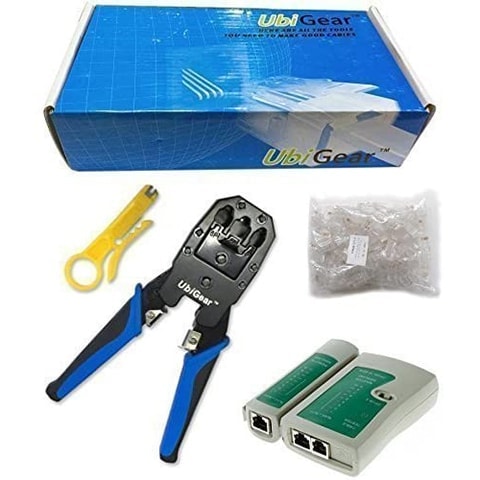 This is a kit, so UbiGear included a cable tester with RJ45/RJ11/RJ12 but didn't include a battery or a charger. It works by showing you LED lights flashing in rotation after you've properly connected all the wires. The kit also includes a wire stripper and 100 modular plugs. The crimper works on RJ11/RJ12/RJ22/RJ45, and it's 9-inches long.
The cable tests correspondingly double-twisted cables and can determine if the connection is wrong and if it's an open or short circuit. The remote tester is capable of testing remote cable up to 1,000 feet in length. UbiGear has included a leather case as part of the kit but hasn't included two AAA batteries.
The appealing feature of this kit is the price. It's affordable and comes with several handy tools. This product's drawback lies in quality. UbiGear didn't use high-quality materials to make the product.
---
5.

WORKPRO RJ45 Crimping Tool Kit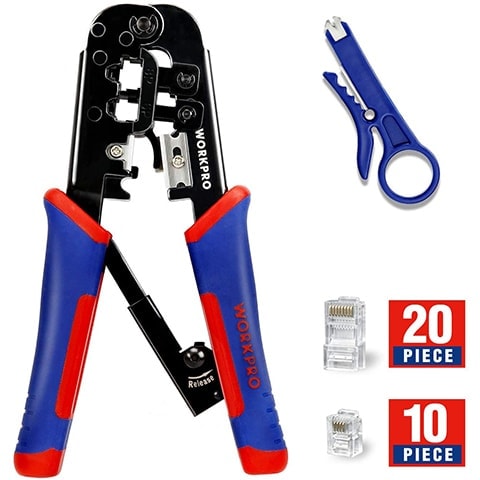 You can use the Workpro RJ45 for Ethernet and telephone plugs. It's compatible with RJ11 and RJ45 connectors, and it works well for crimping, cutting, and stripping jobs. Workpro fitted an ergonomic handle, which is comfortable and won't slip out of your hands because of the Thermoplastic Rubber (TPR) and ABS wrapping.
The kit includes a mini wire stripper that doesn't only provide good stripping, but it also functions as a wire winder. This RJ45 crimper is made from thickened cold-rolled steel, so you can count on it to last a long time if you take care of the tool. The ratchet mechanism protects plugs by controlling different terminations, and this crimper is light because it's only 9 inches long and weighs 15 ounces.
The kit consists of the crimper, 20 RJ45 connectors, 10 RJ11 connectors, and a mini wire stripper for a good price. It's just a pity that it's not suitable for more connectors.
Cons
Compatible with only two connectors

Buyer's Guide – How to Purchase the Best RJ45 Crimpers
Knowing which products are the most prominent on the market is important, but you also need to know the features that are important when choosing a crimper for specific types of jobs.
Types of Crimpers
Handheld
These tend to be used for smaller wires, but the premium products can tackle thick wires. You can use some of the models also to strip and cut.
Hydraulic
You can apply more pressure with hydraulic crimpers than with handheld ones. These can be used on extremely thick wires, but they tend to be more expensive than handheld ones. The other cost that you'll incur with hydraulic crimpers is maintenance.
Periodically, you'll have to change the oil and oil filter to ensure that the hydraulics do not clog up. The other check you'll have to do is ensure that there's no air or dust inside. Not only are these types of crimpers more expensive, but they require more time and costs allocated to maintenance.
Hammer
Most hammer crimpers are compact and affordable. They can also crimp a variety of wires, and you can crimp a range of wire sizes after adjusting the height of the movable wedge. The issue with hammer crimpers is that you have to make several strikes on thick wire. That means it will be more time consuming, and you're going to exert more energy.
Connections
The three most important connections that your RJ45 crimper should be compatible with are 4, 6 and 8 positions. There are other positions that your crimper should be compatible with, but those should be the very least. Before, an RJ45 cable was only used to telephone connections, but technology advancements have resulted in category five and six connections.
Use
Depending on whether you're a DIYer or a professional will determine what kind of a crimper you choose because of the different challenges that you'll encounter during the task. If you need it for telephone lines around the house, then you can opt for a simple crimper. Professionals who have to deal with large OD cables that can be challenging to terminate because of the thicker insulation and wire gauges will opt for more premium products.
Choosing a crimper that can strip, crimp, and cut cables is always a good criterion to seek, and there are several crimpers produced for homeowners that can perform all those functions. So, multifunction crimpers are the best option and can be found for an affordable price.
Durability
The quality of a product is a crucial feature that a user to examine regardless of what types of product, but it's essential when purchasing crimpers. It's especially important if you're a professional because of the cable thickness that you will encounter.
Having a product that is made from thickened, cold-rolled steel is usually the best option. It's important that the crimper you buy is sturdy so that you can get consistent results over a long period and don't have to replace the tool frequently. The connector die should be sturdy but so should the handle. The thickness of the crimper should also be balanced with the weight to ensure that it's not too heavy so you can use it for prolonged periods.
Indent vs. Compression
In most cases, you'll use an indent style crimp for crimping fine stranded and compacted conductors. If you choose indent crimping, you can use a simple handheld crimper to get the job done. The result of indent crimping is a great pullout resistance and good electrical performance.
With compression crimping, it applies the force consistently from all directions. It's also effective at preventing conductor damage. If you work with aluminum and copper cables, compression crimp is the industry norm. The important thing to do in compression crimping is to match the crimping dies with the materials and dimensions.
Other Useful Reviews:

Conclusion
Our reviews have highlighted all the features of the five products. They also contain exactly the aspects of the product that will help you to complete the desired job and the features that will hinder you from getting the best results. To provide even more clarity, we went into depth about the different features you need to look out for by providing a buyer's guide. There shouldn't be any ambiguity about which crimpers will perform the bet results for specific jobs.
To make your search even easier, we highlighted products that we felt were good for specific situations. After comparing all of the products and their features, as well as the price, to each other, we discovered that Klein Tools VDV226-011-SEN All-in-One Cable Crimper was the best overall product. It definitely stood out from the pack. Having a product with great features is important, but the price also needs to justify the features. We found that TRENDnet TC-CT68 Crimping Tool was the best RJ45 for the money. If you want a premium product, Platinum Tools 100054C Clamshell Crimp Tool should be your first port of call.
---
Featured Image: Klein Tools All-in-One Cable Crimper, Amazon