10 Best Sawhorses in 2023 – Reviews, Top Picks & Buyer's Guide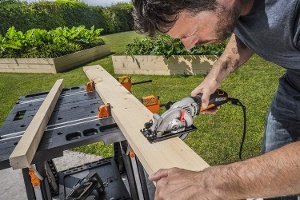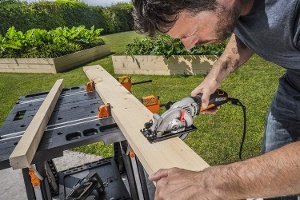 You have a project elevated on a set of sawhorses. So far, you've invested over 20 hours, and you can finally see the light at the end of the tunnel. But then, the leg of one sawhorse buckles as you apply pressure from an angle it doesn't approve of. Your work comes crashing to the floor, and in a flash, all your work is suddenly wasted.
If you've never experienced a scenario like this, you should consider yourself lucky. To make sure you never do, the following ten reviews will help you find the best sawhorses available. We've tested these load-bearing tools to see how they handled the load.
Unfortunately, some sawhorses were injured in making this list when they collapsed under the weight of their responsibilities.
---
A Summary of our Favorites (updated in 2023):
Rating
Image
Product
Details

Best Overall

WORX Pegasus Portable Sawhorse

Quick clamps hold your materials
Holds 1
000 lbs
Folds completely flat
CHECK PRICE

Rockwell JawHorse Sawhorse

Can support a 600-lb load
Doubles as a bench vice
Has foot pedal lever
CHECK PRICE

Best Value

2x4basics Saw Horse

Supports up to 2
000 lbs per pair
Supports up to 2
000 lbs per pair
Stackable
CHECK PRICE

ToughBuilt Folding Sawhorse

Up to 1
300 lbs on a single sawhorse
Side notches hold 2x4s
Adjustable height legs
CHECK PRICE

Bora Portamate Speedhorse Sawhorse 2-Pack

1
500-lb capacity per sawhorse
2X4 notches to create a table
Sets up in seconds
CHECK PRICE
The 10 Best Saw Horses:
1.

WORX Pegasus Portable Sawhorse – Best Overall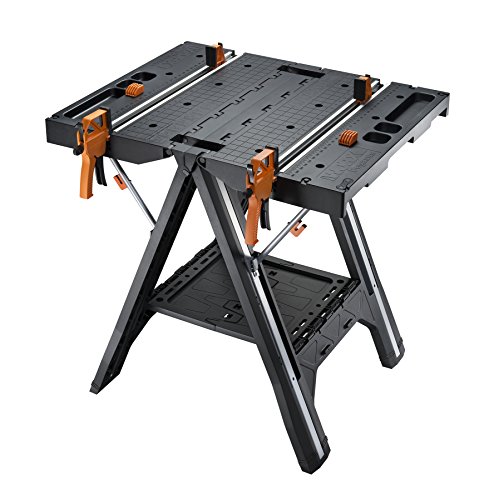 The more ways a tool can be used, the better it is in our book. That's why we loved the WORX Pegasus Portable Sawhorse. It's more than just a mere sawhorse. It has fold-out supports that transform it from an ordinary sawhorse into a workbench.
Taking it another step further, two clamps are built right into the top of the bench. They'll grab whatever material you're working with, holding on firmly and not letting go. It's like having another pair of hands while working, which we probably don't have to tell you, is incredibly useful.
You might think something this versatile would be weak, but you'd be wrong. This single sawhorse/workbench can hold up to 1,000 pounds. However, it weighs a mere 30 pounds, so you can easily carry it around without difficulty. Plus, it folds flat, making it easier to carry and store.
At the bottom of the table are tabs to hold a power strip that can be useful in certain situations. We just wish that the height of this tool was adjustable, but we think the WORX Pegasus is the best overall sawhorse of the year.
Pros
Fold-out supports transform into a table
Quick clamps hold your materials for easier working
Holds 1,000 lbs but weighs just 30 lbs
Holder for a power strip
Folds completely flat for easy transport and storage
---
2.

Rockwell JawHorse Sawhorse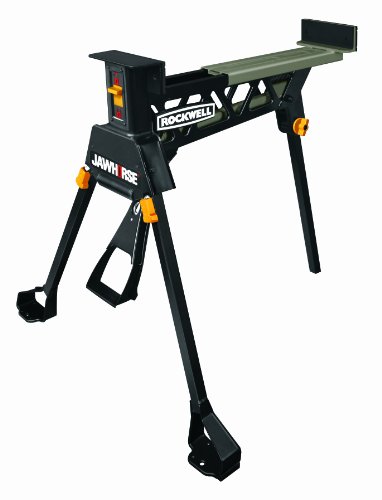 What if a single tool could replace your sawhorse, workbench, clamps, and even your bench vice? Say hello to the Rockwell JawHorse Portable Material Support Station. To start, the solid steel support station has enough strength to support a 600-pound load. A single clamp system spans the full length of the sawhorse, and it can deliver up to one ton of clamping force.
You can spread it out and clamp down a sheet of plywood to turn it into a work table. Or, bring it in tight and use it as a vice to clamp down whatever you're working on. You can be sure it won't go anywhere.
Naturally, your hands are often full while you're working. The JawHorse was built with a foot pedal lever to control the clamping. You can operate it with both hands attending to your work, something you can't do with any other sawhorse.
There's no question this is a premium product with a matching price tag. But considering all the great features the JawHorse provides, we believe it's worth the higher cost.
Pros
Securely clamps your materials with a foot pedal lever
Doubles as a bench vice with 1 ton of clamping force
Can support a 600-lb load
If you clamp a piece of wood on top, it becomes a workbench
Cons
More expensive than other options
---
3.

2x4basics Saw Horse – Best Value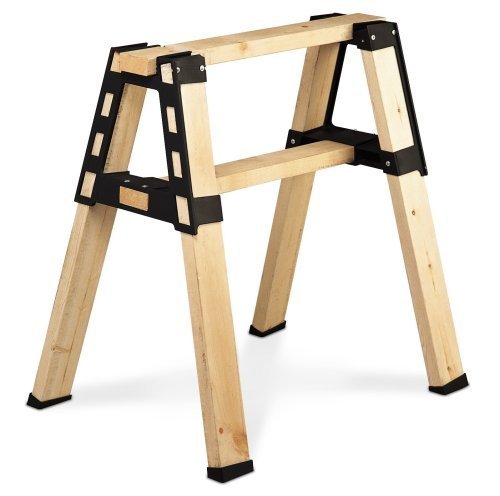 Though many sawhorses today are loaded with fancy features, the base tool is very simple. For a return to the basics, the 2X4basics Sawhorse brackets are simple and dirt-cheap without any gimmicks or frills.
At the end of the day, all a sawhorse needs to do is hold up heavy loads. To that end, these sawhorses can hold up to 2,000 pounds per pair. While they may not fold up for easy storage, they are stackable, and you can disassemble them in mere minutes. Then, they take up very little space.
One of our favorite features about these sawhorses is their versatility and customizability. However, all you get with this purchase is the brackets. You'll have to supply 2x4s to build the sawhorses. The upside is that you can build them to any height and length you desire. They're not for everyone, but we think they're the best sawhorses for the money.
Pros
One of the most cost-effective ways to get sawhorses
Supports up to 2,000 lbs per pair
Can be made to any height and length
Stackable
Cons
Must buy the 2x4s separately
Not foldable
---
4.

ToughBuilt Folding Sawhorse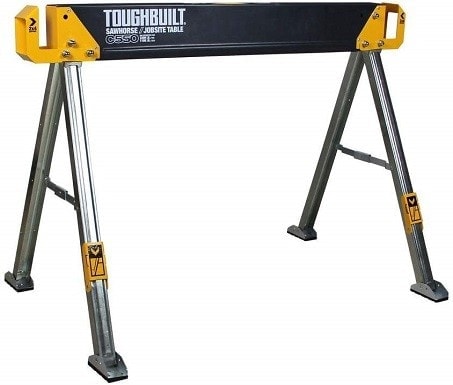 Combining one of the highest load capacities we've seen with adjustable height legs, the ToughBuilt Folding Sawhorse is built tough to withstand the rigors of life on a job site, just as the name implies. Each of these sawhorses can hold up to 1,300 pounds for a total weight capacity of 2,600 pounds.
Despite the substantial strength of these stout sawhorses, they're surprisingly light, weighing in at a mere 20 pounds each. They're aided by the collapsable legs that fold into the body, creating a neat and easy-to-carry package.
When you need more space than a sawhorse can provide, the large notches on each end of these sawhorses will fit a 2×4 lying vertically. When you connect two sawhorses with a 2×4 on each side, you'll create a spacious work table that you can cover with a full sheet of plywood.
These aren't the cheapest sawhorses, but you get a lot of quality for your money. Still, the ToughBuilt Folding Sawhorses can't quite match the incredible versatility of our top picks.
Pros
Can hold up to 1,300 lbs on a single sawhorse
Side notches hold 2x4s for creating a table
Adjustable height legs
Cons
Not height adjustable
Pricey
Not strong for sideloading
---
5.

Bora Portamate Speedhorse Sawhorse 2-Pack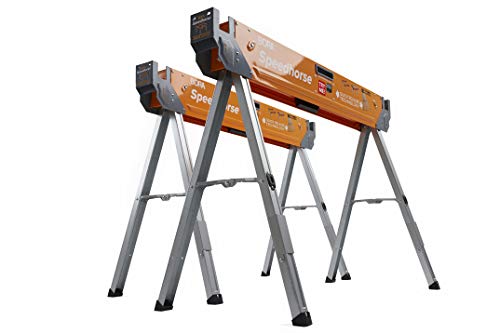 If you're a worker who's always on the move, you need tools you can quickly assemble and break down. That's the idea behind the Bora Portamate Speedhorse Sawhorses. They're designed to be set up quickly, allowing you to get started or leave the job site in record time. Thanks to the quick-release technology, they succeeded in this endeavor and only take a few seconds to assemble.
These are the strongest sawhorses we tested and are capable of supporting up to 1,500 pounds apiece.  That's impressive, but they sacrificed versatility to manage it since these sawhorses are not height-adjustable.
Deep notches on the ends of each sawhorse will hold a 2×4 lying vertically, so you can create a job site table out of these sawhorses with a few pieces of wood. It's a nice feature, but not enough to justify the extravagant price tag. Especially when you consider that they're fixed at one height that can't be changed.
Pros
1,500-lb capacity per sawhorse
2X4 notches to create a table
Sets up in seconds
Cons
Very expensive
The height is not adjustable
---
6.

Metabo Portable Folding Sawhorses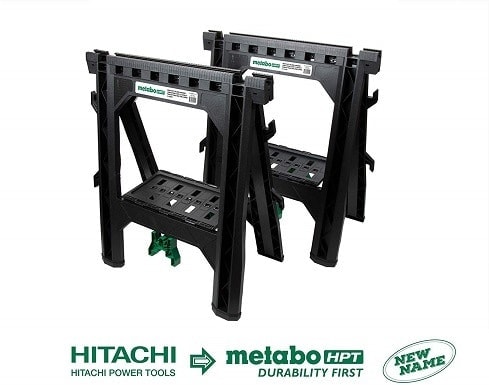 Weighing just 11 pounds per pair and folding almost entirely flat, the Metabo HTP Portable Folding Sawhorses are some of the lightest and easiest to transport sawhorses we've seen. If that were the only metric for ranking sawhorses, the Metabo sawhorses would top the list.
You might expect these to be weak and flimsy since they're so light. They aren't flimsy, but they certainly don't feel as stable as some of the stout sawhorses we've used. Still, they have a rated capacity of 1,200 pounds for the pair, which is pretty decent.
Metabo also includes four sawbucks. You can use them to attach a 2X4 to the top of each sawhorse. We found this useful as a way to add height to the sawhorses since they aren't adjustable.
Pros
Weighs just 11 lbs per pair
Includes 4 sawbucks to hold a 2×4 flat on top of the sawhorse
Cons
Not as strong as other sawhorses
Non-adjustable height
---
7.

TOMAX Folding Sawhorse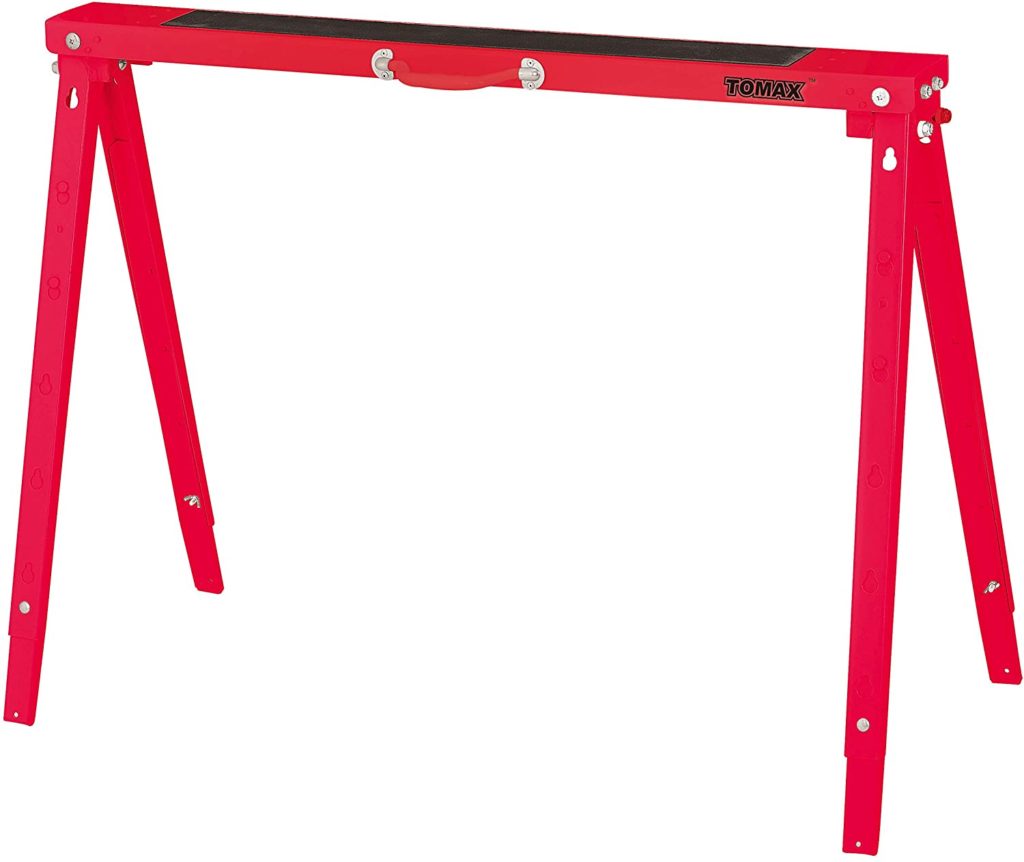 The TOMAX Folding Sawhorse is constructed from steel and protected with a powder-coated finish. It looks like a sturdy device and weighs the same 20 pounds as the ToughBuilt folding sawhorse in our fourth position. But the ToughBuilt can hold up to 1,300 pounds while the TOMAX tops out at a lackluster 440 pounds.
One nice feature of the TOMAX is that the legs are adjustable, allowing you to change the height from 25-40 inches. But doing so is a hassle, requiring you to squeeze your fingers into the small recesses in the back of the legs to loosen a tiny wingnut. At least they fold almost entirely flat when you need to store them.
Pros
Height is adjustable from 25" to 40"
Folds very small for easy storage and transport
Cons
440-lb weight capacity isn't very impressive
Extending the legs is a pain
Expensive for a single sawhorse
---
8.

Woodstock D4220 Sawhorse Brackets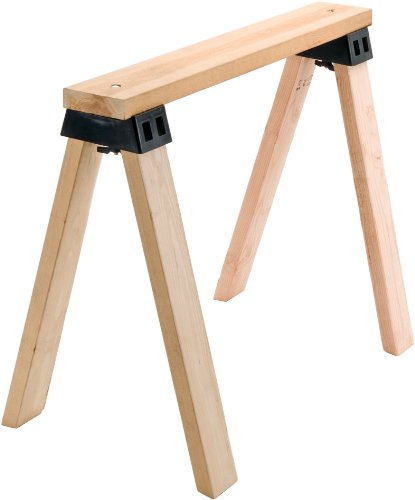 Similar to the 2X4basics sawhorse brackets in the third position on this list, the Woodstock D4220 Sawhorse Brackets allow you to build your sawhorses out of 2X4s. You can make them any height and length you desire and use larger lumber for the top instead of 2x4s. It's one of the cheapest ways to get a good sawhorse.
But we didn't like them as much as the 2X4basics. First, only two brackets are included in the package, which only allows you to build a single sawhorse. The Woodstock brackets don't seem quite as sturdy. They're much smaller, offering much less support for the legs. We weren't impressed with them, though they're still a very affordable way to build sawhorses.
Pros
Can be built to any size and length
One of the cheapest ways to get a sawhorse
Cons
Must supply the lumber to build the sawhorses
Only includes enough hardware to build one sawhorse
---
9.

Bora Portamate PM-3300T Steel Folding Sawhorses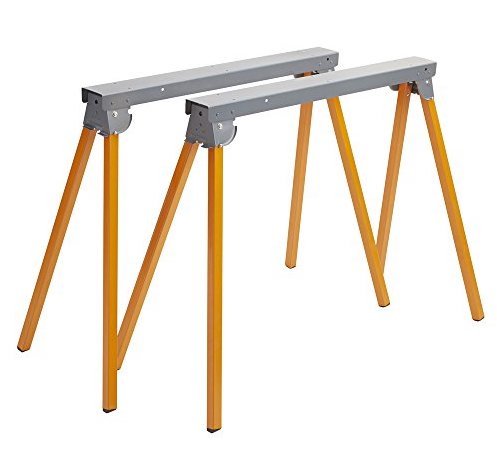 The Bora Portamate Steel Folding Sawhorses didn't perform as well as we'd hoped. They're reasonably priced compared to the competition, which is what drew us to them in the first place. Plus, they're protected by a 1-year warranty, providing peace of mind we didn't get from other sawhorses.
But there were some notable flaws with the Portamate sawhorses. First, they aren't very strong, especially for solid steel. Each sawhorse can only support 500 pounds. Worse, you're stuck at just a single height since these aren't adjustable. It's nice that they come fully assembled and ready to work, but they lack the flexibility and robustness we like to see on our sawhorses.
Pros
Reasonably priced compared to competitors
Protected by a one-year warranty
Cons
Height is not adjustable
500-lb weight capacity per sawhorse isn't the best
---
10.

WORX WX065 Clamping Sawhorse Pair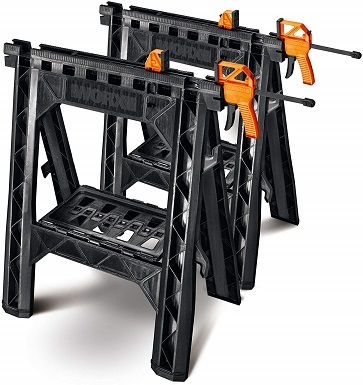 These lightweight plastic sawhorses from WORX are each equipped with a trigger-handle bar clamp to hold onto whatever you're working on. To our dismay, they were quite weak, and the plastic broke quickly. One bent just from trying to clamp it down all the way.
You can easily store these sawhorses since the folded depth is just 2.5 inches. With a capacity of 1,000 pounds together, they ought to be able to hold up to sustained use. In truth, the plastic is relatively thin, making the entire unit flimsy.
While they may be fine for holding stationary items, we don't recommend using them for more intense work with higher pressure demands, such as making cuts with a power saw. Despite the obvious drawbacks, it is one of the higher-priced sawhorses.
Pros
Detachable bar clamps
Only 2.5" deep when folded
Cons
Thin plastic is flimsy
The clamps are cheap and break easily
Shouldn't use for sawing
High price
---
Buyer's Guide – Purchasing the Best Sawhorse
Though simple in function, sawhorses can become surprisingly complex once all the features and fancy extras are added. If you're still unsure which sawhorses are right for you, then this buyer's guide should help. In it, we'll briefly discuss the most important aspects to remember when selecting a set of sawhorses to support your work.
Load Capacity
If you load up a sawhorse and it collapses, you'll lose not just the sawhorse but possibly your work. Therefore, the load capacity is the first thing you should consider when picking a set of sawhorses.
The load capacity represents how much weight the sawhorses can support. If you only use the sawhorses for light-duty work, it may not be as big of an issue. On the other hand, if you need sawhorses that can hold up an engine block, you'll want to make sure you pick heavy-duty sawhorses, or disaster may ensue.
What's a Good Load Capacity?
There's a lot of variance between sawhorses regarding load capacity. Some sawhorses we tested maxed out at just over 400 pounds per sawhorse. Others could hold loads as heavy as 1,500 pounds on a single sawhorse. We recommend buying sawhorses that can handle about 1,000 pounds for heavy-duty applications.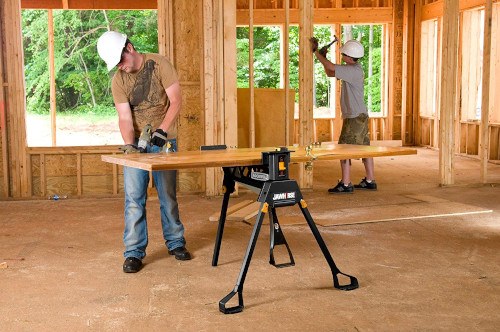 Portability
Portability may not be an issue if you only work in your workshop, but if you work outside of your shop often, move around the house, or even travel to other places to work,  portability is a crucial factor to consider.
There are two primary components of portability: weight and size.
Weight
A heavy sawhorse is going to be harder to carry than a lighter one, but the weight of the sawhorse and its load capacity aren't related, so you can have a lightweight sawhorse that's very strong or a heavy sawhorse that's not.
Size
Many sawhorses have legs that fold into the body. Others don't fold, so you must carry them as a full-size sawhorse. That could be a major hassle, so if you know you'll need to transport your sawhorses, consider getting ones that fold into a small package.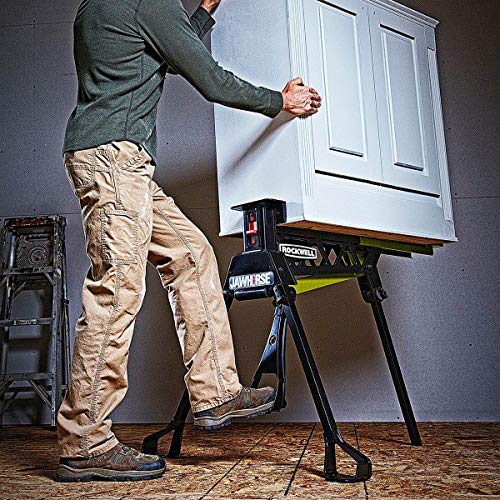 Adjustable Height
A comfortable working height for one person who's 5'4" and another who's 6'2" will be drastically different. But many sawhorses come at a fixed height, forcing you to make do with whatever height it's set at.
Adjustable height sawhorses fix this problem by extending or shortening the legs to change the height of the sawhorse. However, some users do need adjustable sawhorses. It's not essential to the overall function of the sawhorse, but adjusting it to the right height for you can make a significant difference in how much you enjoy your work!
Versatility
Today, a sawhorse can be a lot more than just a sawhorse. Some of the fancier models have all sorts of features, making them much more versatile. One versatile feature is the ability to transform from a sawhorse into a workbench. This can drastically increase the usefulness of your sawhorse, allowing you to find more uses for it than if that ability weren't present.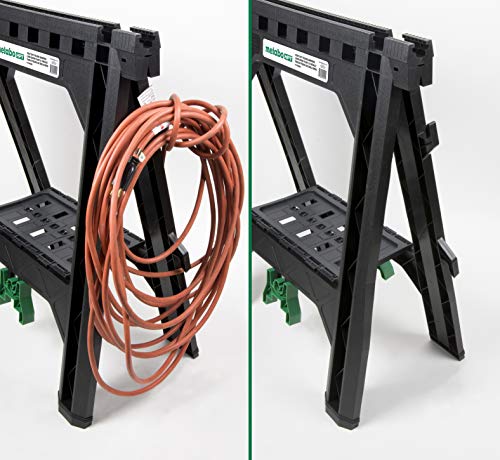 Extra Features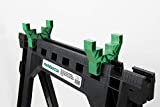 We've already mentioned some of the extra features that can be included on sawhorses, but there are plenty more. One of our favorites is the lamps. They come in different forms, but they'll hold your work, freeing up your hands. Features like that are so useful; it's like having another set of hands.
Cost
There's a pretty significant discrepancy between the cheapest sawhorses we tested and the most expensive. However, that doesn't mean that the priciest options consistently outperformed the more budget-conscious choices. In fact, we were pretty impressed by the abilities presented by some of the lowest-cost sawhorses we tested. You don't necessarily have to spend much money to get a quality set of sawhorses.
Sawhorse Skills
Remember, purchasing your sawhorses is only part of the battle. Once you get them home, the fun begins. But the fun can turn south in a flash if you don't follow proper safety protocols. What starts as a fun project can end in injury or worse. Continually brush up on your skills and always remember to follow all the safety steps to avoid any unfortunate accidents.
Final Verdict:
We had to test several sawhorses to find the best ones to recommend to you. Many of them never made the cut; they shattered, or the bent support legs failed and alarmed our testers with the unexpected crash.
We think that the WORX Pegasus Portable Sawhorse is the best sawhorse overall. It's more than a sawhorse and has folding supports that transform it into a table. At a meager 30 pounds, it can support 1,000 pounds of weight and has two quick clamps that can act as a second set of hands.
For a premium option with all the bells and whistles, we recommend the Rockwell JawHorse. This versatile tool can be your sawhorse, workbench, and bench vice with 1 ton of clamping force.
The 2X4basics Sawhorse Brackets are the best sawhorses if you're on a budget. Not only are they dirt cheap, but they can hold up to 2,000 pounds once assembled, and they can be built to any size to fit any need.