5 Best Single-Stage Snow Blowers of 2023 – Top Picks & Reviews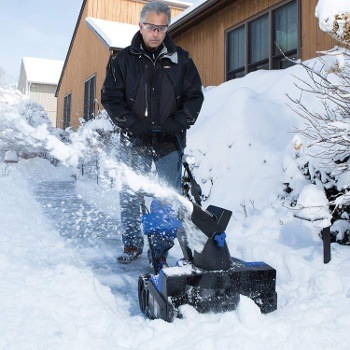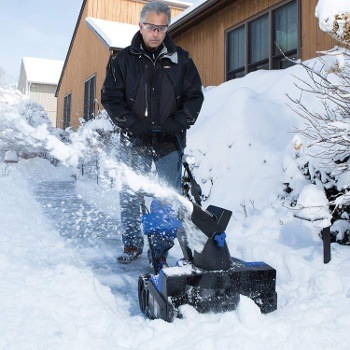 Shoveling snow in the height of winter isn't a situation anyone wants to be in. There are so many other things we'd rather be doing when it's snowing and cold, like drinking hot cocoa in front of the fire. Have you ever looked at your neighbors in envy as they blew away their snow using a snow blower—accomplishing the task in half the time that it took you with a shovel?  Purchasing your own snowblower could be one of the best decisions you ever make; they're both practical and affordable. Having a snow blower makes your life a lot easier during heavy snowfalls. On that note, single-stage blowers are often cheaper than their dual-stage counterparts.
Finding the perfect single-stage snowblower can be difficult. You'll want to find something that suits your needs and performs how you want it to. We've created a list of in-depth single-stage snow blower reviews to give you a better idea regarding which one to opt for when you're considering all the different blowers on the market.

Our Favorite Models Compared (Updated in 2023)
Rating
Image
Product
Details

Best Overall

Snow Joe iON18SB

Lightweight
Rechargeable
Affordable
CHECK PRICE

Poulan Pro 961820016

Lightweight
Blows heavy snow
Powerful
CHECK PRICE

Best Value

Greenworks 2600202

Affordable
Powerful yet Quiet
Foldable and Easy to Store
CHECK PRICE

PowerSmart DB5023

Ergonomic Design
Quick and Efficient
CHECK PRICE

Poulan Pro 961840001

Less Expensive
Powerful 136cc lct engine
Uses durable auger
CHECK PRICE
The 5 Best Single Stage Snow Blowers
1.

Snow Joe Single-Stage Snow Blower – Best Overall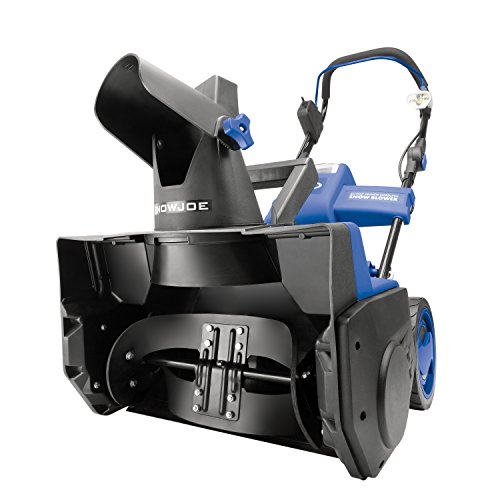 This machine tops our list of the best single-stage snow blowers because it's not only super durable, but it's also lightweight and has a rechargeable battery. Being able to travel wherever you want to when you're blowing snow is important as you may need to get in hard-to-reach areas.  In this regard, it's very efficient.
With this tool, you'll be able to clear your driveway, front lawn, and the nearest sidewalk in a matter of 10 to 15 minutes. Don't worry if you have a lot of snow to move as the battery on the Snow Joe iON18SB model can last up to 50 minutes. (We're just as impressed as you!) This model can move up to 500 pounds of snow per minute and has a 2-year full warranty, so there's no need to stress if any problems materialize.
If you're looking to move snow that's 4 or 5 inches deep (or even up to 10 inches), the very powerful Snow Joe iON18SB will do it with ease. This model comes with an affordable price tag, has great quality, and performs well. We simply cannot find fault with it.
Pros
Clears up to 10 Inches of Snow
Lightweight
Rechargeable
Affordable
Efficient
Cons
3 Hours to Fully Charge Battery
---
2.

Poulan One Stage Snow Blower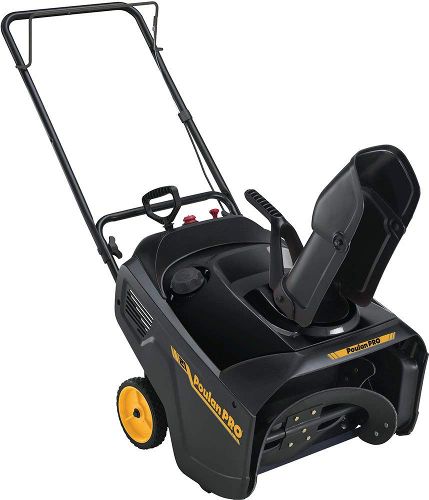 Heavy, wet snow can be a chore to move. This is mainly because it carries a lot more weight than typical snow. Many single-stage blowers struggle to move heavy snow, but this Poulan Pro model performs well under pressure. This is just one reason we like it. It's lightweight and powerful, which is always a positive feature since you might end up using it for many hours depending on the weather conditions. Though this model can blow thick inches of snow, however, it can't reach as deeply as the Snow Joe iON18SB. According to users, this Poulan Pro 961820016 can move around 8 inches of snow—still an impressive feat. Starting this Poulan Pro is easy too, but it does help to have a plan of action first. Before you start blowing snow, try to decide the best place for relocating it. Also, powerful machines such as this one can be dangerous so make sure to take extra precautions. One thing we have to comment on for this model is the price. Although we do like the Poulan Pro, the level of quality doesn't reflect the higher price.
Pros
Lightweight
Blows heavy snow
Powerful
Sleek Design
Cons
Slightly Expensive
Lower Quality
---
3.

Greenworks 1-Stage Snowblower – Best Value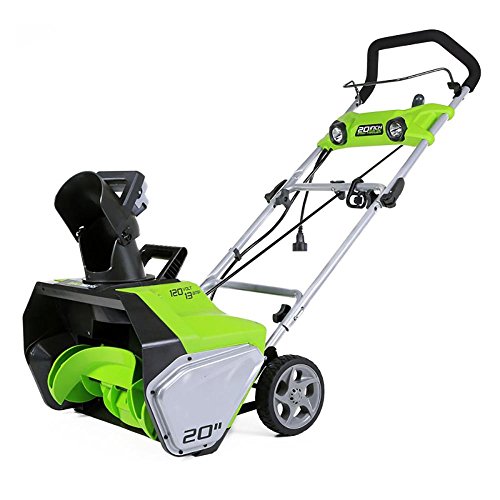 Purchasing a shovel is certainly cheaper than buying a single-stage snowblower. If money's an issue, there are a lot of great value models available on the market. Often these models won't burn a hole in your pocket and will still perform well, making them a worthwhile investment. The Greenworks 2600202 model is a user favorite and tops the list for saving money. Its motor is quiet and it doesn't require gas—so no extra costs! Storage is also easy. This model can fold into a more compact shape, meaning that it can fit virtually anywhere in your house. For areas that see only a few months of snow every year, snow blowers may go unused for 6 months or longer. Having a model that's easy to store but performs well is practically a dream come true. However, this less expensive model is corded, so you might not be able to get everywhere you want with it. Also, the blades on this model are made of plastic which means they require extra care while in use. Damaged blades may cost a lot of money to fix or repair.
Pros
Affordable
Powerful yet Quiet
Foldable and Easy to Store
Cons
Difficult to Handle
Corded Electric
Fragile Plastic Blades
---
4.

PowerSmart DB5023 Snow Thrower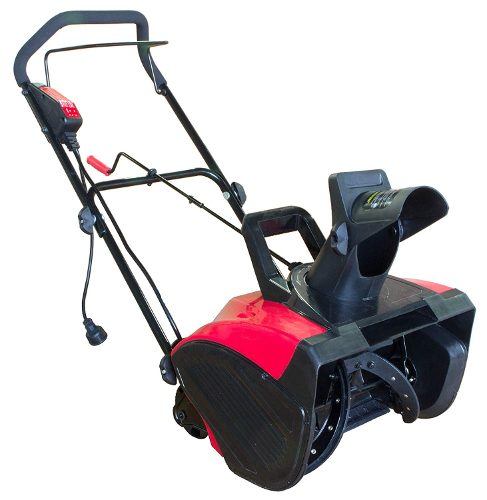 If you want to quickly and efficiently clear your driveway and front lawn of the last few days' worth of snowfall, then the PowerSmart DB5023 is a great option to choose. This plug-in electric snow blower is ergonomically designed, meaning you can have a comfortable and convenient experience while moving snow on those super cold winter days. However, there are several reasons it doesn't rank as a top 3 snowblower. It's quite big and heavy when compared to other models at a similar price, and there are better choices to pick. It also has difficulty moving wetter snow (that super slushy stuff!), meaning that you may be outside for some time if you're clearing snow after a rain. The warranty is also lacking, as this PowerSmart model is only covered for one year. For a power tool such as this one, it really should have a longer warranty to cover potential problems.
Pros
Ergonomic Design
Quick and Efficient
Cons
Heavy
Struggles to Move Wet Snow
Short Warranty
Corded
---
5.

Poulan Single-Stage Snow Blower
While we always try to see the good in every situation, the Poulan Pro 961840001 model just doesn't live up to anyone's expectations. The handle is short and vertical rather than angled like a typical snowblower. The wheels are too high off the ground, so you have to apply pressure on it for it to start up. It's also very loud for a snow blower, considering it's a single stage. Another issue with this model is that it requires both oil and gas. In other words, it smells when you use it and there's an added cost for materials. While it is less expensive than other models, there are hidden costs (such as fixing damages and the oil/gas you will need) that make it more expensive in the long term. We suggest looking a little further if you wish to get a single-stage snowblower—this model isn't worth anyone's time.  This is a disappointment from the Poulan brand too; they typically provide users with great power tools. One of their other snow blowers ranks higher in this list, emphasizing that this model, in particular, is just a bad investment.
Cons
Short and Straight Handle
Bad Quality
Loud
Requires Gas (Smells Bad!)
Loose Bolts
---
Buyer's Guide – Finding the Best Single-Stage Snow Blower
Tips when Buying
When shopping for a snow blower, you'll encounter a wide range of products available for purchase. You'll need to start by distinguishing the good ones from the bad. Though you may think the most expensive one with the best 5-star reviews is what you should opt for, consider what you actually need. Find a snowblower that suits what you want and does the job properly. You may not need a very powerful model if your location doesn't see a lot of snow.
Try a cheaper model – While there are certain negative perceptions attached to cheaper power tools, sometimes you can find a gem amongst the rocks. We awarded our 3rd spot to a cheaper snow blower model and it's a great gadget for anyone who wants to save some money. Just because you're paying a higher price for something doesn't mean that it will be better quality! Feel free to check out our top 5 snow blowers under $1000 page here.
Consider a two-stage model – This particular list has focused on single-stage models, but there are two-stage models out there that do a great job. However, since they don't clean down to the floor, they're more ideal for areas that are covered in gravel or crushed stone rather than hard pavement. They're also a lot more powerful, so if you often have bad snowfalls, a two-stage might be more ideal.
Don't fall for big name brands – Focus on the way a snow blower performs; consider its design and the engine. So many people opt for big-name brands for their snow blowers and end up disappointed with the outcome because it's not what they expected. Make sure to shop around and don't choose the first thing you see—you may come across something better.
Features to Consider Before Purchasing
Some snow blowers come with better features than others, meaning you should look at the model's specifications before you decide to buy it. Think of your preferences when you're scrolling through your options to see if any of your contenders have the features you like.
Cordless snow blowers are generally the best. They're lightweight and the easiest type to maneuver, making them perfect for clearing snow wherever you go. Often brands won't state in the title if the snowblower is corded or not, so you'll have to look a little closer at the small print to see if it's cordless. Having said this, corded snow blowers are just as powerful—they're just slightly less convenient.
Motor Type, and whether it runs on gas or electric, makes a difference. This might not be the most important element of the snowblower. However, consider the hidden costs of using gas over electric and the convenience, or inconvenience, associated with each type. Choose which motor type is best suited to you.
Headlights are fitted to the more expensive models. They're something you might want to consider if you're going to be working in the dark near a road. Not only will headlights increase your vision, allowing you to see how your work is progressing, but it will also indicate your location to motorists. Having a headlight is just a great feature to have.

Conclusion
After considering all the reviews of the best single-stage snow blowers, our winner is the Snow Joe iON18SB model. There are so many reasons that we rank this model number one! From its rechargeable battery to its cordless design, there's nothing you won't love about this model. However, the Greenworks 2600202 model represents the best single-stage snow blower for your money. We recommend this machine to anyone who's looking to save some money while also getting a good quality product. Single-stage snow blower shopping can be a lot of fun, and there are so many features to look out for.
We hope this list of in-depth reviews has helped you to narrow down your choices a little more, enabling you to shop with confidence. We understand that with so many models out, it's difficult to make a choice. Just bear in mind that there's definitely one out there that fits your needs. Let's confront those pesky winters by taking our snow blowers outside with pride!  Stop shoveling your way out of the snow and join the snow blowing revolution…
Before ending this post I have an extra little comment. I just realized that so-called snow melting systems exist as an alternative to snow blowing for getting rid of the snow. I just had to mention this because I thought that it's a pretty cool alternative. It's supposedly based on installing heating elements underneath the asphalt. Did you guys even know that this was a thing? I'd love to hear your thoughts on this in the comments section below.