5 Best Snowblowers under $500 – Top Picks & Reviews 2023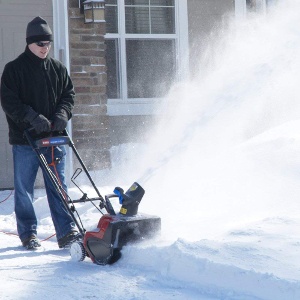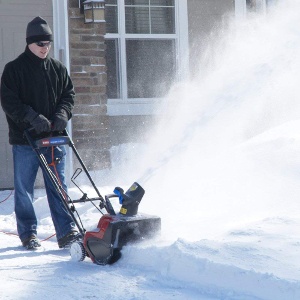 If you're looking to buy a snow blower, chances are you've already realized something—they can be pretty expensive.
But just because you're under a restrictive budget doesn't mean that you should have to settle for less than the best. Getting a good snowblower for under $500 is absolutely possible with a little bit of research.
You want the very best budget snowblower that you can find, but you also aren't sure exactly how to get it.
Does that sound like you? If so, we have good news. We've done the research, performed the tests, and identified five of the best options on the market. We then ranked them from #1 to #5, and wrote about the most important factors you should look at when buying.
---
A Quick Look at Our Favorite Products of 2023
Rating
Image
Product
Details

Top Pick

YARDMAX YB5765 22"

Good Motor
Steel Augers
5 Speed Settings
CHECK PRICE

Toro 38381 18" 15 Amp

Affordable
Lightweight
Good Motor
CHECK PRICE

Best for the Money

WEN 5662

Best for the Money
Good Motor
CHECK PRICE

Earthwise SN74018

LED Lights
Decent Motor
CHECK PRICE

Jonsered 21" 179cc

Power Steering
Heated Handles
CHECK PRICE
The 5 Best Snow Blowers under $500 – Reviews:
1.

YARDMAX YB5765 22″ Snow Blower – Top Pick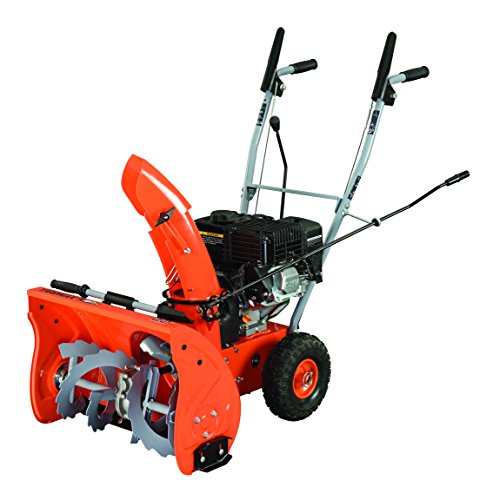 In the first place, we have the Yardmax YB5765. This unit tops our charts by providing users with a combination of features that should keep their driveways clear, while also keeping the user somewhat comfortable.
The first thing that we noticed about the Yardmax was that there's a lot to like about the motor. The unit features a 6.5 horsepower motor that's designed to be easy to start in cold conditions.
While this isn't the most power that you'll find with a snowblower, it should be enough to handle most circumstances, and for the price, it will be tough to beat.
You're also getting five different speed settings with this motor, which should allow users to take an individualized approach to the needs of each job.
Last but not least, the Yardmax also features steel augers, as well as an ax-shaped housing that's designed to work through ice and deeply compacted snow with ease.
Of course, this product isn't perfect. One thing that we did notice about the Yardmax is that it's a little bit challenging to assemble, which may cause problems for users that aren't extremely tool literate.
This aside, it's a great snow blower that will do well to serve the needs of most buyers.
Pros
Good motor
Steel augers
Easy to start
Five speed settings
---
2.

Toro 38381 18-Inch 15 Amp Electric Snowblower – The Runner-Up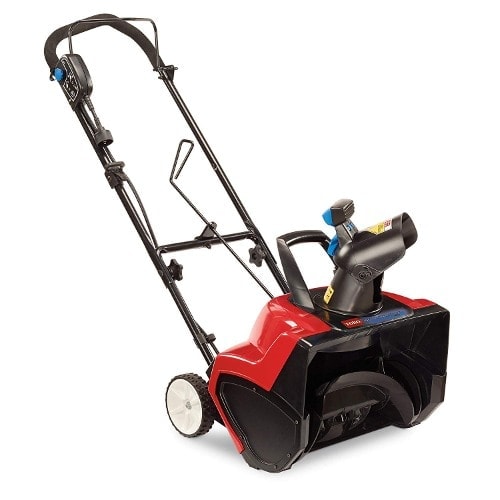 In second place, we have the Toro. One of the first things that we noticed about this unit was actually the price. While it would be irresponsible to list a specific price (since cost often changes), we can tell you that it's significantly more affordable than the Yardmax, which will make it a good buying option for anyone looking for a deal.
It's also just a good blower. This is actually an electric unit, which has its own advantages and disadvantages.
On the one hand, electric motors feature lower emissions, and there's no need to spend money on fuel. They also tend to fare a little bit better in extremely frigid temperatures.
On the other hand, they also usually aren't as powerful.
We see that somewhat here with the Toro. The 15 amp motor on this unit is going to be good at moving snow at a distance of about 30 feet, and it should be able to handle snows of about 12 inches deep.
It also has the benefit of being very lightweight, with a 25-pound build that should be easy to maneuver with.
The problem? Performance diminishes greatly the deeper the snow gets. Heavier snowfall is going to take a long time to work through, and it may even prematurely kill the battery, which could leave you in a pickle.
In short, it's a great snow blower that has limitations.
Pros
Affordable
Lightweight
Good motor
Cons
Limited power
Performance diminishes in heavy snow
---
3.

WEN 5662 Snow Thrower – Best for the Money
In third place, and in our "best snow blower for the money slot," we have the WEN. Not only is this a great unit for buyers who are on a particularly restrictive budget, it also performs very well, packing loads of value into an affordable package.
One of the first things that we noticed and appreciated about this unit was the motor. With 13.5 amps of power, you shouldn't have any trouble taking care of most typical snow situations.
Of course, there are also reasons that this option didn't make it into our top two slots. While the price is right, there are situations where the WEN does not perform the way you might want it to.
For one thing, if you live in a region that gets heavy snowfall, you may want something that's a little bit more rugged, and a little bit more optimized for high-volume loads.
Unfortunately, the WEN also seems to struggle with wetter snow which is an issue that may affect most users.
These things aside, it's a high-performing snow blower with a price that's hard to beat.
Pros
Best for the money
Good motor
Cons
Not for high volume usage
Doesn't work well with wet snow
---
4.

Earthwise SN74018 Snow Blower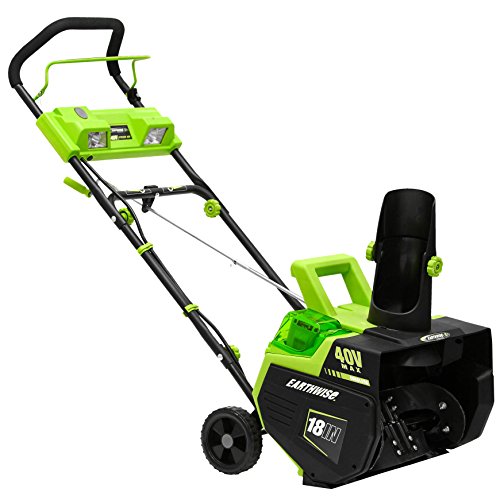 In second to last place, we have the Earthwise. There are certainly some things to like about this electric blower but, unfortunately, there are also a few setbacks that keep it close to the bottom of our list.
In terms of the positives, it's worth noting that the features here are pretty good. This unit features a throwing distance of 30 feet, which should contribute to an efficient work effort, and it even features headlights for when your work starts before the sun rises.
Unfortunately, there are some cons that may be hard to overlook.
For one thing, this isn't as thorough as many of the other blowers on our list. We found that even after the job is complete it does leave a small layer of snow that may eventually turn to ice depending on your climate.
It also features a battery life of only about 15 minutes, which won't be sufficient for most users.
If you're looking for a good electric unit you'll probably be better served by the Toro.
Cons
Not very thorough
Short battery life
---
5.

Jonsered 21″ 179cc Snow-Blowing Machine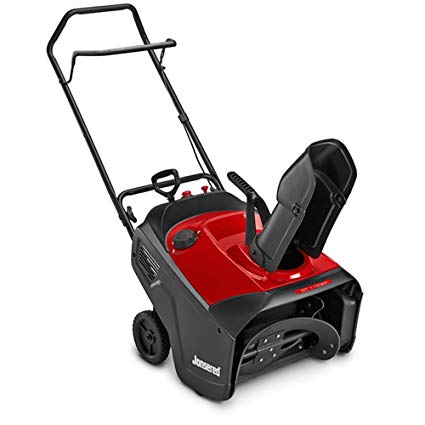 Last, we have the Jonsered. Like the last unit that we looked at, there are things that this machine does well, but they're ultimately overshadowed by the things it fails to get right.
First, the good. The unit is compact, and the motor should be able to handle basic work. It even features heated handles and power steering for easy maneuverability.
The problem? Reliability. We found that the machine is prone to stalling and that it doesn't hold up well in cold conditions.
It also happens to be one of the most expensive options on the list, which means that most shoppers would be better off with… well, pretty much anything else.
Ultimately it's an okay snow blower, but it needs some work before it gets the full stamp of approval.
Pros
Power steering
Heated handles
Cons
Stalls
Pricey
Prone to failing in cold weather
---
Buyer's Guide – Choosing the Best Snow Blower for Under $500
If you've read our reviews but still feel overwhelmed, don't worry—that's natural. There's a lot to understand about snowblowers, and sometimes more information is needed before it becomes possible to make a buying decision.
If that's the position you find yourself in now, we have you covered. Read on for a list of buying considerations that should make your decision a little bit easier.
Circumstance:
Snowblowers are more subject to circumstance than most tools. While many users may be able to get away with, say, a cheap weed eater, sometimes there's no getting around the need for a high-quality snow blower.
This purchase is ultimately going to be subject to two different factors—one, the size of your yard, and two, your region.
When it comes to your property, you may want to factor in how much space the snow blower is going to be covering.
Naturally, bigger spaces will benefit from quicker and more powerful motors, while smaller spaces won't necessarily require as much juice.
Regional factors are much less negotiable. If you live in an area that gets a lot of heavy snowfall, there's no getting around the fact that you'll need a machine that's capable of handling it.
Features:
With snow blowers, there are two categories to keep in mind: performance and user-friendliness.
In terms of performance-oriented features, steel augers, bar adjustability, and speed settings are all attributes that you're going to want to keep in mind.
But snow blowing can be hard, and sometimes you may also want to enjoy some comfort-based features.
If that's the case, you may want to look for a snow blower that has features like a quick start button, hand warmers, or headlights. While not necessary to the function of the machine, these components may simplify the job and make your life a little bit easier.
Warranty:
Last but not least, we have the warranty to consider. Snow blowers can be pretty expensive to repair, so you're going to want the best warranty that you can get to avoid having a bad situation turn worse.
A good warranty serves two purposes. On the one hand, it's going to keep you financially protected if something goes wrong with your snow blower.
On the other hand, it's also going to serve as an indicator of how confident the manufacturer is in their product.
Generally speaking, when companies attach a good warranty to a product it means that they feel strongly that they've made something decent.
Why? The long warranty shows that they feel certain that their products won't need a lot of extensive repairs.
A good warranty will keep you financially safe and ensure that you're getting the best snow blower you can find.
Conclusion
Now that you've read your budget snow blower reviews, it's time for the hard part—deciding which snow blower to purchase. While we cannot make your choice for you, it may be helpful to keep in mind that we do have a couple of recommendations that may make your selection process simpler.
Buyers looking for the best of the best are going to find it in our top selection, the YARDMAX YB5765.
On the other hand, if your top concern is budget, you'll want to look no further than our "best for the money pick," the WEN.
Of course, these are just our recommendations. Now that you've read these reviews you can make your own informed decision.
More on snow blowers: