6 Best Solid Deck Stains 2023 – Reviews & Top Picks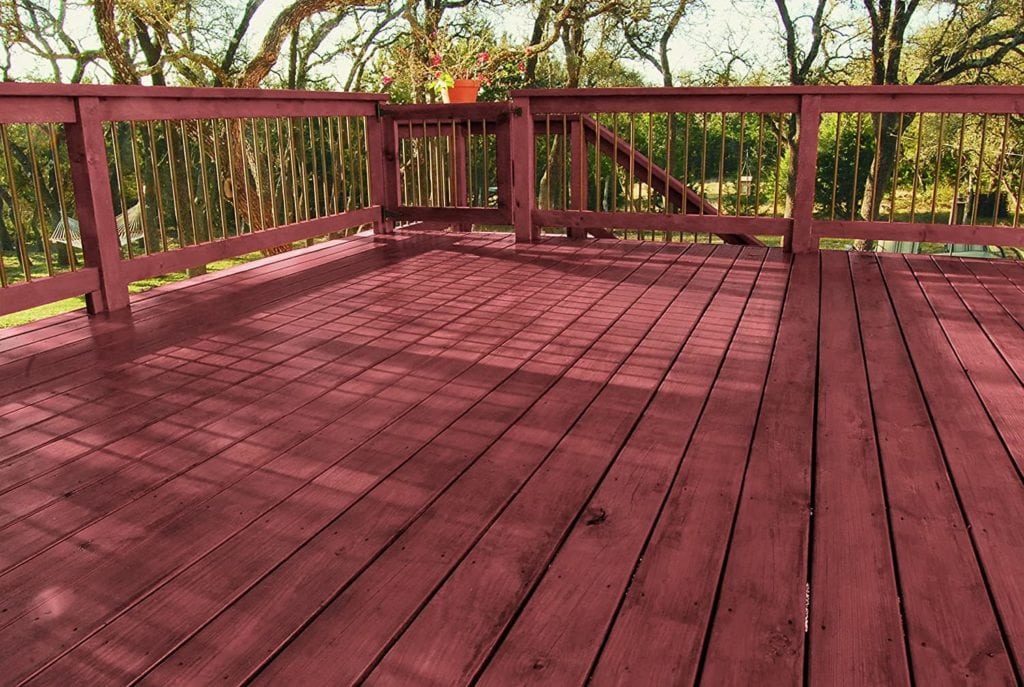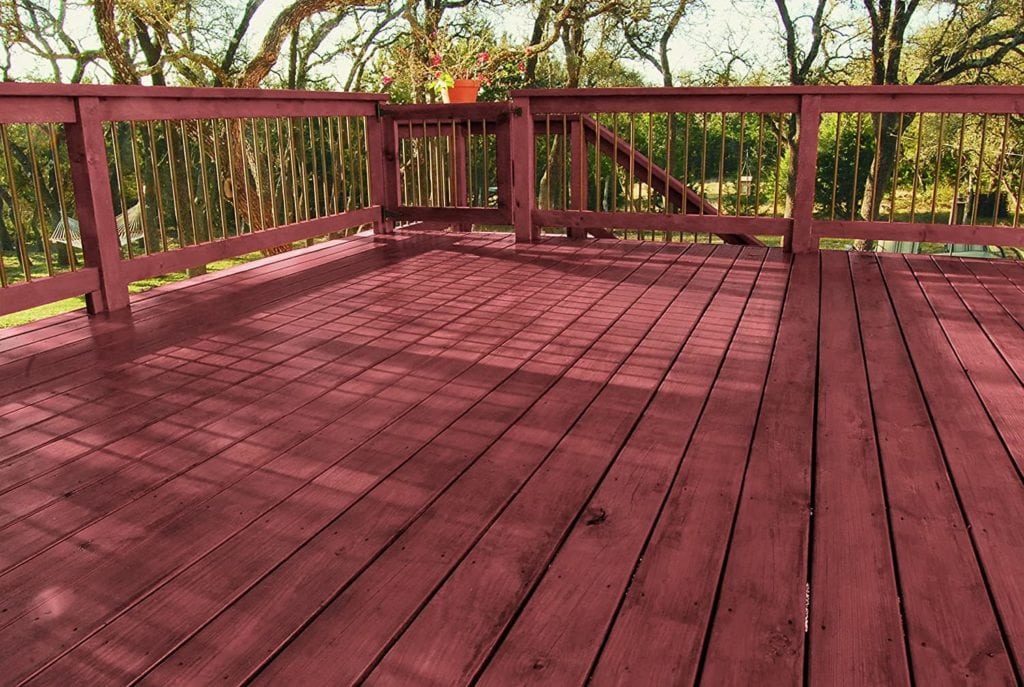 Staining your deck is a process that requires planning to do the job correctly the first time, and that's exactly what our product reviews aim to provide. You have numerous things to consider before applying the stain, but one of the most important is deciding which one to buy. That will depend on what specs are important to you and the end result that you desire.
There are numerous deck stains to consider, and examining each one and comparing them to determine the perfect fit could take hours, even days. To make the process simpler, we've identified the top 6 deck stains that you can consider.
We've examined all the aspects of the featured deck stains, mentioned their benefits, where you'll score and some of the product's drawbacks. To top it off, we've included a detailed buyer's guide so that you know exactly what to look for when choosing the best deck stain to meet your needs.
---
A Quick Comparison of Our Favorites in 2023
Rating
Image
Product
Details

Best Overall

Olympic Stain Wood Solid Stain and Sealer

Stain and sealer
Durable
Enhanced waterproofing and UV protection
CHECK PRICE

Best Value

KILZ Exterior Waterproofing Wood Stain

Good warranty
Broad coverage
Durable
CHECK PRICE

Premium Choice

SaverSystems Deck Wood Deck Paint & Sealer

Dries quickly
Opaque finish
Acts as a stain and sealer
CHECK PRICE

DEFY Extreme Semi-Transparent Exterior Wood Stain

Environmentally friendly
Durable
Easy to maintain
CHECK PRICE

Cabot Solid Color Decking Stain

Acrylic
Strong moisture protection
Low odor
CHECK PRICE
The 6 Best Solid Deck Stains
1.

 Olympic Stain Wood Solid Stain and Sealer – Best Overall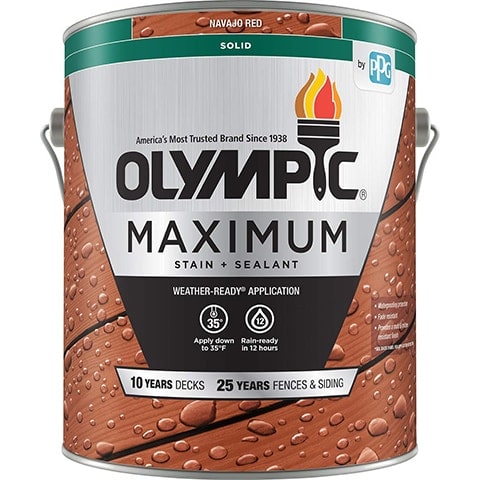 The Olympic Stain Wood stuck out for us because it's a stain and sealant-in-one. It'll give you enhanced waterproofing protection so that your wood is protected from cracking due to water. To ensure that the wood's natural beauty lasts, Olympic Stain Wood provides sunblock UV defense to strengthen, condition and protect the wood fibers.
Its weather-ready application allows you to stain when you want, regardless of the weather. That means that you can clean and stain your wood on the same day, even if it rains. Don't be surprised to find that this stain dries quickly and helps to revive your deck's original beauty.
Keep in mind that the color is clear, so you might need to apply more than expected to get the best result.
Cons
Light and may need extra layers
---
2.

KILZ Exterior Waterproofing Wood Stain – Best Value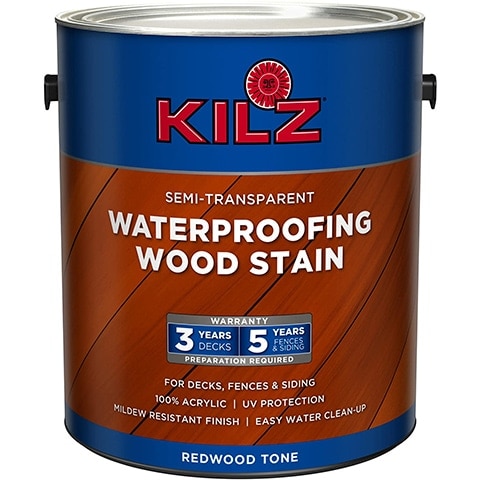 Kilz has used an acrylic formula to ensure that its stain protects wood from weather and UV damage. You can use it on your decks, siding, fences, wood patio furniture, and shingles. It should last up to 3 years on decks and 5 years on fences and siding. Kilz has provided the equivalent warranty for decks and fences, respectively.
This is a semi-transparent stain that provides a mildew-resistant finish and coverage of up to 250 square feet with the first coat. You can get up to 500 square feet with a second coat. You'll find that this exterior wood stain provides a durable, water-repellent finish, and it's easy to clean with soap and water.
Kilz has ensured that you get a thick coverage so that an old deck has its natural appeal restored. With all the benefits that we've seen from this product and compared it to the price, we've determined that it's the best solid deck stain for the money.
You'll need to lightly sand to remove remaining wood fibers.
Pros
Good warranty
Broad coverage
Durable
Cons
Preparation work required
---
3.

SaverSystems Deck Wood Paint & Sealer – Premium Choice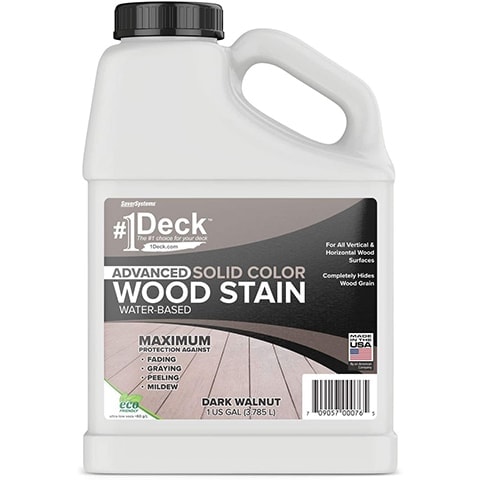 SaverSystems included an opaque finish to hide wood grain and get protection against fading and graying that UV rays cause. It also acts as a stain and sealer, which you can use over existing color wood stains.
You can use this stain on horizontal and vertical wood surfaces, and it has a water-based cleanup while maintaining a low odor. This water-based product will give you a better coverage area, making it one of the reasons for being our best value to buy.
It should dry quickly, but the actual and perceived color of the applied wood stain could be affected by other factors. This product isn't so easy to scrub clean, so you'll need to put on more pressure than usually. That's the only reason that it doesn't make it into the top 2.
Pros
Dries quickly
Opaque finish
Acts as a stain and sealer
---
4.

DEFY Extreme Semi-Transparent Exterior Wood Stain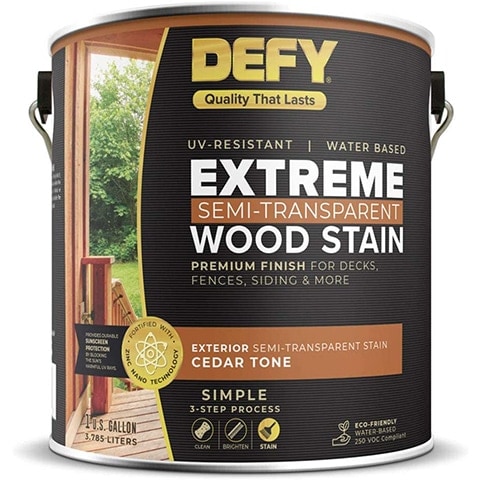 Defy's zinc nano-particle technology acts like a sunscreen for your wood through dispersed particles in the stain that prevent premature graying and color loss. This product comes with high-quality resins so that you get a durable stain that has better resistance to fading and darkening. It should last you at least one season longer than most products.
You don't have to worry about sanding or stripping the surface again when you have to do a maintenance coat. All you do is clean it with soap and water, then apply a single coat of this wood stain. This product is 250 VOC Compliant, and you can brush it or spray it with an airless or pump-up sprayer. The application and clean-up of this product are convenient.
If you want to get the best results for your deck or fence, you'll have to use Defy's Cleaner and Brightener products before you apply the stain.
Pros
Environmentally friendly
Durable
Easy to maintain
Cons
Supplementary products needed for best results
---
5.

Cabot Solid Color Decking Stain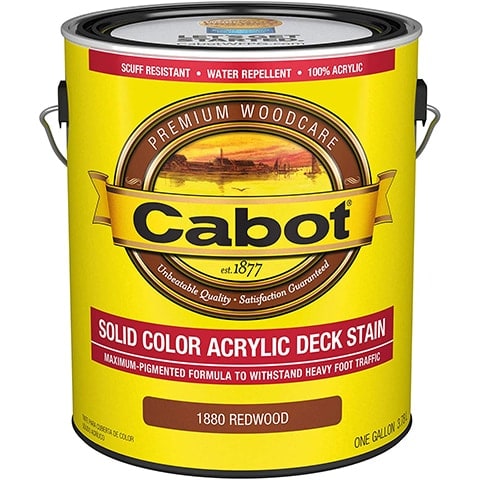 If your deck gets a lot of foot traffic, Cabot contains a maximum-pigmented formula to withstand daily use. Cabot used an acrylic finish and also ensured that the product is scuff resistant and water repellent. It's resistant to moisture, but it works well to provide new adhesion to surfaces that are in decent condition and have been previously stained or painted. You'll find that this product is durable.
You shouldn't sense a strong odor from this product, but it might take you more than one coat to get a uniform color. If your deck gets a lot of exposure to cold weather, you could find that this stain cracks and chips. That might require you to reapply the stain every year.
Pros
Acrylic
Strong moisture protection
Low odor
---
6.

Flood/PPG Pro Past Base Stain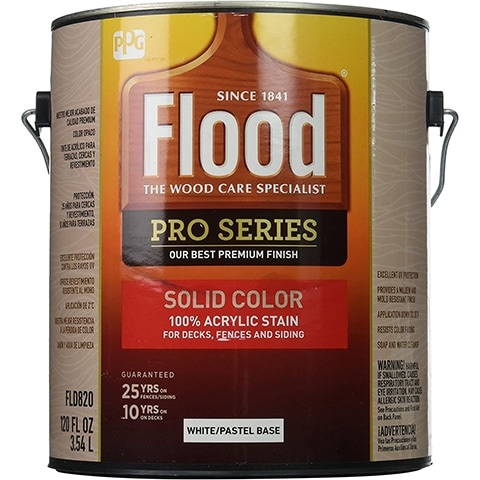 Flood used an e-b emulsa bond adhesion technology to ensure that the product provides a strong layer, thereby forming a strong bond with the wood or a previous stain. The supplier has also combined transoxide pigments so that your deck gets a color richness and good UV protection. It also has a mildew and mold resistant finish, and it's water repellent.
If you feel that the product hasn't delivered what you expected, you can take comfort knowing that it comes with an 8-year warranty for fences and siding, as well as a 6-year warranty for decks. After you apply PPG Pro Past, you'll find that it dries quickly and has a hard finish that should be durable.
Clean-up is easy and done with water and soap, and the product is known to resist color fading. You can expect a strong odor from this product that might be off-putting, but it goes away after a while.
Pros
Good warranty
Mildew resistant
Great UV protection

Buyer's Guide – Finding the Best Solid Deck Stain
When purchasing the best deck stain, you must consider several things that will help you to determine which deck stain will benefit you the most, so here are the most important aspects.
Why Use a Stain?
You have to regularly maintain your deck to preserve its color and longevity. Exposure to sun, harsh conditions and ice results in deterioration over time. One of the reasons that you should use a deck stain is to prevent sun rays from penetrating the wood so that its color doesn't change. The sun can also cause the deck to warp and crack.
Another reason to use stain is to repel moisture. The stain serves as a barrier between moisture and the wood so that it doesn't soak in the wood. When wood gets soaked, it grows mold and can become soft. That'll require you to replace or repair the deck. The other benefit of applying stain to your deck is to prevent it from cracking. If you use an oil-based stain, that'll moisture the wood but keep excess water out.
Different Types of Deck Stain
Clear
Otherwise known as deck water sealer, clear stains don't impart any color onto the wood but do penetrate the wood and protect it from the elements and foot traffic. Clear stains don't contain pigments or oils but are water repellent. The downside of clear stain is that it's not very durable. Besides not preventing ultraviolet rays from penetrating the wood, clear stains will need reapplication almost every year.
There are a few clear stain brands that contain oils and permeate the wood while offering better deck protection and requiring repainting less frequently.
Solid
Also referred to as the opaque stain. solid stains are applied to the top of the deck surface to cover the grain. It's easy to confuse solid stain for paint because that's what it looks like, but it contains ingredients that protect the wood that paint does not have. Solid stain is good at hiding discoloration but is prone to cracking, chipping, and peeling.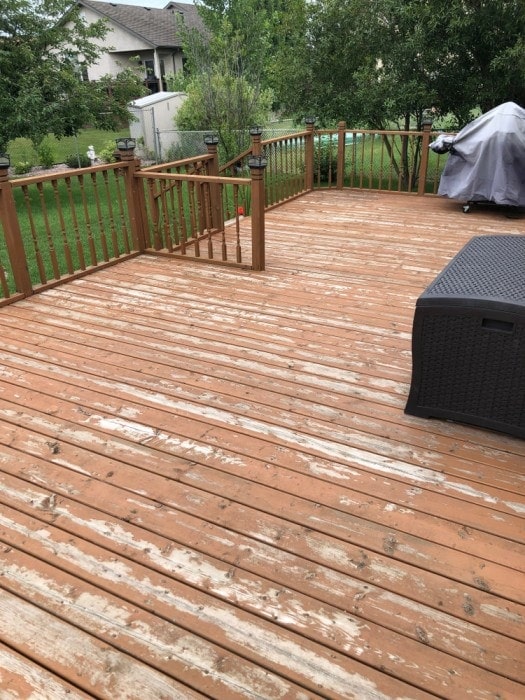 Semi-Solid
This type of stain will enable you to see a bit more of the wood grain than solid stain, and you should use it when you see more of the grain in a high-traffic area. The durability of a semi-solid stain is equivalent to the solid one.
Semi-Transparent
This stain will keep the grain pattern visible but will also impart color tinting to the deck. It's the most common stain used for external deck staining, and it will soak into the wood and last longer than clear stain. The ingredients in this product ensure that it's less likely to peel off the deck surface, but you'll have to reapply it because it will lose some color.
It's perfect for railing and other surfaces that don't see a lot of traffic, and you can expect the stain to last about two to three years before a reapplication is required.
What's the Difference Between Stain and Sealer?
Although a stain and sealer serve the same purpose, which is to protect and preserve the wood, they are two different products. Typically, a sealer is a clear or transparent finish that penetrates into the wood or forms a clear film on top.
A stain possesses the same water-resistant qualities as a sealer but has added pigment or tone, giving the stain some color. In many cases, people will use a sealer or a transparent stain on top of a semi-transparent stain that is in sound condition to avoid changing their deck's color.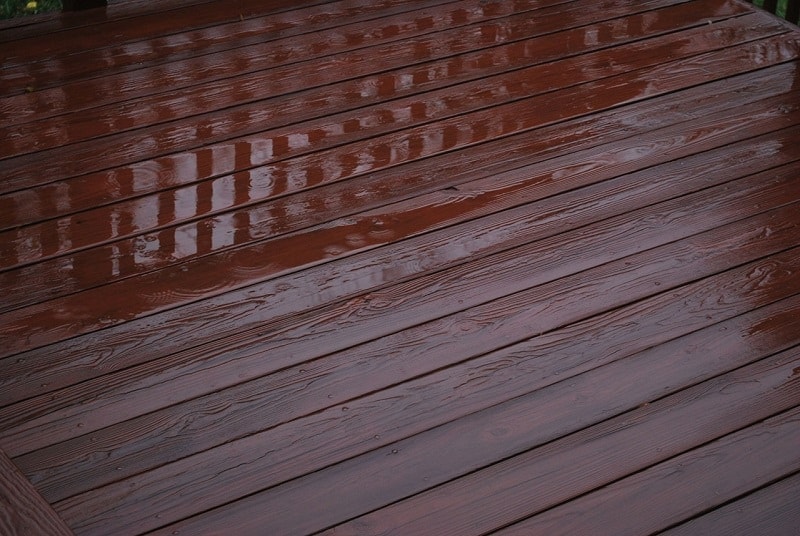 Kinds of Stains
Oil-Based
These types of stains are good at repelling water and conditioning the wood to handle rough conditions. The advantage of oil-based stains is they withstand the elements, maintain a more even finish, and are more durable, so they require less maintenance.
Oil-based stain can take up to 48 hours to dry, and they are flammable when wet. If you don't correctly dispose of an oily rug, it can combust. Usually, oil-based stains penetrate deeper than water-based ones and produce a richer, more vivid color.
Water-Based
Although water-based stain isn't as popular as oil-based, they adhere to wood previously painted with an oil-based stain. Water-based stain allows air to move in and out of the paint to ensure that it does not trap water and decay. Water-based stain tends to maintain color quality for longer and dries relatively quickly. Also, the odor that a water-based stain emits isn't as strong as oil-based.
It's not nearly as flammable as oil-based stains, and they tend to be mildew and mold resistant. They also don't emit volatile organic compounds (VOC), making them environmentally friendly. The problem is that they don't penetrate as deep as oil-based stains
Factors to Consider When Buying Deck Stain
Durability: Different stains contain different ingredients, resulting in different thickness of the coating. Usually, a thicker coating will last longer and won't need maintenance as frequently as a clear stain. Some stains can last as long as 3 years without needing maintenance, while others need annual recoating.
Price: If a tight budget is holding you back, you might consider Cabot stains. The problem with choosing a cheap stain is that it might need a second coating layer and won't cover as much area as its high-quality counterpart. The more expensive stains not only tend to last longer, but they also provide a better finish.
Cleaning: Some stains are relatively easy to clean and require only water and soap. Others require cleaning materials for the best results and may even require sanding before applying the stain.
In addition, an anti-mildew purifier may also come in handy for some households.
Deck Preparation
It's important to prepare the deck before applying the stain, and that involves cleaning it. Regardless of whether it's a relatively new or old deck, it needs to be prepared. Make sure that you remove mildew and old stains and use a deck scrub to clean. An acidic solvent helps to remove dirt or grime build-up, but it's important not to use a power washer because it can streak the wood and cause splintering.
For tougher jobs, you can use stain stripper to remove most weathered stains. If there are small spots that won't come out, you can sand the deck, but don't apply significant pressure that will damage the wood.

Conclusion
Our reviews have shown that there are numerous factors to consider when purchasing a deck stain, and we have shared our picks for the best solid deck stain. Out of those, we've identified that our best solid deck stain overall is Olympic Stain Wood Solid Stain and Sealer due to the fact that it's a stain and sealer in one, provides great protection, and is durable. You can expect Olympic Stain Wood to last for a few years before a reapplication is necessary.
We also found KILZ L832211 Exterior Waterproofing Wood Stain to be the best solid deck stain for the money because it offered great features for an affordable amount. If you're looking for the best premium product, then you should check out SaverSystems Deck Wood Deck Paint & Sealer. It boasts several features that'll help your deck revive its natural beauty.
Who could've known that there was so much to consider when buying a desk stain? These in-depth product reviews and the buyer's guide will help you to decide what to consider when purchasing and the type of stain to purchase for your deck.