8 Best Spokeshaves 2023 – Reviews & Buyer's Guide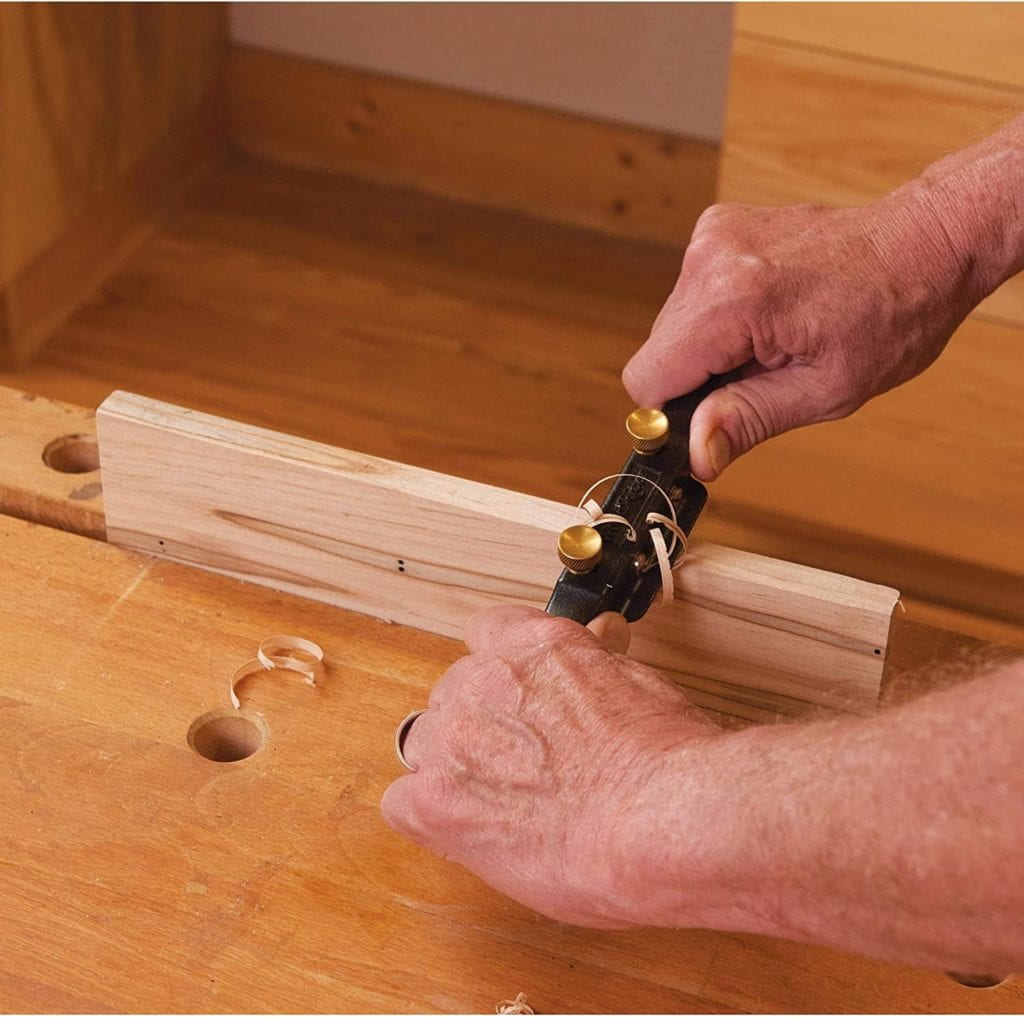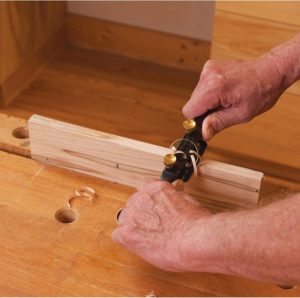 Spokeshaves are a tool that is primarily used by woodworkers. They are used to shave wood at a particular depth, which is useful for a wide variety of projects. While all of these tools look reasonably similar, they can have different features and cost different amounts.
Because of these varieties, it is essential to pay attention when choosing a spokeshave. Some of them are great for professional woodworkers and hobbyists alike. However, others are very low quality and not worth the money.
In this article, we'll review ten of the best spokeshaves out there on the market. Later, we'll look at some of the essential features and factors to consider when choosing one that fits your needs. There is no one-size-fits-all option, so you should consider your situation and preferences when making a final decision.
---
A Quick Comparison of Our Favorites in 2023
Rating
Image
Product
Details

Best Overall

Stanley 12-951 SpokeShave

One-piece body
Efficient
Does not cause fatigue
CHECK PRICE

Best Value

Swpeet 10'' SpokeShave

Easy-to-use adjustment screw
Comfortable handles
Heat-treated
CHECK PRICE

Premium Choice

WoodRiver Adjustable Spoke Shave

5 pounds
Cast iron
Makes very smooth lines
CHECK PRICE

Robert Larson 580-1000 Flat Spokeshave

2 adjustment knobs
Precise tuning
Can be used with 1 or 2 hands
CHECK PRICE

Anndason Adjustable SpokeShaves

Comfortable handles
Heat-treated blades
Comes in a 2-pack
CHECK PRICE
The 8 Best Spokeshaves
1.

Stanley 12-951 SpokeShave – Best Overall

For most people, we recommend the Stanley 12-951. This tool is designed with woodworkers in mind and is primarily meant to be used for curved work. The one-piece body is made with cast iron – two factors that promote durability and prevent the tool from snapping. It comes with double handles for extra control so you can get those smooth curves you need. The edge is very fine for ultimate accuracy to ensure that the cuts are made efficiently.
This tool goes through wood like butter. It does not cause much fatigue in the least. The cutters are fully adjustable for the depth and thickness of the shavings. This allows you to have complete control of your workpiece, ensuring that you accomplish exactly what you set out to. The base is flat, so it works for both flat and curved surfaces.
We loved that this tool is very inexpensive. It is perfect for those who cannot afford more expensive tools. With that said, we liked it so much that we may recommend it for even those who even have a bit of money to spend.
Pros
One-piece body
Efficient
Does not cause fatigue
Inexpensive
Very fine edge
Cons
Bit heavier than other options
---
2.

Swpeet 10'' SpokeShave – Best Value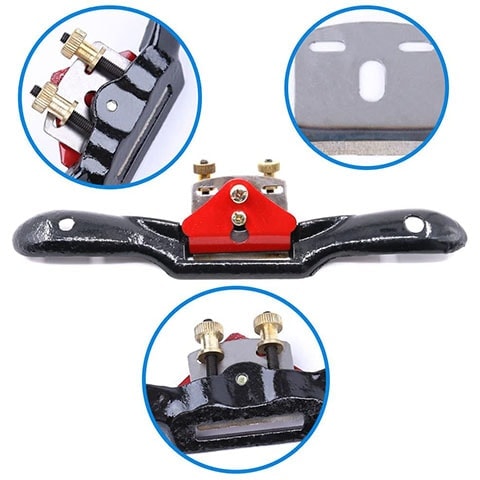 Out of all those we reviewed, this spokeshave from Swpeet is the least expensive while maintaining relatively high quality. It is much better than even more expensive spokeshaves currently on the market. It has a hard, durable blade that is corrosion resistance. We also liked that the handles were comfortable and that it has an easy-to-use double adjustment screw, which allows you to change the thickness in only a matter of seconds.
The blade was our favorite part of this spokeshave. The heat-treated edge will last for a long time and is sharper than other options. It stands up well to wear-and-tear and has a high hardness. These great features make this the best spokeshave for the money.
With that said, this tool isn't necessarily as high-quality as other options. It is very inexpensive, though, so you are getting a lot of bang for your buck. All of our complaints regarding this tool are minor and don't affect the performance much. For example, the adjustment is not as precise as other options, so it is challenging to get it exactly where you want it.
Pros
Inexpensive
Easy-to-use adjustment screw
Comfortable handles
Heat-treated
Cons
Adjustment isn't as precise as others
---
3.

WoodRiver Adjustable Spoke Shave – Premium Choice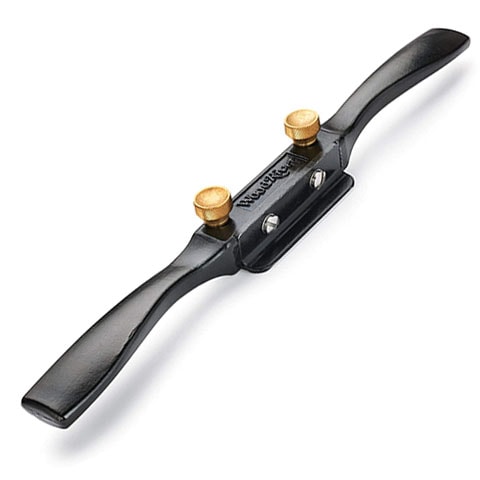 For professionals, the adjustable spokeshave from WoodRiver is a great option. It is made for professionals in mind and has quite a few features you may like. However, you're going to pay a bit extra for these features. This is one of the more expensive options on the market. For this reason, we do not necessarily recommend this tool to everyone. But if you are a professional or want the best-of-the-best, this one is the one for you.
It has an adjustable shoe and a 1.5-pound cast iron body. It is a bit heavier than most, but this also makes it more durable. The weight also makes it easier to control and lends itself well to shaving with two hands. Because it weighs more, gravity will work with you as you shape your project so that you will fatigue less quickly. It produces delicate, smooth surfaces very easily, making it perfect for professionals.
All in all, we found this tool very well put together. It is just a bit more expensive than most people are going to appreciate.
Pros
5 pounds
Cast iron
Makes very smooth lines
Adjustable front shoe
---
4.

Robert Larson 580-1000 Flat Spokeshave

The Robert Larson 580-1000 Flat Spokeshave is not a bad option in the least. However, it also isn't the best option. Most people will be better served by another tool, but we don't necessarily want to tell you never to purchase this tool. It may work great for some people. It just depends on your personal preference.
The fine adjustment of this blade is very nice. It has two different adjustment knobs for precise tuning, so you can get the exact depth you want. This is one of the reasons we rated it at number four, the adjustment is just one of the best systems on the market. Furthermore, this product is made in Germany, which is well-known for producing good tools, and this spokeshave is no different. This tool can be used with one or two hands.
Our only problem with this tool is that it takes a bit of extra time to adjust it. It is excellent for fine-tuning, but you do have to do the fine-tuning. This takes time and is not for everyone. It is a matter of personal preference and how much experience you have with these tools.
Pros
2 adjustment knobs
Made in Germany
Can be used with 1 or 2 hands
Precise tuning
---
5.

Anndason Adjustable SpokeShaves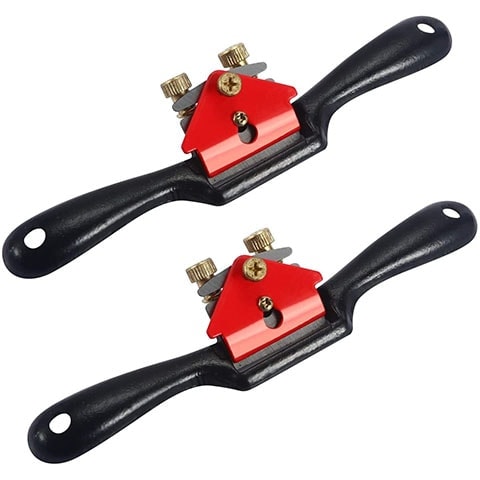 Made with high-grade material, this pack of two spokeshaves from Anndason Adjustable are durable, and we expect that they can last quite a long time. The edges are heat-treated, so they are sharper and more robust than some other blades utilized by spokeshaves. The handles are comfortable and well contoured. They fit in your hand easily and do not cause very much fatigue. You can use this tool for quite a while before your hand starts to get tired. Like most, this is also a pretty easy-to-use tool.
With that said, while there are many benefits, there were a few downsides to these tools. Firstly, the soles are painted. This is not suitable. Because of that, you will have to clean up the paint before you start using the tool. This is annoying and adds more prep than there needs to be. There is also a bit more setup involved on top of this. For example, you will need to flatten the leading edge of the cap iron. The bed is challenging to clean because the adjusting knobs are in the way. This is quite annoying.
Pros
Comfortable handles
Heat-treated blades
Comes in a 2-pack
Cons
Soles are painted
Cap iron needs to be flattened
---
6.

AmazonBasics Spokeshave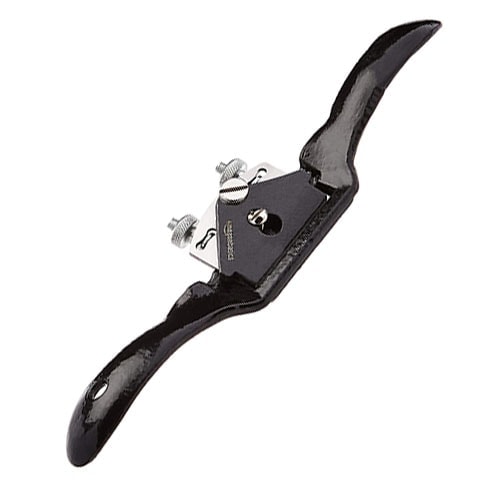 AmazonBasics often creates very cheap tools and other household items. Sometimes these items are great. Other times, not so much. Their AmazonBasic Spokeshave is an example of the latter situation. This tool has a double-screw adjustment, which can help get the exact angle you want. However, the adjustment takes longer than most people have the patience for. You have to do the fine-tuning.
The unbreakable, heat-treated blade is more durable than other options. It provides precision control and is decently comfortable for your hands. A limited warranty also backs it. However, this warranty only covers some situations, so be sure to review it before making your purchase.
On a negative point, the blade adjustments can drift as you use it. This will cause you to continuously adjust the blade as you work, which can become frustrating. Furthermore, for the time it is out of line, you can potentially mess up your workpiece. It is also quite noisy, according to other users. Not enough to need hearing protection, of course, but enough to get irritating.
Pros
Heat-treated blade
Limited warranty
Cons
Noisy
Hard to adjust
Blade adjustments drift
---
7.

Glarks 10" Adjustable Spokeshave
This deal from Glarks comes with two spokeshaves. This may make it seem like you have a good deal. However, these spokeshaves seem relatively low-quality. They do not have any sole, which means they chatter very severely. This is annoying and can lead to a reduction in work quality. They are so low-quality that you're going to have a hard time producing high-quality work. The blades are decent, but you will have to sharpen them. This can take quite a while, so plan to spend a bit of maintenance time before you start using them.
Furthermore, these tools are not as inexpensive as we would have liked, especially for what you get. There are two in the pack. However, this doesn't necessarily mean it is a good deal. The tools are pretty low-quality. For what they are, they should be much cheaper.
Cons
No sole
Very chatter
Blade needs sharpening
---
8.

Kunz 51A Spokeshave
At 10-inches, this Kunz 51A spokeshave is a decent length. It can be used with two hands or one, depending on your preferences and your particular situation. It is made with cast iron and has a unique half-moon design to get into curves and rounded surfaces. However, it does not do good on flat surfaces for this reason. Because of this, the versatility of this spokeshave is much lower than the others. This design is not going to work for everyone. This is one reason we rated it so much lower than other options.
This tool has a complicated assembly process at the beginning as well. This is somewhat disappointing, especially since most of these tools don't require any assembly. The directions aren't much help, either.
We also didn't like that this tool is a bit more expensive than it really should be. It isn't the most expensive option on this list. However, it is far more expensive than it deserves.
Cons
Rounded design
Complicated assembly
Expensive
---
Buyer's Guide – Choosing the Best Spokeshave
When choosing a spokeshave, there are several features you need to keep in mind. These tools are almost exclusively used for creating curved edges. They're necessary if you need to carve a chair leg, for instance. However, there are a few other purposes they can be used for. Sometimes, if you just need to get something a bit smaller, you might turn to one of these tools in a pinch, for instance.
What you plan on using this tool for is essential. Different spokeshaves are suitable for different things. If you're making fancy things like chair legs, you should probably consider using a more expensive option. On the other hand, a new carpenter could probably get away with a lower-quality, cheaper option. Your situation and preferences matter when buying this tool.
To help you choose the best tool for your situation, we wrote this complete buyer's guide. It'll cover everything you need to know about choosing the perfect spokeshave for you.
Types of Spokeshaves
There are several different kinds of spokeshaves. They are all used for particular purposes. Because of this, it is essential to choose the perfect one for you. If you're a professional, you may need to have more than one of these at your disposal to accomplish a broader range of projects. However, newbies can probably just start with one or two.
Chamfer Spokeshave
This type of spokeshave is best used for creating symmetrical sloping edges that have a 90° angle. As you might imagine, this type is much rarer because their uses are very niche. There are very few cases where you may need one. However, when you need one, you need one. If you have a project coming up that requires this type of curve, we recommend having one. However, most people probably won't need this type very often.
Flat Spokeshave
This is one of the most common types. It is made with a flat, single blade. It works best on flat and broad curves for this reason. However, for tight curves, you will need something else. This tool works best to begin a curve. If you need to make it more dramatic, you'll have to switch tools.
Convex Spokeshave
This tool curves outward and has a curved blade. They are used less often than other tools, so you'll likely be able to get away with not having one in the beginning.
Round-Shaped Spokeshave
This sort of spokeshave has a rounded sole, but a flat blade. This unique design is used for inward curves. It helps the blade fit easily into tighter areas, still working on flat surfaces and broader curves. These are likely the second most common option on the market, so you'll probably find yourself buying one of these pretty soon.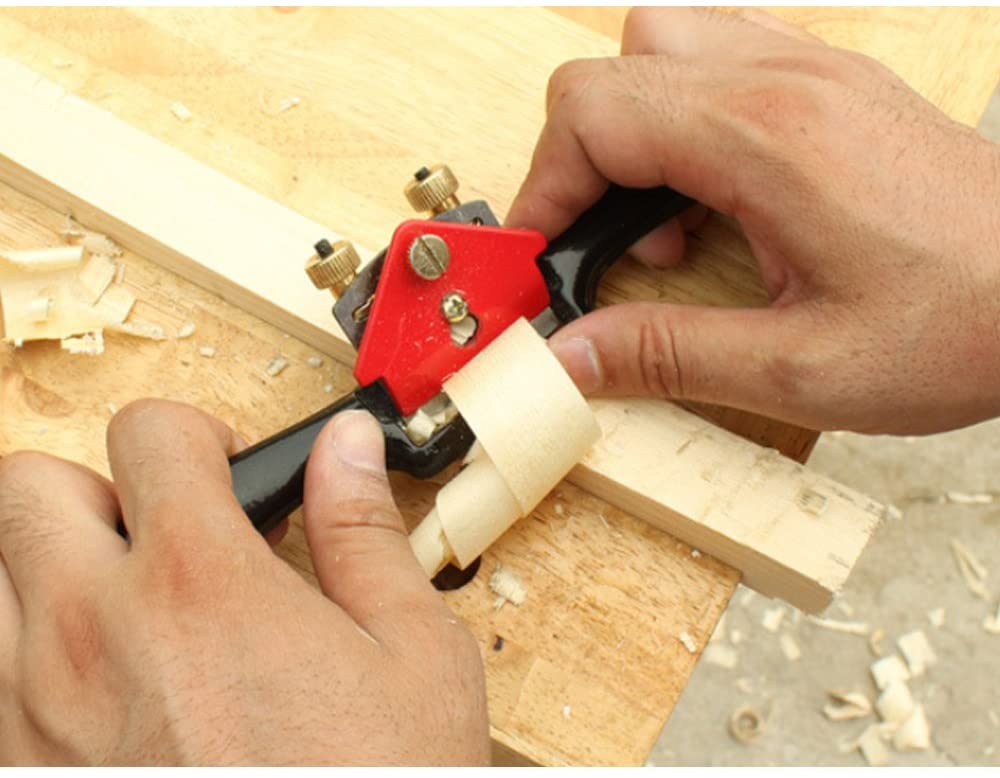 Concave Spokeshave
This uniquely shaped tool is used on corners. It has a round sole and a round blade. Therefore, when you need to round corners, it is the best option. However, it does not work on flat surfaces because the curved blade can not bite into the wood evenly.
Double Spokeshave
This is a rare type of spokeshave that isn't used very often. It has a concave-shaped sole and a flat blade. Most people do not need one of these.
Cylindrical Spokeshave
As the name probably suggests, this type of spokeshave is circular. It is designed to carve gentle curves. This type is a bit harder to use in general. The handle is more challenging to hold, and the blade is difficult to sharpen because of its strange curvature.
Adjustability
You should also pay attention to how adjustable a particular blade is. Some are very easy to adjust and can do all sorts of different depths. However, others take forever to fine-tune and can't do many depths at all. This is important because a poorly adjustable blade won't be very versatile and can you're your project much more complicated than it needs to be.
Maintenance
Some tools require a lot of blade sharpening and overall maintenance. Preferably, you want this to be as low as possible. After all, no one wants to sharpen their blade more than they need to.

Conclusion
While choosing a spokeshave may seem complicated, we hope this article helped steer you in the right direction. There are many different types out there, and many of them vary quite a bit. Our reviews should help you choose the best option, and our buyer's guide can help you figure out what you should be looking for.
For most uses, the Stanley 12-951 spokeshave is the best. It has a comfortable handle that does not wear your hand out and is inexpensive. The blade holds an edge nicely as well, which is always a great feature.
However, we understand that not everyone can spend tons of money on a spokeshave. For this reason, we also recommend the spokeshave from Swpeet. It is very inexpensive. However, it still has a heat-treated blade, and the handle is very comfortable.
Woodworking articles like this one:
– We break down the differences between drawknives and spokeshaves
– Which drawknife is best for the money? We put it to the test here.