Husqvarna 450 Rancher Chainsaw Review 2023 – Pros, Cons, & Verdict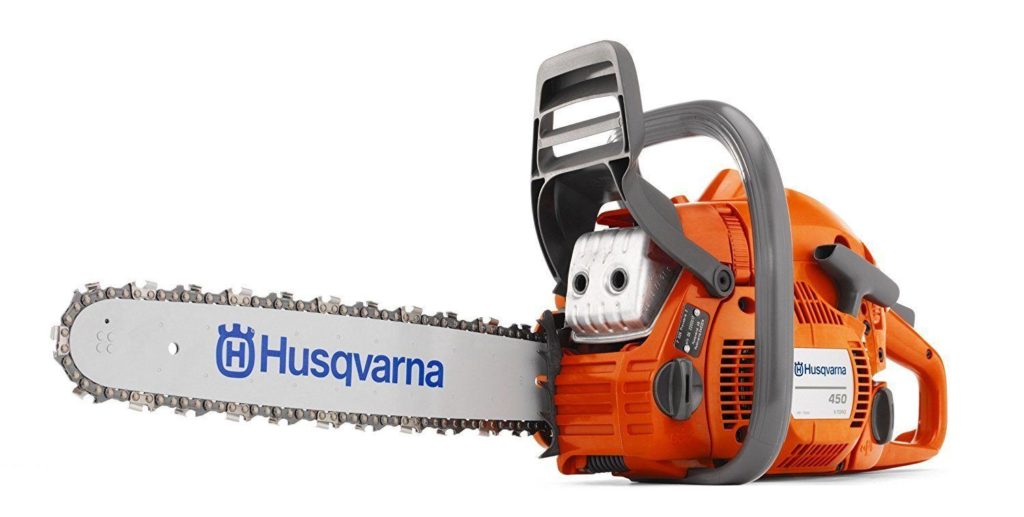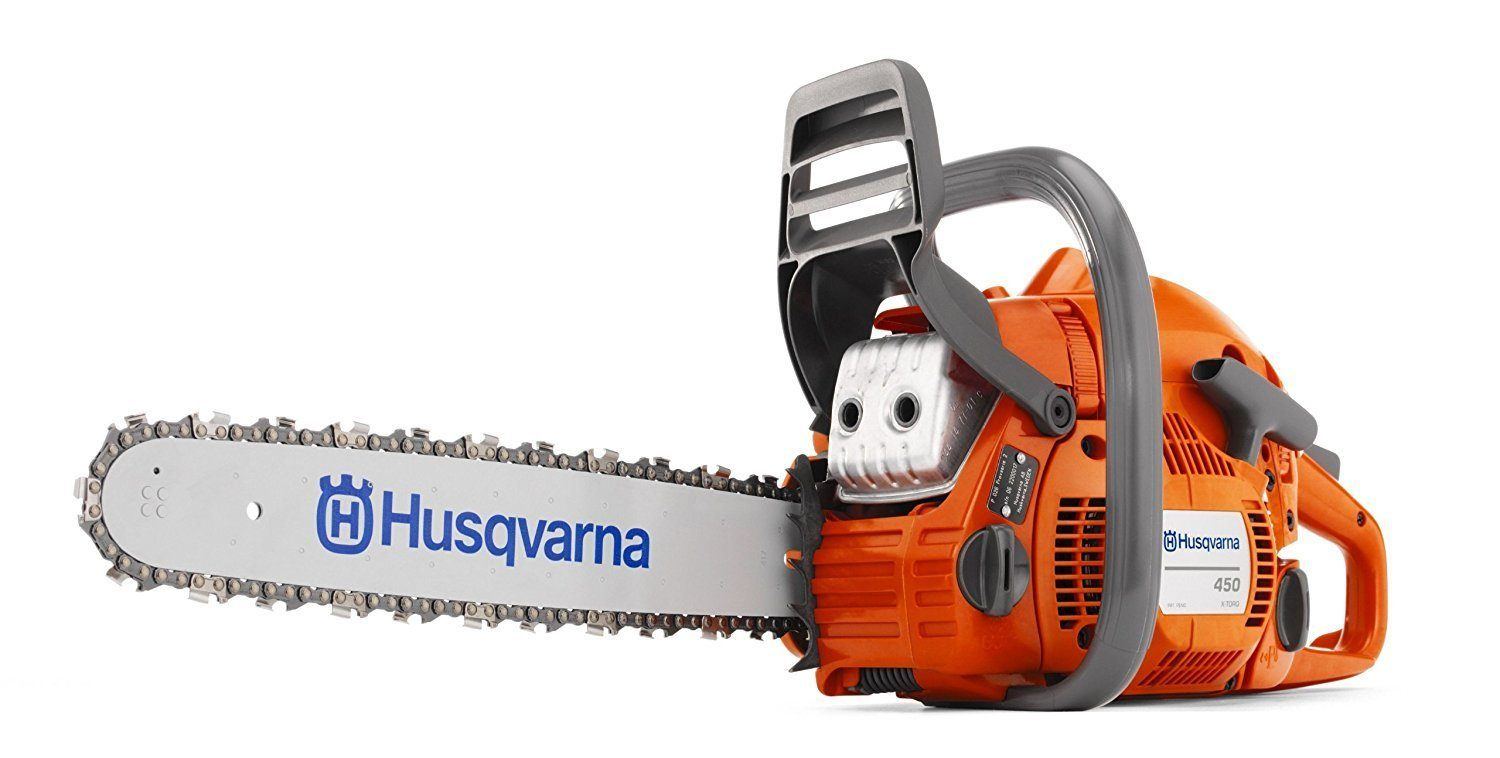 We give the Husqvarna 450 Rancher Chainsaw a rating of 4.2 out of 5 stars. 
Build Quality: 4.7/5
Power: 4.7/5
Features: 4.8/5
"
Price: 2.4/5
Warranty: 4.6/5
Review Summary
If you're in the market for a chainsaw, odds are that someone has told you to look at a Husqvarna. It's a great, reliable brand, and its chainsaws are some of the best. We'd like to say that the 450 Rancher stood out, but in reality, it didn't. Among Husqvarna chainsaws, it was a great chainsaw in a sea of great chainsaws. If your property has large trees, it does everything a homeowner would ever want from a chainsaw and has a place in the tool inventory of professionals. It's lightweight, easy to use and you don't have to be the most eco-conscious person to appreciate that its efficient engine makes for minimal exhaust. If your property doesn't have large trees, however, you might want to consider a smaller chainsaw because this one might be a bit more saw than you need.

Husqvarna 450 Rancher – A Quick Look
Pros
Excellent performance on even hardwood
More efficient engine means lower exhaust issues
A snap to use
Cons
Owners manual a tricky read
Occasional lemons from factory
Specifications
Engine power: 50.22 cc
Power output: 3.2 hp
Weight: 11.24 lbs.
Max. length: 18 in.
Max. power speed: 9000 rpm
Fuel capacity: 15.22 fl.oz.
Sound level: 104 dB
Smart Start technology
Chainsaws can be intimidating to use for novices because they are intimidating to look at — these things are popular weapons in zombie apocalypse lore for a reason — and because they have a reputation for being tricky to start. Husqvarna's Smart Start system makes it easier for a newbie to start using their chainsaw soon after it arrives. The upside is that the system is also designed to minimize stress from starting on the chainsaw's engine. That means an easier time for tool and tool master alike.
Centrifugal cleaning system
Cleaning and replacing an air filter can be a mighty time-consuming job on chainsaws because they are operated in an environment that by its very nature produces a lot of dust. Husqvarna's centrifugal cleaning system, however, helps remove larger particles before they reach the filter, making it so that you can operate for longer in between cleanings. There is also a snap-lock release on the compartment to make it easier to replace when you need to. Less time on maintenance means more time working, which means work gets done faster and you can move on to what you really want to do.
CARB compliant
Husqvarna's X-Torq engine doesn't just deliver on power. It also uses its fuel efficiently to cut down on exhaust emissions. If there are air emission standards where you live, the 450 Rancher meets those. If you don't, that's good, too, because lower emissions means that when you use it, you aren't breathing in choking fumes. The only way this is a negative, in fact, is if your body processes pollutants the way everyone else processes oxygen. And, of course, if your saw uses fuel efficiently, it makes the most out of it. So, you're not constantly paying to fill the tank.
FAQ
What kind of warranty comes with this chainsaw?
It comes with Husqvarna's standard two-year warranty, which can be extended to three or four years.
Can it cut through animal bone?
Yes, but don't hesitate while using it, or the bone will splinter.
How hard is the 450 Rancher on the user?
Gas chainsaws, in general, are loud and shaky, but Husqvarna has equipped this model with features to minimize both. Plus, the engine is optimized for efficiency, which means less working through choking fumes.
What the Users Say
We weren't terribly surprised to find very little to complain about with a Husqvarna chainsaw. It's a great brand that the company stands behind. Buying a Husqvarna is almost always a very solid experience. To be as thorough as we could, we checked the experiences of others who bought the 450 Rancher online to see what they had to say.
The general consensus was that the 450 Rancher is a great saw that's simple to use. If you're using it to clear up storm damage, it makes cutting up trees to remove debris one of the easiest tasks. So, the Internet agrees: If a giant tree falls on your car, if you have a Rancher 450 makes portioning up the wood the least problematic task (you can do it while you're on hold waiting for a representative from your homeowners' insurance company).
In fact, almost no one had actual performance-related issues. When the chainsaw got working, it stayed working and dispensed with the job quickly and efficiently.
What people had issues with was the occasional lemon from the factory that had difficulty starting. Also, it appears that some people had difficulty comprehending everything in the owner's manual. There's not much you can do about the occasional bad apple, of course, and the manual issue is maybe attributable to the fact that if you need to buy a chainsaw to clean up after a storm you're probably stressed.
Overall, however, people who bought this chainsaw were pleased.
Conclusion
If you own a sizable plot of land with large trees, the Husqvarna 450 Rancher is a great saw to help you manage and keep it cleaned up. It's got lots of power, is easy to start and as comfortable to use as you can expect a gas-powered chainsaw to be. It's versatile enough that it can do smaller jobs with a smaller blade, also. In fact, just about the only gripe anyone has with this saw is that occasionally the company will ship one out that doesn't work properly. We'd suggest that you try using it right after you get it to make sure it works. If you don't, have no worries because the company is pretty good at making right by its customers.
Related Reads: