Makita 18V String Trimmer Review 2023 – Pros, Cons, FAQ, & Verdict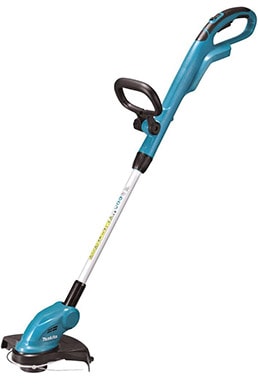 Our Final Verdict
We give Makita 36V Chainsaw a rating of 4.7 out of 5 stars.
Build Quality: 4.8/5
Power: 4.8/5
Features: 4.7/5
Price 4.7/5
The Makita 18V String Trimmer is one of the company's 18V range of cordless tools, all of which use the same sliding 18V battery. This means that batteries can be shared between devices, saving money and space. The strimmer itself is reasonably effective and efficient, and the runtime is reasonable as long as you don't use the trimmer at full power. The Makita 18V String Trimmer is targeted at home users, has a telescopic shaft that means it should be suitable for all users regardless of their height and arm length, and is a lightweight trimmer with decent features and settings.
Because the 18V battery system is designed so that you don't need individual battery packs for every device, you don't get a battery or charger with this trimmer. It saves you money, but it means buying them separately if you don't already have the battery.

Makita 18V String Trimmer – A Quick Look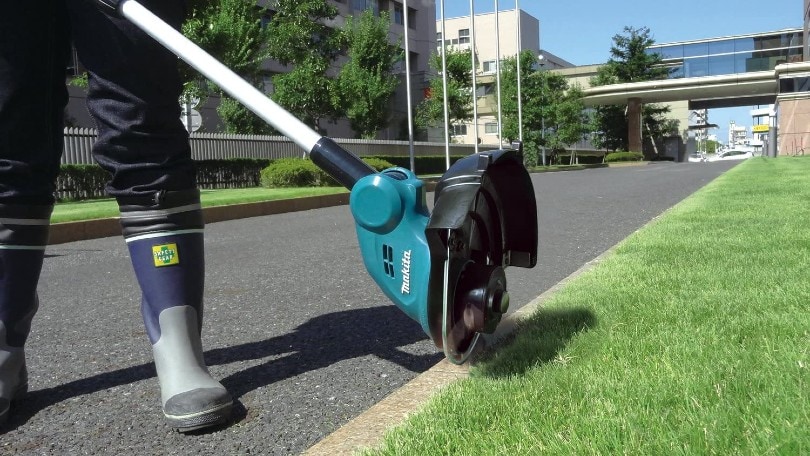 Specifications
Brand Name: Makita
Model: 18V String Trimmer
Width: 5.13 inches
Length: 19.13 inches
Weight: 7 pounds
Cutting Diameter: 10.25 inches
Speed: 7,800 RPM
Battery: 18V LXT Lithium-ion
Pros
Works with existing Makita 18V batteries
Telescopic shaft can be adjusted to your size
Decent runtime from a quick charge battery
Head can be rotated for edging or trimming
Decent power
Cons
Included string is poor quality
String wears down quickly
Weight is loaded towards the head
Makita 18V String Trimmer Details
Makita 18V Battery System
The string trimmer is part of Makita's 18V line, which includes a host of tools and appliances that operate using the same batteries. This offers several benefits. The batteries and their chargers are easy to get hold of, and if you already have Makita appliances, there's a chance you have a suitable battery already.
The batteries are easy to use, sliding into place before clicking to lock, and they can be charged in under an hour. In the case of the string trimmer, this relatively quick charge will give you up to about 50 minutes of use, although this is shortened considerably if you're tackling difficult weeds and run it constantly at full power.
Telescopic Shaft and Rotating Head
The telescopic shaft can extend up to an extra 7.5 inches, so whatever your preferred trimming style you can adjust it accordingly. This also means that you can adjust the length according to the job or the location at hand. You may need a little bit of extra shaft length to avoid certain obstacles or to get in behind difficult areas, for example, while preferring a shorter shaft for trimming easily accessible lawn edges.
The head can also be turned to any one of five different positions, offering edging and precision trimming in a variety of settings.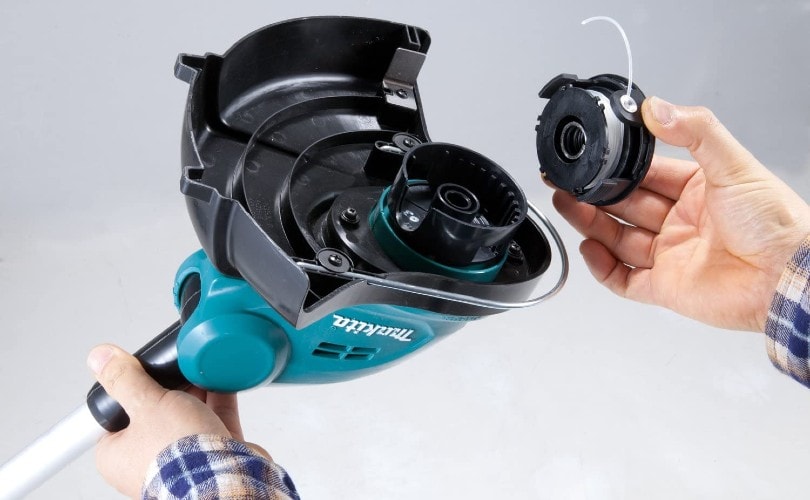 7,800 RPM Cutting Power
One of the factors that puts a lot of people off buying a battery-powered trimmer is the perceived lack of power. It is true that, generally, gas-powered trimmers offer more cutting power. But, while this still remains true, the Makita 18V string trimmer has a no-load speed of 7,800 revolutions per minute (RPM). This level of power will make easy work of grass and light weeds, but it will struggle with more challenging blankets or thick weeds. This is true of pretty much all battery-powered systems, though.
Nylon String
A string trimmer is only as good as the cutting wire. Unfortunately, while the 18V string trimmer is a good quality machine with a decent amount of power, it's provided with relatively low-quality trimmer wire. You will find yourself going through quite a lot of the string and replacement reels aren't that cheap. The wire could certainly be better, and this would improve the overall quality of the machine.

FAQ
How wide is the cutting diameter?
Cutting diameter matters in string trimmers because a small diameter means you have to make a lot more passes to completely clear an area, so more work is involved. However, smaller cutting circles make it easier to get into confined spaces to trim. The Makita 18V string trimmer has a 10.25-inch cutting diameter, which is on the smaller side but accommodates the fact that the head can be turned vertically for edging lawns and should be good enough for grass and light weed work.
Does the Makita 18V string trimmer come with a battery and charger?
The Makita 18V String Trimmer does not include a battery and charger. It uses the 18V cordless platform from Makita which means that it can use any of the company's compatible batteries. It is suggested that you use at least a 3Ah battery. The lower the charge capacity, the more often the battery will need charging.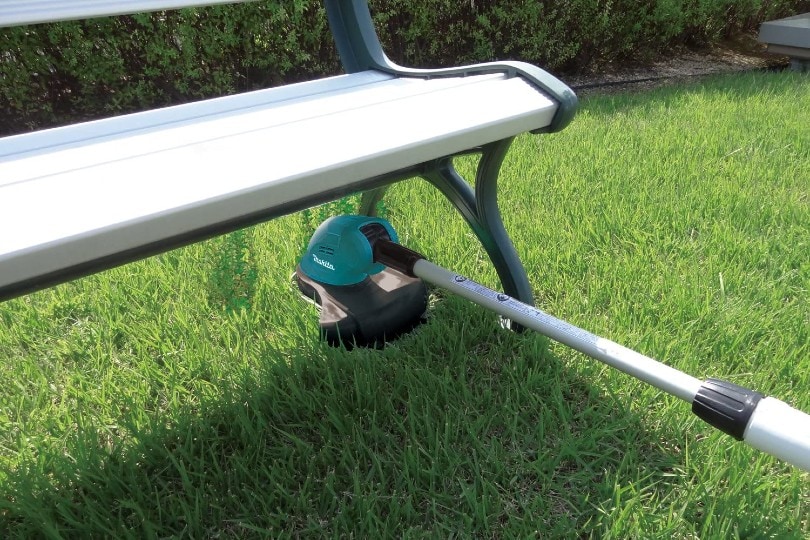 How many speed settings does it have?
The Makita 18V String Trimmer only has a single speed setting, which cannot be altered. At this setting, it runs at a no-load speed of 7,800 RPM. Unlike a lot of battery-powered cordless devices, it operates at the same power even as the battery depletes so the power won't drop until the battery is fully depleted.

What the Users Say
Using online reviews and ratings, we have taken into consideration what other users think. The Makita 18V string trimmer gets generally very positive reviews. Owners are especially impressed with its lightweight design and its generous battery life.
However, the string does come in for a lot of criticism, while owners have also said they prefer something with more power and better line especially for dealing with thicker and more challenging weeds.

Conclusion
The Makita 18V String Trimmer is one in Makita's range of cordless, battery-powered garden appliances that uses the 18V battery platform. This means that it can be run using any existing 18V batteries. The trimmer offers good runtime from the 3.0Ah batteries, benefits from a telescopic handle and multiple head settings, and is powerful enough to deal with light to medium weeds and grass but will struggle with anything thicker.
---
Featured Image Credit: Amazon