5 Best Budget Table Saws under $300 – Reviews & Guide 2023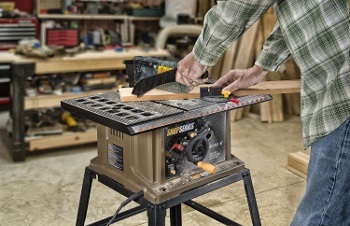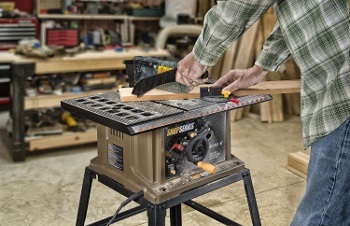 When shopping for a power tool on a budget, $300 is a critical price point, especially for table saws. You aren't going to get the top-of-the-line unit, but that's no reason to expect a low-quality saw.
Table saws make it possible to cut edges as straight and clean as if they came from a factory. When used with the proper equipment, table saws are the undisputed champion of rip cuts. You know you need a table saw as much as you want one, but they can also be very expensive.
Thankfully, there are affordable options on the market worth your money, but who's to say what's good and what's bad? HealthyHandyman, that's who.
We did the homework and got up close and personal with the most popular models. In the end, three of these saws impressed us enough for us to recommend them to you. But we'll examine five of them in the following reviews, so you can have broader options.
---
A Quick Comparison of Our Favorites (2023)
Rating
Image
Product
Details

Best Overall

DeWalt DW7485 Compact Jobsite Table Saw

On-board storage for components
Durable metal roll cage
Small and easily portable
CHECK PRICE

DeWalt DW745 Table Saw

Can make bevel cuts
Plenty of power
Small and light
CHECK PRICE

Best Value

Bosch GTS1031 10-Inch Portable Jobsite Table Saw

Portable
All steel base holds up to any abuse
Built-in storage
CHECK PRICE

TACKLIFE Table Saw

Stand raises up to a usable height
Blade bevels to 45 degrees
CHECK PRICE

Genesis GTS10SB 10" 15-Amp Table Saw

Dirt-cheap
Rip fence locks in front and rear
2-year warranty protects your tool
CHECK PRICE
5 Best Budget Table Saws under $300:
1.

DeWalt DW7485 Compact Jobsite Table Saw – Best Overall

Thanks to great features like a 24½-inch rip to the right of the blade, the DeWalt DWE7485 Compact Jobsite Table Saw earned our top position. Compared to the other budget table saws we tested, this one had the best rip capacity, inching closer to what more expensive models can handle.
Thanks to the powerful 15-amp motor, this DeWalt saw had no problem cutting through any OSB or plywood. But the 1¾-inch maximum cut depth means you'll be pressing your luck to try to cut 2X4s with this saw. The small 8½-inch blade is an uncommon size that's more difficult to replace and doesn't offer as many options as more traditional sizes.
We liked the durable metal roll cage on this saw; it's built to withstand regular job site abuse. This saw is small enough to be easily portable, but it's pretty heavy at just over 50 pounds. You'll also get onboard storage for all the accessories, helping to keep your workspace nice and neat.
Pros
24½-inch rip to the right of the blade
Powerful 15-amp motor
On-board storage for components
Durable metal roll cage
Small and easily portable
Cons
8½" blade isn't a common size
1¾" maximum cut depth
---
2.

DeWalt DW745 Table Saw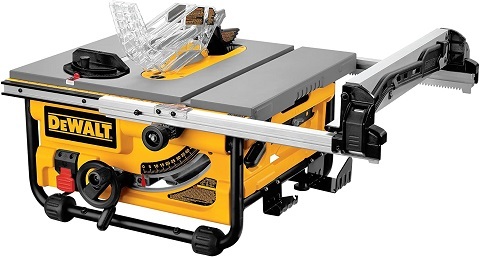 DeWalt doesn't mess around, which is why their saws have earned our top two positions. The DW745 Table Saw was our second favorite overall, but it couldn't quite match the performance of the DWE7485. Still, 20 inches is a decent rip capacity for a table saw under $300—it doesn't get much better.
The DW745 uses a standard 10-inch blade, making it easy to replace and giving you more options when you do. It's also got a stout 15-amp motor that helps it glide through any wood we pushed down the table.
Compared to the DWE7485, this saw has a smaller maximum rip size but a deeper maximum cut depth of 3⅛ inches. Most semi-pro woodworkers would prefer to have a rip size over 2 feet, which keeps this unit from the #1 position. Also, it's the more expensive model of the two, which is another solid reason we prefer the DWE7485.
Pros
20-inch rip to right of the blade
Can make bevel cuts to 45 degrees
Plenty of power from the 15-amp motor
Small and light enough to be portable
Cons
More expensive than the DWE7485
---
3.

Bosch GTS1031 10-Inch Portable Jobsite Table Saw – Best Value

This GTS1031 Jobsite Table Saw from Bosch is a great tool that's easy to transport thanks to the carrying handle that allows you to carry it with just one hand. While it's a solid performer in most regards, it didn't impress us enough to outrank the DeWalt saws in our top two spots. Still, the Bosch has some notable traits worth mentioning.
We loved the all-steel base that's strong enough to withstand any abuse. There's also storage conveniently built into the saw to house all the accessories when they're not in use. However, we couldn't get over the meager rip capacity this saw offers. You'll get just 18 inches to the right of the blade and a meager 7¾ inches to the left.
Though it has plenty of power thanks to the stout 15-amp motor, the Bosch table saw doesn't have enough capability to earn our top recommendation. However, we think it's the best budget table saw under $300 for the money.
Pros
Easily portable with one-handed carrying handle
All steel base holds up to any abuse
Built-in storage
Cons
Small rip capacity of just 18 inches
Blade changes angle during use
---
4.

TACKLIFE Table Saw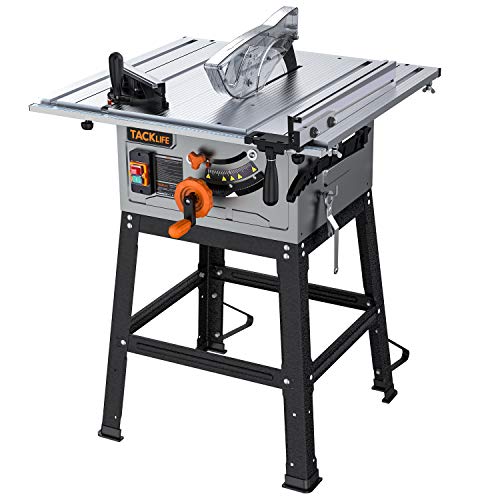 The saws we've reviewed so far have all been tabletop saws that are built small and portable. The TACKLIFE Table Saw is still pretty compact and portable, but it's on a stand that raises it up to a usable height, so you won't need to locate a table to place it on. If our review were based on this alone, the TACKLIFE saw might be a top contender.
As it is, this saw has too many flaws for us to recommend it. First, it has a small rip capacity of just 16½ inches. We prefer a rip capacity of 24 inches or more for regular use, so this is just too small for most applications. Plus, the fence doesn't even tighten straight. Every time we tightened it into position, we'd need to make several checks and adjustments before it was ready to cut.
There was plenty to like about this saw, such as the stand, the blade that bevels to 45 degrees, and the reasonable price. But compared to the other saws on this list, the performance from the TACKLIFE saw was lackluster and didn't do much to impress us.
Pros
Includes stand that raises it up to a usable height
Blade bevels to 45 degrees
Cons
16½-inch max rip capacity
The fence doesn't tighten straight
---
5.

Genesis GTS10SB 10" 15-Amp Table Saw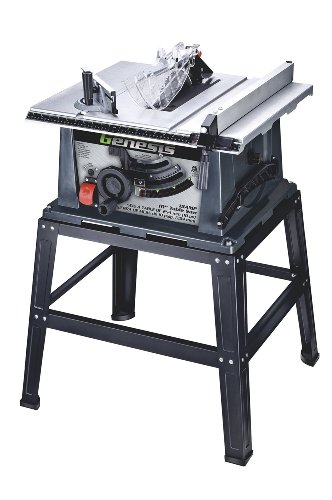 The Genesis GTS10SB Table Saw is reasonably priced for what you get, but it lacks some important features that we feel are necessary. That said, we like that this table saw includes a stand, and if you're going to use it in a workshop, the stand is a major plus.
Our major complaint with this saw is the rip. It has a decent fence that locks in both the front and rear, which we were happy to see. However, it has a maximum rip capacity of just 12 inches, not enough for any serious woodworking.
As we mentioned, this saw is great in a workshop, but it's very heavy and bulky, making it a poor choice if you need to move it often. It's not very portable, so you'll be better off leaving it in one place. Still, it has a 2-year warranty protecting it if you decide to take it out.
Pros
Dirt-cheap
Rip fence locks in front and rear
2-year warranty protects your tool
Cons
Max 12-inch rip with fence
Very heavy and bulky
Not very portable
---
Buyer's Guide: Choosing the Best Budget Table Saws Under $300
As you can see, there are plenty of options to pick from when looking for a budget table saw. But how do you decide and ensure you're getting the right one for your needs? After testing so many of them, we have narrowed down all of the features to the most important ones that will help you make the right choice.
What to Look for in a Budget Table Saw
If reviewing all the features and specifications of these table saws have you more confused about which one to choose than when you first started, let's take a closer look at some of the most important features and what they'll mean to you when you're using your new table saw.
Rip Capacity
One of the biggest advantages a table saw has over other types of power saws is that you can set the fence to a certain size and rip your wood down length-wise. Then, you can even repeat the same exact cut as many times as needed without worrying about the measurement changing. Each piece will be an exact replica of the first cut.
If you cut without the fence, all table saws have a technically unlimited rip capacity. The problem is that there's no way to center your piece, ensuring that it travels straight while being cut. You'll likely end up with a wavy cut at best, probably bogging down the blade and getting it stuck.
With the fence attached, you have a solid and straight edge to run your board against. But that means you're limited to making cuts no wider than the table of your saw, which can vary drastically from model to model.
Some of the best budget table saws we tested had a maximum rip of over 24 inches, while some that didn't impress us could only manage a 12 or 16-inch max rip. For most general carpentry, we recommend finding a saw with a max rip of 24 inches or more.
Blade Size
The size of your blade will determine the depth of cut you can perform. 10-inch blades are the standard for table saws. Blades of this size are numerous and inexpensive. You'll find them easily and have many options to choose from, depending on the type of cut you're making.
Other saws may come with odd-sized blades, such as 8½ inches. There's nothing wrong with a blade this size, but you'll have fewer options when it's time to replace it, and you may have a more difficult time locating blades that size.
Portability
Some people just need a table saw for the workshop where it will stay and live out the rest of its life. Others need a more portable solution that can be moved from place to place to follow the work they're performing. If you don't need a portable saw, then finding a small and lightweight saw that's easy to carry won't be a priority for you. Instead, you may get better use from a saw that's already mounted on a stand.
But if you need a saw that can be easily moved, you'll need to look for a light saw, preferably one with a carrying handle. These tend to be tabletop saws that can be set on any surface, even the ground.
Accuracy
Your table saw won't be much good to you if it can't make accurate and clean cuts every time. It's not uncommon for lower-end saws to have fences that don't tighten straight, resulting in cuts that always run off. Check your fence with a tape measure, measuring the distance to the front and back of the blade. This will let you know if your fence is straight or not.
If the fence doesn't latch well, it may migrate during use. Certain saws have fences that only latch in the front, while others will latch in the front and back, making for a much more secure fence.
Price
Though all of these saws are priced below the $300 mark, there's still a lot of variance in their prices. The cheapest of the budget table saws we tested is one-third the price of the most expensive ones.
If your table saw is likely to be used every weekend, we'd recommend sticking to the higher end of the price range and getting the highest-quality saw within budget. On the other hand, if your saw will see only occasional use, there's nothing wrong with purchasing a budget option at the bottom of the price range.
See Also: Bosch vs DeWalt Table Saw: Which One's Better?
---
Conclusion
A tool doesn't have to be expensive to perform its duties well. With that in mind, we set out to find the best budget table saws under $300. After testing as many as we could find and writing short reviews comparing each of them, we narrowed down the choices to three that we feel confident recommending. Our favorite overall was the DeWalt DWE7485. This compact and easily portable saw packs a powerful 15-amp motor and a tabletop large enough to allow for a 24½-inch rip to the right of the blade.
Our runner-up was another DeWalt, the DW745. This one's a bit more expensive and has a shorter max rip, but it also has a deeper max cut of 3⅛ inches and uses standard 10-inch table saw blades. Finally, if you want the lowest-priced option that will still do the job, check out our best value, the Bosch GTS1031. It has plenty of power and a decent rip capacity.
Related Reads: