10 Best Toilet Fill Valves in 2023 – Reviews & Top Picks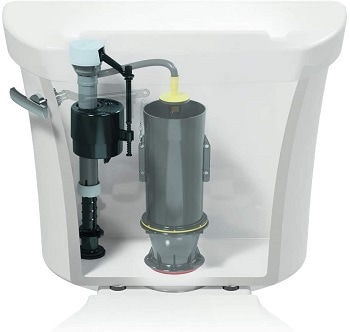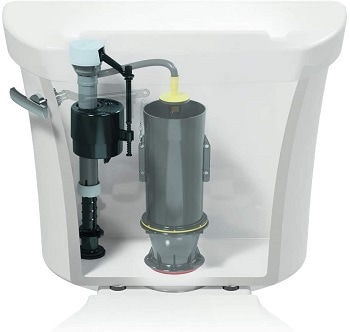 A leaky toilet fill valve can be more than the constant annoyance of the sound of running water. All of that wasted water starts to add up and pretty soon, you're likely to see it affect your water bill. And if you have to jiggle the handle or take the top off the tank to check your valve, then you know just how annoying this problem can become.
Luckily, changing your toilet fill valve can be a simple and quick process that will save you money and frustration by making your toilet feel and function like new again. But if you purchase the wrong fill valve, you might just end up frustrating yourself even further with difficult installation and parts that don't fit.
We want to save you from that hassle, which is why we've written the following 10 reviews comparing some of the best toilet fill valves on the market.
---
A Quick Comparison of Our Favorites in 2023
Rating
Image
Product
Details

Best Overall

Fluidmaster 400AH PerforMAX

Priced affordably
Height adjusts from 10"-15"
Water-saving roller clamp
CHECK PRICE

Best Value

Korky 528

Priced very cheap
QuietFILL technology
Works with newer and older toilets
CHECK PRICE

Kohler Silent Fill Valve

Quiet operation
Conserves water
Easy to install
CHECK PRICE

Premium Choice

American Standard Fluidmaster 400A

Universal fit
Replaces older style ball floats
Great in low-flow toilets
CHECK PRICE

Hibbent Universal Fill Valve

Universal design
Fills very quietly
Conserves water
CHECK PRICE
The 10 Best Toilet Fill Valves
1.

Fluidmaster PerforMAX Toilet Fill Valve – Best Overall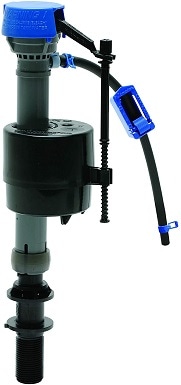 All the flush valves we tested do the same basic thing; they let your toilet flush. But the Fluidmaster 400AH High-Performance Toilet Fill Valve beat all of the competition in our book by offering the most universal fit at the most reasonable price. It's cheaper than units with big brand names like Kohler and American Standard on the side, but most of those brands actually use Fluidmaster valves and just stick their own cap on top with a big price hike.
This valve adjusts from 10-15 inches, allowing it to fit a wide range of toilets from all manufacturers, including new toilets, old toilets, and dual-flush toilets. Since it's a high-performance valve, it even fills the bowl faster than other valves, though this means it's also a bit noisier.
Compared to other valves, this one is quite conservative with water, mainly due to the water-saving roller clamp that optimizes the water usage in your toilet. On top of all this, you get an impressive seven-year warranty on the valve, so you can rest assured that you won't have to make this repair again any time soon.
Pros
Priced affordably
Height adjusts from 10"-15"
Covered by a seven-year warranty
Water-saving roller clamp
Universal fit works with most toilets
---
2.

Korky 528 Toilet Fill Valve – Best Value

Often, when we're making unexpected and unplanned repairs, we're looking for the cheapest part that will do the job well so we can get back to daily life. After replacing so many toilet valves and seeing both expensive and cheap ones fail, we think that the Korky 528 Toilet Fill Valve is probably the best toilet fill valve for the money.
First of all, this is one of the cheapest-priced toilet valve replacements we've seen. Despite this, it's a quality part that never gives us trouble. With a universal fit, it should work in just about every toilet, including new ones, old ones, two-piece, and even one-piece toilets.
To make sure you can fit this valve in your toilet, it's fully adjustable from 7.75-13.5 inches, allowing you to find the perfect height for your setup. It's even equipped with QuietFILL technology, so your toilet doesn't sound as loud as a vacuum. On the downside, it does fill a bit slower than other valves we used, but how quickly do you need a second flush?
Pros
Priced very cheap
Adjusts from 7.75"-13.5"
Works with newer and older toilets
Will work in two-piece and one-piece toilets
QuietFILL technology
Cons
Fills slower than other valves we tested
---
3.

Kohler Gp1138930 Silent Fill Toilet Fill Valve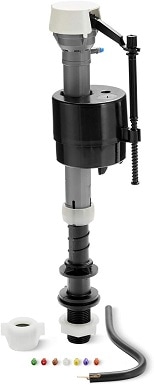 At first, it can seem a bit difficult to compare toilet fill valves since they're hidden away in your toilet tank while they work. But you don't need to see your toilet's fill valve working to hear the difference. The Kohler Gp1138930 Silent Fill Toilet Fill Valve is supposed to provide a quiet fill-up after flushing, and in our experience, it certainly does. In fact, it's one of the quietest valves that we've tested.
But this is more than just a quiet fill valve. It's also water-saving, thanks to the included inserts that let you optimize the valve's performance. By switching to the right insert, you could save loads of water and decrease your water bill and your effect on the planet. Granted, those inserts do complicate the install process a little.
This is a genuine Kohler part, but that doesn't mean it only works with Kohler toilets. It's got a universal fit that will work with most toilets with an adjustable height to accommodate different water levels. However, it's a bit pricey because of the Kohler name, so for most situations, we'd still recommend the Fluidmaster instead.
Pros
Quiet operation
You can optimize performance with included inserts
Height adjustable to work with many toilets
Conserves water
Universal fit works with non-Kohler toilets as well
Easy to install with no plumbing experience
Cons
The inserts complicate the installation a bit
---
4.

American Standard Toilet Fill Valve – Premium Choice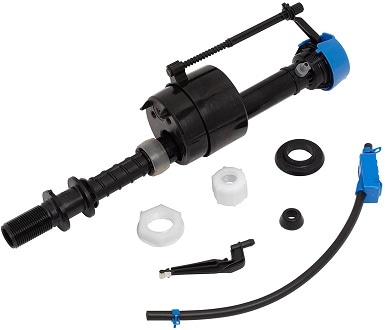 This premium toilet fill valve from American Standard is a great fit for any American Standard toilet, but its universal build means that it will work with most toilets from other manufacturers as well. You can even use this to replace the older style ball floats that are much more prone to problems.
The American Standard toilet fill valve is built on the Fluidmaster 400A valve, but it costs nearly twice as much. After using it, we don't really see any major advantages that accompany this American Standard valve to justify the large hike in price. As far as we can tell, the price increase is simply due to the American Standard brand name being stamped on the top cap.
Truthfully, there don't seem to be any other differences between this toilet valve replacement and the much cheaper Fluidmaster 400A. If you have an American Standard toilet, it might be worthwhile to go with the American Standard fill valve since you can guarantee a good fit. Otherwise, you're better off spending less for the practically identical quality of the Fluidmaster.
Pros
Universal fit works with many toilets
Replaces older style ball floats
Great in low-flow toilets
Cons
It's a lot more expensive than other options
---
5.

Hibbent Universal Toilet Fill Valve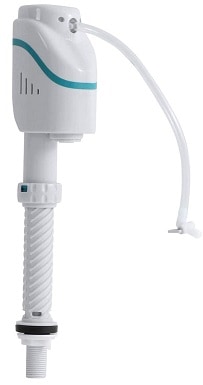 The Hibbent TFV1820PUS Toilet Fill Valve offers a universal fit that will work with most toilets. It features a unique design that doesn't look quite like other valves on the market, which is likely part of why it's so expensive.
We liked how much adjustability this fill valve has. You can extend it from 7.8-13 inches, so it will fit a variety of toilets. But the real draw is the low-noise operation and water conservation. This valve is intended to reduce the amount of water you use while also filling it more quietly than other valves.
When installing this toilet tank fill valve, we discovered that it doesn't include the hose clip for the overflow, so we had to pull it off the old valve and jerry-rig it to work. This flaw held the Hibbent valve back, but it might have been a top contender if all the necessary pieces were included.
Pros
Lots of adjustability from 7.8"-13"
Universal design works in most tanks
Fills very quietly
Conserves water
Cons
Far pricier than other fill valves
Didn't come with a hose clip for the overflow
---
6.

Danco HC660 Water-Saving Toilet Fill Valve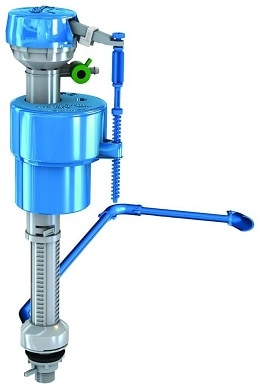 The Danco HC660 Water-Saving Toilet Fill Valve offers a couple of interesting features that we didn't see on all fill valves, though they're not the sort of features that might make up for this valve's other flaws.
Still, some of those features might be useful, like the built-in mini valve that automatically adjusts the refill level as needed. There are also jets on the valve that spray water into the tank to help keep it clean. And if there's a leak, the valve will make an audible alert noise so you'll know.
But this toilet tank fill valve isn't going to work in all toilets. If you have a low-flow toilet, you're better off skipping this toilet fill valve. It lacks the adjustability necessary to fit a wide range of toilets since it's only adjustable from 11-13.8 inches. It would be quite frustrating to take your toilet apart only to find that your new valve won't work, so we'd recommend finding a toilet fill valve with more adjustability that will fit a wider range of toilets.
Pros
Built-in mini valve adjusts the refill level as needed
Creates an audible alert when there's a leak
Jets help clean the inside of the tank
Cons
Only adjusts from 11"-13.8"
Might not work in all low-flow toilets
---
7.

Plumbcraft 7030911 Anti-Siphon Toilet Fill Valve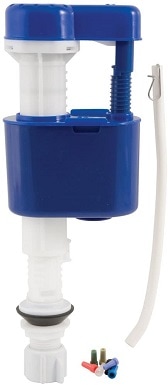 If you're more interested in conserving water than having an easy to install, quiet-operating fill valve, then you'll probably like the Plumbcraft Anti-Siphon Toilet Fill Valve. It's one of the most expensive options that we tested, but definitely not one of our favorites.
The most compelling trait of this fill valve is that you can swap out the water flow adjustment caps to decide how much water you want to conserve. It's also one of the more adjustable valves we've seen, stretching from 8-13 inches, allowing it to work with most toilets.
So far it sounds great, but you won't feel that way when you try to install it. Compared to the other valves we used, this one is a pain to install. You have to get your hands into the tank to release the adjustment mechanism and find the right height. The wingnut washer on the bottom also doesn't lend itself to hand tightening, forcing you to squeeze a wrench behind your toilet.
Aside from installation issues, this valve is also quite loud. This might seem like a minor complaint, but if the toilet is near the bedroom, it's loud enough to hear through the door.
Pros
Adjusts from 8"-13"
Universal fit will work with most toilets
Waterflow adjustment caps improve water conservation
Cons
It's one of the more expensive options
Difficult to adjust the height while in the tank
Much louder than other fill valves we tested
---
8.

WDI B3260 Universal Fill Valve for Most Toilets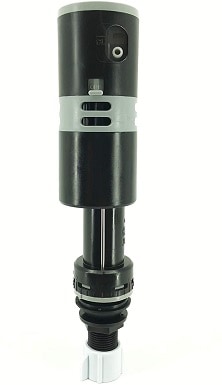 With an adjustable height from 8.25-12.25 inches, the WDI Fill Valve's universal design will fit most toilets. Even most low-flow toilets that have shallow tanks will work with this fill valve. But that's not enough to justify the price. There are plenty of fill valves with just as much adjustability for cheaper prices.
Worse, this valve is louder than the other valves we tested. You can hear the water rushing in from the next room with the door closed while this valve runs. If you expect that to mean that the tank fills quickly, you'll be disappointed since it doesn't fill any quicker than competing valves.
Our biggest complaint about this valve is that it never seems to seal all the way. After the tank fills, we could still hear water trickling through the valve. It might not be much water, but over time, that's adding up to a lot of wasted water.
Pros
Universal design will fit in most toilets
Height adjustable from 8.25"-12.25"
Cons
There are cheaper options available
Fills much louder than other valves
Doesn't seal all the way
---
9.

Mansfield Plumbing 08-1112 Toilet Fill Valve

Mansfield Plumbing is known for making quality products in the USA. Many of their products are great, but we weren't as happy with this toilet fill valve. It's difficult to install because of the design, which can make a somewhat daunting job even more so.
Before you order this fill valve, make sure you check whether your toilet is compatible. This valve has limited compatibility and is made specifically for Mansfield toilets. Our first one arrived defective, which isn't what we generally expect from Mansfield.
During installation, we noticed that the adjustment screw is threaded straight into plastic, leaving us to question its overall longevity. With all of these problems and so many better options available, we can't recommend this valve.
Cons
Limited compatibility
More difficult to install than other valves
Poor longevity with screws threaded in other plastic parts
The first one arrived defective
---
10.

TOTO TSU99A.X Adjustable Toilet Fill Valve

TOTO is known as a premium toilet manufacturer. As such, their products tend to be a bit pricey and the TSU99A.X Adjustable Toilet Fill Valve is no exception. For us, this isn't a case of a premium product being priced for its value. Instead, this seems like an overpriced and overestimated plastic part.
This valve is height adjustable and features a standard 7/8-inch connection, so it should work with most toilets, though it's only specifically made for TOTO toilets. The first one we ordered was dead on arrival, which is pretty disappointing for such an expensive part.
The second one we received worked when installed it. But after a few weeks, it started being finicky and we often had to take off the lid and tap on it to get it to fill. Luckily, it's covered under a one-year warranty. But compare that to the seven-year warranty you get with the Fluidmaster 400AH at the top of this list for less than half the price and it's clear to see why we recommend the Fluidmaster and not the TOTO.
Pros
Adjustable height works with all TOTO tanks
Cons
Way overpriced for what you get
Sometimes you have to tap it to get it to fill
The first one was dead on arrival
The one-year warranty isn't impressive
---
Buyer's Guide – Choosing the Best Toilet Fill Valve
There are hundreds of different toilet fill valves available from many different manufacturers. Similarly, there are tons of different toilets, and you find the valve that's right for your toilet, your household, and your wallet. It may seem like a trivial decision, but if your toilet valve runs constantly, the extra expense of your increased water bill and the annoyance of listening to that trickling every time you're in the bathroom will start to compound very quickly.
We want to help you avoid this headache and others, so we wrote this short buyer's guide to aid you in your search for the right toilet fill valve.
Fit and Compatibility
The most important thing to be sure of before ordering a toilet valve replacement is that it will actually fit your toilet. Few things are more frustrating than tearing apart your toilet only to find that your new valve doesn't fit!
Some valves are model-specific, made to fit certain toilets. Usually, these valves and the toilets they fit are from the same manufacturer, intended to keep you spending within their brand. If you're purchasing a valve from a toilet brand like Kohler or American Standard, make sure that the valve isn't meant only for specific models.
Most fill valves are universal fit, designed to work with just about any toilet. However, the fit isn't as universal as you might think. You'll need to determine how deep the water in your tank is and get a fill valve that adjusts to that height. Some low-flow toilets only hold eight inches of water in the tank. If you get a valve that doesn't adjust down that low, then it won't work in that tank.
Operating Volume
After you flush the toilet, the valve refills the tank. You may never have given much thought to this part of the process, but if you switch to a quiet valve, then you'll start to notice it moving forward. Some valves are just louder than others while they fill.
This might not seem like a big deal, but in many homes, the master bathroom is adjacent to the master bedroom. With your toilet so close to your bed, you'll have to listen to that loud valve running for several minutes after you get up to use the bathroom in the middle of the night. If your partner is a light sleeper, a loud valve might even wake them up!
Water Conservation
Some valves are equipped with adjustable water conservation tools that let you fine-tune the way it runs. These valves can sometimes offer large reductions in water usage. We've even seen some claiming to reduce wasted water during the tank refill process by up to 38%. Over time, this can add up to noticeable savings on your water bill.
---
Conclusion
In truth, most of these valves should work just fine in your toilet. But you don't want something that just works. Like us, you want the best part at the lowest price, which our reviews should have helped you to pinpoint. Just to be sure, we're going to leave you with our final recommendations.
Our pick for the best toilet fill valve is the Fluidmaster 400AH PerforMAX Universal High Performance Toilet Fill Valve. We love that it conserves water and adjusts from 10-15 inches so it will work with almost any toilet. Plus, it's priced affordably and covered by a seven-year warranty.
For the best value, we suggest the Korky 528 Toilet Fill Valve. It's one of the cheapest valves we've seen, though it still offers great functionality with features like QuietFILL technology. This valve extends from 7.75-13.5 inches for a universal fit that will be at home in just about any toilet on the market.
Finally, the Kohler Silent Fill Toilet Valve Kit is our premium pick. It provides nearly-silent tank fills with performance that you can optimize with the included inserts. And its universal fit means that it will work with most toilets, not just Kohlers.