10 Best Toilet Flush Valves in 2023 – Reviews & Buyer's Guide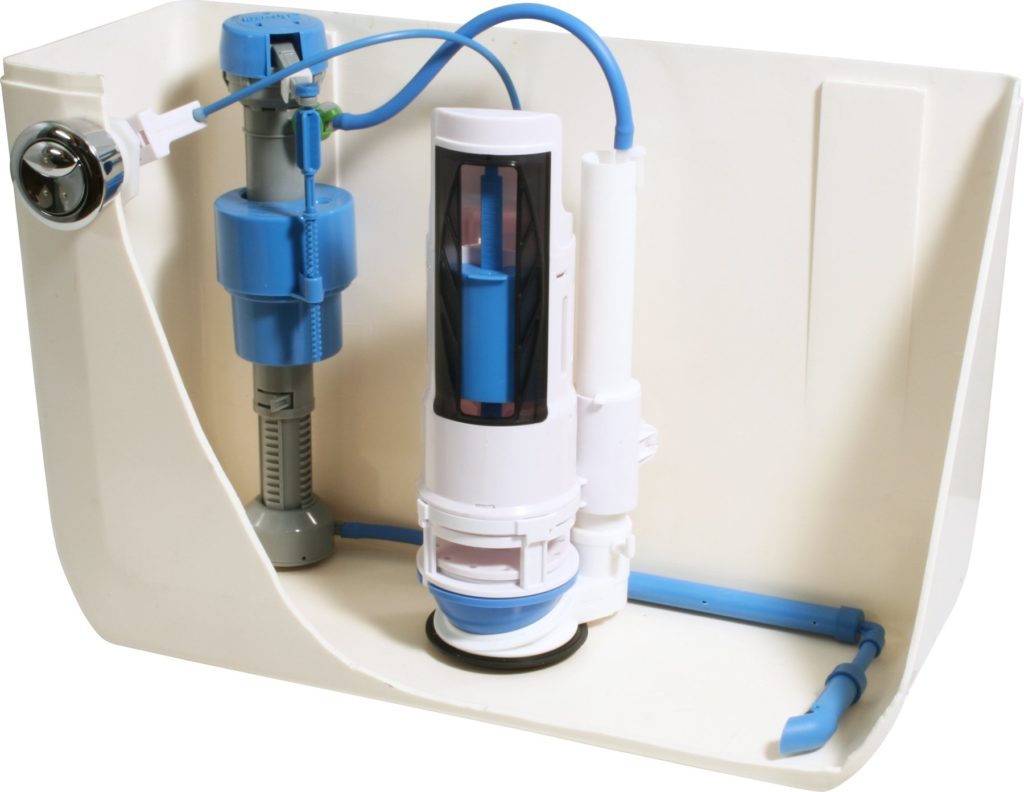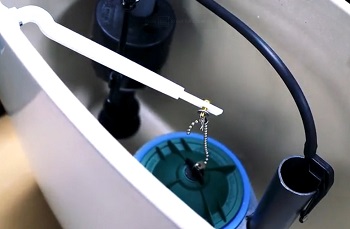 When something's amiss with your toilet, it's seldom the toilet itself. Rather, it's most likely an issue with the flush mechanism that allows the toilet to expel waste. Whether the flush valve is housed within your toilet tank or mounted on top, these mechanical parts are susceptible to wear and tear, and eventually, will need to be replaced.
The more toilets you have, the more valves you'll be replacing. Between our testers, there are quite a few toilets with valves to replace. Instead of picking any random valve off the shelf, we decided to take this opportunity to find out which flush valves are the best.
Of course, we want to make sure that our work isn't wasted, so we decided to write reviews of the following 10 toilet flush valves so you can benefit from our testing as well.
---
A Quick Comparison of Our Favorites in 2023
Rating
Image
Product
Details

Best Overall

Danco HYR460 HyrdroRight

Affordably priced
Water-saving design
Dual-flush mechanisms
CHECK PRICE

Best Value

Fluidmaster 507AKP7

Dirt-cheap pricing
Universal fit
5-year warranty
CHECK PRICE

Premium Choice

American Standard Urinal Flush Valve

Clean aesthetics
Self-cleaning piston
Non-hold handle
CHECK PRICE

Sloan Regal

Non-hold handle
Uses just 1 gallon per flush
3-year warranty
CHECK PRICE

Korky 5030BP

Fits most 3-inch flush valves
Chlorazone red rubber
5-year warranty
CHECK PRICE
The 10 Best Toilet Flush Valves Reviews
1.

Danco HYR460 HyrdroRight Flush Valve – Best Overall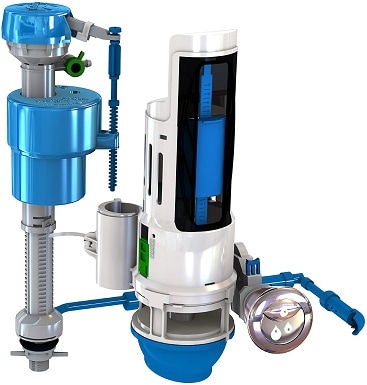 This universal flush valve from Danco allows you to update your single-flush toilet and convert it into a dual-flush toilet with all the benefits that includes. You might think that would be an expensive upgrade, but with the HyrdroRight flush valve, it's an affordable change to make.
Replacing the traditional lever that your toilet likely has now, this flush valve offers dual push-buttons instead, allowing you to alternate between a more economical flush for liquids and a larger flush for solid waste.
This device has an adjustable mini-valve that lets you set the water level in the bowl, allowing you to get the perfect amount of water to avoid waste sticking to the bowl. This won't reduce your flushing power though, luckily. There's also no flapper on this valve, eliminating the number one source of problems with toilet flush valves. However, it can be used to replace a traditional flapper valve.
When you go to install this flush valve, you won't need any tools. Installation is simple and takes very little time. It will work with practically any toilet that accepts 2-inch flush valves, though it's not compatible with Mansfield toilets. Abd you'll need a 10-inch minimum clearance from the top of the flush valve opening to the inside of the tank lid.
Pros
Affordably priced
Dual-flush mechanisms
Water-saving design
Makes noise to warn about leaks
Cons
Not compatible with Mansfield toilets
---
2.

Fluidmaster 507AKP7 2-Inch Toilet Flush Valve – Best Value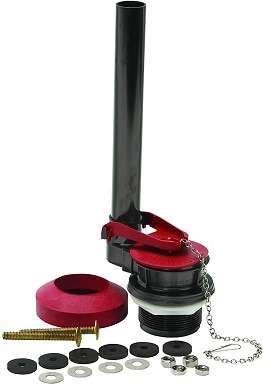 If you just want to replace the existing flush valve with another one that works the same, then you might check out the Fluidmaster 507AKP7 2-inch flush valve. It's a standard design that's not going to bring any massive changes to the function of your toilet. But if you've got a leaky flush valve now, this is probably the cheapest, most reliable way to return your toilet to full functionality.
After testing so many, we're certain that this is one of the best toilet flush valves for the money. It's dirt-cheap; often half the cost or less of other valves we've seen. But that doesn't mean you're sacrificing anything, because this valve comes with an impressive 5-year warranty, guaranteeing that you won't need another replacement for at least half a decade.
Of course, this is just a straight across repair. This valve is the old-school flapper style flush valve. There's nothing wrong with that if you're looking for the cheapest way to get your toilet working again, but you won't be making your toilet more economical or quieter. Thankfully, you do get all the gaskets and hardware you need.
Pros
Dirt-cheap pricing
Universal fit
Includes all hardware and gaskets
5-year warranty
Cons
Old-school flapper style flush
---
3.

American Standard Urinal Flush Valve – Premium Choice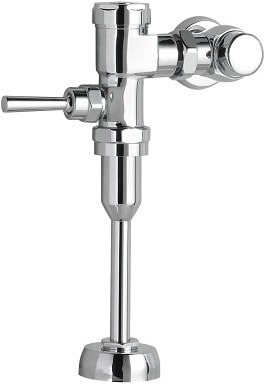 With clean aesthetics of polished chrome, the American Standard exposed flush valve is a great way to top any urinal. It's very economical, using just 1 gallon of water with each flush. Moreover, it's reliable and durable, built to withstand years of daily use. It's perfect for any residential bathroom, though it would also be at home in any commercial setting, making the bathroom feel much more luxurious than many of the other exposed flush valves on the market that have a markedly industrial look.
Inside this flush valve is a self-cleaning piston. This ensures that there's no buildup, which can start to reduce the flushing power of your toilet, eventually clogging the flush mechanism. The handle is long and light enough that it hardly takes any pressure to pull, and it's completely ADA compliant as well. It's also worth noting that you don't need to hold this handle for it to flush.
There's no doubt; this is one of the more expensive flush valves you could pick. But it's also very attractive and well-built. It's crafted from durable chrome-plated cast brass that looks elegant and will withstand years of use without showing signs of wear.
Pros
Clean aesthetics
Uses just 1 gallon per flush
Self-cleaning piston
Non-hold handle
Made from durable chrome-plated cast brass
Cons
It's more expensive than other options
---
4.

Sloan Regal Urinal Flush Valve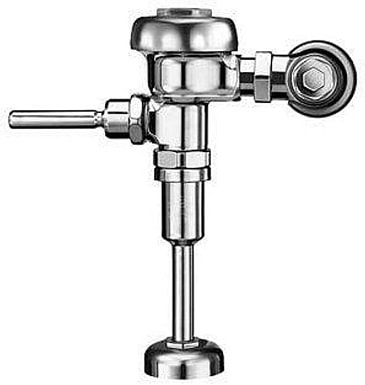 The Sloan Regal Urinal Flush Valve is another option for an exposed flush valve. It's a full replacement valve for any urinal, featuring a non-hold handle that's entirely ADA compliant. Each flush uses just 1 gallon of water, allowing you to conserve water and reduce your water bill.
This flush valve has more of an industrial look than the American Standard valve that earned our premium choice recommendation. The finish isn't quite as nice, though it is still chrome plated. Unfortunately, if you attempt to use cleaners on the finish, it could get irreparably damaged. That's pretty disappointing for such an expensive part that's intended to be exposed in the bathroom where we all know dirt and germs accumulate.
You'll get a 3-year warranty with this flush valve, ensuring that it will operate properly for quite some time. All of the gaskets and hardware you need for installation are also included. Installation wasn't very difficult, but we did notice that this valve tends to chatter in cold weather. If you need an exposed flush valve, we still recommend the American Standard instead. It's only a little more expensive, but the quality is superior by a fair margin.
Pros
Full replacement valve for any urinal
Non-hold handle
Uses just 1 gallon per flush
3-year warranty
Includes all gaskets and hardware
Cons
Sometimes it chatters in cold weather
More expensive than other options
The finish comes off
---
5.

Korky 5030BP Universal Toilet Flush Valve
Today, many toilets have gotten away from the 2-inch valve design, opting for a larger 3-inch opening instead, that allows for a better flush with less water. The Korky 5030BP is a great replacement valve for these toilets, offering an affordable way to get lasting performance from your toilet. It's a universal fit that will work with almost any 3-inch flush valve, though there are some toilets it won't fit. We even found one toilet that was listed as compatible but wasn't. Still, we found that it worked well in most toilets we tried.
This flush valve uses Chlorazone red rubber gaskets that are chemical-resistant and able to hold up to years of use. To that end, Korky even includes a 5-year warranty on this valve, offering some of the best longevity we've seen.
Unfortunately, this is an old flapper style flush valve, and they're prone to some issues. We've seen these start leaking within the warranty period. Luckily, if there's an issue with the valve, it will be replaced.
Everything you need for installation is included. You'll get all the gaskets and hardware, making it a simple repair that won't even require any tools.
Pros
Fits most 3-inch flush valves
Chlorazone red rubber
Includes gaskets and hardware
5-year warranty
Cons
The flapper can leak
Doesn't work with all listed toilets
---
6.

Zurn Z6000-YB-YC Aquaflush Flush Valve
The Aquaflush Flush Valve from Zurn looks like any ordinary exposed urinal flush valve. Except it's not. This one is actually meant for use with a standard toilet, changing it to an exposed valve flush. For anyone who needs to upgrade their toilet to meet ADA compliance, this is a great option. It's not as expensive as other exposed flush valves, though it's definitely several times the cost of a good internal flush valve. It does include a three-year warranty and chemical-resistant gaskets though, to make up some of the price difference.
While most of the exposed flush valves we've seen were very economical, this one is a bit different. It is available in a low-flow option, but the one we tested used 3.5 gallons of water with each flush. For a modern flush valve, this seems astronomical. We're so used to the low-flow toilets of today that often use less than a single gallon with each flush, so this feels like a huge volume of water. On the bright side, it's got a thorough flush that evacuates any waste in the bowl with ease.
Pros
3-year warranty
Chemical-resistant gaskets
Cheaper than similar exposed valves
Cons
Uses 3.5 GPF
More expensive than internal flush valves
---
7.

American Standard 3174.105-0070A Champion Flush Valve
The American Standard Champion Flush Valve is a great flush valve that evacuates waste very quickly and without issue. It's not even very expensive, especially when compared to other valves from American Standard, which can get pretty pricey.  It's still about twice the price of the universal Fluidmaster valve that earned our recommendation for best value though, so if you're looking to save money, you'll probably want to skip this valve.
We noticed a few major flaws with this valve. In the name, it says Champion Universal Replacement Flush Valve, which makes it sound like it's a universal fit. It's not. It will fit in any Champion line toilet from American Standard. It's an O.E.M. replacement part for those toilets, but it's really up in the air whether it will work with other toilets. We found several that it wasn't compatible with right off the bat.
On top of the limited compatibility, this valve also has a limited warranty of just one year. Since the Fluidmaster valve offers five years of warranty coverage for so much cheaper, we have a hard time recommending this American Standard valve to anyone.
Pros
Great flush evacuates waste with ease
Priced affordably
Cons
Very limited warranty
For use with the Champion line of toilets
---
8.

Mansfield 211-11 Flush Valve
Meant specifically for Mansfield 160 toilets, though it will work with any trip-lever toilet, the Mansfield 211-11 Flush Valve isn't one of our favorites, though it's far from the worst we've seen. It does include the spud gasket and locknut, so at least you don't need to purchase those separately. If you have a problem with water constantly running from the tank to the bowl of your toilet, then this valve can fix it.
We like how economical this valve is, using just 1.6 gallons per flush. However, its longevity leaves some to be desired. Don't expect to get the same five-year lifespan from this valve that you might get with a Fluidmaster. They tend to fail after just a year or two, especially in a high use bathroom.
Pros
Works with all trip levers
Spud gasket and locknut included
Uses 1.6 GPF
Cons
Intended for Mansfield 160 toilets
They don't last
---
9.

Kohler Genuine Part 1083980 Flush Valve
Many brands, including Kohler, want you to stay within their company once you start purchasing from them. That's why they design their toilets to only work with very specific valves; so, you can't purchase a cheaper valve from another company.
This Kohler valve is meant for use with Kohler Cimarron toilets only, greatly limiting its usefulness. It is a genuine Kohler part, but you're pretty much just paying for the brand name here. It's more expensive than other options from other brands, but if you have a Cimarron toilet, this is one of your only options.
Despite the higher price, this valve is only covered by a 1-year limited warranty, which doesn't do much to instill confidence in its quality. Luckily, it does include all the gaskets and hardware you need for installation. The only time we'd recommend this flush valve is if you have a Kohler Cimarron toilet.
Pros
Includes gaskets and all necessary parts
Genuine Kohler part
Cons
Works with Kohler Cimarron only
1-year limited warranty
More expensive than other options
---
10.

Plumb Pak K835-12 Toilet Flush Valve
We were holding out hope for the Plumb Pak toilet flush valve. It's one of the cheapest flush valves we tested, and we would have loved to give it a recommendation, but we can't. It does fit most toilets that have a 3-inch flush valve, and the adjustable height provides great compatibility. But its functionality is sub-par.
Right off the bat, we noticed that this valve doesn't include the tank to bowl gasket. This will always need to be replaced when you replace the flush valve, so it seems like a major oversight and it's an additional expense.
Once installed, we got inconsistent flushes immediately. Some of them were much larger than others, using more water and making more noise. After just a few days, the flapper started sticking, allowing water to constantly run.
We decided to check on the warranty, only to realize that the warranty period is just one year and is invalidated by pretty much anything the company wants to claim. We suggest you steer clear of this flush valve. It may seem inexpensive, but that's because the real costs are hidden.
Pros
Dirt-cheap pricing
Fits most toilets with a three-inch flush valve
Adjustable height
Cons
Limited warranty
Inconsistent flushing
Doesn't include the tank to bowl gasket
The flap started sticking after a few days
---
Buyer's Guide – Purchasing the Best Toilet Flush Valve
If your toilet's flush valve isn't operating correctly, it can be annoying and expensive to deal with. The running water is costing you money every moment, and many valves make an annoying screech when they're leaking. Luckily, replacing a toilet flush valve is a cheap and easy repair to make. You won't even need tools and you can easily do it yourself if you have a bit of confidence.
But everything hinges on you picking the right valve. The wrong valve might not even fit your toilet. The question is; how will you know which valve is right?
Choosing the Best Flush Valve
Don't worry. Choosing the best toilet flush valve isn't a complicated task. You just need to make sure that the one you choose fits your toilet and offers the type of flush you want.
Compatibility
The most important aspect to consider is compatibility. If you get a flush valve that's not compatible with your toilet, then you're going to be out of luck.
Many companies offer universal-fit flush valves, but these are rarely as universal as manufacturers like to claim.
Before purchasing a valve, you'll need to know what size valve your toilet currently has. It should be either a 2-inch or 3-inch valve. If you get the wrong size, then it won't be compatible.
There are also toilets with special compatibility to consider. Certain manufacturers, such as Kohler or American Standard, want to make sure that you stick with their company once you start spending money with them. To do this, they've made many of their toilets compatible with only very specific valves from them. These toilets often won't be compatible with universal-fit flush valves.
Flush and Water Usage
The other thing you need to give some thought to is how much water you want your toilet to use with each flush. Today, toilets are becoming more and more economical, using less and less water with each flush. There are even toilets that use a mere 0.8 gallons per flush (GPF) or less.
A more economical flush valve can save you money in the long run. While the standard is technically 3.5 GPF, a flush valve that uses just 1 GPF can save you hundreds or even thousands of gallons of water per year. That adds up to some substantial savings on your water bill.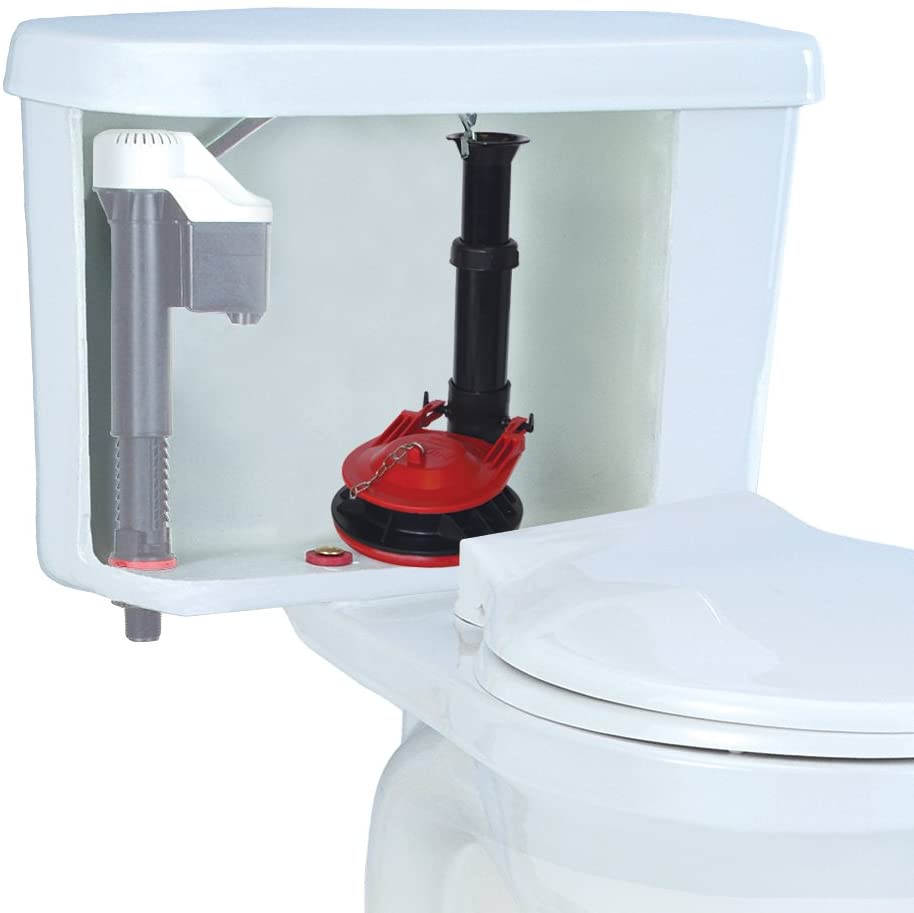 But there's a tradeoff. A more economical flush also means less flushing power. While many toilets are designed specifically to make the best use of a low-flow flush, older toilets aren't always designed this way. So, if you upgrade to a very economical flush valve, you might find that your toilet suddenly has a hard time doing away with solid waste and toilet paper.
Still, it's a good idea to look for a balance here. You want to find something economical that will help lower your water bill. 3.5 GPF is just too much these days. But you also don't want a valve that uses such a small amount of water that your toilet is getting clogged. We recommend looking for something around 1.6 GPF to hit the sweet spot between saving water and having a powerful flush.
---
Conclusion
There's no shortage of replacement flush valves on the market. In fact, it seems like there are nearly as many different valves as there are toilets! Hopefully, our reviews have helped you narrow the field down, but just in case, we're going to leave you with our final recommendations.
The Next by Danco HYR460 HyrdryoRight Universal Dual Flush Valve was our pick for the best toilet flush valve overall. It allows you to convert a lever-handle single-flush toilet into a push-button dual-flush toilet that will help you conserve water. Best of all, it's priced affordably so you upgrading your toilet offers substantial savings over replacing it.
If you just want the cheapest solution to get your toilet back to full functionality, then we recommend the Fluidmaster 507AKP7. It's a universal-fit flapper-style flush valve with a five-year warranty available for a dirt-cheap price.
For a bit of luxury on an exposed flush valve, we suggest the American Standard Exposed Flush Valve. It's got a self-cleaning piston, a non-hold handle, and clean aesthetics. It uses just one gallon of water with each flush and it's made from durable, attractive chrome-plated cast brass.