8 Best Toto Toilets of 2023 – Reviews & Top Picks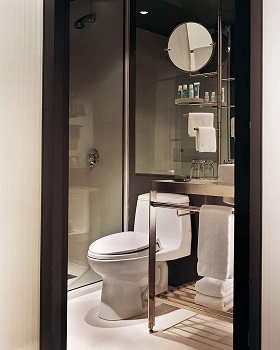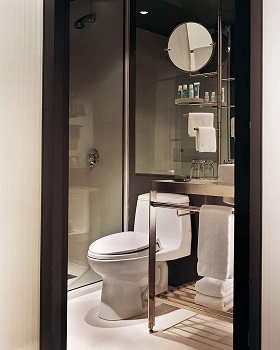 Toto is well known for making high-quality bathroom products. In this article, we distill their many toilets into a list of the very best. After experimenting with their entire product line, we managed to identify the best 8.
Whether you are a buyer on a budget or someone that wants to splurge a little bit on a great product, there will be an accommodating option on our list of Toto toilet reviews!
Let's get right to it, shall we? Read on to find the right toilet for you!
---
A Quick Comparison of Our Favorites in 2023
Rating
Image
Product
Details

Best Overall

TOTO Eco Ultramax

Lo flow
Large flush valve
Comfortable to sit on
CHECK PRICE

Best Value

TOTO Drake

Soft shut compatible
Low flow toilet
Large flush valve
CHECK PRICE

Premium Choice

Toto Neorest

Automated functionality
Heated seat
Remote
CHECK PRICE

TOTO Aquia Two-Piece

Dual flush
Chrome fixtures
Comfortable seat height
CHECK PRICE

Toto Aquia Wall-Hung

Unique design
Dual flush
Low flow
CHECK PRICE
The 8 Best Toto Toilets
1.

Toto MS854114ELG#01 Eco Ultramax ADA One Piece Toilet – Best Overall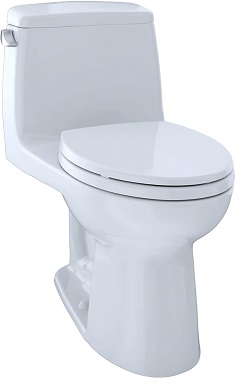 The Toto E-Max is an environmentally friendly unit that releases just 1.28 gallons of water per flush. The "sana-gloss" finish is designed to be super smooth, making your new toilet easier to clean, while the 3-inch flush valve is 125% the size of competing units, helping you to make the most of this toilet's limited amount of water.
It's also very comfortable to sit on. The rim height comes in at 17-inches, facilitating a much more natural sitting position than the standard toilet can provide.
It even features a "soft close" system that allows the toilet seat to gently fall back into place. Of course, all of these premium features do cost. This is one of the more expensive options on our list, so account for that in your budget. Despite this, we think it is the best Toto toilet available this year.
Pros
Lo flow
Large flush valve
Comfortable to sit on
Soft-close lid
---
2.

TOTO CST744E#01 Eco Drake Two-Piece Toilet – Best Value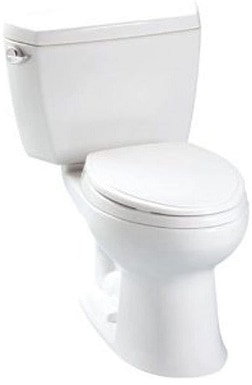 If you are looking to save money, you'll find much to love in our best Toto toilet for the money. The Eco Drake saves you money on both ends, featuring an affordable price tag, and a low flow design that will reduce your monthly water bills.
The toilet releases just 1.28 gallons of water per flush, saving you lots of water in the long run. It features a 3-inch flush valve that can make good use of all that water, ensuring that you eliminate stuck-on waste. The toilet is compatible with soft-close lids, though this accessory will need to be purchased separately.
Unfortunately, comfort is a bit of a concern with this toilet. The seat height is just 14 inches, which will require many users to stoop uncomfortably to use the toilet. If you are a shorter person, this may not be problematic at all. However, for some, the height of this unit may be conducive to back pain.
Pros
Soft shut compatible
Low flow toilet
Large flush valve
Cons
The seat height may not be adequate for everyone
---
3.

Toto MS992CUMFG#01 Neorest Toilet – Premium Choice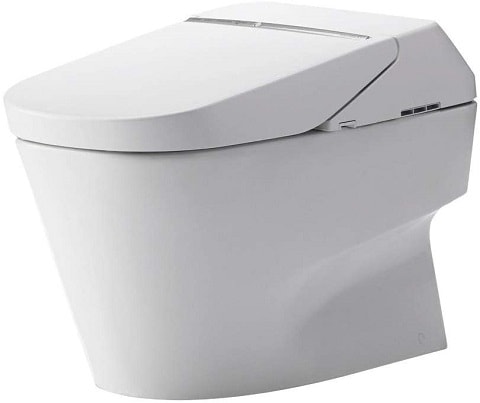 The Toto Neorest is an ultra low flow toilet that uses just one gallon per flush to handle solid waste. Using the dual flow nozzle, you can opt to use even less water (.8 gallons to be exact) with liquid waste. Despite the very limited amount of water, it maximizes efficiency via a "cyclone pump" that does a tremendous job of making the most of each flush.
Remarkably, this unit is also remote controlled. With a remote, you can adjust the temperature of the seat to your liking, and control oscillating, pulsating water spray features that assist in cleanup. Best of all, your preferences can also be saved so that the toilet intuits your preferred temperature and spray patterns.
Indeed, much of the performance of this toilet is automated. Using sensors, the lid will open and close for you, and it even flushes itself so that you don't have to get your hands dirty.
Of course, these features will set you back a good deal. This toilet is by far the most expensive option on our list.
Pros
Automated functionality
Heated seat
Remote
Extreme water-saving features
Highly efficient
---
4.

TOTO CST412MF.01 Aquia Dual Flush Two-Piece Toilet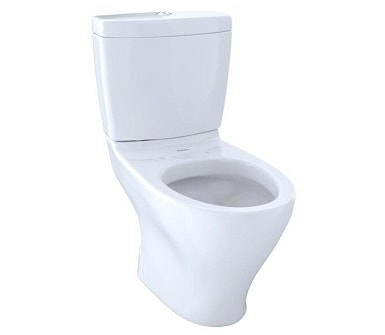 The AquiaDual Flush allows you to select how much water you use. The liquid waste setting requires just .9 gallons per flush, while the solid waste feature uses 1.6. The bowl height comes in at 16 inches, which, though not the highest on our list, should be adequately comfortable for most people.
It also benefits from chrome fixtures. The flushing mechanism—in this case, a button mounted to the top of the tank—is plated to avoid erosion.
Unfortunately, many do report that the button is hard to use. Placed at the top of the tank, it is difficult to access from a seated position. It is also very tiny, which makes it hard to control which setting you are selecting.
Pros
Dual flush
Chrome fixtures
Comfortable seat height
---
5.

Toto CT418FG#01 Aquia Wall-Hung Dual-Flush Toilet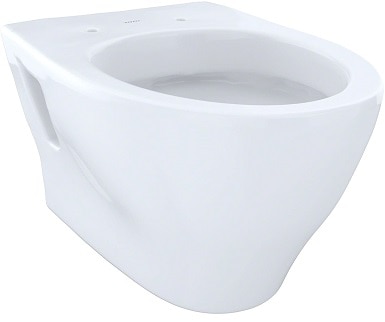 The Aquia Wall-Hung allows your toilet to be mounted directly to the wall of your bathroom. This unique design concept helps you to save a little bit of space, while also making a unique design statement. It's a dual flush toilet, using 1.6 gallons on solid waste, and .9 gallons of water on liquid waste.
However, despite the unique design, there are some things to be wary of. For one thing, many complain that the toilet leaves behind a significant amount of waste. This may mean that you need to flush several times, thus counteracting the "low-flow" experience.
It is also worth noting that, because the tank is located within your wall, maintenance can be challenging.
Pros
Unique design
Dual flush
Low flow
Cons
Difficult maintenance
Leaves behind lots of waste
---
6.

Toto MS920CEMFG#01 Washlet with Integrated Toilet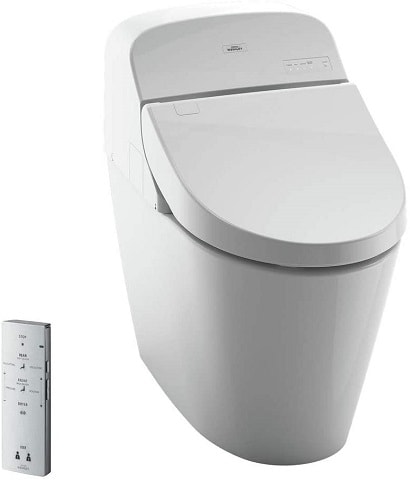 The Toto Washlet is a luxury unit that features an integrated toilet seat and a CEFIONTECT glaze that is designed to prevent waste and stains from sticking. The seat is fully heated and can be adjusted easily via a remote control.
Meanwhile, the lid opens and shuts automatically when sensors detect your presence, while a warm air dryer naturally neutralizes smells. It also features cleansing water jets that can be adjusted via 5 different settings.
Last, but not least, it is a dual flush unit. The toilet uses just 1.28 gallons for solid waste and .9 gallons for liquid waste. The materials are thoroughly removed by way of "tornado flush" technology.
Naturally, this is one of the most expensive products on our list. However, if you want a luxury toilet, this may be a strong contender.
Pros
Neutralizes smell
Cleansing jets
5 different settings
Tornado flush technology
Lid opens and shuts automatically
---
7.

TOTO MS814224CEFG#01 Promenade II Elongated Toilet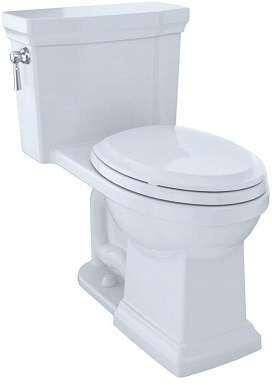 The Toto Promenade features a basic but classic design most will appreciate. It benefits from a cefiontect glaze that will prevent waste from getting stuck to the side of the bowl. The lid closes softly to avoid abrupt, startling sounds, while the tornado flush technology helps eliminate all waste on the first try. Finally, as a low flow toilet, it uses just 1.28 gallons of water per flush.
Unfortunately, many users complain that it is very loud. The porcelain quality is also questionable, with chips occurring frequently.
Pros
Coating prevents stains
Lid closes softly
Tornado flush
Low flow
Cons
Very loud
Chips occur frequently
---
8.

TOTO MW614574CEFG#01 Carlyle II One-Piece Toilet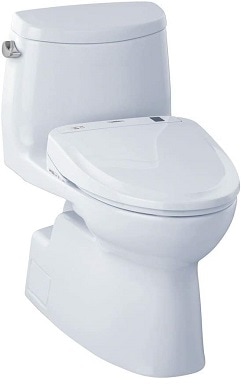 Finally, the Carlyle 2. This higher-end unit features both a toilet and a bidet. The bidet can be set to 5 different temperatures and flow patterns, while the seat also heats for your comfort. Finally, the toilet also has a heater that is designed to eliminate the odors that frequently build up in toilet bowls.
The unfortunate thing about the Carlyle 2 is that many of the details fall short of what we expect from a premium toilet. The bowl coating is largely ineffective, leading to the accumulation of stains. And though we typically appreciate low flow designs, the 1.28 gallons per flush provided here do not adequately remove waste.
To make matters worse, this is also one of the most expensive picks found on our list today. Consequently, you may prefer the enhanced utility of one of our other premium picks.
Pros
Bidet
Heater
Variety of settings
Odor elimination
Cons
Doesn't eliminate all waste
Poor coating
Very pricey
---
Buyer's Guide – Choosing the Best Toto Toilet
If you haven't decided on a toilet yet, read on for some buying consideration that may add clarity to your decision.
Integrated Toilet Seats
Integrated toilet seats are built directly into the unit—similar to the design you might find on an airplane. Though convenient, this feature does eliminate flexibility, disallowing you from easily selecting your seat.
Low-Flow
Low flow toilets are designed to use less water. While toilets of old could use up to 3 gallons of water per flush, some of the options on our list make do with only a third of that.
Not only do low flow toilets help out mother earth, but they also help you to significantly reduce your water bill.
Dual Flush
Some toilets further enhance the eco-friendly experience by providing you a dual flush nozzle. The dual flush nozzle allows you to tailor the amount of water used to the situation at hand.  For example, if you have liquid waste, you can use a lighter setting. Conversely, other situations may call for a little bit more firepower.
Wall Hung
One of the options on our list today was "wall-hung". This feature allows the toilet to be mounted directly to your wall, saving a little bit of space while also looking cool. The only downside is that the installation process tends to be difficult and costly.
Chrome Fixtures
Chrome is widely considered the most effective material for outfitting bathroom hardware. Chrome works well in bathrooms because it looks good, it's easy to clean, and it won't suffer much at that hands of moisture exposure. It is pricier than some alternative materials, but because the amount being used is limited, the ultimate expense is typically manageable.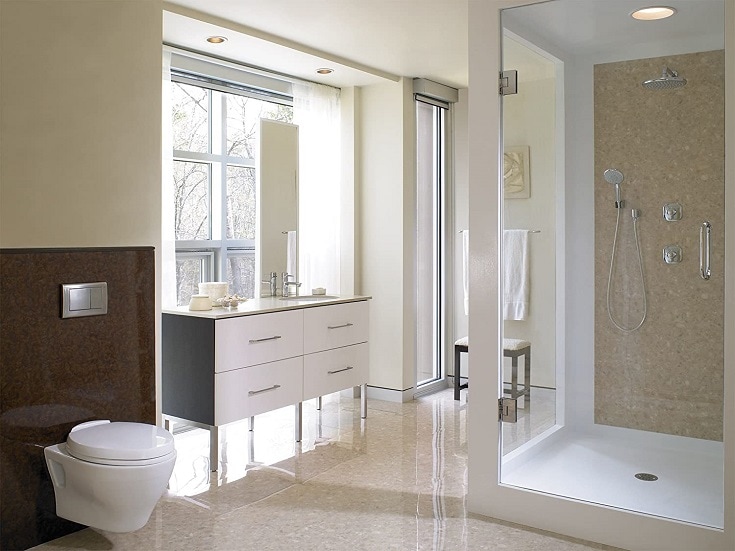 You can further improve savings by opting for fixtures that are chrome plated. For example, a nickel nozzle plated in chrome will be just as effective, but less expensive.
Self Flushing
Fortunately, there are now features out there that can spare you the unhygienic chore of touching your toilet immediately after use. Self-flushing toilets use sensors to determine when you've concluded your business.
This feature tends to only be found on higher-end units, but it is a great way to reduce the spread of germs and bacteria in your home.
Premium Features
Premium toilets often have features that the average consumer never would have even think of. For example, there is an option on our list that benefits from a heated seat that can be controlled via a wireless remote.
If you have an extravagant budget for this purchase, there are a wide range of luxury options available that can treat you to a truly luxurious experience. Just be prepared to pay for them. Luxury toilets often cost up to 10x the price of their standard counterparts.
Flush Valve Size
Though low flow toilets have a lot going for them, they aren't always associated with power. Naturally, we all want our toilets to be able to effectively handle even stubborn waste, but the less water your toilet uses, the harder this becomes.
A larger valve size will be able to help your toilet accomplish a great deal using only a limited amount of water.
Many of the Toto toilets on our list opt for a valve size of about 3-inches, which should be more than enough to remove most materials effectively.
Seat Height
For a long time, the standard height has been around 14-15 inches. However, the more we learn about ergonomics, the more we understand that higher seat heights are better suited to human health and comfort.
A general rule of thumb is that a seat height of 20-inches is optimal for the average person. However, anything between 17-20 should be adequate.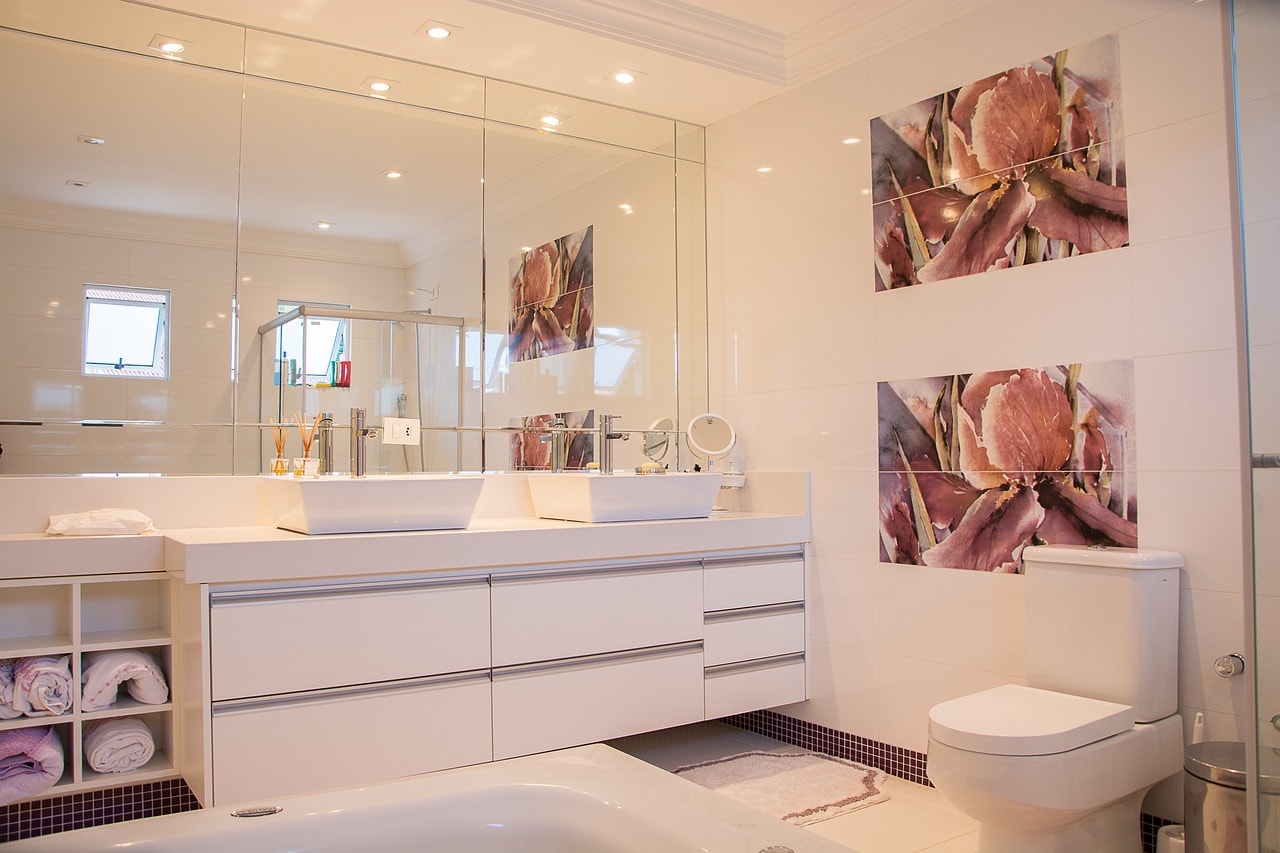 Soft Close Lid
The "soft close" feature is progressively becoming more popular. Using special hinges, some units can slow the momentum of your closing toilet seat, thus preventing the startling sound of colliding porcelain.
It's a relatively small feature in the long run, but it does add a touch of tranquility to your bathroom routine. As a luxury feature, soft close hinges tend to only be found on higher-end units, but if you look hard enough, you may be able to snag a decent deal on a product with this component.
Easy to Clean
Though pretty much all toilets are made of porcelain that isn't to say that they are all equally straightforward to clean. The quality of the finish will dictate how much waste sticks to the rim of the bowl, and how much effort you will need to exert to remove it.
Units that advertise a glossy, smooth finish, tend to be easier to clean, and typically accrue fewer stains, to begin with.
Bidet
Bidets clean your undercarriage with streams of water. It's a premium feature that budget toilets simply will not have. Some of the premium bidets on our list even featured multiple temperate/spray patterns. Hey, if you are going to get a luxury feature, you might as well go all out, right?
Unfortunately, this tends to only be available on luxury units. However, some toilets can have bidets added aftermarket for a lower price. If getting your hands on a bidet is important to you, there are a variety of ways to get it.
---
Conclusion
Now that you've read our Toto toilet reviews, it is time to make a buying decision. Do you want a high-quality toilet, even if it means spending a decent chunk of change to get it? If so, you'll probably really like our top choice, the Toto MS854114ELG#01 Eco Ultramax ADA One Piece Toilet.
However, value-minded buyers will also be pleased with their options. If you're in that camp, you'll probably really like our runner up, the TOTO CST744E#01 Eco Drake Two-Piece Toilet.
You might also like: