If you're sick of lugging around a heavy toolbox from project to project, but feel like there are no great alternatives, think again! A rolling tool bag is a great option if the hard case is killing your back and shoulders. Not only are the metal boxes heavy, but they're usually a mess of tools, nuts, bolts, and other accessories that you will waste time looking for.
This is why a lot of construction workers, carpenters, and handymen alike have switched to a softbox on wheels. They are easier to transport, have a pocket or sleeve for almost everything; plus, many of them come with extras that your regular box doesn't have.
If you have found this article, chances are you're on the hunt for just such an item, and we are here to help. Below, you will find reviews on the top ten rolling tool bags. We will discuss durability, organization, extra features, and more. We provided a buyer's guide with some additional shopping tips, as well.
If you're done breaking your back with a heavy toolbox, keeping reading below for the cure.
A Quick Comparison of Our Favorites
Rating
Image
Product
Details

Best Overall

DEWALT DGL571 Lighted Roller Tool

Telescoping handle
Rugged wheels
Holds large power tools
CHECK PRICE

Best Value

STANLEY FMST1-80148 Fat Max Rolling Bag

Rugged wheels
Telescoping handle
Large center compartment
CHECK PRICE

Premium Choice

Klein Tools 55452RTB Tool Bag

Telescoping handle
Rugged wheels
Bright interior
CHECK PRICE

XtremepowerUS 90700-XP Rolling Tool Bag

Water-resistant and durable material
Telescoping handle
Durable wheels
CHECK PRICE

Stark 20" Rolling Wide Mouth Tool Bag

Telescoping handle
Rugged wheels
Wide center opening
CHECK PRICE
The 10 Best Rolling Tool Bags – Reviews 2021
1.

DEWALT DGL571 Lighted Roller Tool – Best Overall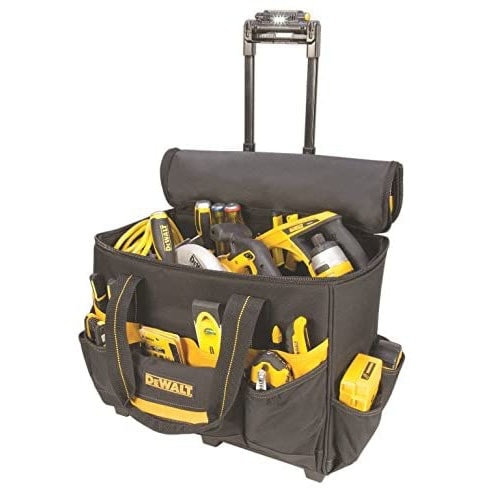 Our first pick is the DEWALT DGL571 Lighted Roller Tool. As the name suggests, this handy tool carrier comes equipped with an LED on the handle. Not only can it light your way when working in low light, but you can also point it down to help you find your items. Running on two AAA batteries, you will see the light lasts for a long time.
Besides the convenient light, the DEWALT bag is 18 inches and weighs approximately 10 pounds. It has heavy-duty treaded wheels for rough terrain, plus a telescoping handle so you won't have to bend. The wide top opening is closed with durable zippers, not to mention, it is magnetic so it will stick to the back handle.
You can store most large hand power-tools in the interior, but you also have 6 inner storage pockets and 11 exterior pockets. Be careful, though. The outer pockets don't have any flaps, so smaller items are better stored inside. Other than that, this rolling bag is made with durable material and custom LeatherCraft trim. The padded handle is available to use, as well. Overall, this is our top pick for a rolling tool bag.
Pros
LED light on the handle
Telescoping handle
Rugged wheels
Holds large power tools
Durable material and construction
Magnetic cover
Cons
No closure on outer pockets
---
2.

STANLEY Fat Max Rolling Bag – Best Value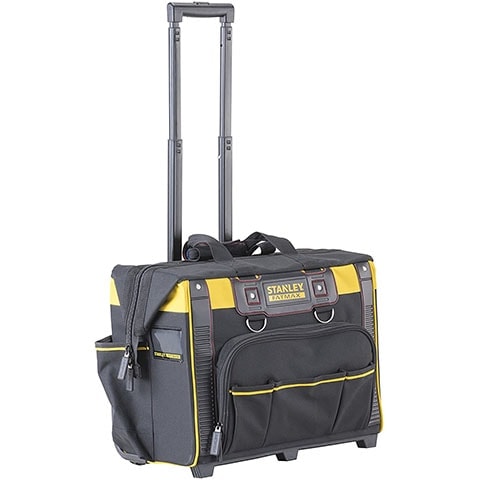 A good tool bag can be hard to find at an affordable price. Luckily, we found one that is both durable and handy. The STANLEY FMST1-80148 Fat Max Rolling Bag is a 19.69" x 14.17" x 16.14" case that is made from strong 600 Denier material. It has an extra-wide center opening that can hold all your handheld power tools. It also has several internal organizational pockets. What's more, this case comes with a removable divider to section off the center section, as well.
Besides the inner pockets, you will also find outer pockets for storing your small and most needed items. You have a big front compartment with a zipper closer, plus a few side organizers, too. As a bonus, you can attach your laptop bag to the handle. Speaking of the handle, it extends to a convenient height to keep you from stooping over while walking.
The STANLEY has dual wheels that are durable and make traveling over the uneven ground a breeze. The bag alone weighs just under 10 pounds, and its overall construction is durable and long-lasting. In fact, we believe this is the best rolling tool bag for the money. The only thing that keeps it out of our top spot, is it lacks the LED light our first pick had. If you are looking for something cost-friendly, however, this is the way to go.
Pros
Rugged wheels
Telescoping handle
Large center compartment
Laptop bag attachment
Removable center divider
---
3.

Klein Tools 55452RTB Tool Bag – Premium Choice
We thought it only fair that if we gave you the best affordable option, we should also share our favorite premium choice. The Klein Tools 55452RTB Tool Bag is a great rolling organizational tool for the professional contractor or handyman. This case features a reinforced metal frame that is hearty and durable. The water-resistant material will keep all your supplies and tools dry, plus the bag has been load tested up to 200 pounds.
The Klein bag has 6-inch wheels that will hold up on any type of terrain. It has a large center section for all your power tools and 24 extra pockets through the interior and exterior to keep all your hand tools and materials safe and easy to find. What's more, the interior of the bag is bright orange so you can see your items easier.
This bag has a long telescoping handle for convenience, plus a padded handle for grabbing the bag on the go. It has a molded kickplate to further protect your tools from the elements, and the frame allows the bag to stay open. The biggest drawback of this bag, as you can imagine, is the price. This rolling bag is quite a bit more expensive than the others. If you need a toolbox that is easy to transport but has the durability of a metal case, this is your best bet.
Pros
Water-resistant material with molded kick plate
Reinforced metal frame/ 200 load tested
Telescoping handle
Rugged wheels
Bright interior
---
4.

XtremepowerUS Rolling Tool Bag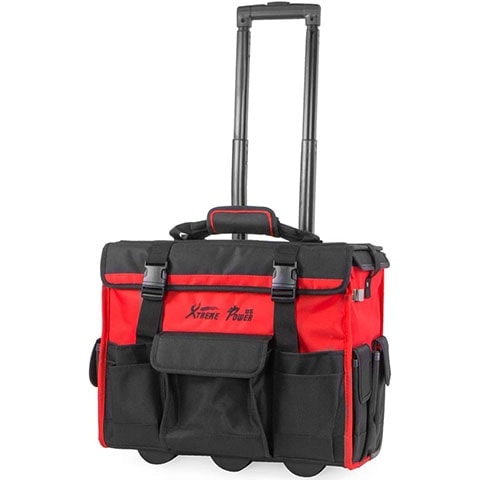 The XtremepowerUS 90700-XP Rolling Tool Bag is an 18-inch wide option that comes with a telescoping handle and durable dual wheels that will keep you from lugging around a heavy tool case. Made of 600 Denier polyester, the overall construction is rugged and water-resistant.
This option has ten internal pockets to keep your items organized. It also has nine outer compartments with five cover flaps that will keep smaller nuts and bolts from falling out. The center section is closed with a durable zipper or pull spring in case you are transporting something larger than normal. Unfortunately, even with the pull strings, this option is better suited for smaller power tools.
Other than that, the XtremepowerUS bag comes with a padded carry handle and two external tape measure loops. It also has three bottom feet, so the bottom of your bag won't wear from being put on the floor. The only other drawback is it weighs 13.25 pounds on its own. Even when rolling, this can get heavy quickly when you add all your other tools.
Pros
Water-resistant and durable material
Telescoping handle
Durable wheels
Bottom plastic feet
External tape measure loops
Cons
Heavy
Made for smaller power tools
---
5.

Stark 20″ Rolling Wide Mouth Tool Bag
The Stark 20" Rolling Wide Mouth Tool Bag is a good middle-of-the-road option for professionals and those that need a good place to keep their tools. This bag has a 20-inch wide mouth for store all your power tools including the larger-sized items. The extra-wide mouth makes it easy to get the items in and out, but it also comes with a divider if you have smaller items to transport.
Along with the long telescoping handle, the Stark has two heavy-duty wheels for moving the toolbox without having to lift it. It has three plastic feet on the bottom to keep the bottom of your bag from wearing out, and it's made with thick, ballistic 600 Denier material. Besides the large center opening, you also have a total of 22 pockets for storage. The 14 internal organizers are great for hand tools and small items, however, the 8 on the outside are shallow without flaps, so you are likely to lose items if not careful.
This bag is another option that is heavy at 15.5-pounds. Although it has a carry handle, it is better for rolling smaller (or fewer) items if back or shoulder problems are an issue. Not only that, but the zipper closure is not as heavy-duty as we would like. It has been known to separate. That being said, you will find pull-strings along with two plastic buckles to close up the center opening.
Pros
Durable material
Bottom plastic feet
Telescoping handle
Rugged wheels
Wide center opening
Cons
Heavy
The zipper is not durable
Shallow outer pockets
---
6.

Husky Contractor's Rolling Tool Tote Bag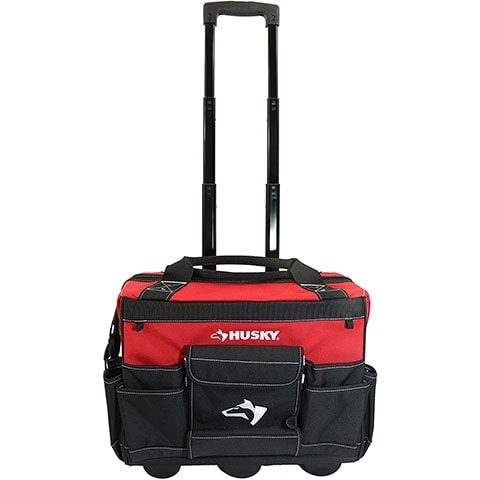 If you need a tool bag with serious rugged wheels, the Husky GP-43196N13 Contractor's Rolling Tool Tote Bag is a good option for you. This is an 18-inch option that is made with 600 Denier polyester that is designed to be weather-resistant. Unfortunately, that is not the case. If you are working out in the elements, your tools and materials are likely to get wet. That being said, this case has a reinforced bottom, plus three plastic feet. Just keep in mind, the plastic make-up is also not durable. They will wear and break over time.
This bag has two tape measure holders and a business card holder on top of the 7 interior pockets and 11 inners. The large center section is big enough for large hand-held power tools, as well. You will also find a top carry handle along with the telescoping handle. Be advised, however, the pull handle is not durable. If your load is heavy enough, it can bend and break. Not only that, but it's also not as long as others.
The Husky bag has a dual zipper closure that is durable and doesn't snag. The overall construction is decent, and it will help your transport your tools and keep them organized. If you w3ork indoors the majority of the time and do not need a lot of extra-heavy equipment, this is a decent rolling case for the price.
Pros
Rugged wheels
Reinforced bottom
Tape measure and business card holder
Dual zippers
Cons
Not weather-resistant
The telescoping handle is not durable
Plastic feet are not durable
---
7.

Crescent Tradesman Rolling Tool Bag
The Crescent CTBR1850 Tradesman Rolling Tool Bag is an 18-inch case that has a 200-pound carrying capacity. It's made with 1680 Denier ballistic weave nylon for durability, plus it has a two-way magnetic lid. This makes it easy to look through your tools without the lid falling. As is customary with these toolboxes, you will also find a long telescoping handle to help you roll the bag without having to bend over.
Although the material of this option is durable, it does leak moisture easily. Not only that, but the bottom will also sag if the weight is too much. At 18 pounds, the case is heavy on its own, so adding more power tools can cause it to lose its shape. What's worse, the wheels on the Crescent are not durable under extreme weight, either.
This rolling tool bag has 35 pockets to help organize all your items. There are 17 interior pockets along with a large center space, plus it has 8 exterior pockets. The inside of the bag is also a bright orange color to make it easier to find your tools. Keep in mind, however, the center section is better with smaller tools. Additionally, the carry handle on the top is not comfortable to use.
Pros
Bright orange interior
Two-way magnetic lid
Telescoping handle
Durable material
Cons
Material leaks
Bottom bows with weight
Wheels are not durable
Not for large /heavy power tools
---
8.

CLC Custom Leathercraft L258 Roller Tool Bag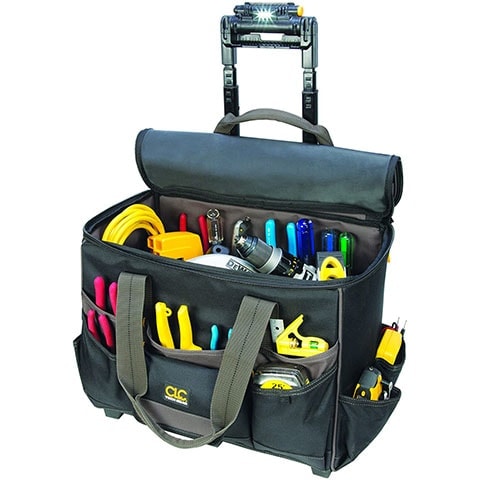 In the number eight spot, we have the CLC Custom Leathercraft L258 Roller Tool Bag. This is a smaller 17-inch tool case that has an adjustable LED light on the handle. While this is convenient for working in low light, it's important to note the two AAA batteries don't last long with this light. Be that as it may, if you don't mind changing batteries, it can be useful.
The CLC bag has a small interior section that is good for someone that doesn't need a lot of large power tools. It also has 6 inner pockets and 11 outer sections to help you organize your items. Unfortunately, both the interior and exterior pockets are shallow, so they don't hold items well. Also, you should note that the telescoping handle is shorter on this model than it is on others.
On the other hand, you will find two 3.8-inch wheels that are durable. The same cannot be said for the zipper closure, however. It tends to stick and separate right away. Also, the magnetic lid doesn't work well, either. To end on a brighter note, the overall material is durable and will keep the worst of the elements out of your bag.
Pros
Tough material
Durable wheels
LED light
Cons
Not for large tools
The telescoping handle is short
Pockets are shallow
The zipper is not durable
---
9.

ToughBuilt Rolling Bag & Belt Comb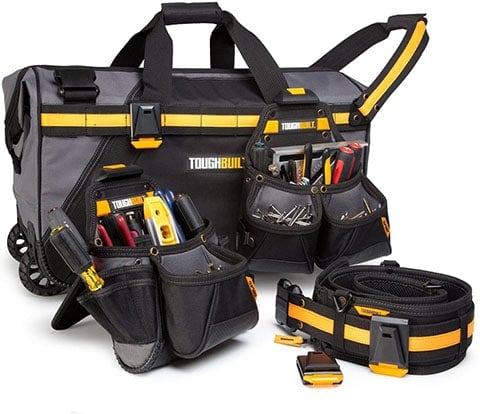 In the second to last spot, we have the ToughBuilt Rolling Bag & Belt Combo. This is a 24-inch rolling bag that has side attachments that can be unclipped and attached to a tool belt. The entire structure has a rigid plastic lining to keep the pieces in the right shape, plus the outer pockets are plastic lined, as well. Unfortunately, the outer pockets are not durable and shallow.
Something else to consider with this bag is it doesn't have a telescoping handle. Instead, you have a top carry handle or a pull loop. If you are looking to avoid bending, this is not going to be a good pick. What's more, the buckles that attach the carpenter's pouch and builder's pouch are not durable.
The ToughBuilt bag has rubber feet on the bottom to keep your bag off the floor. That being said, the material is not water-resistant as it claims. What's more, the overall construction is not great. The internal and external flex pockets rip, plus the center section is too small for even the basic hand tools.
Pros
Rigid plastic lining
Rubber bottom feet
Removable pouches
Cons
Construction is not durable
Not water-resistant
Buckles are not flimsy
Pockets rip
No telescoping handle
---
10.

DURHAND 3pcs Rolling Mobile Tool Bag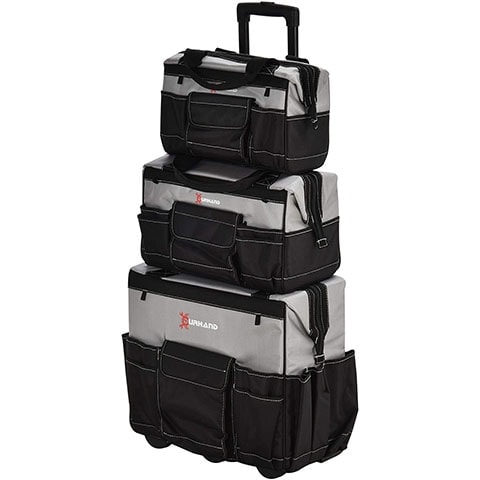 Our final option is the DURHAND 3pcs Rolling Mobile Tool Bag. This is a stackable option that has an 18-inch wide bottom case, a 16.25-inch middle case, and a 14.25-inch top case. While the bottom is attached to the telescoping handle, the other three are secured to the handle by a strap. Unfortunately, the strap is not that durable, and it can break easily.
Another detail of this option is the bottom bag has a top weight capacity of 22 pounds. The middle and top have an 18 and 11-pound carry ability respectively. Needless to say, this is not a great option for a lot of heavy tools. Also, there are no dividers for the center section, and there are few interior pockets. While it does have external organizational sections, they are either too tight or too shallow. You should also note the telescoping handle and wheels are not of good quality.
The DURHAND is made of high-density oxford fabric that is rugged enough for the job site. It is not water-resistant, however. Additionally, the bottom plastic feet are not durable. Overall, this is our least favorite option for a rolling tool case.
Pros
Durable fabric
Stackable cases
Cons
The telescoping handle is not durable
Wheels are flimsy
Stackable case straps break
Material is not water-resistant
Low carry capacity
---
Buyer's Guide
A good toolbox will have several functions that make it desirable as a job site aid. When we are talking about a rolling bag, there are a few different features you need to keep in mind to find a good brand that will have all the versatility and durability you need.
The Benefits of a Rolling Tool Bag
A rolling tool bag has more benefits for you than just the obvious. In this section below, we will look at the different features of this type of case that will shed light on why this case is a good option to go with.
Less Strain on The Body
This is one of the more obvious benefits, but also probably the most important. Approximately 30% of construction workers will experience a back injury during their careers. If you have ever dealt with an injury to your spine, you know firsthand how painful it can be and how long the recovery time can take.
Whether you have recovered from an injury or you have escaped it so far, there is no reason to tempt fate by pushing the boundaries. Toolboxes can weigh over 100 pounds with just your basic tools. Toting this case day in and day out and can play havoc with your body and add unnecessary strain. A rolling bag, however, can eliminate the extra stress, plus they reduce the amount of bending you need to do.
Organization
A typical toolbox has a bottom open compartment plus a removable top shelf that usually has some kind of dividers. Unfortunately, this doesn't leave a lot of room for organization. This is especially true if you have a lot of smaller items like nails, bolts, and screws rolling around in the box.
This is another benefit of a rolling bag. These cases are typically made of material instead of metal or plastic. They have various interior and exterior pockets that are great for giving each of your hand tools a home. Plus, it will allow you to keep your smaller accessories in one place, too.
Time Saver
Carrying on from the last point, having all of your tools and hardware in one place saves time. No longer will you be bent over the box searching for a pencil or a specific bolt. As with most professions, time is money. Spending as little time as possible to search through your bag will help you keep up a good pace while doing a project.
Tool Protection
Power tools and even a lot of hand tools and hardware are not cheap. Having them banging around inside your toolbox can damage your items. This is ec=ven more true of delicate items such as safety goggles. Not only that, but many workers on the job like to toss in their phones or tablets while not working, but you run the risk of having your screwdriver go through the screen.
Shopping Tips
All of the benefits above don't mean much if you don't have the right rolling tool bag. You must know what features to look for that will benefit you the greatest.
Size and Carry Capacity: The average rolling bag is between 17 and 24 inches. What size you need will depend on the tools you need. If you need larger power tools, make sure you find a bag where it will fit in easily, and the bag has the carrying capacity to contain it without straining the material.
Telescoping Handle: A rolling bag is not effective if you don't have an adjustable handle. That being said, the handle should be long enough that you don't have to stoop down to pull it along behind you. What's more, look for a bag where the handle is durable and won't bend under the weight of your bag.
Wheels: Depending on where you typically work will determine the ruggedness of the wheels you need. First off, you should make sure they can glide easily under the weight of the bag. Secondly, if you will be going over rough terrain, look for larger wheels that have treads to help keep the tool case stable while in motion.
Pockets: As we mentioned above, the pockets and different sections in these bags make organizing easy. You will find some bags are more appropriate for different professions, but as a general rule, look for exterior pockets that have flaps or zippers. If not, they should (at the least) be deep so items won't fall out.
Construction: The overall construction is also important. Durable fabrics like Denier polyester are good, but a reinforced frame is also important especially if you are transporting heavy tools. What's more, plastic or rubber bottom feet will keep your bag off the ground and reduce wear.
Extras: There are many other extras that you can choose from. For example, LED lights are convenient for working in low light. Laptop case attachments are handy, as well as, business card holders. Keep these, and other special items you carry, in mind when looking for the right rolling bag.

Conclusion
We hope you have enjoyed our reviews on the ten best rolling bags. In our opinion, the DEWALT DGL571 Lighted Roller Tool is the best option available. It has a great carry capacity, wide opening, and various pockets for organization. Plus, you can't beat the long-lasting LED light.
If you need something more friendly on your wallet, we suggest trying the STANLEY FMST1-80148 Fat Max Rolling Bag. This is also an option that is capable of carrying all your essential power tools, organizing your hand tools, and allowing you to smoothly pull your bag through any terrain you may need to navigate.
We also have a guide on tool-backpacks found here.

Pete has been working in the trades since high school, where he first developed a passion for woodworking. Over the years, he has developed a keen interest in a wide variety of DIY projects around the home. Fascinated by all sort of tools, Pete loves reading and writing about all the latest gadgets and accessories that hit the market. His other interests include astronomy, hiking, and fishing.
As the founder of House Grail, David's primary goal is to help consumers make educated decisions about DIY projects at home, in the garage, and in the garden.