10 Best Toy Organizers and Containers in 2023 – Reviews & Top Picks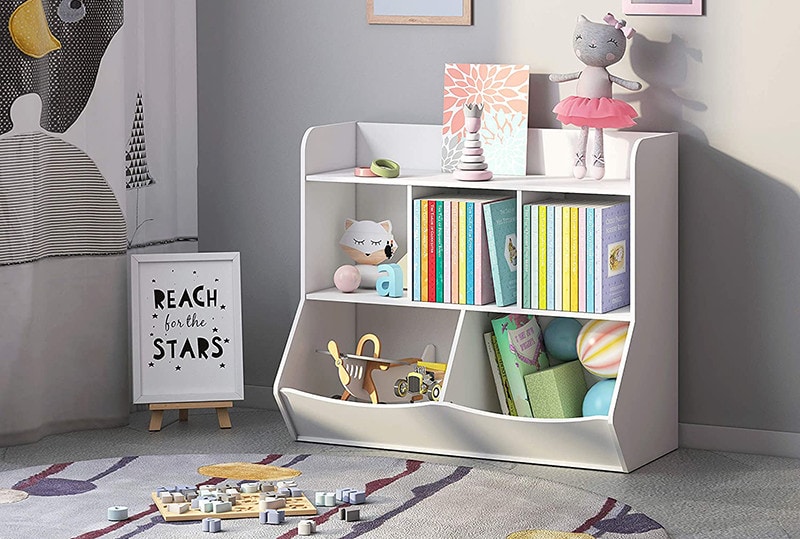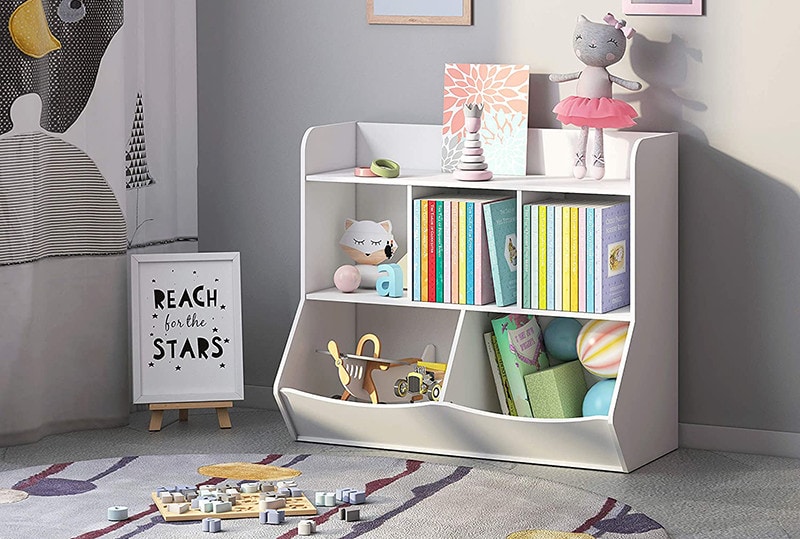 It's easy to get overwhelmed when your children have tons of toys. You don't have to look at your messy room every day with toys strewn about every inch of it. Instead, organize it with bins, drawers, and toy boxes for toys of all sizes and shapes. It can seem overwhelming if you don't know where or how to begin. These organizers will help you organize your children's toys so that their rooms stay organized and easy to walk through each day.

A Quick Comparison of Our Favorites in 2023
Rating
Image
Product
Details

Large Toy Organizer/Cubby

Space-saving
Multiple compartments
Multiple compartments
CHECK PRICE

Sterilite 15 Quart Plastic Bins

Easy to set up
Good for all toys
Snaps shut for easy storage
CHECK PRICE

Open Wooden Milk Crate Bins

Nice design
Great for decor
Simple storage option
CHECK PRICE

Plastic Tubs/Buckets

Affordable
Readily available
Great for large/small toys
CHECK PRICE

KidKraft Wooden Bookcase and Reading Nook

Great for small toys/dolls
Perfect for any decor
Has cushions & adhesive strips
CHECK PRICE
The 10 Best Toy Organizers and Containers
1.

Large Toy Organizer/Cubby – Best Overall
The best overall toy organizer and container is this large white toy organizer/storage cubby from Amazon. The bins are very open so you can easily see inside, but the bottom is angled to keep your children's toys inside. They're ideal for organizing and clearing clutter in a child's bedroom, nearby entryways, or other areas of your home. There are 2 bins, 3 storage cubbies, and a shelf at the top that can hold over 20 pounds. It also matches well with existing home decor. This bin requires adult assembly.
Pros
Space-saving
Multiple compartments
Shelf on the top
---
2.

Sterilite 15 Quart Plastic Bins – Best Value
Need somewhere to store those smaller toys? Well, look no further. These plastic bins are great for storing Legos, dolls and accessories, and even outdoor toys. They can easily be hidden under beds to store your children's toys and extra clothes if needed. These transparent plastic bins with clear tops can be snapped shut with a lid and you can stack more than one on top of each other. Although they aren't the most aesthetic, they are affordable which makes them the best toy organizer and containers for the money.
Pros
Easy to set up
Good for all toys
Snaps shut for easy storage
---
3.

Open Wooden Milk Crate Bins – Premium Choice
This charming and classic bin has a rustic appearance and makes a great addition to any children's room or living room. This sturdy storage bin is made from wood with a natural grain finish. It will complement their room decor and provide ample storage space for toys, clothes, extra pillows, and other items. The bin can be double or triple-stacked to save space or used on its own. This square storage crate is easy to transport with its double cutout handles. The downside is that it's pricey, considering that it's smaller than the other storage bins we've looked at so far, especially if you buy multiples. That's why it's listed as our premium choice.
Pros
Nice design
Great for decor
Simple storage option
---
4.

Plastic Tubs/Buckets
Though these clear tubs are traditionally used for chilling those cold drinks at the BBQ, they're also great for storing large and small children's toys. They're inexpensive and you can tuck them neatly away in the corner of the room or next to the dresser, but they can also be used to store smaller toys and display them well. The downside is that they may take up more space since they aren't stackable.
Pros
Affordable
Readily available
Great for large/small toys
---
5.

KidKraft Wooden Bookcase and Reading Nook
Do your children love to read? If so, this bookcase is a great way to store all your books and provide a safe place for your children to read with. It's fairly easy to assemble and comes in three colors. The bookcase also has six places to store books and toys, with two extra tall compartments to hold larger picture books. The shelf features three cushions with self-adhesive strips that provide a secure and cozy reading spot. It's great for storing and displaying stuffed animals but may not be big enough to store large toys.
Pros
Great for small toys/dolls
Perfect for any decor
Has cushions & adhesive strips
---
6.

Hiyagon Large Canvas Baskets
These large canvas baskets by Hiyagon are great for toys of all sizes. They're also affordable and easy to use in different parts of your home. The baskets can be used as a way to organize toys, game consoles, seasonal clothes, and linens. The lightweight, collapsible design is less than one pound and has two handles. It also comes in many kid-friendly colors and prints. The large opening makes it easy for younger children to put their toys in without much effort. The downside is that these baskets can be flimsy, so they may not work for storing large or heavy toys.
Pros
Great for any decor
Lightweight
Easy to use
---
7.

Simple Houseware Stuffed Animal Storage Hammock Set
This storage hammock is easy to attach and can help your children keep their toys off the floor. This lightweight, innovative design will complement any decor and can fit toy trucks, dolls, stuffed animals, and other small toys. It also comes with mounting hook hardware. These hammocks are well-reviewed by parents who were impressed by how durable they are and how many stuffies they can hold. The only downside is that they may not be suitable for storing heavy toys in.
Pros
Easy to set up
Great design
Durable material
---
8.

Humble Crew, Natural/Primary Toy Storage Organizer for Kids with 12 Plastic Bins
This toy organizer is simple to assemble and holds tons of toys, and it's very affordable. The organizer measures about 34 inches wide, 11 inches deep, and has a total of four shelves available for storage. The set includes a dozen sturdy plastic bins in both standard and large sizes. This organizer is super easy to use. Each individual bin can be easily taken off the shelf to make more room. And if you love labels, you can simply stick them directly to the bin to identify which toys belong where–for easy organization! The downside is that it may take up a lot of space.
Pros
Great for big toys
Stackable
Affordable
---
9.

MyThingLogic Sport Equipment Organizer
This organizer is made specifically for sports equipment but works well as a toy organizer. The three-level storage rack is made with durable steel-coated frames and elastic straps. It also has hooks that can be used to hang and three bins in various sizes. The organizer features several areas large enough to store Legos, playhouses, and any other small or medium-sized toys. The shelves can hold larger items such as helmets and balls. The only downside is that it's a bit pricey.
Pros
Stackable organizer
Easy to use
Good for large/small toys
---
10.

Delta Children Toy Box
The Delta Children's toy box is a great option for traditional storage. The toy box is made from solid wood and features a safety hinge that prevents the top from opening too fast for little hands. The convenient handles on the sides of the box allow for easy movement from one room to the next. Delta Children sells matching furniture and bookshelves for complete sets. The only downside is that it requires assembly.
Pros
Made from solid wood
Easy to fit in small corners
Convenient handles

Tips for Organizing Toys
Here are some tips for organizing your kids' toys. These tips will help you choose the right storage containers as well as give you an idea of how many you need to purchase.
Store Similar Toys Together
It is a simple and effective method to organize toys together in one space. So, this means grouping building, imagination, education toys, blocks, and other types of toys. You can also separate dolls, game consoles, larger toys, as well as puzzles and other small-piece items.
Try Switching Out the Toys Every So Often
For younger children who have a tendency to dump all their toys on the ground at once, a regular toy rotation is a good option. This is also helpful if you need to reduce the number of toys you have but don't want them to dump out everywhere. It also works for parents and children who feel overwhelmed by cleaning up toys from their homes. There are many ways to organize a toy collection. For example, you can rotate only small toys or ones that don't receive a lot of attention.
Pitch Some of Those Toys
Prevent kids' toys from taking over your entire house. You can do this by simply limiting how many toys your children have at any given time. Here are some ways to do it:
Buy no toys for 2-3 months
Toss toys with missing parts, broken toys, etc.
Donate toys that are outgrown or no more used but still in good condition.
For toys that can be stored away for later use, place them in the attic or basement
Reduce the number of items included in a set. So, if 80 blocks come in a set, remove 50 and store them.
Buy Multiple Toy Organizer Bins
Buy bins and shelves instead of smaller baskets. Large bins and baskets are great for keeping similar items together. They also encourage children to choose one or two toys at a time instead of dumping them all on the floor at once. You can find shelves and baskets in many different sizes, shapes, and materials.
Never Place Too Many Toys in a Single Container
When young children can't reach the toys they desire to play with, they'll often pull everything off the shelves or throw out of the basket in the rush to find the right toy. This can be dangerous especially with heavy toys. So, to avoid this, it's a good idea to reduce the number of toys or change the size of storage containers if you notice that they are full to the brim.
Make a Place For Everything
The best way to organize your kids' toys is to make sure that every toy can be found when it's not being used. This will make it easier to pack away toys because the kids will know where they are. Depending on your home's size and layout, toy storage options may be located in the children's bedroom, the living room, or the basement, as well as in a closet and/or separate playroom.

Wrapping Things Up
Organizing your children's toys doesn't have to be the time-sucking task that you think, and there are so many different ways that you can go about it. Our choice for best overall toy organizer is the UTEX Toy Storage Organizer because of the shelves and cubbies. If you are on a budget, definitely consider Sterilite's 15 Quart Plastic Bins. It is simple but useful! For people who can spend a bit more on a storage unit for children's toys, MPI WOOD's Large Crate is our premium choice. Happy organizing!
See also: