Husqvarna ST224P Snow Blower Review 2023 – Pros, Cons, & Verdict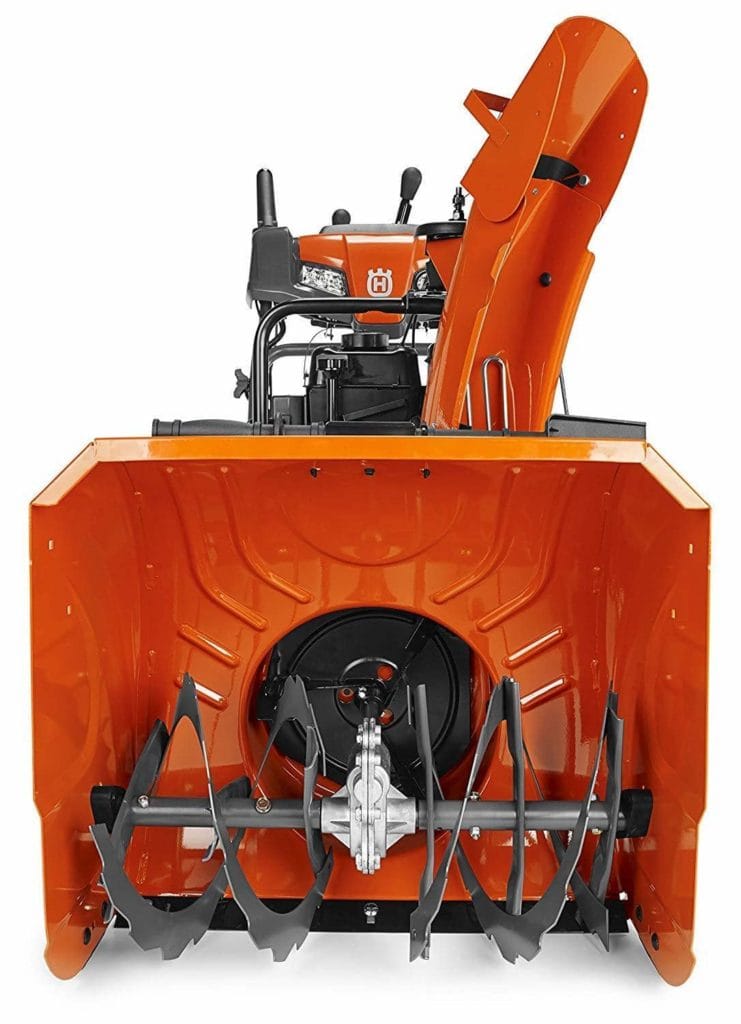 We give the Husqvarna ST224P Snow Blower a rating of 4.4 out of 5 stars. 
Build Quality: 4.5/5
Power: 4.5/5
Warranty: 4.4/5
Features: 4.4/5
Price: 4.1/5
Review Summary
The ST224P from Husqvarna is for homeowners with large amounts of hard surfaces to keep free of snow. It offers excellent power and ease of handling with multiple speeds and power steering. Thoughtful design in its lighting make it better than most illuminating work areas in low visibility. Husqvarna brings a reputation for quality to all their products. Homeowners looking for a capable machine who live in areas that receive a mix of snow types and only the occasional extreme snow events (18"+) will find this blower more than meets their needs.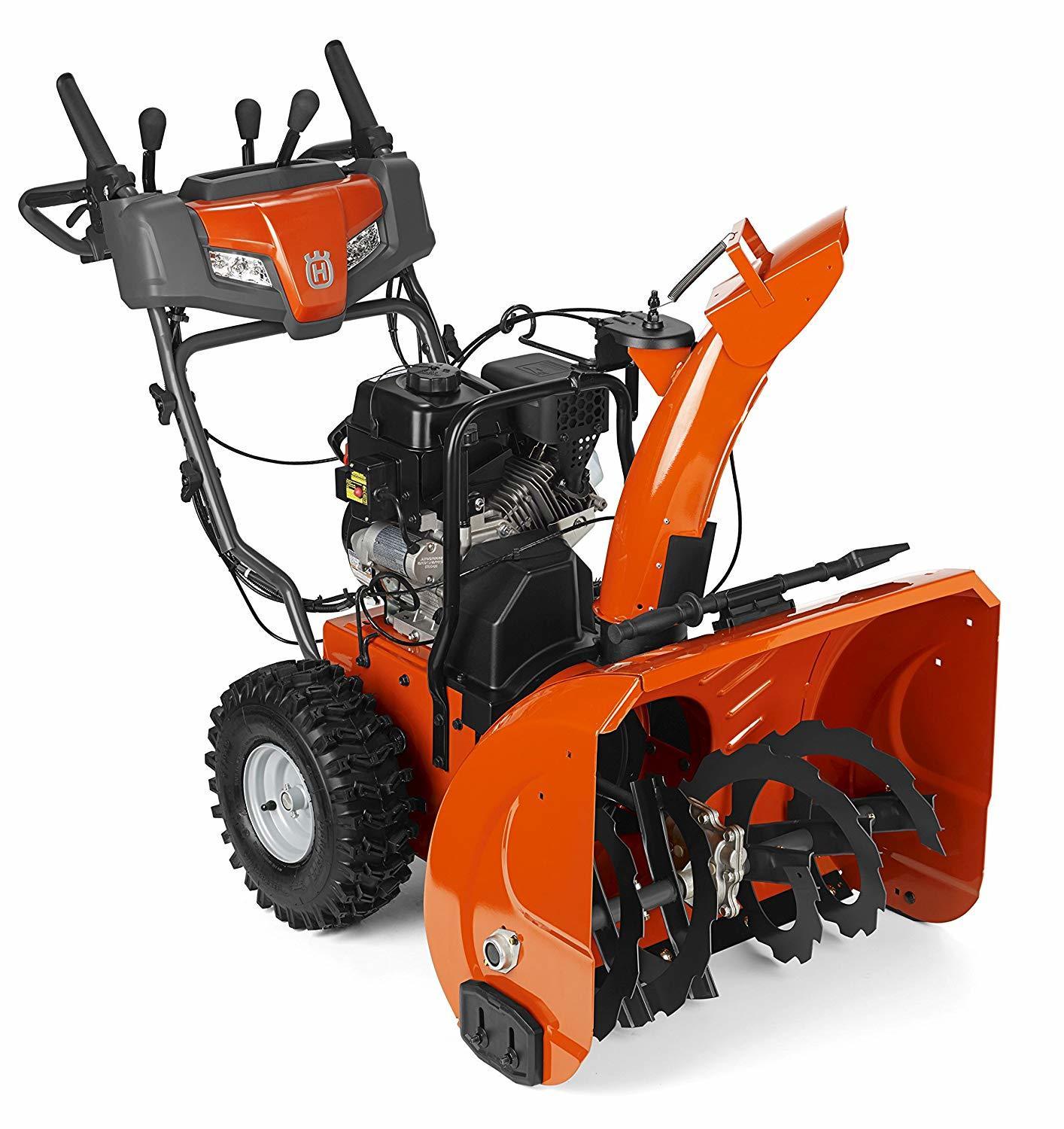 Husqvarna ST224P – A Quick Look
Pros
Power steering
Unique 4-position handle adjustment for best operator fit
Cons
Will struggle with regular snowfalls over 18"
Specifications
Brand name: Husqvarna
Model: ST224P
Product dry weight: 198.6 lbs.
Engine: 208 cc, 6.5 hp, two-cycle, CARB & EPA compliant
Electric start: Yes, plug into outlet first
Transmission, Speeds FWD/REV: Friction Disk, 6/1
Stages: Two
Auger style: Ribbon
Fuel: Regular unleaded, max ethanol content 10%
Clearing width: 24"
Snow depth capacity: 6 – 18"
Sound level at operator: 88.4 dB(A)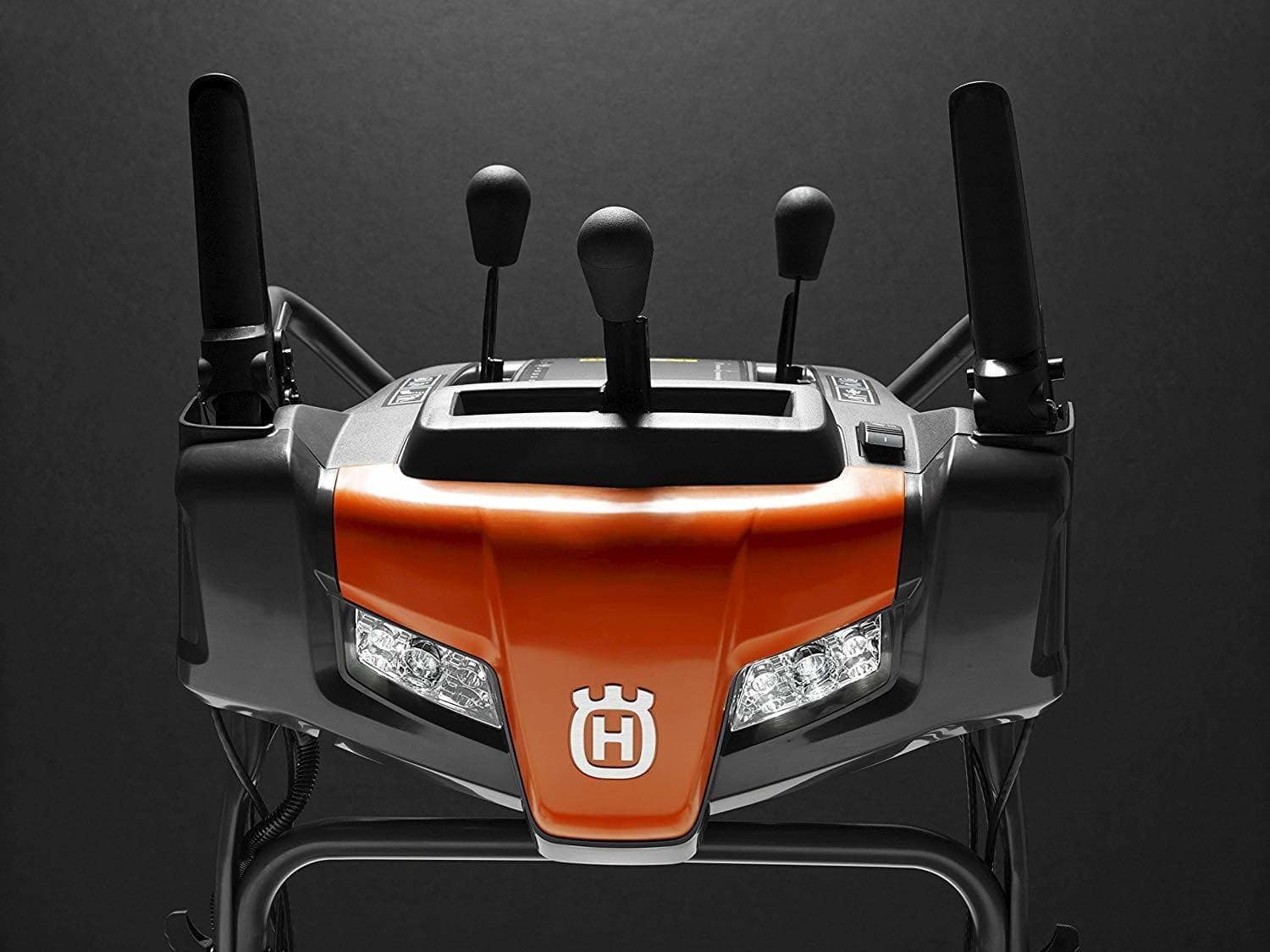 Reasonable sound levels
For people who live in snow country, there is something peculiarly soothing about the sound of a snowblower in use, except at 3 AM. The ST224P is about as loud as a regular lawnmower, so it should not bother neighbors when performing its snow clearing duties. Still, users should try to run it at sleep-friendly times.
Power steering
The ST224P weighs 198.6 pounds and is self-propelled via its auger. Power steering helps the user by reducing the effort required to maneuver in deeper snow. While not specifically ergonomic, the power steering does contribute to reducing user fatigue.
Find your best fit
The four-position handle adjustment is easy to use and allows users of different heights to find the position that compliments their size. Being able to adapt a machine to suit your stature makes it easier to use, provides greater control, and reduces fatigue. This is a nice feature compared to alternatives with single or no adjustment capabilities.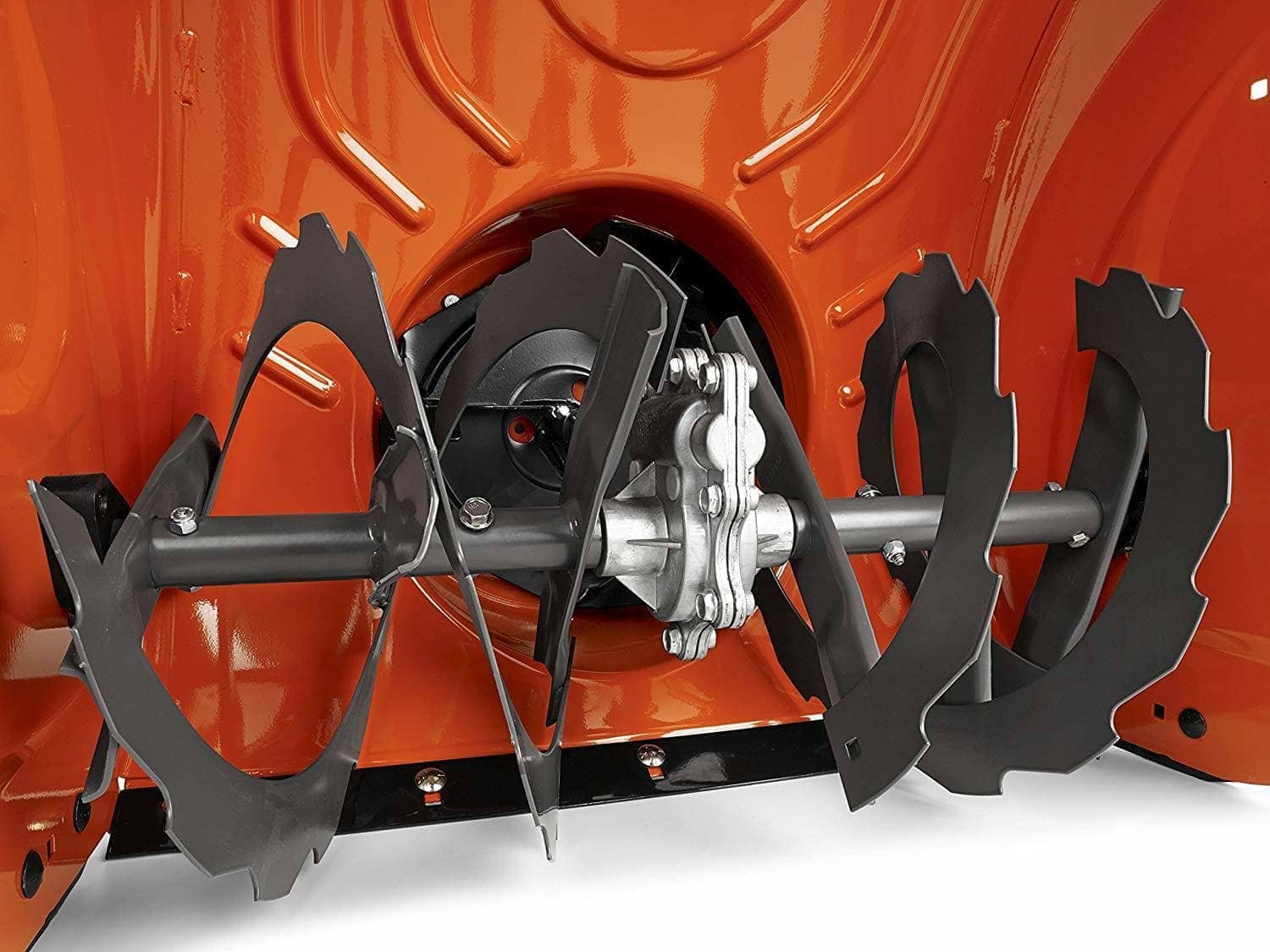 FAQ
Will this snow blower work on steep driveways or should I get a tracked model?
Most snow blowers with augers are "self-propelled," meaning that the rotation of the auger pulls the machine forward. So, the ST224P should be able to handle a fairly steep driveway without any problem. If you are clearing your driveway with an auger blower now, you will be fine with this Husqvarna model.
What do I need to do to store the blower?
Leaving gas in your blower will "gum up" the carberator and gas lines. It is best to run it until it runs out of gas. If you cannot do this, add a quality fuel stabilizer and run for about 10 minutes.
What can you tell me about the heated grips? Do they work?
There are mixed reactions to this feature. Unfortunately, the majority of users report that the handles do not get very warm, so it is not much help, especially through heavy gloves or mittens. That is a shame because it is a great idea!
General user impressions
Survey says, "Love my Husqvarna ST224P." When it comes to this snow blower, users are very happy with it and its performance. Let's look into their main areas of satisfaction.
Reliability and ease of starting are frequently mentioned. The electric start option works very well, and the engine controls let the user adjust the idle, so the engine runs smoothly. There is also a lever to turn the idle down so you can let the snowblower stand at idle while you tackle another task like shoveling a tight spot rather than turning it off completely.
Ease of operation shows up next on the list. Users are very satisfied with their ability to maneuver into tight areas, and the power steering allows them to quickly take care of whatever Mother Nature brought them in her latest snowfall.
The quality of the build and the inclusion of several thoughtful features are also reported by users. Fit and finish is excellent and materials are generally strong with the exception of the control panel which is on the flimsy side. An extended oil fill tube and oil drain plug simplify the task of keeping the oil topped up and speed changes.
Where does the Husqvarna ST224P fail to meet user expectations? Owner dissatisfaction seems to be all over the map with few consistent complaints to report.
One user is upset that the blower doesn't come with an extension cord to connect the electric start to an outlet. When buying a cord for your ST224, buy a low-temperature model that remains flexible in low temperatures.
Another says it won't handle his New England snows. The manual and specifications list the maximum snow clearing depth as 18". New England frequently gets snowfall amounts heavier than 18" so users need to get a machine that can handle their situation. Many users report the ST224P going through deeper snows but they did not need to do it regularly.
A couple of users report having difficulty receiving warranty service when their ST224Ps wouldn't start properly. Both report looking up Husqvarna dealers on the company's website, only to find out that these locations don't provide on-site warranty repair. Be sure there is a convenient service center for any power tools you buy in case repairs, service, or warranty work is required.
Final Verdict
The power steering, four-position handle adjustment, and power of the Husqvarna ST224P make this snow blower a great choice for homeowners with a lot of area to clear whether driveways or sidewalks. It can easily handle all types of snow and is rated to snow depths of up to 18". Add in Husqvarna's quality and user-friendly features and the ST224P will move your snow for years to come.
Related snowblower reviews you may be interested in: