8 Best Water Ionizers of 2023 – Reviews & Top Picks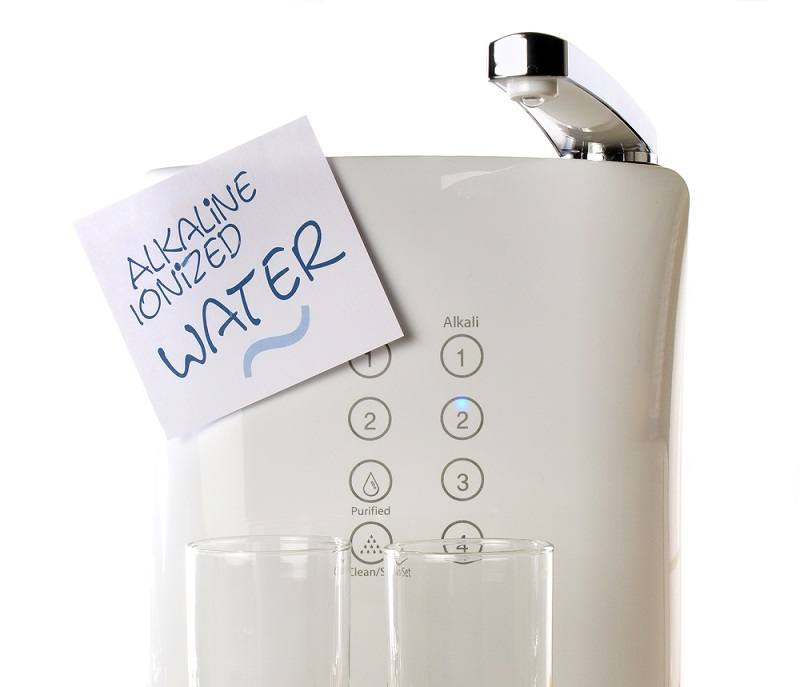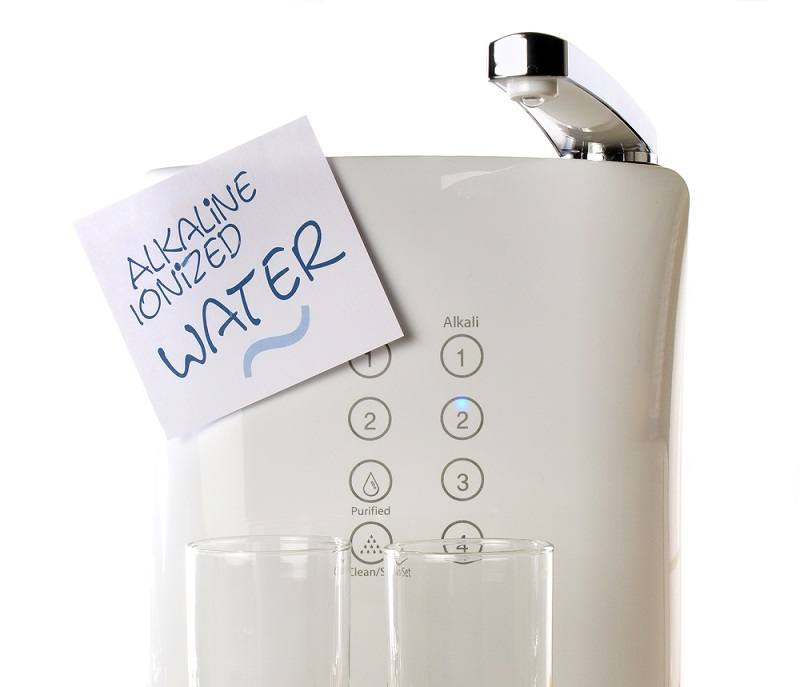 Developed in Japan in support of the alkaline diet, water ionizers can turn the most boring and unpleasant-tasting tap water into a source of delicious, health-supporting alkaline water.
Based on the idea that a highly acidic diet of processed meats, refined sugars, and high-fat dairy products imbalances the body, proponents of alkaline diets seek to balance their natural nutrient production with highly alkaline foods and drinks. While this generally takes the form of more fruits, vegetables, and whole grains, purified and alkalinized water has become a popular and great-tasting supplement in these diets.
Whether you're looking to install a water ionizer for its taste or health benefits, investing in a system with robust purifying features will always pay great dividends. We've tested dozens of water purifiers and ionizers in our homes to bring you this list of reviews for the best water ionizers, so read on to discover everything you need to know about this latest trend in drinking water!
---
A Quick Comparison of Our Favorites (2023)
Rating
Image
Product
Details

Best Overall

Aqua Ionizer Deluxe AWL-7000 Water Ionizer

One-touch versatility
Long-lasting ionizing plates
Built-in 1-year filter
CHECK PRICE

Best Value

Pure Hydration PH127 Alkaline Water Ionizer

Easy to install
Excellent filtration system
Simple one-touch dispensing operation
CHECK PRICE

Premium Choice

Bawell 2195 Platinum Alkaline Water Ionizer

Full lifetime warranty
Produces pH ranges from 3.0 to 12.0
Two-stage internal filter system
CHECK PRICE

aQuasafe Home Water Ionizer

5 preset water dispensing options
Built-in activated carbon filter lasts for a year or more
Self-cleaning design
CHECK PRICE

IntelGadgets IT-580 Alkaline Water Ionizer

Best in class self-cleaning features
Remarkably accurate pH consistency
Easy push-button controls
CHECK PRICE
The 8 Best Water Ionizers – Reviews 2023
1.

Aqua Ionizer Deluxe AWL-7000 Water Ionizer – Best Overall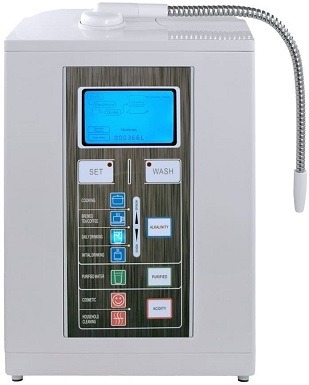 With a quick glance at any online marketplace, you'll see that there's no shortage of water ionizers available. However, of all the ionization systems we've tested, only the Aqua Ionizer Deluxe AWL-7000 truly outperforms all the hype surrounding this category of products.
Featuring seven water options, including four degrees of ionized alkaline water, one non-ionized purified water, and two ionized acidic presets, the AWL-7000 offers a surprisingly easy-to-use interface with versatile flavor and health options. The platinum-coated titanium ionization plates are exceptionally durable and long-lasting, pairing nicely with the machine's full 5-year warranty to make it a safe investment.
Each built-in water filter for the Aqua Ionizer Deluxe is rated to purify over 1,500 gallons of water or about a year's supply of drinking water. This is backed up by the machine's self-cleaning cycle, making it an exceptionally low-maintenance option. Overall, it's the best countertop water ionizer.
Pros
Seven water dispensing modes provide one-touch versatility
Durable and long-lasting ionizing plates
Built-in 1-year filter requires zero maintenance and infrequent changes
Self-cleaning function further reduces maintenance requirements
5-year warranty protects your water ionization investment
---
2.

Pure Hydration PH127 Alkaline Water Ionizer – Best Value
There's something so refreshing about a water dispensing system that does exactly what it needs to, without any additional fuss or distracting features. If your life or kitchen trends towards minimalism, the Pure Hydration Alkaline Water Ionizer will suit you well. When all is said and done, we think it's the best water ionizer for the money available today.
A built-in four-cartridge system removes more than 99.9% of common water contaminants, reinvigorates the water source with minerals, and raises the pH before serving. It's exceptionally quick and easy to install and includes a diverter valve that will adapt to any standard sink fitting.
Perhaps the only downside of the PH127 from Pure Hydration is the frequency with which you'll need to change the filter cartridges. Given its lower initial price, this is a flaw but far from a dealbreaker.
Pros
Inexpensive and easy to install
Excellent filtration system produces great-tasting water
Simple one-touch dispensing operation
Slim countertop-friendly design
Cons
Requires frequent filter changes
---
3.

Bawell Platinum Alkaline Water Ionizer – Premium Choice
If you're already a devotee of the benefits of alkaline water or the alkaline diet, investing in a more substantial filtration and ionization system may be the next step in improving your home. When that's the case, we can easily recommend Bawell's Platinum Alkaline Water Ionizer Machine. It's a marvel of ionizing technology and a significant investment in your drinking water's quality and health benefits.
Featuring an LCD screen that displays the alkaline level, pH, and status of both of the machine's integrated filters, you'll never be left wondering exactly what you're drinking. If we had one complaint about this ionization system, it would be that the filters require frequent changing—approximately every 6 to 9 months, on average.
The sting of the Bawell's larger price tag is quickly diminished by its full lifetime warranty. On rare occasions when you have difficulties with this well-designed machine, it's easy to get in touch with the company and work things out quickly, which is another reason we highly recommend the Platinum machine.
Pros
Only water ionizer to offer a full lifetime warranty
Produces pH ranges from 3.0 to 12.0
Two-stage internal filter system gives exceptionally clean-tasting purified drinking water
Electronic display shows pH and filter wear levels, making it easy to adjust
Cons
Quite expensive
Requires frequent filter changes
---
4.

aQuasafe Home Water Ionizer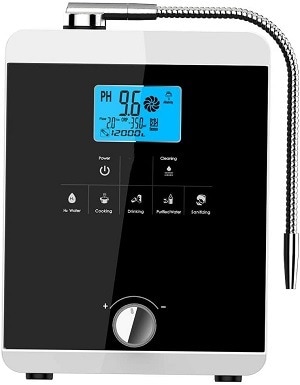 For a sleek and attractive countertop model that doesn't sacrifice utility for its good looks, consider the aQuasafe Home Water Ionizer. It features a remarkably similar design to our top pick and's a well-made water ionizer with clear, intuitive controls.
With five options for water preferences, the aQuasafe makes it easy to customize your drinking habits. The integrated carbon filter is rated for an impressive 2,113 gallons of water filtration, lasting up to a year or more under average conditions.
Our only gripe is the infrequency with which the 1-year warranty can be honored, and the company is very hard to get in touch with when problems arise. Given the self-cleaning nature of the machine, however, we found it to be a reliable and worthwhile addition to our home.
Pros
5 preset water dispensing options make it easy to gain specific health benefits
Built-in activated carbon filter lasts for a year or more and requires no maintenance
Self-cleaning design requires little to no maintenance
Clear, easy-to-read display gives plentiful information about the quality of your water
Cons
Difficult to contact customer service
Somewhat pricey
---
5.

IntelGadgets Alkaline Water Ionizer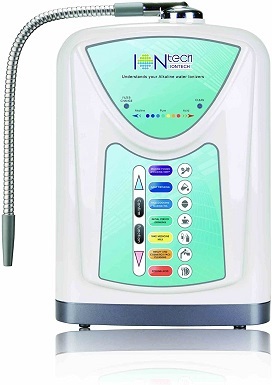 Offering a simpler analog-style design than the many high-tech water ionizers we tested, IntelGadgets' Alkaline Water Ionizer gave us some of the most consistent pH readings of any water ionizer in our reviews. The hard water and carbon fiber filters remove impurities like chlorine and pesticides before passing through a final stage to become alkaline or acidified water.
Precise pH adjustments are easy with the soft push-button display on the IT-580, which remains true to the display thanks to a vigorous self-cleaning cycle on the machine. Whereas other water ionizers perform regular cleanings, the IT-580 automatically engages a 10-second cleaning after each use and a longer two-minute cleaning cycle that you can activate whenever necessary.
IntelGadgets' water ionizer is a fine choice for anyone who wants exact and consistent water pHs in a conveniently compact countertop unit.
Pros
Best-in-class self-cleaning features
Remarkably accurate pH consistency
Easy push-button controls
Compact and space-saving design
Cons
Somewhat difficult to install, as the instructions aren't entirely clear
---
6.

iRayer Alkaline Water Ionizer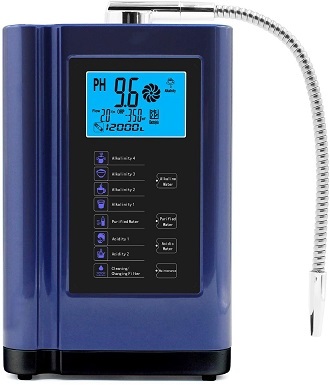 Another excellent budget-friendly countertop option, the iRayer Alkaline Water Ionizer, features many of the benefits we've come to expect from a compact ionizer. From multiple water dispensing modes to an active carbon water filter and self-cleaning function, it's a well-designed piece of water treatment equipment only held back by inconsistent manufacturing.
A large and intuitive LCD shows water pH, current dispensing mode, remaining filter life, and more, and it is easy to adjust with the press of a button. The water filter is rated for 6,000 liters or between 6 and 9 months of regular use. Round those out with a self-cleaning function to prevent scale buildup, and the iRayer requires little to no regular maintenance.
For the unit we tested, however, the claims of adjusting the water's pH did not hold out well against our independent testing. After speaking with others with experience with this machine, opinions differed; while some machines produced consistent pH water, many did not.
If you're willing to do a fair amount of troubleshooting, the 5-year warranty on the iRayer makes it a very reasonably priced option.
Pros
Offers seven water dispensing options for alkaline, non-ionized purified, or acidic water
One of the most affordable water ionizers we reviewed
Low maintenance thanks to integrated self-cleaning features
Long 5-year warranty for protecting your investment
Cons
Inconsistent manufacturing
Inconsistent pH adjustments
---
7.

IonTech Compact Under Sink Alkaline Water Ionizer
As one of the few under-sink ionizers to make our list, we had high hopes for the IonTech since it's well-suited for apartments with small kitchens. And while it works well once you get it set up, the process of installation and figuring out the controls was incredibly frustrating.
At a glance, the faucet top and compact under-sink unit would seem to be a space saver's dream come true. Add in variable water dispensing options, automatic cleaning features, and a 2-year warranty, and it looks like an excellent option for kitchens where space is at a premium.
However, the vague instructions you get with this machine are not enough to set it up on your own unless you have significant plumbing installation experience. Between the hoses, clamps, T-connectors, and more hardware included, you'll likely find it a daunting task, and hiring a professional installer is an expensive addition to an already too-expensive product.
Pros
Compact and space-saving design
Low maintenance and self-cleaning
Cons
Comes with insufficient instructions for installation
Quite difficult to install
Too expensive for what it offers
---
8.

Life Ionizer M9 Counter Top Water Ionizer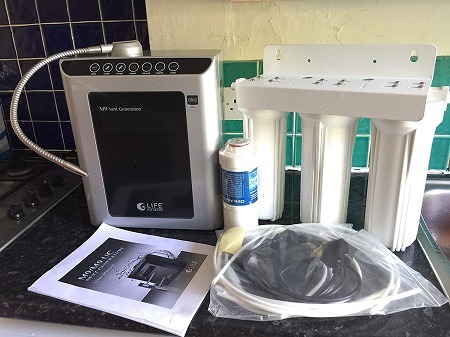 In an attempt to combine countertop and under-sink features in one product, Life Ionizer's M9 has taken on quite a task. While it might be a fine option in theory, in practice, we found it to be needlessly cumbersome and overly expensive, all without any unique benefits to differentiate it from other products.
While the lifetime warranty on parts and labor and powerful pre-filter system initially put this product in our good graces, contacting the company proved too difficult and fruitless to make these promises worthwhile. It's best to avoid the Life Ionizer's M9 in favor of our top pick or best value choice; we think you'll be much happier with either.
Pros
Custom pre-filter system
Countertop or under-sink design
Cons
Too difficult to install
Lacking company support for warranty and installation questions
Inconsistent pH results

Buyer's Guide – Finding the Best Water Ionizers
Selecting and installing a water ionizer in your home requires a substantial investment of time, money, and energy. However, learning about how to choose the best water ionizer for your home is much simpler. You can read through our handy guide to develop a reference point for comparing the products available today. Then, you can compare it to the products in our review.
How Does a Water Ionizer Work?
First and foremost, water ionizers will take your existing tap water and run it through a system of purifiers, preparing it for ionization processes. Most water ionizers feature multi-stage filtration systems similar to an in-home water filter, making them a very useful addition to any home with problems with tap water quality.
Next, the ionizer will utilize a precisely directed electrical current to engage electrolysis on a purified water source, separating it into acidic and alkaline components. Lastly, the alkaline component is collected in a reservoir and dispensed into your drinking glass!
What to Look for In a Water Ionizer
In testing and reviewing water ionizers, we found the five features listed below to be essential in determining which ones were worth the cost and which were better left behind.
pH Range is perhaps the most important quality since it will determine how effectively a water ionizer does its primary job. Wider pH ranges give you more control over the acid-base balance in your water and allow you to dial in a specific taste.
Filtration is a necessary first step in preparing water for ionization, and the better the filtration system, the healthier and better-tasting your water will be.
Size and shape are essential in planning where your water ionizer will live in your kitchen. Since most water ionizers are designed for countertops, we recommend looking for smaller, more compact models.
Installation ranges from ultra-simple to complex enough to require professional help. We've only recommended products that can be installed with minimal DIY know-how wherever possible.
Maintenance includes machine cleaning and filter changes, and the longer a water ionizer can go without pampering, the better it scored in our reviews.
Potential Benefits of an Alkaline Diet
Spend a little time researching alkaline diets, and you'll likely notice that the field is very divided over the science behind consuming more alkaline foods and drinks. Based on the idea of replacing acidic (or acid-forming) foods with more alkaline choices, proponents of the alkaline diet claim a wide range of potential benefits, such as:
Promoting weight loss
Preventing cancer
Improving kidney health
Preventing osteoporosis
Improving hormonal balance
Treating or preventing heart disease
While all these benefits have been seen in people following an alkaline-heavy diet, the reasons why they are healthier are not as clear-cut. Simply put, the rules of an alkaline diet encourage greater consumption of fresh fruits and vegetables and less consumption of heavily processed foods, meat, and dairy. Evidence strongly suggests that the health benefits mentioned above come not from changing the body's pH balance but from transitioning to a lower-fat and lower-sugar diet high in natural and organic foods.
Whether the science behind an alkaline diet is correct in describing its effects or not, it's clear from further scientific studies that an alkaline diet correlates strongly with a wide variety of health benefits. In our minds, that's enough reason to consider making changes towards a more alkaline diet, such as drinking purified and ionized water.

Conclusion
After careful consideration, we're proud to endorse the Aqua Ionizer Deluxe Water Ionizer as the overall best water ionizer in our reviews. It consistently outperformed the competition in almost every measure and offers a versatile selection of features that make it suitable for anyone's needs. Add responsive customer service and easy setup to that package, and it easily secures our top spot.
For a no-frills and budget-friendly alternative with an impressive filter life, consider the Pure Hydration Alkaline Water Ionizer. It's a compact and easy-to-use addition to your countertop and features a complete filtration system that makes some of the best-tasting water of any ionizer we tested.
---
Featured Image Credit: Food Impressions, Shutterstock