19 Small Kitchen Trends in 2023 – Design Ideas for a Modern Home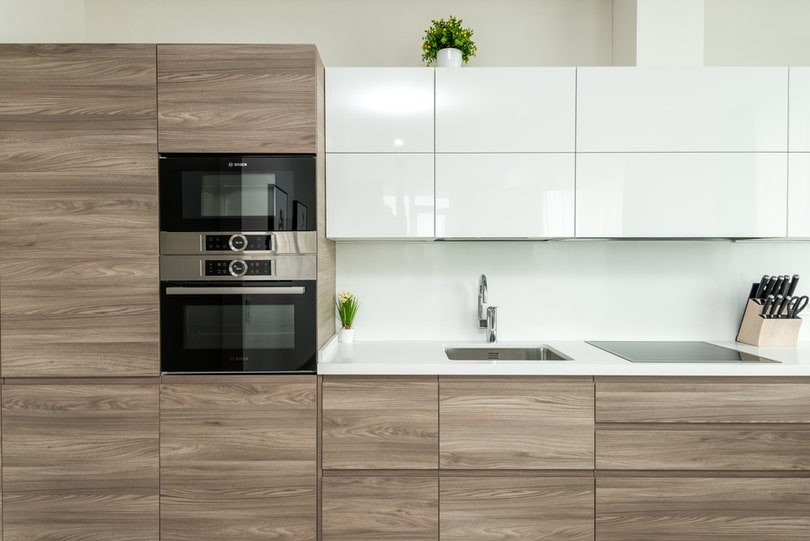 Small kitchens are notoriously hard to work with. When it comes to cooking, you usually want as much space as possible. All of the prep work can take up quite a bit of room, especially if more than one person is cooking.
However, if you're in a home with a small kitchen, you're typically stuck with it.
Luckily, there are quite a few different ways you can make small kitchens really work. Below, we've taken a look at several trends that may help your small kitchen look and function a bit better.

The Top 19 Small Kitchen Trends
1.

Extra Prep Areas
Finding room to prep is often the biggest problem with small kitchens. In this case, we recommend purchasing a cart of some sort to use as an extra prep area. Not only can this add some variation to the room, but it is also extremely practical.
---
2.

Add Open Shelves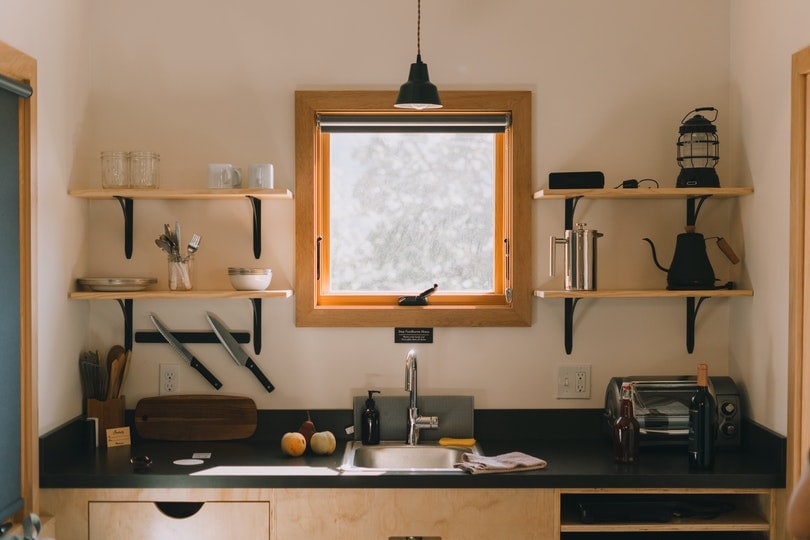 Instead of cramping the space with cabinets, try Japanese-style open shelves. These don't have doors to cover the front, so you often have to be careful with arranging your items. However, if you can pull it off, it can completely transform your kitchen.
---
3.

Use Hardware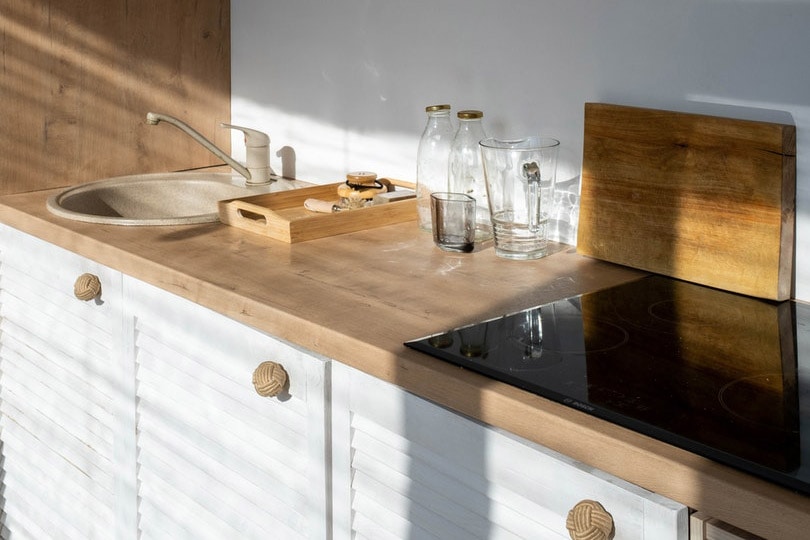 Most people don't think much about their kitchen hardware. However, if you're working with little space, then you need to use your hardware to bring some style. Therefore, we highly recommend using the little hardware you do have in your kitchen to your advantage.
---
4.

Try Invisible Hardware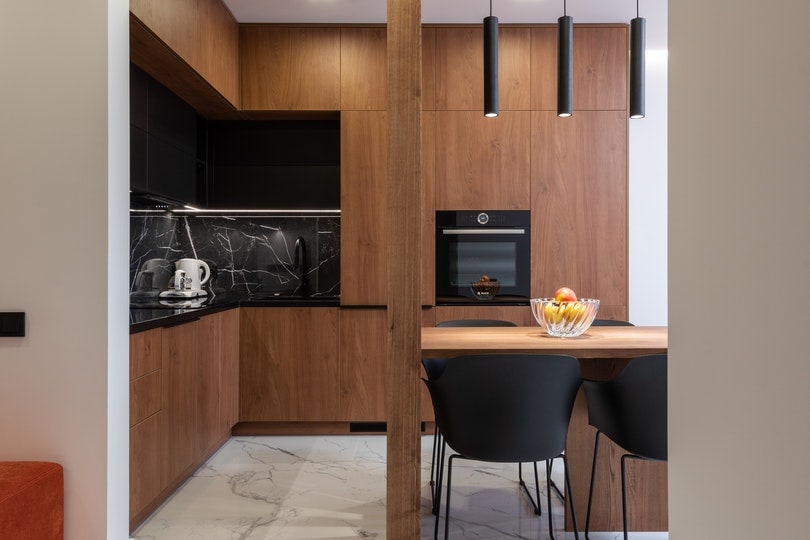 No one wants kitchen hardware to catch onto their pants or apron while they're working. In a small kitchen, it may be difficult to avoid them, though. In these cases, we recommend using invisible hardware, which can make your kitchen look sleek and clean.
---
5.

Use Light Colors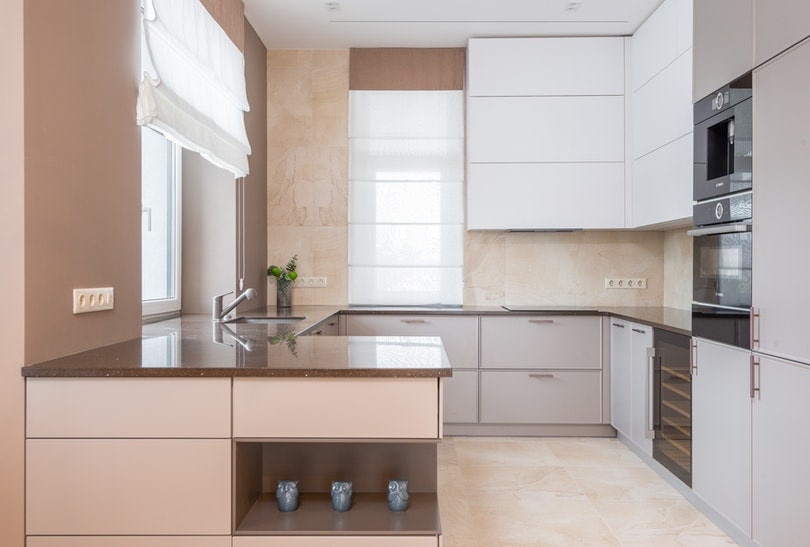 Darker colors can make a space feel smaller and more cramped. On the other hand, white colors make spaces feel much bigger. Therefore, if you have a small kitchen, your best bet is to use white and other light colors to open up the space.
---
6.

Add Interesting Lighting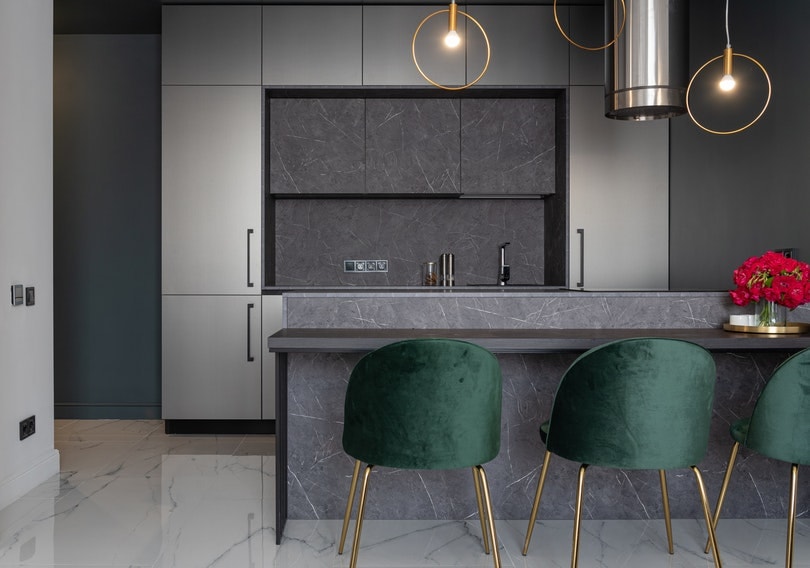 You may not be able to add many design elements to your kitchen countertops. However, you can use lighting to add some interest to the room without taking up any more space. We highly recommend going all-out when it comes to lighting in smaller kitchens. Often, it's the only thing you can do to make the space a bit more interesting.
---
7.

Use a Dining Nook
Instead of a full-sized table in your kitchen, you may want to consider a smaller dining nook. Even if you have a formal dining room, one of these little nooks is perfect for breakfast and snacks. Add one to a small corner of the kitchen, and you've suddenly made the area much more practical.
---
8.

Add a Pot Rack
You probably don't have much space for storage in your small kitchen, so we recommend installing a pot rack to add some storage vertically. Often, a pot rack can save you quite a bit of room in your cabinets, which can be used for more important items.
---
9.

Knife Mount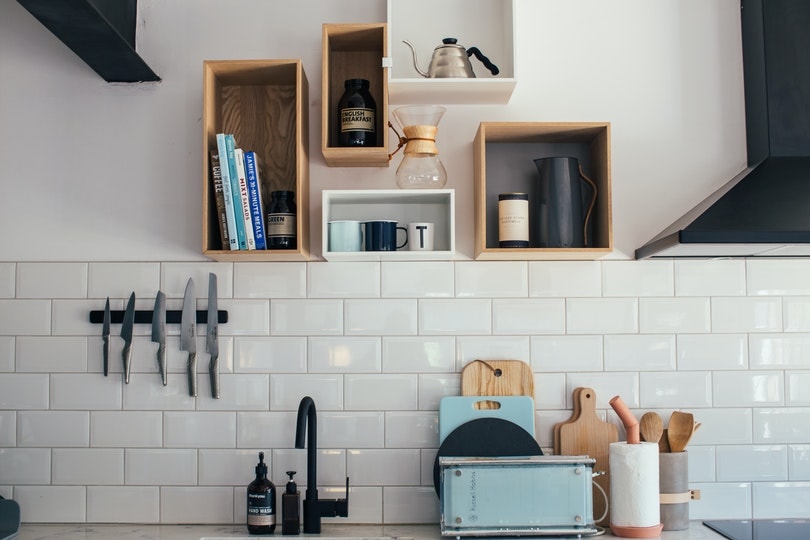 Similarly, a knife mount also adds more storage vertically and helps you clean out your cabinets a bit. You can find all sorts of magnetic options that can keep your knives secure and at an arm's reach.
---
10.

Try a Pegboard
A pegboard is one of those items that give you space you didn't think you needed. In a small kitchen, you can use a pegboard to hang coffee mugs or small plants. They are extremely customizable, so you can find one for just about any purpose.
---
11.

Use a Rug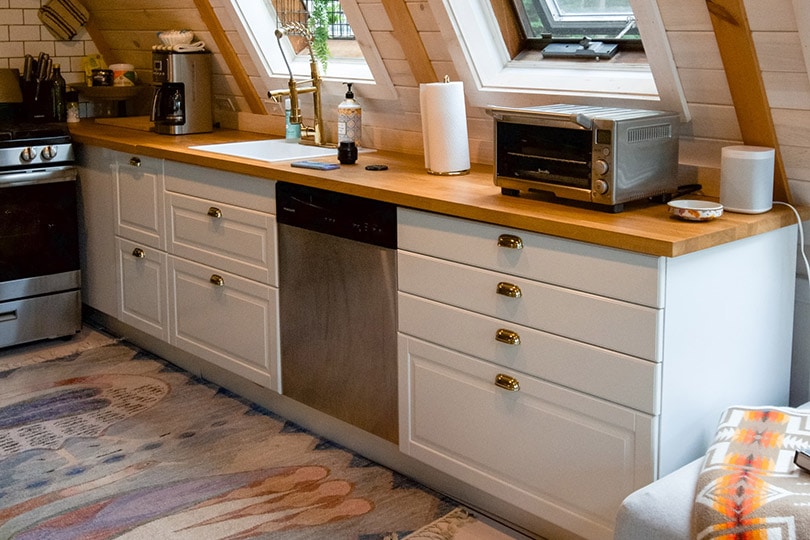 Most people do not include a rug in their kitchen. However, you should consider using a rug in your smaller kitchen to help brighten up the space. Rugs are one of those things that can really make an area without taking up any room, which is absolutely a boon in a small kitchen.
---
12.

Concealed Storage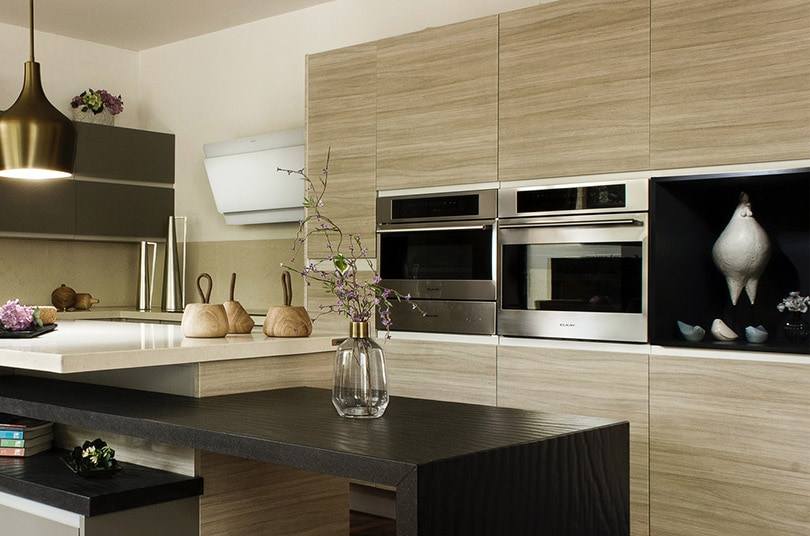 You don't want your tiny kitchen to have too much going on, as it can quickly feel cluttered and small. Therefore, concealed storage is often a great way to make a kitchen more practical without adding any more design elements, which is sometimes exactly what you need to do.
---
13.

Invest in Quality Kitchenware
In a small kitchen, you probably won't be able to hide very much. Therefore, we recommend investing in pots and pans that you don't mind showing off. While you don't need to buy hundreds of dollars worth of kitchen gear, we do recommend choosing pieces that are a bit nicer.
---
14.

Use Colorful Appliances
When your kitchen is small, it is vital that you use your appliances to make a statement. Instead of choosing all stainless steel, we recommend utilizing something with a bit more color and design to it. Brightly colored appliances can make or break your tiny kitchen.
---
15.

Use a Sink Cover
When you really need more prep space, we highly recommend looking into a sink cover. Not only can they break up the color of your countertop a bit, but they are also great for adding prep space. We recommend choosing a nicer option since it's going to be in full view. You can also find a stove cover that functions pretty much the same.
Related Read: 17 Design Ideas for an '80s Kitchen (With Pictures)
---
16.

Add Mirrors
An easy way to make your kitchen look larger is to utilize mirrors. As you might imagine, mirrors reflect back the room, which makes the room look bigger. You can add a mirrored backsplash or use actual mirrors on the ends of your kitchen. Either way, the more surfaces you have mirrored, the larger your kitchen will look (though that doesn't mean that you should go overboard).
---
17.

Add Greenery
Anywhere you can, we recommend adding plants to your kitchen. Practical plants like herbs can make fresh greens easily accessible during cooking. However, any houseplant will do. If you find it hard to keep plants alive, try succulents.
Greenery adds a nice cool touch to the kitchen that you wouldn't get otherwise. Plus, it typically works well with just about any style.
---
18.

Use Colors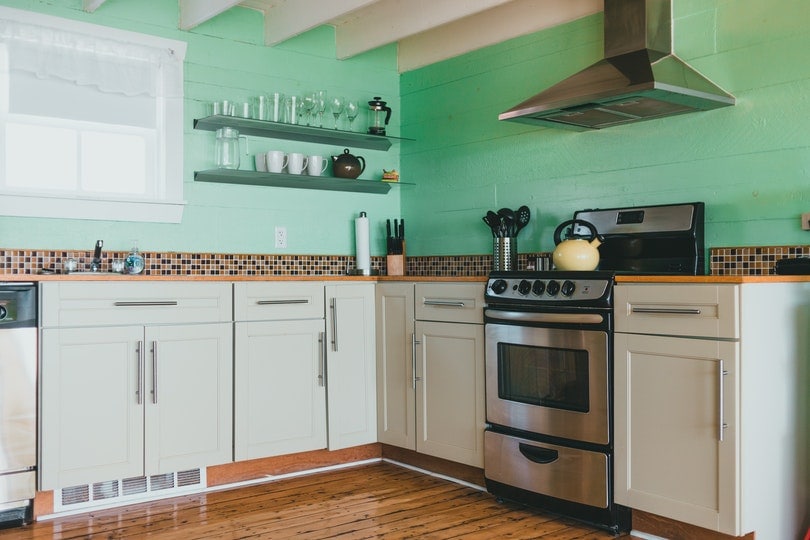 We highly recommend using at least some color in your kitchen. While all-white kitchens were popular a decade ago, they are now largely out of style. No one wants a sterile kitchen, especially when the kitchen is smaller.
While you don't have to go crazy, using something that isn't a neutral color to decorate at least part of your kitchen is recommended. Blues and reds are the most common option, but you can really use just about anything.
---
19.

Add a Floating Table
When you don't have any room, add more room! Of course, this is easier said than done, but floating tables are a great way to add just a little bit of space that you may not get otherwise. You can add them just about anywhere and use them to hold design elements or practical items like cups.
Related Read: 15 Kitchen Trends This Year – Design Ideas For A Modern Home

Conclusion
There are a few things you need to keep in mind when you're working in a small kitchen. Firstly, space is everything. You should try to maximize it where possible. This means storing things vertically and adding storage anywhere you can.
Secondly, you should consider making appliances, pots, and similar items design elements. Usually, you can add elements in but this isn't always the case with small kitchens.
Thirdly, look up and down when designing your kitchen. Add fun lights and interesting rugs.
---
Featured Image Credit: Max Vakhtbovych, Pexels