Best Way to Cut Foam Board – Which Tool to Use? – Reviews & Buyer's Guide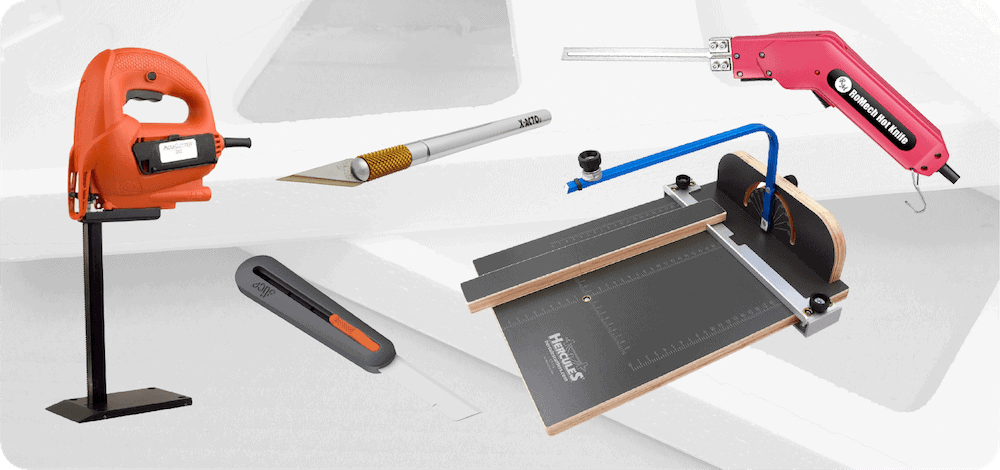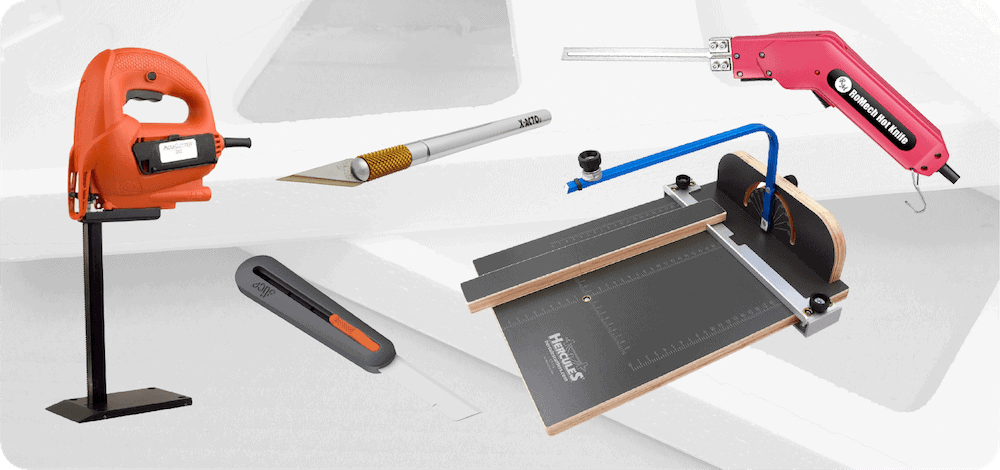 Whether you're using foam board as insulation, building material, photography mounting, or crafting, you probably want to know how to cut it cleanly and quickly. You want to get through the foam with ease, but you also don't want to leave a ragged edge, and you definitely don't want to create toxic fumes in the process.
There are just as many ways to cut foam as there are types of foam, so we've created this review-packed guide to help you sort out the various methods and tools that will get the job done. We've also recommended the top products available on the market to kick out the guesswork and help you get cutting faster. Read on to learn about our top 5 picks that will help you decide where to start.
---
Comparison of our Favorite Picks for 2023
Rating
Image
Product
Details

Best Overall Method

Slice 10559 3″ Extra Long Industrial Knife

Smooth blade
Easy change blade
Adjustable cutting depth
CHECK PRICE

RoMech Foam Cutter – Pro Electric Hot Knife (200W)

Mess free
Heavy duty
Easy to handle
CHECK PRICE

X-Acto X5282 Basic Knife Set

Excellent sharpness
Interchangeable blades
Top crafting knife on the market
CHECK PRICE

Hercules Tabletop Styrofoam Hot Wire Cutter (CT-115)

Good stability
Heats quickly
Variation of shapes
CHECK PRICE

Acu-Cutter 350 Foam Saw w/ 8" Blade

Great for thick foam
Works for textile foam
Perfect for large projects
CHECK PRICE
The 5 Best Tools for Cutting Foam Board
1.

Long Bladed Utility Knife – Best Overall Method
The versatility of a utility knife with a long blade makes this our top pick. You can use it for most thicknesses of foam, including for crafting or foam board insulation. Make sure you choose a smooth blade, though (not serrated), to avoid those ragged edges. Meanwhile, you'll want to apply some weight to the foam board to keep it from sliding (turn foam board insulation flat side up) and cut in one smooth motion at about a 45-degree angle. If you start sawing at the board, you'll end up with ugly edges and little foam shreds flying everywhere.
Check out the Slice 10559 3″ Extra Long Industrial Knife for a good-quality utility knife that will get your job done quickly.
Slice 10559 Industrial Knife, 1 Pack, Manual (Blade Stays in Position)
Slice safety blades' unique cutting edge might seem dull, but it cuts right through your material while keeping you safe! Slice blades...
Safe and effective sharpness and stay there 11 times longer than steel.
4 Preset Cutting depths, handle a variety of materials. Extra long tool stops are specially designed for cutting foam, batting,...
Pros
Smooth blade
Adjustable cutting depth
Easy change blade
Versatile for different thicknesses of foam
Economical
Cons
Requires some manual strength/grip
Knife not ideal for harder surfaces
---
2.

Hot Knife
When a standard knife won't cut it, you might need some power. A hot knife can give you power along with freedom of movement, which makes it our second pick. Like the long-blade utility knife, it's also great for varying thicknesses of foam. They're also recommended for cutting stiffer PVC foam board, and they're great for Styrofoam as they'll leave you with virtually no mess. As with any heating element against foam, check the manufacturer recommendations, as some foam types can off-gas toxic chemicals. If this is the case, you can always wear a mask and goggles before cutting.
Check out our top pick, the RoMech Foam Cutter – Pro Electric Hot Knife (200W). It will get you cutting through foam with ease.
Pros
Mess free
Easy to handle
Heavy duty for personal or industrial use
Cons
Need a handy power source where you're cutting
---
3.

X-Acto Knife
While this method is going to serve you best for thinner foam boards, such as those used for crafts or photo-backing, the dexterity and control you'll get from an X-Acto knife makes it one of our top picks. Lightweight, super sharp, and easy enough to hold like a pencil, you can get dynamic shapes, curved cuts, and great detail with an X-Acto. On the downside, you won't want to rely on one of these for thicker foam, especially the type of foam board used in construction. The amount of effort and pressure you'll need will give you nothing but a headache. Stick with an X-Acto for foam thicknesses less than 1 inch. As with the long blade utility knife, you'll want to cut in a smooth motion without sawing to keep your edges clean.
Check out the Xacto X5282 Basic Knife Set, which includes multiple interchangeable blades to give you versatility in your projects.
Pros
Interchangeable blades
Top crafting knife on the market
Excellent sharpness
Economical
Cons
Poor performance on thicker foam
Container isn't great
---
4.

Hot Wire Cutter
Cutting thick foam can be a big job, but it's nothing a hot wire cutter can't handle. Designed to slide effortlessly through foam and leave perfect edges, these cutters can provide diversity in the way you cut. They're great for crafts and intricate cutting, as well. While you'll need to use extra caution with fumes (check the foam manufacturer for recommendations on heating it) and be careful with the heat, you can save yourself a lot of effort by using this method. They come in different styles, too. The first is a tabletop model with a square and measuring ticks (which we recommend), and the second is a handheld device that comes in either a wand style or an arc. For ease of use, a tabletop device is perfect.
Check out our top pick below, the Hercules Tabletop Styrofoam Hot Wire Cutter (CT-115):
Pros
Heats quickly
Variation of shapes
Good stability
Good midrange price point
Cons
Not good for big sheets.
Not for industrial use
---
5.

Foam Cutting Saw
On the opposite side of the spectrum from the X-Acto knife is a foam cutting saw. If you need to cut large amounts of thick foam, an electric foam saw will spare you countless hours of manual labor and grip fatigue. Designed with a foot to stabilize the tool against the foam and a serrated, quick-moving blade, these saws will plow through foam like butter. Because of the quick, powered blade movement, you'll also end up with smooth edges. On the downside, it could leave a mess of foam particles in your work area. They're also on the higher end of the price spectrum.
Check out our top pick below for the best electric foam saw of the year, the Acu-Cutter 350 Foam Saw w/ 8″ Blade
Pros
Great for thick foam
Perfect for large projects
Works for textile foam
Cons
Contact company for blade replacement
High price point
See Also:
---
Buyer's Guide
Types of Foam
While some types of foam can translate to other projects, some are extremely specific. Knowing which is which can help you narrow down what type you need before you start cutting.
Future foam: If you are looking for a high-quality, inexpensive foam that is great for upholstery, making small crafts, or even creating detailed puppets, this is perfect.
Foam board: Made of expanded polystyrene, this foam is best for crafts, exhibits, and school projects where a harder foam is better..
Ampex R-11: This is commonly known as "egg crate" foam, and is perfect for sound proofing, like in a music studio or a shooting range.
Melamine: Used for insulation.
Open cell: This is often used as a protection pad when breakable items are stored or shipped. It's also used in gun cases because it has a little bit of give, but not too much to allow jostling.
Closed cell: This is a very quick and easy way to insulate a home, and it can be sprayed through a special applicator apparatus. Once it sets, it expands and hardens.
There are several other types, but most are extensions or permutations of these few, especially as they apply as insulators.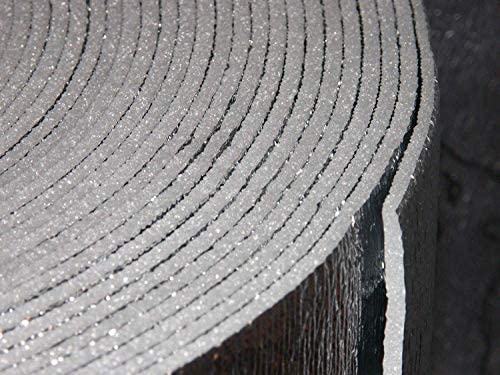 Cutting Your Foam
You have the project planned out. You know what foam you are going to use. Now it's time to cut it, and there are several tools you can use. Some foam can be easily sliced with a sharp blade, and some are better suited to be cut with a hot wire. It all depends on the nature of the project.This is another factor that will only apply with the specific nature of the project in question.
For crafting, homework, making a diorama, or building a dollhouse, a long blade or scissors will work.
If you're cutting insulation, a denser drywall knife is better.
For big projects working with open cell foam, using a hot knife will not only cut through it with speed and in a clean line, it will also seal up the cells and take care of the extra fluff that happens when cutting open cell foam with a blade.
Practice Safety When Cutting Foam Boards
Always wear personal protective equipment when cutting foam boards to ensure chunks of the foam don't end up hurting you or others. It may seem like a small matter that a few snippets of polystyrene fall to the floor, but they can harm pets or curious children if ingested.
Put away sharp cutting instruments and unplug all electric cutting devices. You never know who might find it and make a foolish mistake.
RELATED READING:
What's our preferred way to cut plaster?
Which tool do we recommend you use for cutting metal roofing?
Conclusion
We hope these product reviews have helped you decide on the best tool and method for your needs. Remember to keep it simple for the best results. If your job is a big one, go for some heat. If you're crafting or using thin sheets, go for small and sharp. Smooth strokes will get you clean cuts, and you'll want to avoid serration unless you want to clean up the mess afterward. Good luck finding the perfect product. Now go tackle that foam!