10 California Motorcycle Accident Statistics (Updated in 2023)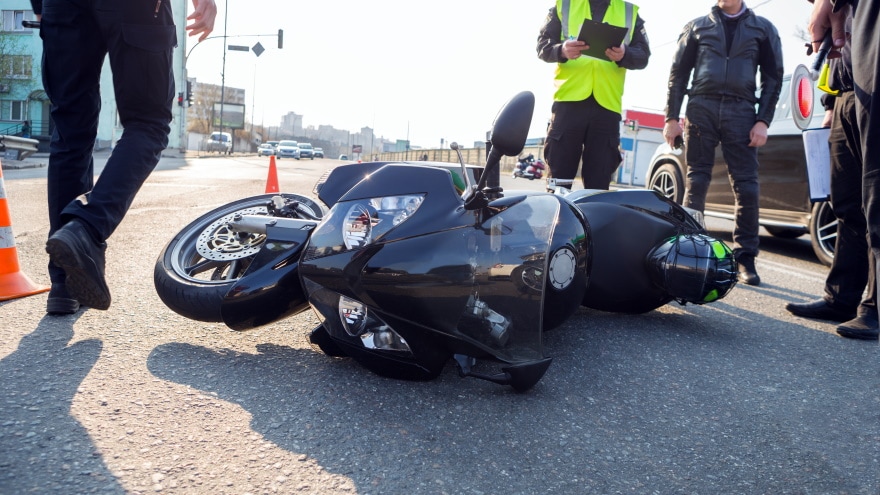 Note: This article's statistics come from third-party sources and do not represent the opinions of this website.
California is the mecca of American motorcycle riding. The favorable climate, stunning views, and historic roads draw motorcyclists from around the country. These factors have driven up the number of registered motorcycles in California to historic levels but have also increased the rate of motorcycle accidents as well.
People often dream about riding up California's historic oceanside highways or trekking from Chicago to L.A. on Route 66, but these rides can be dangerous. Motorcycle accidents happen frequently, and they usually result in severe injury or death. Here are California's motorcycle accident statistics analyzed for this year, including General Statistics, The Importance of Helmets, and California Motorcycle Accident Trends.

The 10 California Motorcycle Accident Statistics

General Statistics
1.

California has the most motorcycle registrations out of any state with 785,424.
(Statista)
California has the largest number of registered motorcycles out of any state in the United States. This is true for two primary reasons. First, California has the largest number of people out of any state which makes their status as the leader in motorcycle registrations unsurprising. Second, California has a climate that is ideal for motorcycle riders. The weather is generally mild and dry across the whole state, and the roads include numerous famous motorcycle routes. California has scenic ocean highways, hilly mountain roads, and famous landmarks sprinkled throughout.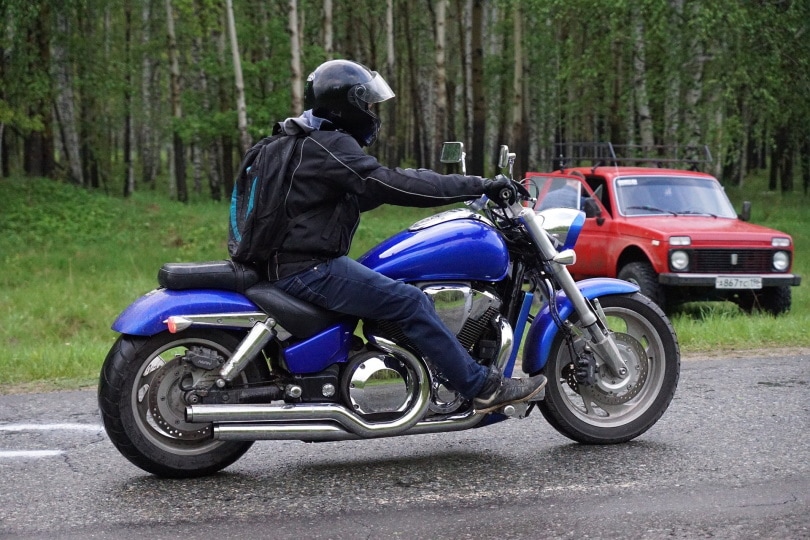 ---
2.

88% of California motorcycle accidents result in a reported injury or death.
(California Highway Patrol)
Due to the nature of motorcycles, accidents often result in injury or death. Motorcycles have much lower safety ratings than traditional sedans. Riders are exposed to the air and do not have seatbelt systems to keep them secure in the case of a crash. These factors mean that any accidents involving a motorcycle, even minor ones, can lead to injuries for the riders of the motorcycles. According to the public data provided by the California Highway Patrol, over 80% of all motorcycle accidents lead to injury or death—a much higher rate than for a typical car.
---
3.

California averages over 500 motorcycle fatalities each year, which makes it one of the two most dangerous states for such accidents
(Governor's Highway Safety Association)
In terms of the sheer number of fatalities, California annually ranks in the top two. The only other state that competes with California for the highest number of motorcycle fatalities is Florida. Florida has the second-highest number of motorcycle registrations after California and also features a climate conducive for year-round riding. The high number of fatalities in California is directly derived from the number of motorcycles on the roads.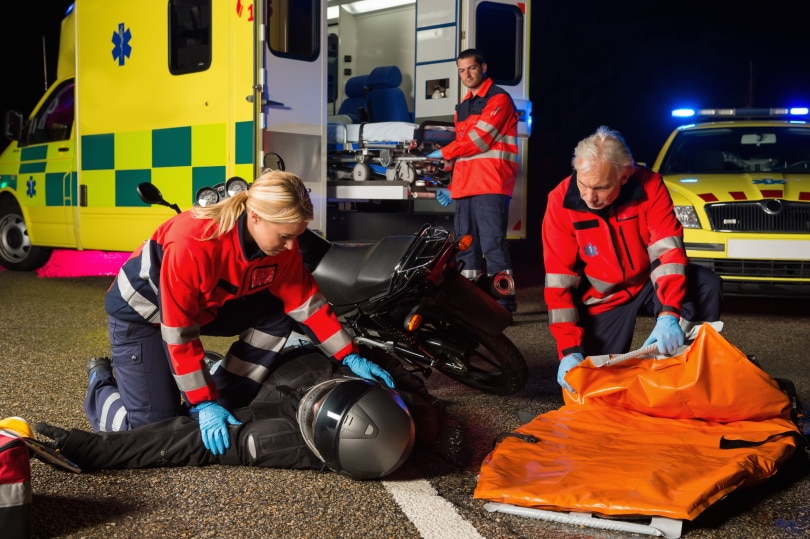 ---
4.

In 2019, the most recent data set publicly available, there were 474 motorcycle fatalities in California.
(California Office of Traffic Safety)
The most recent data from the California Office of Traffic Safety put the number of motorcycle fatalities at 474. More recent data has not yet been made publicly available. Close to 500 fatalities is an alarming figure, but the numbers have actually been trending downwards in recent years.
---
5.

The number of motorcycle fatalities in 2019 reflected an average 9.4% annual decrease since 2015.
(California Office of Traffic Safety)
According to data compiled and compared from the past 5 years, spanning from 2015 to 2019, California is seeing a decrease in motorcycle fatalities year-over-year. The reduction has been welcomed by regulators and riders alike. The factors contributing to the decrease in fatalities are awareness on the roads and much higher use of helmets, regulated by law, than in the past.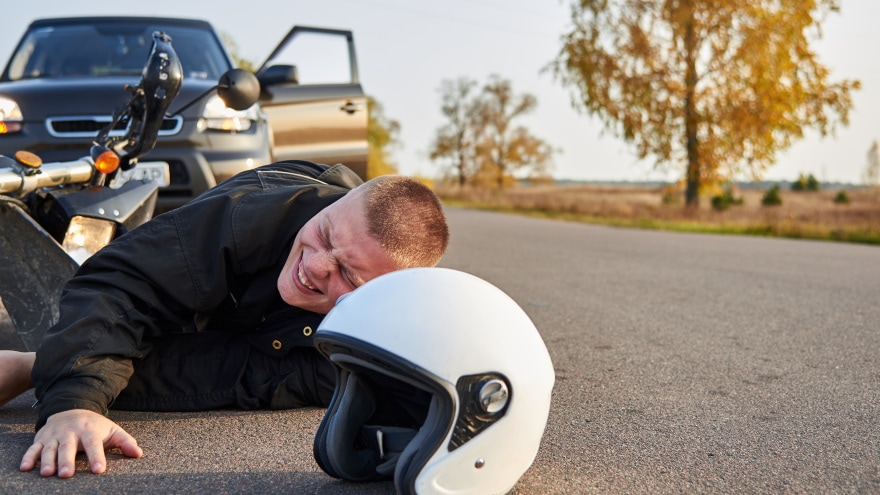 The Importance of Helmets
6.

In 2019, 28 deaths were reported from not wearing a helmet, compared to 2018 with 34 deaths.
(California Office of Traffic Safety)
Of all the fatalities reported in California in 2019, only 28 of the deaths were due to a lack of a proper helmet. This number says two things about motorcycle accidents in the state. First, it shows that many riders are complying with state law and wearing their helmets. Second, it highlights the fact that even while wearing a helmet, many motorcycle accidents are still extremely dangerous.
Like the overall number of fatalities, the number of deaths attributed to not wearing a helmet is also falling. That is good news for lawmakers who say that wearing a helmet leads to much higher safety ratings than not wearing one. The drop of 18% from 2019 to 2018 is an encouraging sign. Ideally, no road deaths will be linked to not wearing a helmet or a seatbelt one day.
---
7.

Only 6% of motorcycle fatalities are attributed to riders not wearing a helmet.
(California Office of Traffic Safety)
This data translates to yet another encouraging statistic. Out of the 474 reported deaths in 2019, only 6% of those were attributed to improper helmet compliance. The goal is to get that number to zero. The figures revolving around helmet usage while riding motorcycles in California points to the provided safety. Wearing a helmet is much safer than not wearing a helmet. If riders in California continue to comply with the state regulations, the number of deaths from not wearing a helmet will continue to fall.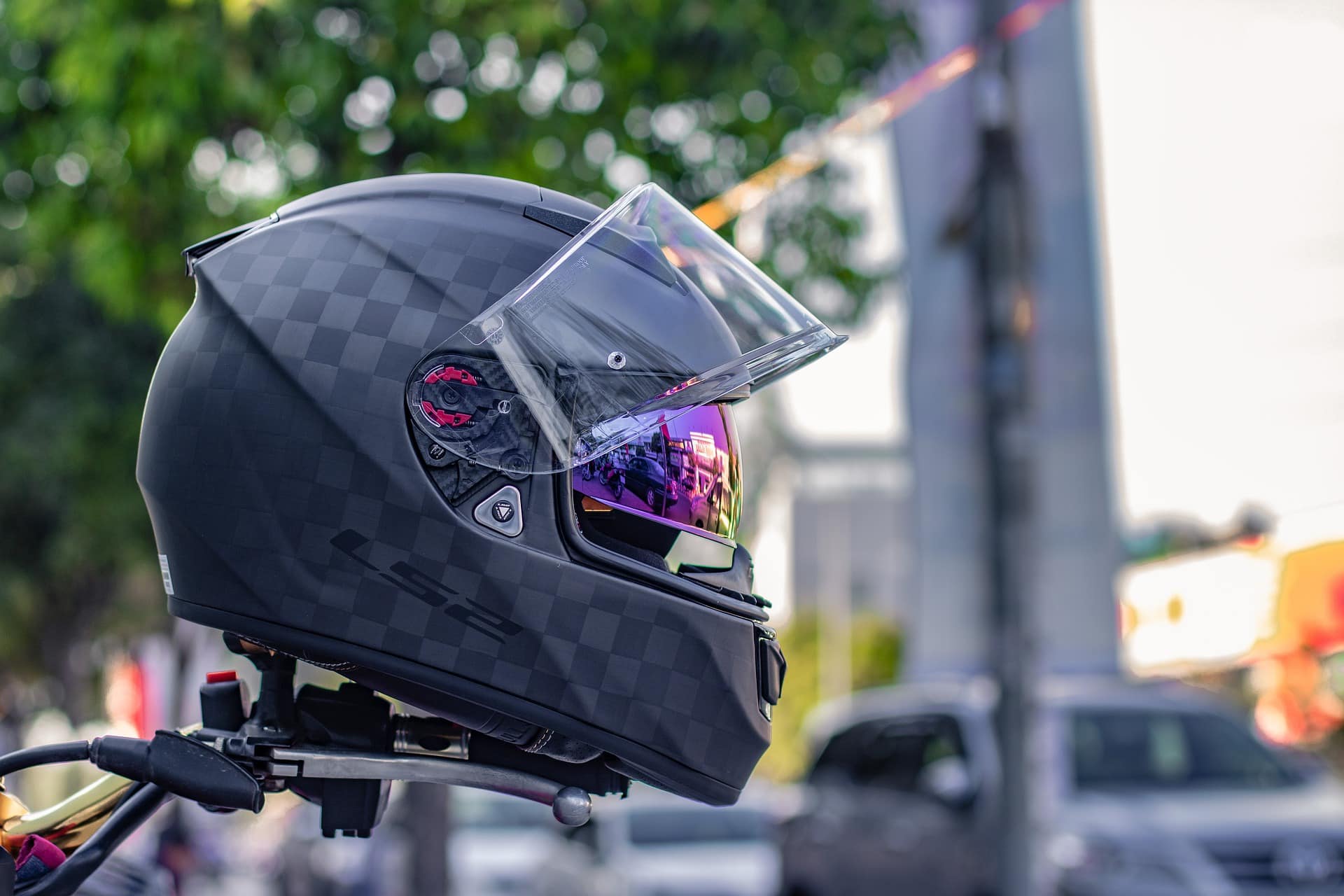 California Motorcycle Accident Trends
8.

Summer is the most dangerous season for motorcycle riders in California.
(California Highway Patrol)
Out of all of the seasons throughout the year, summer is the most dangerous for motorcyclists. June, July, and August have the highest number of accidents, accidents with injury, and fatalities. These figures reflect the tourist season in California, which draws thousands of motorcycle riding Americans from across the nation each year. It also reflects the most popular time to ride. Riders enjoy the sun, the warmth, and the blue skies that come with California summers. More bikes on the road translate to more accidents.
---
9.

On average, only 5% of motorcycle accidents resulting in injury result in a fatality.
(The Statewide Integrated Traffic Records System)
In California, an accident involving both a motorcycle and injuries has a 5% chance of also featuring a fatality. This number is taken straight from the data. For some, that figure will be alarming. A 5% fatality rate in these situations means that a rider that gets in an accident resulting in injury has a 1 in 20 chance of being killed. Again, this is due in large part to the safety ratings of motorcycles which are far lower than typical sedans.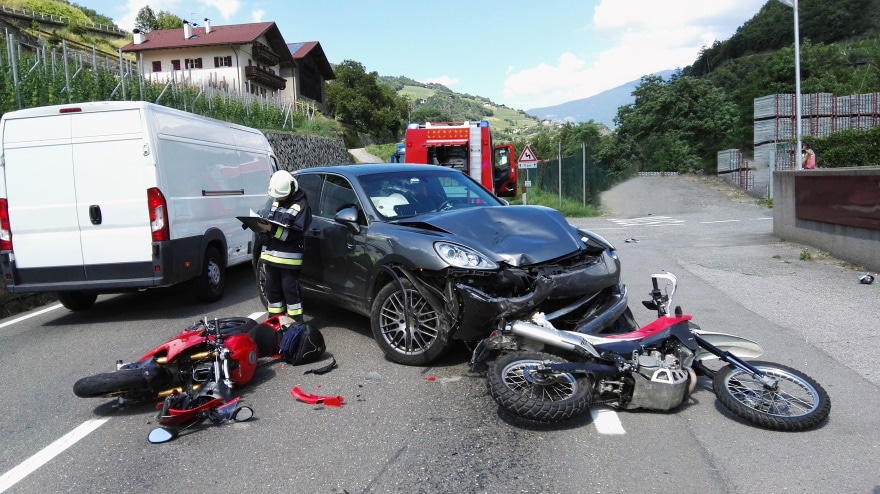 ---
10.

  According to CHP, in 2017, there were 13,907 motorcycle accidents resulting in an injury.
(The Statewide Integrated Traffic Records System)
The Statewide Integrated Traffic Records System periodically releases detailed information about accidents in California. Their last batch of information was dropped in 2017. That dataset included the total number of motorcycle accidents that resulted in an injury, 13,907. That is the number used by the California Highway Patrol to calculate the percentage of accidents that result in an injury. While these numbers are lower than those of standard cars, the percentage of accidents resulting in injury is far higher.

Frequently Asked Questions About Motorcycle Accidents In California
What is the most common cause of motorcycle accidents?
Sadly, the most common cause of motorcycle accidents is drivers missing motorcycles on the road. Most of the time, when a car strikes a motorcycle, the driver says they never saw the other vehicle. There have been national campaigns to address this issue, including "Check Twice For Motorcycles" and the "Stay Alert, Stay Alive" campaigns.
Campaigns like these aim to raise awareness about the issue. They argue if more people were more alert for motorcycles, less would get missed, and the number of dangerous accidents would fall.
What percentage of motorcyclists get in accidents each year?
Out of the nearly 800,000 registered motorcycles in California, roughly 2% get in an accident each year. This number is derived from the data. If we take the average number of motorcycle accidents, which is roughly 16,000 per year, and divide that into the total number of registered bikes, we get 2%. That is not a huge number, but it still gives the average motorcycle rider a 1 in 50 chance of getting into an accident each year.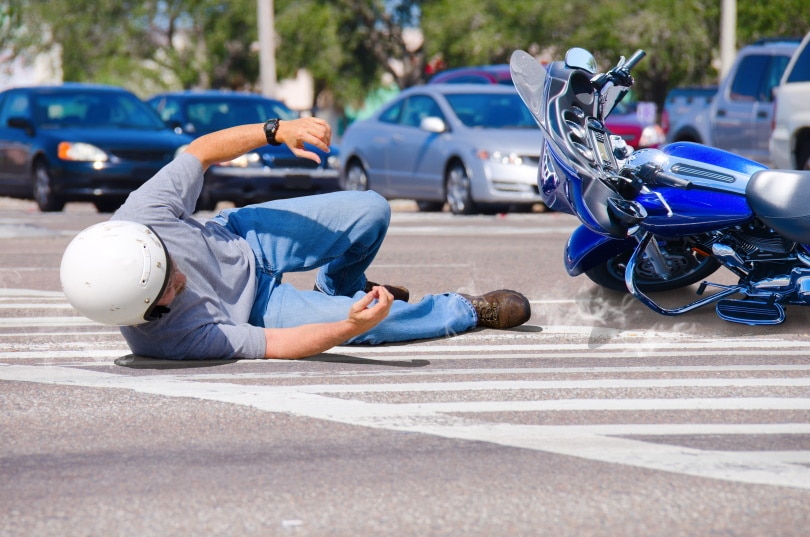 How does California rank in terms of motorcycle risk?
In terms of raw numbers, California is the state with the highest incidents of motorcycle accidents. However, they also have the largest population out of any state and the most motorcycle registrations. Florida comes in a close second in terms of registrations and accidents.
In terms of weighted risk, California actually ranks in the bottom third. The number of motorcycles on the road and better awareness have decreased the likelihood of being a victim of a fatal accident in California. Some states such as Mississippi, Tennessee, and Alabama have higher rates of fatality per capita. That is due in part to factors such as lack of awareness, bad weather, and mountainous roads.
Related Read: 9 Moped Accident and Safety Statistics

Conclusion
Rates of fatal traffic accidents involving motorcycles have been slowly falling in recent years in California, but the numbers are still high enough to be of concern. The prevalence of helmets has helped lower the number of serious accidents, but over 80% of motorcycle accidents still result in injury or death. Knowing the risks and the stats is crucial if you plan on taking to the road on your bike. Always wear a helmet. Stay alert. And remember that the roads are most dangerous during the packed summer months. This knowledge could be the difference between life and death in certain situations.
---
Featured Image Credit: Godlikeart, Shutterstock