Can You Paint Hardwood Floors? Is It A Good Idea?
Hardwood floors are an excellent flooring option as they are both beautiful and durable. Many people choose hardwood flooring because of the natural aesthetic appeal of hardwood. However, some people wonder if they can paint their hardwood floors and if that is a good idea.
Although it's not too common, you can paint hardwood floors, but you'll need to be well prepared for the project. If you'd like to know more about painting your hardwood floors, check out the rest of our article.

Is painting hardwood floors a good idea?
If your hardwood floors look brand new, honestly, there's no need to paint them. Even if it seems like a good idea, you will lower the value of your home and disturb the whole concept of hardwood floors. However, there are certain occasions when painting your hardwood floor can be a great option to refresh it and add more charm to your home's flooring.
The floors are damaged: When your hardwood floors are too damaged for sanding and staining, you can turn to a more manageable solution: paint them. The paint will cover any imperfections on the floor and make it look beautiful.
The floors require a lot of maintenance: Typically, hardwood floors require a decent amount of maintenance to stay in good shape. If for any reason you don't have enough time to take care of your hardwood floors properly, it's a good idea to paint them and lower the maintenance needs. A fresh coat of paint on your hardwood floor will keep it looking brand new, while you'll need to spend less time on its care.
The floors don't have a solid color: Hardwood floors show their grains and can show discoloration over the years, which some people simply don't like. If you're not a fan of exposed grains and uneven colors on your hardwood floors, you can paint them to gain a solid color. For people who don't want to go overboard, a natural stain would be an excellent solution to keeping the hardwood charm while having an even color throughout your floor.
The floors are in high-traffic areas and get a lot of wear and tear: When you have hardwood floors in high-traffic areas, they can quickly suffer from wear and tear, which will lower their lifespan. If you want to prolong the lifespan of your hardwood floors, it might be a good idea to paint them and keep them looking.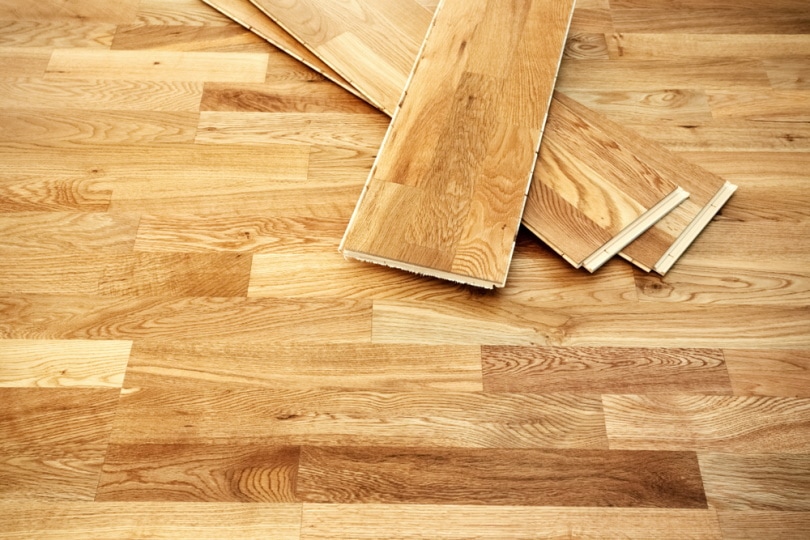 How long does the painting process take?
Painting your hardwood floors might not be challenging, but it's not a quick task. In fact, the whole process can take a while, especially if you need to do a couple of coats. You also must consider the preparation and wait times while each coat dries.
Typically, hardwood floors need between 3 to 5 coats of paint, and each coat should dry for at least 12 hours.
Benefits and drawbacks of painted hardwood floors
When it comes to painting hardwood floors, the opinions are pretty divided. While some consider painting a fantastic way to refresh hardwood floors, others are not keen to see the hardwood floor charm ruined with a coat of paint.
Like every other project, painting your hardwood floors can be beneficial and have drawbacks. Below is a list of the pros and cons of painted hardwood floors that should help you decide if this is a good option for your needs.
Pros
Affordable
Design freedom
Fresh look
Lower maintenance needs
Cons
Not suitable for every home
Long process
Not very durable
Needs frequent painting
Possible decrease in your home's value
Should I sand my hardwood floors before painting?
Although this is not something you necessarily need to do, sanding your hardwood floors before painting would be beneficial as you can completely cover any scratches that could otherwise remain visible.
Sanding is particularly recommended if your floors have a peeling or wax finish, as they can make the painting process much more complex. Sanding can also be challenging, but you can find a rental mechanical sander to help you finish the job rapidly. If you sand the floors, do a thorough cleaning before the painting process to remove any debris and dust particles.

How to paint hardwood floors
Before starting the painting process, you should be familiar with all the tools and materials you'll need to finish the job successfully. Before providing a step-by-step guide on painting hardwood floors, we want to mention all the equipment you'll need for everything to run smoothly.
Tools and Materials
Paint roller (the larger, the better)
Cutting brush
Paint tray
Paint
A finish
Anti-slip topcoat
Vacuum
Mop
Gloves
Mask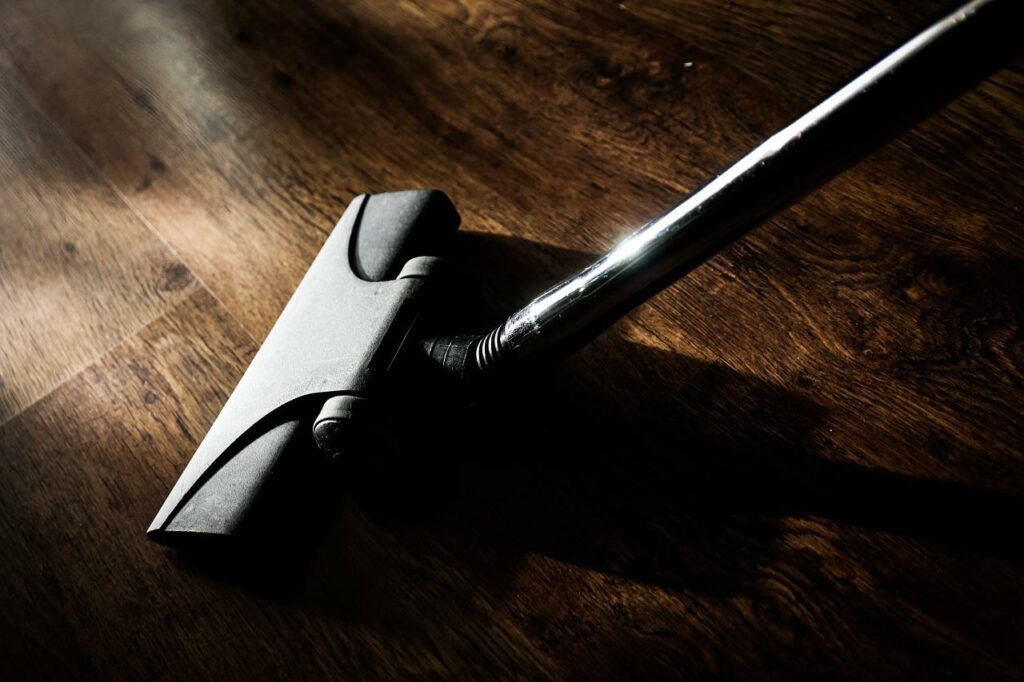 Choosing the right paint for your hardwood floors
Unfortunately, regular paint won't work for your floors, so you'll have to find a suitable paint option that will look beautiful and make your floors last longer. We suggest choosing a water-based porch and floor enamel or looking for oil-based enamel. They don't come in many colors, but they are excellent for high-traffic areas.
1.

Prepare the floors
First of all, you should think about whether you want to sand the floors or not. If you choose to sand them, that should be the first step in preparation for painting. However, if you decide to skip sanding, you'll need to vacuum and mop the floor to remove all the dirt particles so that the paint can stick to the floor nicely.
---
2.

Apply the first layer
Once the floors are clean, it's time to paint them. Before starting, we advise you to open all windows and doors nearby as the fumes could be toxic. You could also wear a mask and a pair of gloves until you finish the job. Use a paint roller to spread the paint on the floor. The first layer should have a thin coat, as the paint won't be able to dry if the layer is thick. When you finish painting the first layer, give it between 12 and 24 hours to dry.
---
3.

Apply additional coats
Do a test to see if the paint is dry, and if everything looks good, apply the second layer. Allow it to dry, and repeat the same process until you reach your desired color and are happy with the final outcome.
---
4.

Apply a finishing coat
If you're done painting, it's time to do a finishing coat that will protect the floor from wear and tear. Water-based finishing coats typically dry in 2 hours, while oil-based finishing coats need more time to completely dry. You should apply at least two layers to ensure the safety of your hardwood floor.
---
5.

Apply an anti-slip coat
Although this is not something you necessarily have to do, we advise you to apply an anti-slip coat that will strengthen the protective barrier of your hardwood floor. It will prevent slipping and add longevity to your floor.
Maintenance of painted hardwood floors
Regardless of how many protective coats you've added, you must remember that the paint over your hardwood floors will eventually wear out and show imperfections. That's why it's helpful to keep up regular maintenance and keep your floors as fresh as possible.
You should dust and vacuum the floor regularly, but try to avoid mopping as you could damage the paint. However, even with frequent maintenance, you need to remember that paint can quickly fade, so you should refresh your painted hardwood floors at least once a year.

Conclusion
Painting your hardwood floors can be an excellent way to refresh them and change up the aesthetics of your home. However, it can be a tiring process and can lower the value of your home, so ensure that it's something you really want to do. Overall, the final results can be fantastic if you follow the painting procedure and allow each layer to dry out properly.
---
Featured Image Credit: ucchie79, Shutterstock