10 Car Fire Statistics in the UK (Updated in 2023)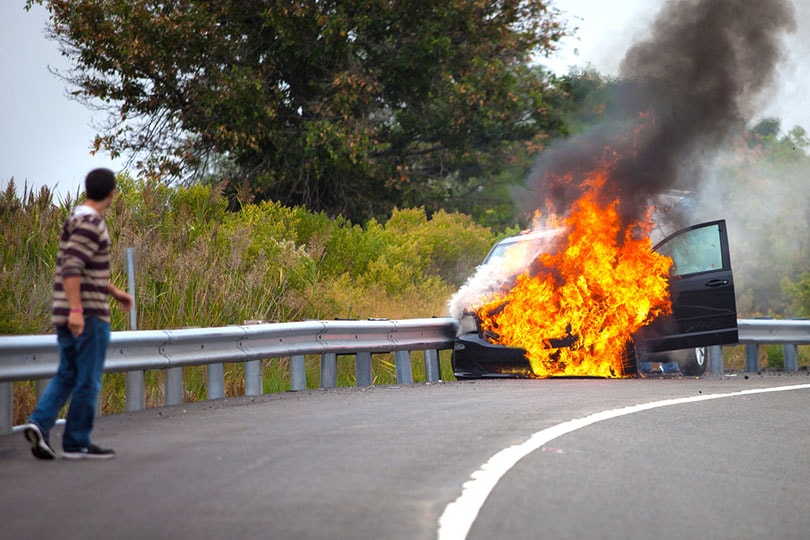 Note: This article's statistics come from third-party sources and do not represent the opinions of this website.
Car fires and vehicle fires can be terrifying, and they do lead to casualties and loss of life. Thankfully, improvements in vehicle safety and technology mean that the number of vehicle fires is decreasing, but the introduction and greater ownership of electric and hybrid vehicles lead to concern.
Extinguishing electric vehicle fires is more difficult than putting out a petrol car fire, and electric vehicles have been known to reignite hours or even days after the blaze was first extinguished. Most manufacturers actually recommend allowing a controlled blaze to burn out of its own accord, but this isn't always a feasible option for fire brigades.
Furthermore, electric car fires create more than 100 organic chemicals, including hydrogen cyanide and carbon monoxide, both of which can be deadly to people. However, despite the potential problems, vehicle fires of any sort are, thankfully, unusual. They can typically be avoided with good car maintenance and safety checks.
Read on for 10 car fire statistics in the UK, including information on electric car fires as well as details on some of the common causes of this kind of blaze.

The 10 Car Fire Statistics in the UK
Vehicle Fire Statistics
1.

Hybrid vehicles are more likely to catch fire than any other type of vehicle.
(The Driven)
Compared to combustion engines, electric and hybrid engines are still in their infancy. In a lot of cases, while vehicle fire data is kept, less data is recorded regarding the type of vehicle involved.
However, one study does show that while electric cars are less likely to catch on fire than petrol and diesel cars, hybrid vehicles are more likely. Per 100,000 vehicle sales, only 25.1 electric vehicles catch fire compared to 1,530 combustion-engine vehicles and a staggering 3,475 hybrid-engine vehicles.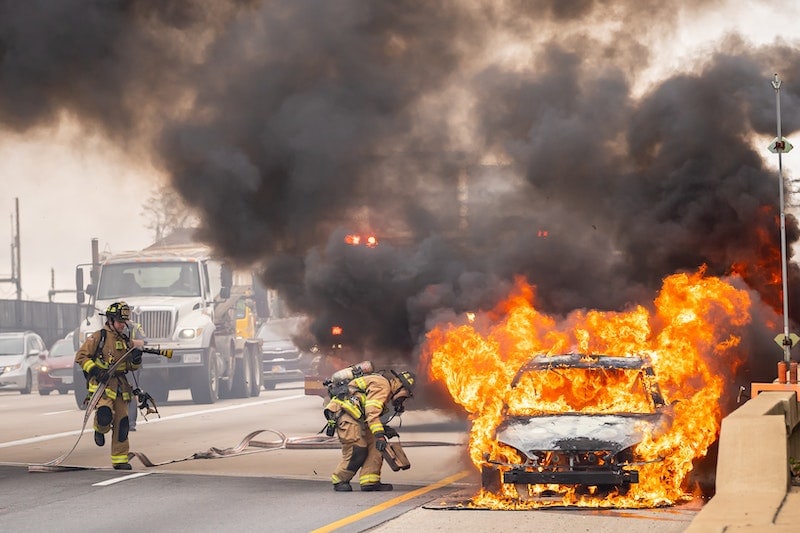 ---
2.

There are approximately 20,000 reported vehicle fires a year.
(UK Government)
According to UK government data, there are around 20,000 vehicle fires a year in England. Cars and other vehicles involved in crashes might catch fire as a result of other damage. Primary fires are those where the fire itself is the main incident.
When looking specifically at car fires, there were 11,000 reported incidents in 2021 with roughly the same number in 2020. In 2018 and 2019, there were 13,000 reported car fires per year.
---
3.

There are 500 injuries a year resulting from vehicle fires.
(UK Government)
Approximately 500 people suffer from vehicle fire injuries per year. This figure includes both deaths and injuries.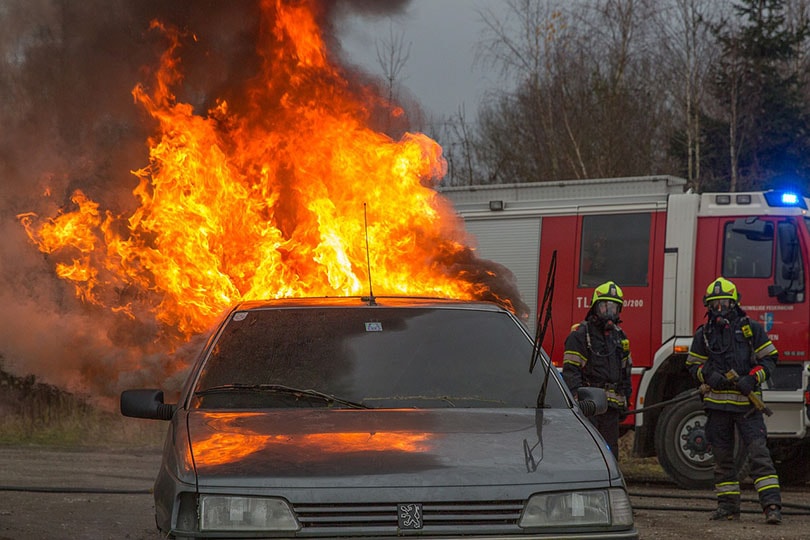 Electric Vehicle Fires
4.

Electric cars are the most likely electric vehicle to catch fire.
(CE Safety)
There is an increasing number of electric vehicles on our roads. This includes electric cars but also motorbikes, scooters, bicycles, and other vehicles.
Although electric cars are less likely to be involved in vehicle fires than combustion engines, electric cars are the class of electric vehicles that are most likely to catch fire. Roughly 43% of electric vehicle fires are electric car fires, and 20% of the fires are electric scooter fires.
---
5.

London has seen more than 500 electric vehicle fires in the last five years.
(CE Safety)
London has the highest rate of electric vehicle fires of any area of the UK, although that's not surprising considering there are more than 9,000 miles of road in London, and 18.5 billion vehicle miles are driven in the capital each year. In the past 5 years, more than 500 electric vehicle fires have been reported in the city.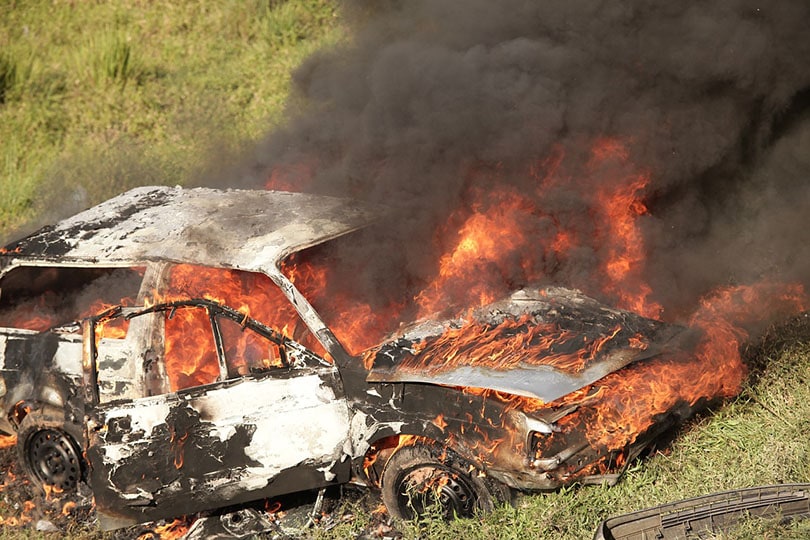 ---
6.

The number of electric vehicle fires is rising dramatically.
(CE Safety)
Although figures are not available from all areas of the UK, the data that is available shows a stark increase in the number of electric vehicle fires in recent years, in particular from 2020 to 2021. In London, there were 32 reported incidents in 2020, jumping to 102 in 2021. In Merseyside, the number rose from one to 16.
---
7.

Electric vehicles are more likely to catch fire than petrol and diesel.
(Fleet News)
Although some reports suggest that electric car owners are less likely to experience a fire in their vehicles, at least one study that looks at figures from the Department for Trade suggests the opposite to be true. In this analysis of London figures, there is a 0.04% likelihood of a petrol or diesel car catching fire but a 0.1% incident rate with electric cars.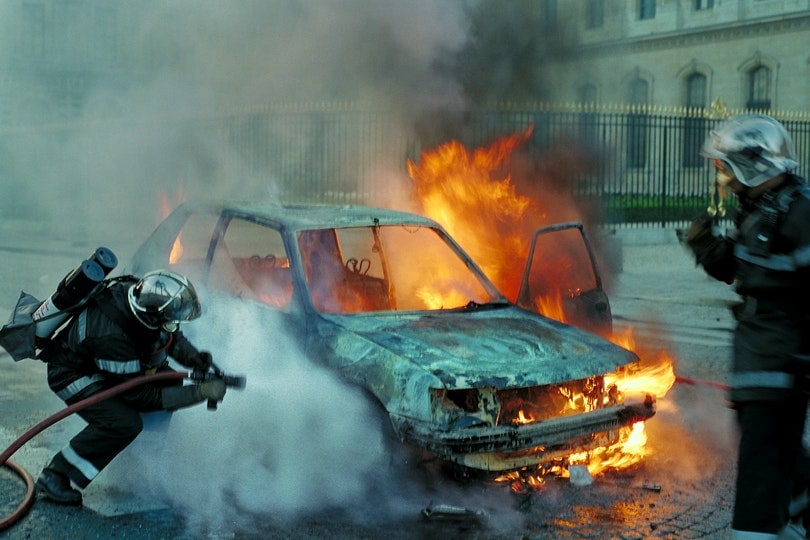 Car Fire Causes
8.

25% of scrapyard fires are caused by lithium-ion batteries.
(Autocar)
The majority of electric vehicles use lithium-ion batteries. These are similar to the batteries used in laptops, cell phones, and other consumer gadgets. The cars contain hundreds of cells and media headlines have tended to concentrate on the dangers of these batteries, especially because when one battery ignites it can set off a chain of fires in each battery and the fire can burn for many hours afterward.
A quarter of fires in scrapyards are said to be caused by lithium-ion batteries catching fire because even when the battery is depleted, it is still at risk of ignition.
---
9.

More than half of reported car fires are started accidentally.
(UK Government)
Accidental car fires are thankfully rare. With 32.7 million registered cars in the UK, there were just under 6,500 accidental car fires in 2021. This is equivalent to 0.02% of all cars and is approximately 60% of the 11,000 reported car fires during the period.
The risk of accidental car fires can be minimised through routine vehicle maintenance while having a car fire extinguisher can help put out small fires before they become major.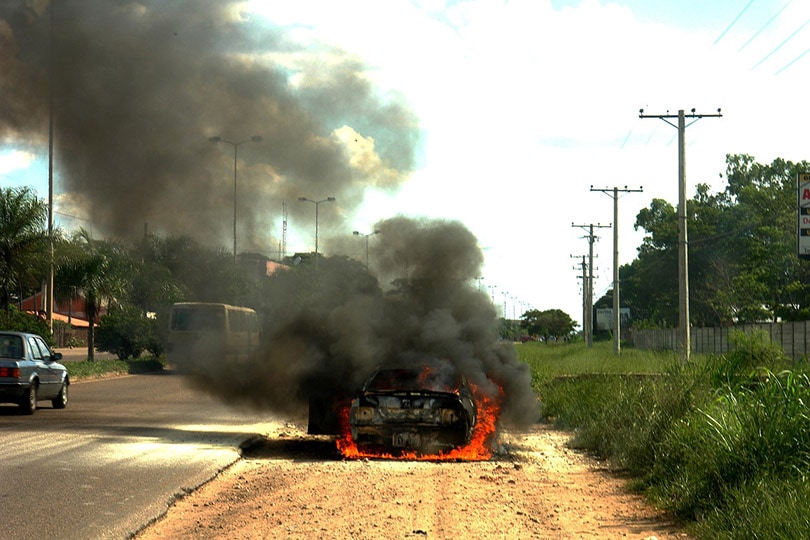 ---
10.

Arson and vandalism are the biggest cause of vehicle fires.
(The AA)
There are various potential causes of fire in cars, including faulty wiring or poor maintenance. However, the single biggest cause of car and vehicle fires is arson and vandalism. This includes thieves setting cars alight to cover their tracks and also cars that are set on fire in a bid to file an insurance claim.
Frequently Asked Questions About Car Fires in the UK
What Is the Most Common Cause of Vehicle Fires?
The most common cause of car fires is intentional arson or vandalism. This includes cars that are set ablaze after being stolen to cover the tracks of the thief. It also includes fires that started intentionally to make an insurance claim for the vehicle. Other possible causes include faulty wiring, problems with electric batteries, and poor vehicle maintenance.
How Can You Prevent a Vehicle Fire?
You should regularly make sure that your vehicle is well maintained. This can help reduce certain faults, such as damaged seals or faulty wiring, and will help reduce the risk of fire. Don't ignore warning lights in your vehicle, either, because these could point to engine heating problems that can cause fires, albeit very rarely.
Can Electric Car Fires Be Put Out?
Although a lot of electric vehicle manufacturers recommend that fires be left to burn out naturally, this isn't always an option for firefighters, and they may choose to try and extinguish the fire in other ways.
Civilians should never attempt to extinguish this kind of fire because a burning lithium-ion battery releases deadly chemicals that can prove fatal and putting the fire out exposes the individual to these chemicals.
How Hot Is a Car Fire?
A car fire can reach temperatures of 1,500°F, which is several times hotter than the inside of a home oven. As such, it is important that you get away from a car that has caught fire or if you believe there is a fire in the engine. Experts advise that you release the bonnet using the lever inside the car but do not attempt to open the bonnet further.

Conclusion
Car fires are frightening and if you witness smoke coming from under the bonnet, it can lead to panic. Fortunately, in a lot of cases, smoke does not necessarily lead to fire, and even when it does, the fire can usually be extinguished quickly.
But, while fatalities from car fires remain relatively low, there is still some risk, so you should follow guidance to pull over safely, release the bonnet, turn off the engine, and get to a safe position before calling the fire service.
---
Featured Image Credit: Photo Spirit, Shutterstock