Casement Vs. Double Hung Windows: What Are The Differences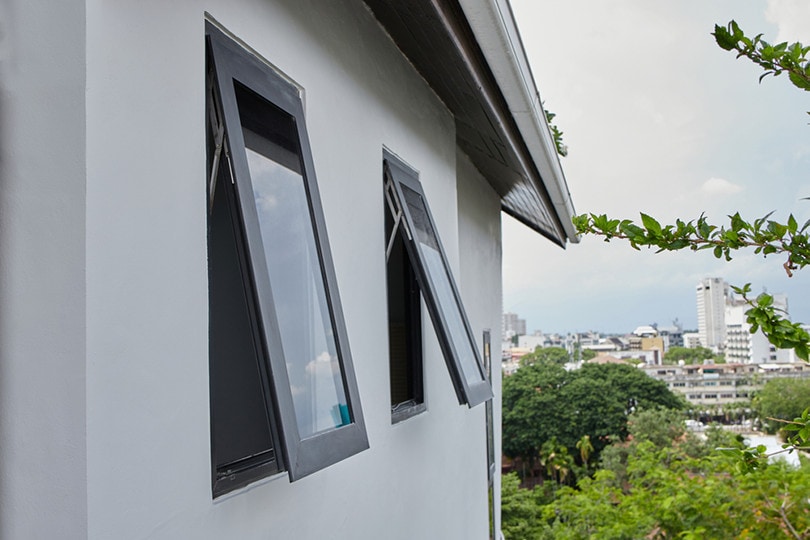 Do you know what they'll never tell you? The fact that windows add value to a property. Some of you guys think that they are just features meant to make a house look 'normal', but you're wrong. They do add beauty, light, and more importantly, warmth.
To us, windows are like small portals connecting people to a different universe. The kind of portal that opens whenever sound, air, light, or even beauty wishes to pass through. You know we love them so much that anytime we hear someone confuse the casement window with the double-hung, we just get irritated.
And that's why we decided to talk about them in today's blog post. If you don't mind, we'd like you to pull up a seat and start taking notes.

Casement Window Overview
Before we even talk about anything else, let's just get it out of the way: the casement window is not a double-hung or single-hung window.
They don't have any sort of track that allows them to slide up and down, but hinges that make it possible for them to swing open the same way a book does. That means they come with their own set of pros, and of course, cons.
Understanding the specifics of what makes a casement window an actual casement window is crucial in deciding whether this type of window is best suited for your home. And these are some of the things that we think you should know:
What Are Casement Windows?
If you look at its overall production, you'll realize that they make up a very small percentage of the market in the United States. They are not as common as the single-hung or double-hung windows, and we have this feeling that that could be because not so many homeowners are acquainted with its unusual appearance and functionality.
Regardless, we believe there's no other window out there that functions more efficiently than the casement window—in the airflow department.
How Can You Tell You're Looking At A Casement Window?
There are windows that are wide, and then there's the casement window, which is tall. And quite frankly, this is the main reason why they organically fit in most of the old buildings and cottages in Europe. They kind of exude this traditional feel, and that's what Europeans mostly look for.
We have different types of casement windows, just so you know. There's the kind that uses 'muntins', and those that only have unbroken panes of glass. Muntins are the dividers usually found in between its panes. Nonetheless, both types are controlled by cranks, which will allow you to open or close it at will.
We would advise you to go for a casement window that doesn't have muntins, if you're thinking of installing one that offers an incredible and unbroken view of a breathtaking landscape. They certainly can draw attention to the most beautiful of surroundings.
The best house location to install a casement window is the living room, or the bedroom. We feel like those two are the best rooms because these windows have also been designed to provide adequate ventilation in the house. And we all know, ventilation is critical for comfort.
Let's now dive into those pros and cons that we mentioned earlier on.
Pros
Incredible views: we've already talked about this, but we still feel a need to put more emphasis on it. Casement windows, especially those with no muntins, will give you that breathtaking view without obstructions.
They function as sails: these windows have a way of making rooms a lot breezier and comfortable.
Excellent security: to lock a casement window, you'll have to use its hook. That hook will latch on the inside, meaning no one can even try to open it from the outside.
There's a romantic aspect to it: think about the type of windows that were used in castles back in the day. A time when princesses would open their windows outward in the morning and dream about their lives with their charming prince. Well, that's the feeling when you open your window outwards.
Cons
No screens: most of them don't have screens. And this is the reason why most people with kids rarely install them. Those that do, have the screens positioned on the inside. Thus, making them more receptive to tearing and breakage.
Only works with a specific type of window A/C: you cannot just get whatever air conditioner you feel is best for your home, if you've installed a casement window. They only work with particular designs, and most of those designs aren't good-looking.

Overview of Double-Hung Windows
Simply put, the double-hung window is the type of window that can literally fit anywhere. It's beautiful, classic, and usually complementary to any home.
Just like the casement window, it comes with its fair share of benefits, advantages, and disadvantages. But we're going to talk about all that after we've learned about the meaning of 'double-hung.'
What Are Double-Hung Windows?
The phrase 'double hung' is meant to tell you (the buyer/users) that you'll be able to open the window from the bottom or top by moving its sashes. But most parents prefer using only the upper section, because kids aren't tall enough to reach it.
How Can You Really Tell You're Looking At A Double-Hung Window?
Focus on the casing. The double-hung has a casing that's slightly thicker. That thickness is supposed to enable both sashes to co-exist, but in their own track. If you've never bought one before, ask the store attendant for assistance, or go with someone who knows the product.
Any time we come across double-hung windows, we automatically start thinking about simplicity. That's primarily because unlike the casement, they don't have so much going on. They are just your conventional rectangular window with upper and lower sashes. To top that off, you could easily find a double-hung that's designed with a single pane, or one that has multiple panes separated by grids.
Side note: We forgot to tell you guys that the grid is the other name for muntin.
The Convenience Factor
We cannot talk about double-hungs without talking about how easy they make life for some of us. Rarely will you find a window that can tilt inwards, to make cleaning a simpler task. Even if you're on the 20th floor, you'll still be able to clean all parts without struggling.
It's important to also note that the market has just released some new double-hung designs that come with latches. These latches lean the windows out to make the outer parts accessible.
How Does It Work?
By applying downward pressure to the grids, you'll be moving the upper sash. And if for whatever reason you wish to raise the lower one, all you must do is apply upward pressure on the muntins from below.
Pros
Value addition: one of the things that property investors usually take into consideration before investing in anything, is value addition. You'll hear them talk about the Return on Investment (ROI) all too often because they want to see value for their money. The double-hung offers exactly that, thanks to its unique functionality.
Safer: since you won't have to leave the house or even climb up a ladder to clean the outside area, it's safe to assume the manufacturers took 'Safety and Maintenance' into account during production.
User friendly: even a kid in kindergarten can figure out how to open and close the double-hung window when letting in fresh air or keeping strong odors at bay. It's that simple.
Cons
Costly: because they are one of a kind, they don't come cheap. You might not break the bank, but you'll definitely feel the pinch.
Limited ventilation: you can only open one half the window at a time. And that means one half of the window will always be covered by sash.
Not airtight: the fact that they have tracks to separate the windows is all you need to know to gauge whether they are airtight or not.

Conclusion
The casement and the double-hung are both incredible window designs. We wouldn't say one is better than the other, since they were both produced to cater to different audiences in the market. If your taste and preference don't align with the casement, you're free to install the double-hung, and you'll still be good.
See Also:
---
Featured Image Credit: Sompetch Khanakornpratip, Shutterstock