Where to Buy Macrame Cord? (Online & In-Store Options)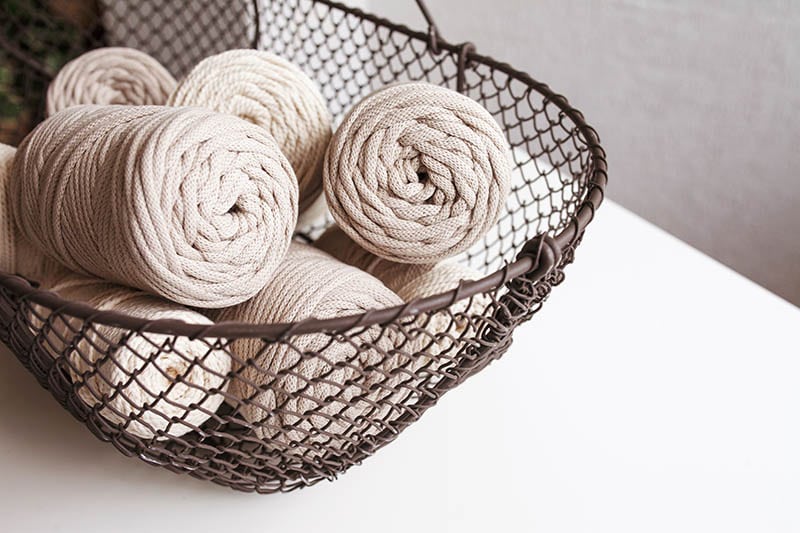 If you're eager to join the renaissance of macrame art, you'll be happy to know that you can buy the supplies online or at practically any store where craft supplies are sold. Online shopping gives you the most options, but you can also pick up a skein of cording at your local craft store if you don't want to wait for shipping or if you'd rather choose in person.

Where Can I Buy Macrame Cord?
1.

Amazon
As a global supplier, Amazon hosts a plethora of shops selling macrame supplies. The NOANTA store is currently a bestseller. They offer 38 color options of cotton cording in standard 3–6 mm sizes.
---
2.

Etsy
Like Amazon, Etsy is a global seller, but they like to give extra support to local businesses. You can even find a macrame supply seller in your hometown by using the custom search for a shop location. Unfortunately, not everything on Etsy is handmade, so look at the product descriptions carefully to ensure you're not buying an overpriced generic brand.
---
3.

Joann
Of the in-person craft stores, Joann has the largest selection of cording designed specifically for macrame. If you need help finding exactly what you're looking for under macrame supplies, try searching the jewelry or yarn section for more options under a different label.
---
4.

Hobby Lobby
You can find macrame supplies and kits online and in person at Hobby Lobby. Their website could be more user-friendly, but if you have a store nearby, the employees are usually happy to help you find what you need.
---
5.

Michael's
The jewelry section hosts the most cording supplies. While you'll find plenty of 3mm cording perfect for beading or creating macrame jewelry, you'll likely find fewer options for 4–6 mm macrame rope for standard projects such as wall hangings. Like Hobby Lobby, Michaels also sells several macrame kits if you'd rather buy a complete set with instructions and other supplies you'll need to complete a project.
---
6.

Walmart
The giant American chain is a hit or miss when it comes to crafting supplies. However, if you can find it, you'll likely pay a lower price than you would at a craft store. You can also find a wider selection online.
---
7.

Dollar Tree
In recent years, Dollar Tree has unfortunately upped its prices. However, luckily for us fellow crafters, they've also upped their game when it comes to home décor and crafting supplies. Whether you find a small skein of macrame cording in the $1.25 section or a craft kit or premade macrame decoration in the $5 spot, you'll likely find creative ways to indulge in the art cheaply.
---
8.

Rock Mountain Co.
Eco-conscious crafters speak highly of Rock Mountain Co. It's an online macrame supply shop specializing in 100% recycled cotton cords. You can find select items on Amazon or visit the Rock Mountain Co. website to see all of their products.
---
9.

Modern Macrame
Modern Macrame, a female-owned business based in Portland, Oregon, inspires creativity with its products and patterns. Their website features an extensive store where you can buy macrame materials to make projects based on their free patterns, blog posts, and tutorials. They also sell books where you can find even more macrame projects.
---
10.

Bobbiny
We love how this Polish company doesn't use dyes or water to produce their high-quality recycled cotton cording. Instead, Bobbiny sources its fibers from consumer and factory fabric scraps, breaks down the fibers, and then spins them into something beautiful and new.

What Is Macrame? And Why Is It So Popular?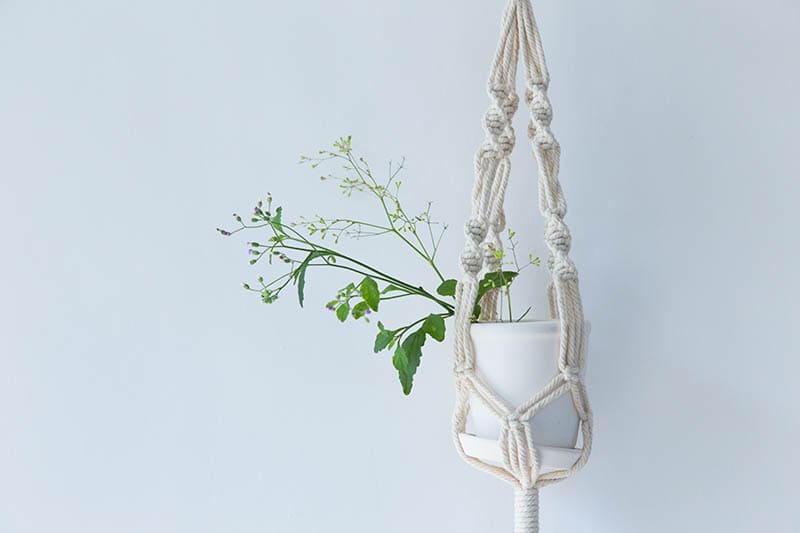 Since the art of macrame is the practice of making functional knots, we can easily say that it has been a popular art form for centuries. However, most people associate the word with the 1970's trend that's recently resurfaced. During the late days of the 60s revolution, macrame was practically the embodiment of a cultural shift that turned away from rampant consumerism in favor of a simpler life that also respected the environment.
Crafters and social activists learned you could create virtually anything if you had an eco-friendly, natural cotton cord and a bit of spare time on your hands. These early creators designed clothing, shoes, handbags, wall décor, and rugs—almost every textile thing you'd typically buy commercially manufactured—and proudly wore them to protest the mismanagement of natural resources and unethical production.
Today, the philosophy behind macrame's return is centered around simple living. Macrame slowly crept back into our culture right before the pandemic. When the lockdowns commenced, macrame was met with a welcome embrace as the world once again took a hard look at how we manufacture products and spend our time. A simple, minimalist approach to decorating and life, in general, was embraced as people gradually reconnected with their families and had free time to relearn old art forms.
What Is Macrame Cord?
Macrame cord comes in a single or multi-ply thread that's measured in millimeters. Although there are many millimeter options, 3–6 mm is the most common range. A smaller number equals a smaller-sized thread that's generally suited for jewelry making or other small crafts.
A 4–6 mm thread works for various projects, including weight-bearing supports like plant hangers or shelves. If you want extra support or super chunky knots, you can buy 6–8 mm macrame cording.
Single-ply or single-twist thread consists of many threads twisted together into a single strand.
Unraveling single-ply thread results in a thick, straight fringe. Single-ply cording is a popular choice for jewelry or projects where you want a simple fringe. Multi-ply cording has two or more distinct groups of threads that are then twisted around each other. Knots created from this cording are more noticeable and a bit stronger than single-ply, which makes multi-ply a good choice for when you want to create a wall hanging or larger project. Wavy fringe comes from unraveling multi-ply cording, which some crafters love.
Other Things You Can Do With Macrame Cord
Although it's probably more expensive than other materials, you can use a macrame cord or rope to create different projects that call for yarn, string, twine, or jute. We recommend keeping your leftover cord scraps to decorate gifts, knit small items, use as shoelaces, string necklaces, make DIY cat toys, or create a popcorn string for the Christmas tree.
Macrame Cord Alternatives
You can technically use cheaper materials such as jute or yarn for macrame as long as they are in a similar gauge as cording. However, macrame cording is typically made from cotton, which is easier to tie than wool or synthetic yarn for knitting or crocheting. If you're making a project to display outside, such as a decoration for your front porch, you'll want synthetic cording or actual rope since cotton doesn't withstand the elements very well. Just keep in mind that the knots are a little harder to tie on these materials, so they aren't necessarily recommended for a beginner.

Conclusion
Online sellers such as Amazon and Etsy offer the widest selection of macrame supplies. If you'd rather buy in-store, check out Joann craft stores or browse the jewelry or yarn aisles at Hobby Lobby or Michael's. You might also find macrame kits at Hobby Lobby and Michael's, which will supply you with the cord you need for the particular project, instructions, dowels, and anything else you'll need. Walmart and Dollar Tree are more finicky when it comes to craft supplies, but you'll likely score a good deal if you can find them there.
Finally, online stores such as Rock Mountain Co. and Bobbiny often have an eco-friendly focus that we love and more unique offerings. For example, Modern Macrame combines an online store with free patterns, tutorials, and blog posts for an exclusively online experience. The surplus of shopping options makes it easy to jump into the movement and learn an ancient skill that's new to you.
---
Featured Image Credit: Liudmila Fadzeyeva, Shutterstock