Toto Drake II Review 2023 – Pros, Cons, & Verdict
We give the Toto Drake II Toilet a rating of 3.2 out of 5 stars. 
Appearance: 3/5
Cleanliness: 3.5/5
Features: 3.5/5
Price: 3/5
Toto is one of the biggest names in bathroom fixtures, and the Drake II toilet model is one of their best-selling high-end thrones. It's very average in the looks department, though the CEFiONTECT finish looks good and helps keep the entire device hygienic, preventing bacteria and messes from sticking.
The biggest draw for the Drake II is the tornado flushing system, which makes excellent use of the small volume of water used for flushing. It uses just 1.0 or 1.28 gallons of water but seems to provide a much more thorough flush than other toilets that use the same amount of water.
Overall, this is a well-performing toilet that's completely basic in most regards. It is priced like a premium product though. Are there any features here that warrant the higher price? Let's take a closer look at this toilet and find out.
Toto Drake II – A Quick Look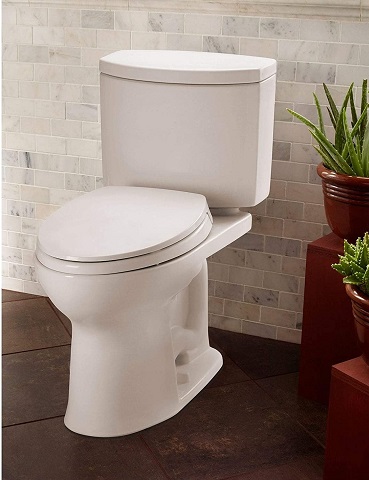 Specifications
Brand Name: Toto
Model: Drake II
Water use: 1.0 – 1.28 GPF
Finish: CEFiONTECT glaze
Design: Two-piece
Seat height: 17.25"universal height
Pros
Low-flow flush conserves water
Tornado flushing technology
CEFiONTECT glaze prevents messes from sticking
Many include washlet bidet seats
Cons
More expensive than similar toilets
Two-piece design isn't the most hygienic
Very average appearance
The Toto Tornado Flush
The best trait about the Drake II is the tornado flush. Instead of a hole in the rim where water is expelled to complete a flush, this toilet features dual nozzles that employ a centrifugal washing action. This results in a thorough, powerful flush that hits the entire bowl, unlike many toilets that use similar amounts of water for the flush.
But just because it flushes well doesn't mean it's wasting water. This toilet is very economical, using just 1.0 or 1.28 gallons per flush, depending on which version you choose. Compared to other toilets that use the same volume of water per flush, the tornado flush system on the Drake II provides a superior flush.
Uninspired Two-Piece Design
Looking at this toilet, it's pretty hard to pick out anything special or stand-out about it. It looks completely average, with an uninspired two-piece design. You'd never know that this toilet was more expensive than similar models by looks alone.
The biggest problem with the two-piece design is hygiene. The large space between the tank and bowl can catch and hold bacteria, urine, and more, making it a breeding ground for nastiness. Plus, the exposed trap-ways provide even more places for bacteria and messes to accumulate.
CEFiONTECT Glaze
Luckily, this toilet is coated in the Toto CEFiONTECT glaze that prevents bacteria and more from sticking, helping to mitigate the other hygiene issues. This glaze is also applied to the bowl, which minimizes the number of streaks you're likely to deal with.
Why So Expensive?
Compared to similar toilets, the Drake II seems pretty expensive. You can get a solid-performing toilet for half the price of a Drake II, which begs the question; why is it so expensive? Well, for one, Toto is known for making high-quality fixtures that last. More importantly, this toilet just works. Many people seem to purchase more of them after buying their first Drake II: a testament to the quality of this toilet.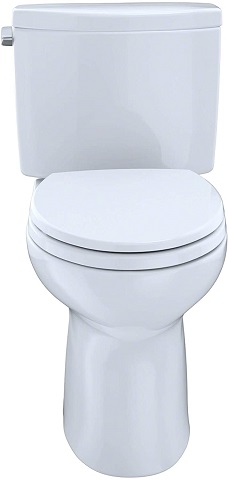 ---
FAQ
Is the Toto Drake II ADA compliant?
Yes, this toilet is completely compliant with ADA regulations. Moreover, it also meets all standards for EPA WaterSense and the requirements for California's CEC and CALGreen.
Are the seat and all installation hardware included?
Some versions of the Drake II do include a seat. Some of the high-end versions even include a washlet bidet seat. But you'll need to purchase the wax ring and installation hardware separately, as well as the seat for versions that don't include one.
What is the warranty on the Toto Drake II?
This toilet comes with a one-year limited warranty on both the internals and the china.
What the Users Say
At this point, you should have a good understanding of the Toto Drake II and our opinions of it. However, as we know, our opinions aren't the only ones that matter. Moreover, there are many users of this toilet that have written reviews and commented in forums to share their opinions on this toilet. To ensure that we're giving you a complete view of this product and not skewing it with our own judgments, we decided to scour reviews and forums to bring you the thoughts of others who have put this toilet to use in their homes.
One of the most common things that users of this toilet continually praised was the tornado flush system. Many of these users complained about other toilets that used such a small amount of water for flushing, but felt that the Drake II did a great job with the small volume of water, providing a thorough flush that hits the entire bowl.
However, other users weren't as pleased with the low level of standing water in the toilet. For these users, skid marks were left on the sides of the bowl that the flush wasn't able to remove, despite the CEFiONTECT coating. That said, it seems that only a small percentage of users related to this frustration.
Many people were pleased with the universal height of this toilet, which stands taller than many other toilets, making it perfect for anyone who has a hard time getting on and off of a traditional toilet.
While many users felt that this toilet was more expensive than it should be, just as many seemed to believe that its solid operation is worth the higher cost.
---
Conclusion
Overall, the Toto Drake II is a great toilet, though it's a bit pricier than other similar toilets. Still, the tornado flush offers something that many of those cheaper toilets are missing; a clean bowl. Toto is known for their reliability, which many people are willing to pay extra for. The warranty might not be the best at just one year in length, but the time you'll save since you won't have to clean the bowl as often as other toilets just might be worth the extra cost.