DeWalt DWE7491RS vs Bosch 4100-09: Which One's Best?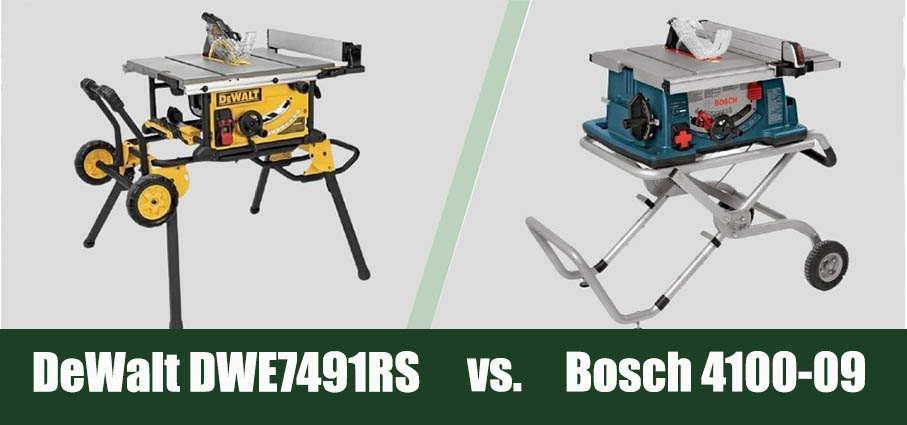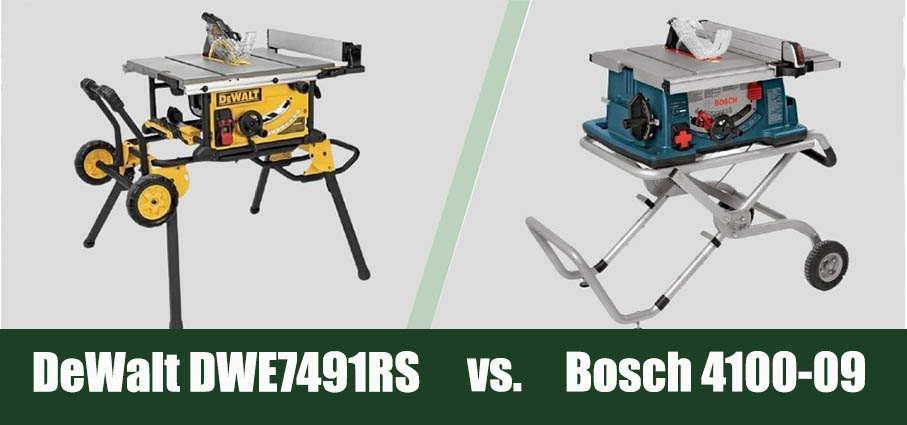 Rating
Image
Product
Details

Best Price

DEWALT DWE7491RS

Affordable
Quality 15-amp motor
Good dust extraction system
CHECK PRICE

Most Portable

Bosch 4100-09

Quality Motor
Rugged Exterior
Extremely Portable
CHECK PRICE
If you are looking for a job site table saw, there is no doubt that you have already regularly come across the companies Makita and DeWalt. They make some of the best tools out there, and their job site table saws are certainly no exception.
The problem then becomes choosing between them. This is the issue that we are going to take a deep dive look at in today's guide.
In the following paragraphs, we will take a more comprehensive look at every question that you might have regarding both tools.
However, there are a few matters that we can address right now.
For instance, shoppers looking for the most value are going to (perhaps surprisingly) find it in the DeWalt.
However, if you are looking for something that it is a little bit easier to transport you are going to find it in the Bosch.
Do you want more information? You can find it down below as we now take a deep look at the similarities and differences between these two high-quality, popular tools.

What's the difference between them?
We will now take a look at a few of the key differences between these two saws!
Performance:
Performance is going to be mostly pretty similar between these two options. Both boast 15 Amp motors, both are similarly versatile, and both are similar in terms of customer satisfaction.
Once you get the tools to the job site, you are more or less going to enjoy a similar experience.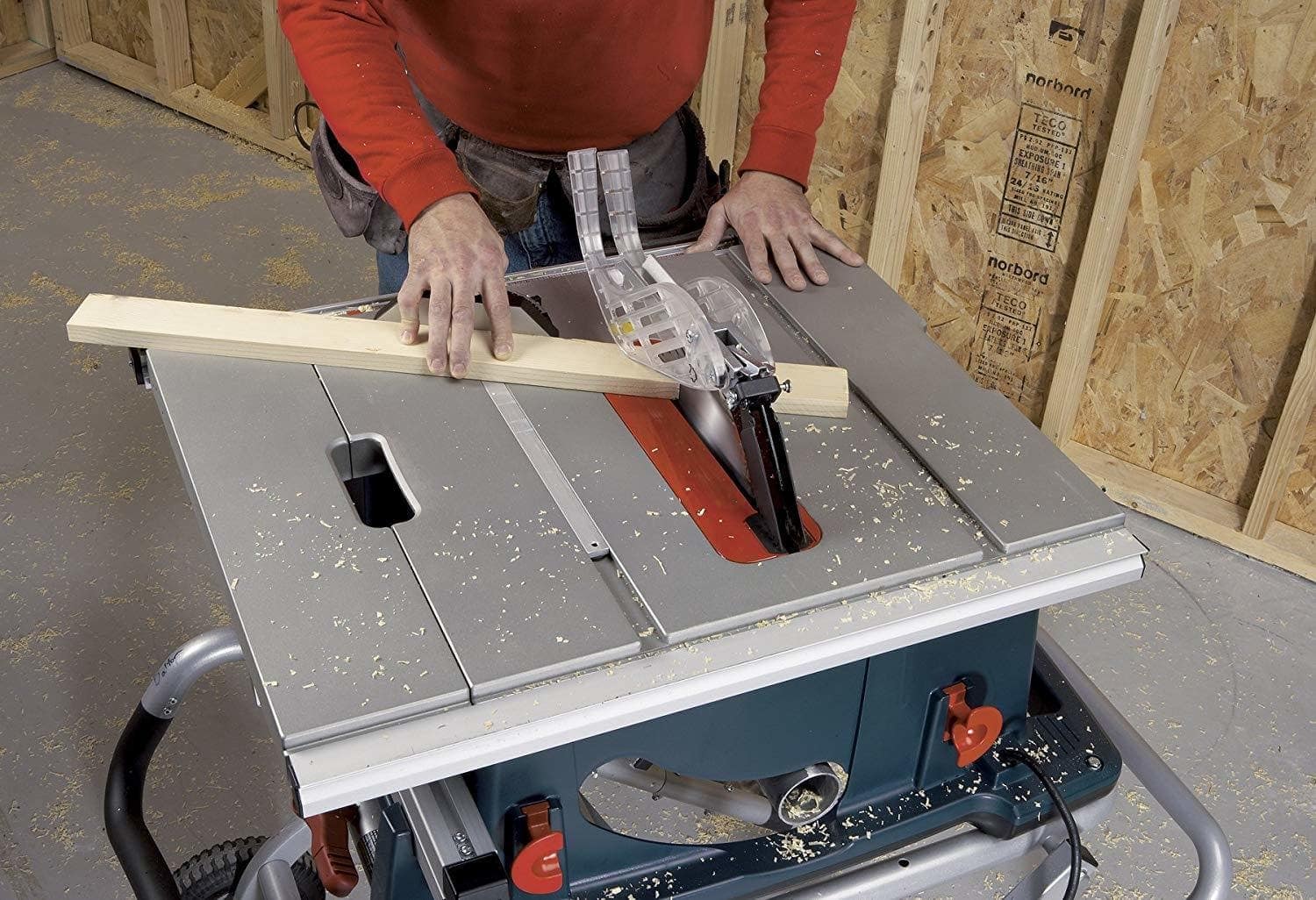 Mobility:
Mobility is a pretty critical component of any job site table saw. After all, the table saw is traditionally a very stationary tool, but the very essence of this iteration is to make it easy to move.
It is in the department of mobility that the Bosch wins big.
This unit comes in at around sixty pounds, which is really incredibly light for a table saw. It also features a wheel system that is designed to fold up easily to be moved to your job site.
Finally, the design has just been overhauled to be as durable as possible, which is good for mobility both because job sites can obviously be very rough on your tools, and because even transporting a table saw in a car can also be hard on it.
In the other camp, we have the DeWalt. Naturally, this tool is also designed to be on the go, but it just doesn't quite manage to do it as well as the Bosch does.
The DeWalt weighs in at around 110 pounds, which isn't horrible considering the nature of the tool, and it also features a rolling stand that will help you get around with it.
If we were only looking at the DeWalt, it would probably be fair to say that there is a lot to like about how easy to transport it is, but compared to the Bosch it definitely falls short.
Price:
We did mention this in the introduction, but it bears repeating for the sake of making an informed decision. If you want to get the lowest price possible, you are going to want to invest your money in the DeWalt.
This is actually somewhat surprising, as DeWalt is known for falling on the higher end of the price range. Bosch also has that reputation as well, and in this case, it skews even pricier than the DeWalt does.
In this case, the difference in price is around $100 which for many shoppers may actually be a significant enough difference to sway your buying decision.
Quick Rundown of Dewalt DWE7491RS
DEWALT Table Saw, 10 Inch, 32-1/2 Inch Rip Capacity, 15 Amp Motor, With Rolling/Collapsible Stand...
Your purchase includes one Dewalt table saw, 10inch 24-tooth carbide blade, rolling stand, push stick, miter gauge, rip fence, 2x blade...
Other Specs: Max rip to left of blade – 22inch | Max rip to right of blade – 32-1/2inch | Max width of Dado – 13/16inch | Arbor...
Rolling stand designed for easy set up and breakdown with excellent stability
Here is a quick run down of some of the pros and cons associated with the DeWalt.
Pros
Affordable
Quality 15-Amp Motor
Good Dust Extraction System
Cons
Miter Gauge Leaves Something to Be Desired
More Challenging to Transport Than Bosch
Quick Rundown of Bosch 4100-09
Bosch 10-Inch Worksite Table Saw 4100-09 with Gravity-Rise Wheeled Stand; Portable Table Saw...
PORTABLE: Innovative, gravity rise, collapsible table saw stand allows you to adjust height to meet your specific needs while the 8...
EFFICIENT: Featuring SquareLock rip fence engineered to increase cutting trueness and allowing for one handed operation as you glide...
PRECISION: Bosch 4100 09 worksite table saw provides high precision cutting as well as efficient power with 3,650 no load RPM motor
And now, we have a quick run down of the Bosch.
Pros
Extremely Portable
Quality Motor
Rugged Exterior
Cons
Dust Port Prone to Clogging
General User Impressions:
In general, both tools have been really well received. Users certainly appreciate the affordability of the DeWalt, as well as the general utility of the machine.
Users have, however, noticed that the interface of the tool itself is less user-friendly than one would hope for. This may be especially true for shoppers that are not extremely well versed in power tools.
People have also expressed some general dissatisfaction with some of the accessories and attachments such as the miter gauge.
Naturally, this is a pretty important component of any power saw, but for the price of this tool, the con is probably one that most buyers are going to be able to look past.
The Bosch is getting a lot of love for its mobility. Many users are rightly saying that the tech at work here is really pushing the limits in terms of what one expects for portability in a table saw.
Users have however, noticed that the dust port leaves much to be desired. The chief complaint is that this component is prone to clogging, which is an irritating but manageable con.

Conclusion:
And there we have it. Which of these two options is going to be right for you? As far as we are concerned, there is not necessarily a crystal clear winner. Both are high functioning, well regarded tools that have their own set of pros and cons.
It really just comes down to what you are looking to accomplish with your tool. Is this something that you are going to be on the road with a lot? If so, you are really going to prefer the Bosch, which comes in at almost half the weight of the DeWalt.
On the other hand, if this is a more home-based tool, or if you just want to do whatever you can to save some money, the DeWalt is going to be your go to choice.
Of course, we aren't going to tell you which to buy. Now that you have read this guide, you can make your own informed buying decision.