DeWalt vs. Makita: Which Power Tool Brand is Better in 2023?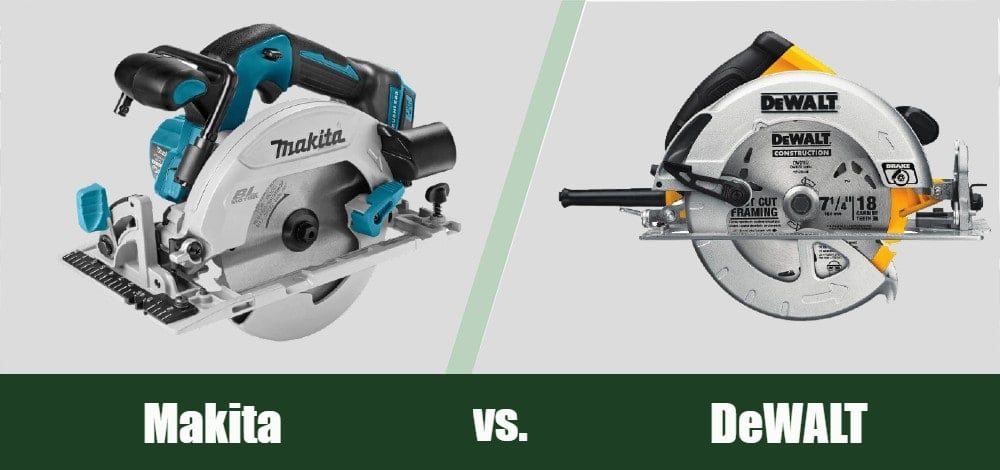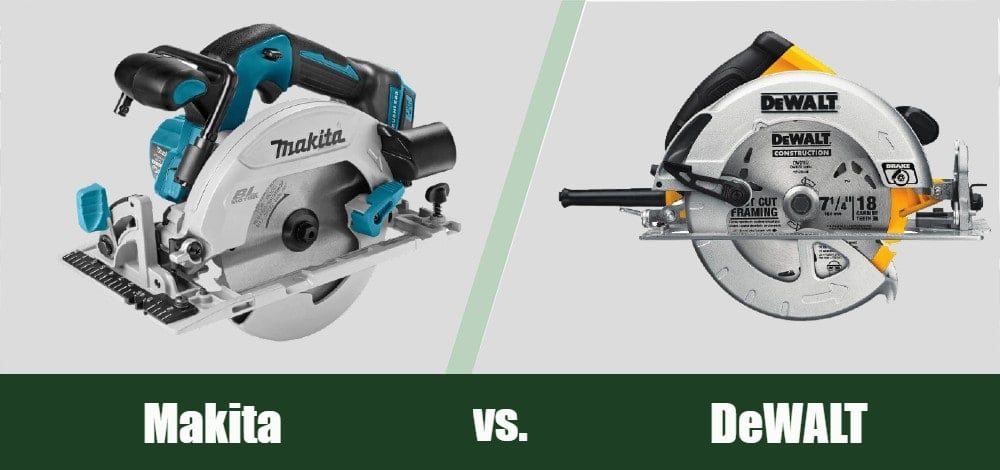 DeWalt and Makita are two of the most popular tool manufacturers at this time. Each company makes a wide range of tools, from a simple flashlight to a complex table saw and everything in-between. Traditionally, you had to choose between these two brands for each tool, but with the recent advancements of battery-powered portable tools, it's better to choose one brand and stick with it because you can use the same batteries to power all of your tools. However, that makes the decision more complex and challenging to make.
We're going to take a look at both brands and compare products, prices, warranties, and lots more to help you choose the right brand for your workshop.

A Quick Comparison
Side-by-side rundown of the basic stats and information.
Image
Product
Details

DeWalt

Established: 1924
Headquarters: Leola Pa USA
Product Line: Power Tools
Parent company/ major Subsidiaries: Stanley Back & Decker
CHECK PRICE

Makita

Established: 1915
Headquarters: Anjo Japan
Product Line: Power Tools
Parent company/ major Subsidiaries: Fuji
Robin Industries
Dolmar
CHECK PRICE

Brief History of DeWalt
DeWalt officially entered the power tools market in 1942. They set up a shop in Leola, Pennsylvania, and introduced the Wonder Worker, which allowed woodworkers to configure it in nine different ways as required for different tasks. DeWalt also sold a dedicated mortiser and jointer. After several years the plant moved to Lancaster ad they began to expand rapidly. In 1992, they began offering their first battery-powered cordless tools, and in 1994 they were the first to release a large line of over thirty tools that can be powered using the same battery.
By 2001, DeWalt had over 200 electric tools with more than 800 accessories. In 2013, they introduced brushless motors, which reduce friction and increases power, and they continue to expand and make improvements in battery power, vibration reduction, and more.
---
Brief History of Makita
Makita is a Japanese company that began in 1915 as a producer of electric motors. They also sold lighting equipment and transformers, with their direct international sales coming from the Soviet Union. In 1958 Makita created the first Japanese electric planer and became a power tool manufacturer in 1959. In 1969 they made the first battery-powered rechargeable power drill. In the 1970s, they began to expand around the world and continue to do so today. Their product line rivals that of DeWalt, and they are one of their biggest competitors.

DeWalt vs Makita: Manufacturing
DeWalt
DeWalt's main plant is in Lancaster, Pennsylvania, and it is the largest production facility.  However, several other plants are in the United States, including one in Indiana, Maryland, Connecticut, Kentucky, Tennessee, North Carolina, and South Carolina. DeWalt prides itself on its "Made in the USA" label, though it uses parts that it sources from around the world and also has factories outside America as well.
Makita
The primary Makita plant is in Japan. However, they have a large number of factories around the world, including the United States. You can also find Makita factories in Canada, Brazil, China, Romania, Mexico, and the United Kingdom, among many others.
---
DeWalt vs Makita: Product Line
DeWalt
DeWalt is an American Company that builds powerful and durable tools.  DeWalt tools rarely fail and are known for their toughness and reliability. They are just as common on a commercial job site as they are at home. However, they are not as innovative as Makita and prefer to develop existing technology. This idea is especially apparent in battery-powered tools. Cordless tools were available for many years before DeWalt got involved, but DeWalt introduced more powerful batteries and a line of tools that could all use the same battery, which ushered in the age of the cordless power tool.
Makita
The Makita company are the innovators of the two companies. They were the first to create an electric planer and had invented the rechargeable power drill almost 25 years before DeWalt started making cordless tools. Though companies have been using brushless motors on conveyor belts since the 1960s, Makita was the first to use it in a power tool, and it's become a critical part of cordless tools.
Unfortunately, history shows that Makita tools are not built as tough as a DeWalt, and the plastic housing material is flimsier and easy to crack. The switches aren't as smooth. It's not as well balanced. It doesn't produce as much torque, loses charge quicker, and ultimately doesn't last as long as DeWalt. It costs less, but you don't see as many on the commercial sites.
Makita usually costs a little less than DeWalt tools. However, both companies have several quality tiers to ensure you can get a tool that fits your budget.

DeWalt vs Makita: Price
DeWalt
DeWalt has a great many budget tools, like the DWD110K corded power drill that includes a carrying bag, the DXAM-2260 portable air mover, or the DCV517B cordless wet/dry vacuum that you can find for under $100. DeWalt also offers an extensive line of high-end tools, like the DWS716 miter-saw, DW735X thickness planer, and the DCD130B cordless drill for concrete mixing that will cost many times what a budget tool costs.
DeWalt also offers several combo kits that contain several cordless power tools, batteries, a charger, and a storage bag. While the initial cost of these kits may be quite high, you can get significant per-tool savings.
Makita
Makita has similar pricing to DeWalt, but you may find many models slightly less expensive. They, too, have a great line of budget tools, including the CT232 2-piece cordless drill, GV5010 rotary sander, and XLC02R1B cordless vacuum that you can purchase for under $100. Their high-end products include the XBU02PT1 36-volt blower that comes with four batteries, the XCU03PT1 chainsaw, and the SP6000J1 plunge circular saw.
Makita also has several combo kits that provide you with several tools, batteries, and accessories to cut costs and provide you with most of what you need.
---
DeWalt vs Makita: Warranty
DeWalt
DeWalt comes with a three-year warranty covering any broken parts caused by manufacturing, and they will also cover the costs of servicing the equipment. You can also upgrade to a seven-year warranty covering all parts and one year of cost-free service for fixing damage caused by normal wear. Either choice comes with a 90-day money-back guarantee.
Makita
Makita has a basic one-year warranty for most tools that protects the tool against defects from workmanship and materials.  Their emission-related tools have a two-year warranty covering additional components like the fuel metering system, air induction system, and ignition system. A three-year warranty comes with their battery and charger.

DeWalt vs Makita: Customer Service
DeWalt
We've found customer service to be helpful and quick to respond when Dealing with DeWalt. They usually take time to listen to your problem and offer practical advice. If the tool doesn't work correctly, they will often replace it, usually at their expense, so there's little to worry about if your tool isn't working correctly.
Makita
Makita also has good customer service with friendly representatives, but it's not always easy to reach help quickly with so many companies worldwide. There is also a higher risk of a language barrier when explaining your problem or receiving advice, and they are not as fast to replace things free of charge.

Head-to-Head: Cordless Drill
DeWalt DCD991B 20-Volt vs Makita XFD10Z 18-Volt
The DeWalt is a full pound heavier than the Makita, so that might be something to consider if you use the drill for long sessions. It also loses its charge quicker and is quite a bit more expensive. The Makita has a more compact design that will fit into smaller areas, and both tools have a bright LED headlight to help illuminate the surface in low light conditions. However, the DeWalt also uses the brushless motor and provides more control over the revolutions per minute (RPM). It also has a hammering action for drilling into concrete.
Our Verdict
DeWalt DCD991B Cordless Drill

Head-to-Head:
DeWalt DCS573B Circular Saw vs Makita XSH04ZB Circular Saw
The DeWalt DCS573B Circular Saw and Makita XSH04ZB Circular Saw are much closer in price than the drills. The DeWalt uses a larger blade and reaches a slightly higher RPM. It can also cut slightly deeper. However, these advantages are minor and hardly noticeable when using the tools side-by-side. What is apparent is the comfortable grip and lighter weight of the Makita, pushing it slightly ahead. We also felt that the Makita produced a nicer edge.
Our Verdict
Makita XSH04ZB Circular Saw

Head-to-Head: Cordless Routers
DeWalt DCW600B vs Makita XTR01Z

The cordless router is another area where the DeWalt version is considerably more expensive than the Makita, and if you don't intend to use it much, it can be the decision-maker. Both tools use brushless motors, have built-in LED headlights, and feature a soft start mechanism to prevent jumping when you start cutting. The Makita is capable of slightly higher speeds, but it lacked the DeWalt's torque, and it would often bog down when cutting hardwoods, severely limiting its versatility. It's also harder to adjust the depth of cut on the Makita, and this is one occasion where the Makita weighs more and is clunky to maneuver.
Our Verdict
DeWalt DCW600B Cordless Router

Overall Brand Reputation
Performance
Edge: DeWalt
DeWalt tools consistently perform better than Makita. DeWalt tools have larger, stronger engines that allow you to drill into harder surfaces, cut harder wood, or push more leaves. Rapid advances in battery power are improving performance even more.
---
Price
Edge: Makita
In almost every case, the Makita will be less expensive when comparing similar DeWalt and Makita tools. The savings can be dramatic and warrant a small loss in performance if you don't intend to push the tool too hard. For light-duty drilling or cutting, Makita is a strong contender.
---
Durability
Edge: DeWalt
Even though Makita is not the flimsy foreign tool of a few decades ago, DeWalt is the clear winner in the durability category, with many of their tools able to take drops and falls. DeWalt uses thick housing materials and high-quality components that won't crack or wear out.
---
Design
Edge: Makita
Makita gets the award for best design. Most of their tools are lightweight, emphasizing ergonomics for a comfortable work environment that allows higher precision. Their compact design allows you to work in tight places you may not reach with a heavy and bulky DeWalt.

Conclusion
When comparing a DeWalt to a Makita, your personal needs will play a big part in the final decision. If you only require a tool to do an occasional odd job around the house, you will likely appreciate the lower cost, lighter weight, and comfortable design of the Makita. However, if you have a workshop you spend a lot of time in or find yourself doing many larger projects, you will likely feel better about saving up some extra money for a DeWalt to get a significant boost in power, reliability, and durability.
We hope you have enjoyed our look into these two popular tool makers and have picked a brand for your home. If we have helped answer your questions, please share this guide to which is the better power tool brand, Makita or DeWalt, on Facebook and Twitter.