Ridgid vs. DeWalt (2023 Comparison): Which Power Tool Brand is Better?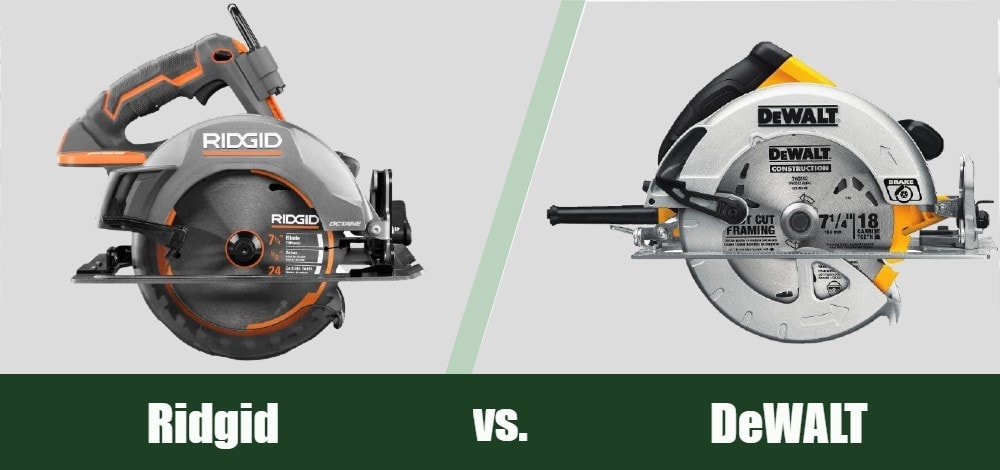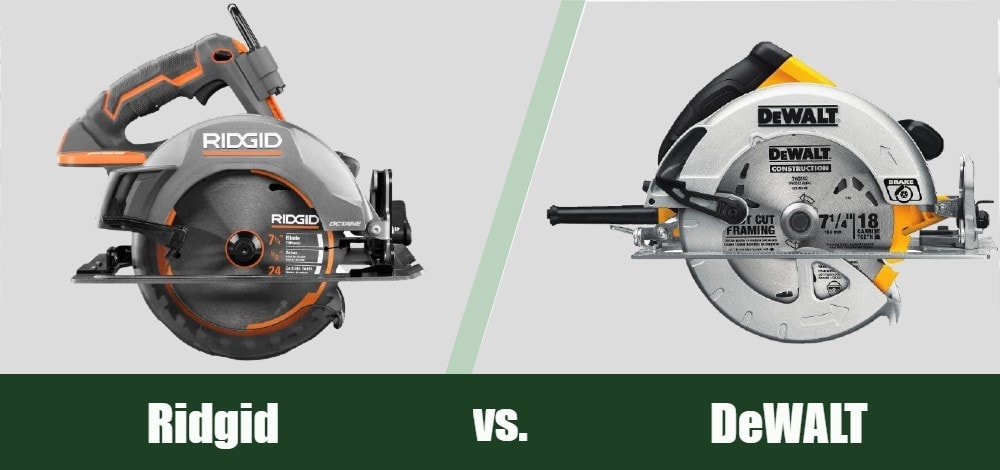 There are dozens of power tool brands on the market. DeWalt is one of the most popular. They are well-known for being higher quality, though they can also be a bit expensive. Ridgid is another famous brand that rose to prominence in the early 20th century.
Both of these brands make decently similar tools and are often in direct competition with each other. For this reason, you'll often find yourself choosing between these two brands. In this article, we'll help you consider several aspects of each to determine which brand is typically the better option.

A Quick Comparison
Image
Product
Details

Ridgid

Established: 1923
Headquarters: Elyria
Ohio
U.S.
Product Line: Pipe wrenches and other plumbing tools
Parent company/ major Subsidiaries: Emerson Electric
CHECK PRICE

DeWalt

Established: 1924
Headquarters: Towson
Maryland
U.S.
Product Line: Contractors' hand tools
screw guns
circular saws
hammer drills
Parent company/ major Subsidiaries: Stanley Black & Decker
CHECK PRICE

Brief History of Ridgid
This company was founded in 1923 in North Ridgeville, Ohio. However, it relocated 20 years later to Elyria, Ohio, where it is still based today. They started with their now-iconic pipe wrench, which is still one of their most popular products today.
In 1966, they became a wholly-owned subsidiary of Emerson Electric. They are still owned by Emerson Electric today.
---
Brief History of DeWalt
The original DeWalt company was started in 1923 by Raymond E. DeWalt—the same man that invented the radial saw arm. DeWalt has changed hands several times. They were bought by American Machine & Foundry Co. Inc. in 1949, but were then sold in 1960 to Black & Decker.
In 1992, the company underwent a rebranding effort focused on its professional-quality tools and high-end power tools. As of 2001, DeWalt sold over 200 different power tools.
DeWalt expanded further by purchasing Porter-Cable in 2004. In 2011, they began a line of contractors' hand tools, which are quite popular today.

Ridgid vs. DeWalt: Manufacturing
Ridgid
As Ridgid is just a brand, they don't technically make their tools. This is why you won't find any information about the manufacturing process on their website—they don't manufacture anything.
This is where it gets a bit complicated. Emerson Electric technically owns Ridgid tools. However, they are not currently making tools under that brand name. Instead, they have licensed that brand name to TTI, which is another tool company. Therefore, none of the Ridgid tools are currently made by Emerson Electric or any of their facilities.
Instead, all of their tools are manufactured by TTI, a global company that makes tools for various companies. This company has a sprawling factory complex in China, where it produces most of its tools. While we can't find information on where Ridgid tools are explicitly made, they are likely made in TTI's Chinese factories.
While Ridgid is an American company, they don't make their tools. An international company does, and most of their factories are in China.
DeWalt
DeWalt was founded in the U.S. and made all of its tools here once upon a time. They still have seven facilities in the U.S., where they manufacture some of their most popular tools. However, they have grown into a global company and make some of their tools in other countries today.
They will often source smaller parts for their tools from other companies but put the tools together in the U.S. These tools are labeled with "made in the U.S. with global products." As the years go by, DeWalt seems to shift more and more of their manufacturing overseas. We expect this trend to continue.
In general, where a DeWalt tool is made varies. They have their factories spread throughout many countries.
---
Ridgid vs. DeWalt: Product Line
Ridgid
Ridgid has very popular plumbing tools. They started with their red pipe wrench and then expanded their line to encompass other tools as well. They added power tools much later than DeWalt, as most of their history is focused on plumbing tools.
Power Tools
Today, they do have a few popular power tools. Their brushless compact router is one of their most popular options. They also make a rotary hammer and a decently popular belt sander.
They make pretty much any power tool you may need, including tile saws, corded power tools, and pneumatic power tools. They even make a few compressors to go with their pneumatic tools.
---
DeWalt
DeWalt has always made power tools. They are best known for their high-end options that are made for professionals and challenging to find elsewhere. They have recently started making contractors' hand tools and are further expanding that line all the time.
Power Tools
DeWalt is best known for their cordless tools today, though they still create a complete line of corded options as well. All of their cordless tools share the same batteries, so you can easily switch the batteries out between each tool. Currently, they have 68 different power tools you can purchase.
That isn't counting their pneumatic tools and air compressors.
Ridgid vs. DeWalt: Price
Both of these brands make high-end power tools, so they are both going to be more expensive than other options. Neither of these companies makes budget tools.
Ridgid
All Ridgid power tools cost at least $100. The exact tool will vary its price. You also have to consider whether or not you're buying a cordless tool, which is usually more expensive because of its battery. Their combo kits are typically over $350, though it does depend on the exact tools included. The higher-power of the tool, the more expensive it will probably be.
Usually, the Ridgid tools are about the price you'd expect a high-end tool to cost.
DeWalt
DeWalt tools are usually similarly priced when compared to the Ridgid tools. Once again, this is not a budget company. Instead, they make high-end tools, so you should expect their costs to match this.
Generally, for just the tool, DeWalt costs about $100 and up. Some may cost upwards of $200, depending on the specific tool. DeWalt batteries are costly, so be sure to add in that cost as well. Many are sold as "tool only," which means you will have to separately purchase a battery.
While their tools aren't that expensive, the added battery can drive up their price substantially.
---
Ridgid vs. DeWalt: Warranty
Both of these brands offer some warranty. The warranty can vary from product-to-product. Sometimes, the tools are covered under a company-wide warranty; sometimes, they are not. Still, both of these brand's general warranties are comparable—don't assume all the company's tools are covered under this warranty.
Ridgid 
Ridgid offers two leading warranties: a lifetime warranty and a 3-year limited warranty. Different warranties cover different products. Some are covered by both. The lifetime warranty covers material and workmanship defects. This warranty covers lasts for the lifetime of the tool. You do have to ship the product back to the company or an authorized independent service center. Warranted products are repaired or replaced under the warranty.
The three-year limited warranty covered tools include hand-held power tools, stationary power tools, and pneumatic tools. This covers problems that arise from normal wear-and-tear if the tool has been otherwise cared for. It does not cover any malfunction that is the result of misuse, abuse, or neglect.
DeWalt 
Most DeWalt tools are covered under a 3-year limited warranty. This covers any defects that are due to faulty material or craftsmanship. The warranty does not cover normal wear-and-tear. Most tools are also covered by a 1-year free service contract. This allows you to contact DeWalt for the maintenance and replacement of worn parts caused by normal wear-and-tear.
Most tools are also covered by a 90-day money-back guarantee.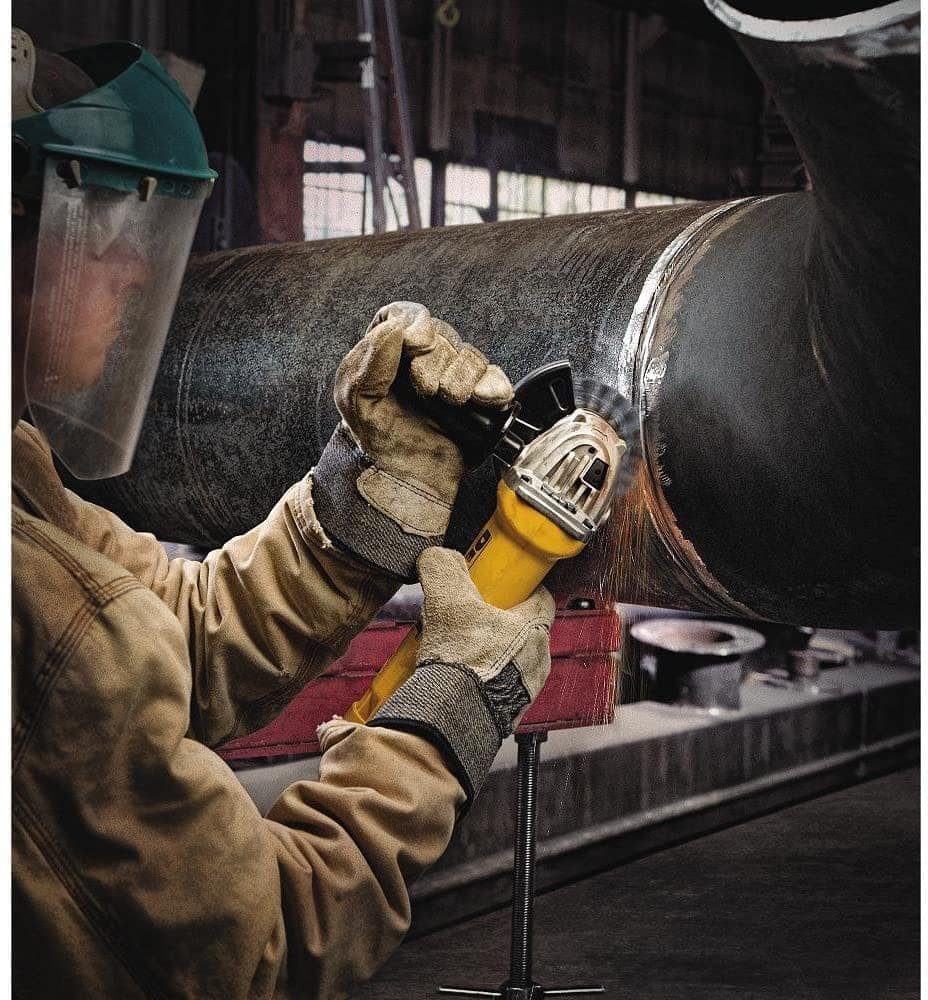 Ridgid vs. DeWalt: Customer Service
The customer service for both of these companies is okay. You're going to find customer service complaints about any company. The hard part is separating valid customer service complaints from confused and overzealous customers.
Ridgid
There seems to be some complexity to Ridgid's warranty process. This means that many service centers have a hard time following their process exactly correctly, which voids the warranty on the customer's end. There are many complaints about customers having to pay out of pocket for their tool's repair. There are many hoops you have to jump through.
There is also a significant problem where one person working in the customer service department will tell you one thing, while someone else will tell you another thing. This occurs a lot when trying to register your machine, which is required for you to use the warranty.
Furthermore, we noticed many complaints of the company refusing to provide missing parts, repair tools that were damaged during shipping, etc.
DeWalt
DeWalt's customer service is slightly better than Ridgid, but it still isn't the best out there. They are very picky about what their warranty covers. For example, if you've used the tool more than one time, they may decide that an obvious fault isn't actually a fault at all—and therefore refuse to cover it. For the cost of the tool, this is unacceptable.
When they do accept faulty tools, it takes a long time for them to be repaired. In many cases, it takes months for the tool to be fixed, which is unacceptable for most home owners and professionals.

Head-to-Head: Cordless Drill & Impact Driver Combo
Ridgid R9600 vs. DeWalt DCK240C2
Both of these companies offer a cordless drill and impact driver combo. You save a bit of money in both cases by purchasing these combos instead of the tools individually. Generally speaking, the DeWalt tools are a bit cheaper than the Ridgid combo. This gives DeWalt a little bit of an advantage. However, the price isn't that different. Because of this, we don't think you should just choose DeWalt because you're saving a bit of money.
Ridgid's tools also seem to be a little weighty. Both brands have heavy tools, especially since they're cordless and both have batteries. We don't think anyone could use the Ridgid tools all day long— they're just too heavy.
Besides that, there was not a significant difference between these two tools. They both perform well and the battery lasts a decently long time.
Our Verdict: DeWalt
---
Head-to-Head: Combo Kits
Ridgid

R9652 18V 

and DeWalt 

 DCK620D2 20V MA
DeWalt and Ridgid both also make combo kits. These kits include quite a few different tools. They're made for those who are just getting started on a DIY or professional level. You save a bit on tools when you buy them in a combo.
In fact, both kits come with the exact same things: drill, impact driver, circular saw, reciprocating saw, LED light, two batteries, and a charger.
We've already discussed the drill and impact driver—where DeWalt comes out on top. Furthermore, we aren't going to compare the LED lights, as they're pretty much exactly the same.
The circular saw from Ridgid seems to be a bit more powerful. It is heavier, which contributes to the accuracy of the tool considerably. It seems to have a bit more bite due to its weight. On the other hand, the DeWalt reciprocating saw was a bit better than the Ridgid. It was more comfortable and not as heavy. In this case, the heaviness of the Ridgid doesn't seem to contribute to the tool's power or accuracy.
Our Verdict: Tie
---
Head-to-Head: Planer
Ridgid

13-inch Corded

vs. DeWalt

DW680K 7-Amp 3-1/4-Inch
This is an odd and not very popular tool—making it the perfect option for judging each company. Many companies put a lot of their focus on a few tools and then leave the others out to dry.
The Ridgid Planer has quite a few more features and is a bit more sophisticated than the DeWalt. Both of them perform similarly in practice, though. Many of the extra features on the Ridgid aren't going to be used very often, especially by those doing simple projects.
The Ridgid is a bit cheaper than the DeWalt. The DeWalt's extra cost goes to extra blades and tables, which you may have had to buy it anyway.
Our Verdict: Ridgid, slightly.

Overall Brand Reputation
Performance
Edge: Tie
In general, both of these companies make tools that perform pretty similarly. They may have different features and cost slightly different amounts. However, they are generally all going to perform like professional tools.
---
Price
Edge: Ridgid
Ridgid is usually cheaper than DeWalt. However, this isn't always true. Sometimes, DeWalt may be cheaper. Other times, there might not be much of a difference at all! In general, though, Ridgid is a bit cheaper.
---
Durability
Edge: Tie
Both of these tools last a similarly long time. Most of the time, they last for a long while. Neither company creates cheap tools that are just going to break after a little bit of use.
---
Warranty
Edge: DeWalt
DeWalt has a better warranty not because of the length or what it covers, but because there aren't as many hoops you have to jump through. It can be very hard to use a Ridgid warranty. You have to register your tool, which can even be difficult in itself.

Conclusion
Overall, DeWalt seems to be the better option. The Ridgid warranty is just too hard to use appropriately, and their tools seem to be unusually heavy. They are cheaper, though. If you're looking for a budget option, you may want to choose a Ridgid. However, we often find that the price difference isn't substantial, so you shouldn't base your purchase only on that.
See Also: Festool vs DeWalt: Which Power Tool Brand is Better?