12 Dining Room Trends In 2023 – Design Ideas for a Modern Home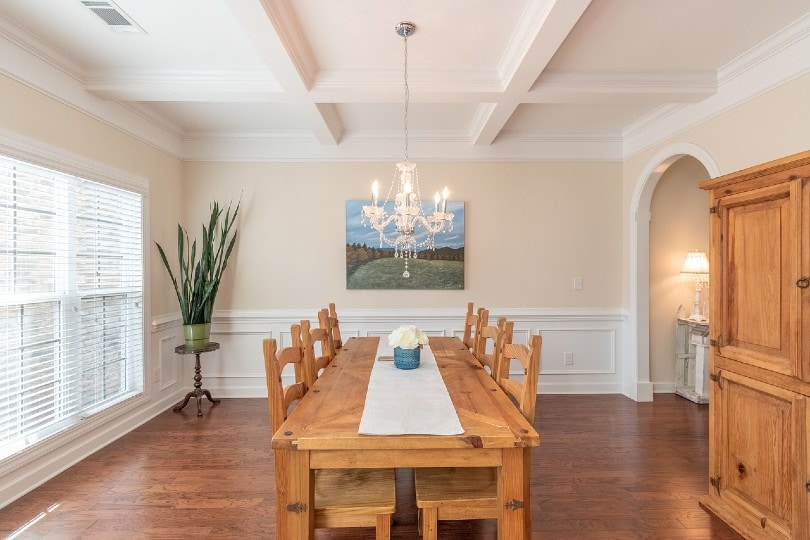 The past two years has seen the dining room converted into an office space, teaching area, reading room, and, occasionally, somewhere to sit and eat with the family. Although there is still some uncertainty over exactly what the future holds, we are, at least for now, able to have family and friends over for dinner. This makes it the perfect time to freshen up the room and to potentially give it a whole new lease of life.
If you are considering upgrading and updating, below are 12 dining room trends that are going to prove popular this year, according to design experts.

Top 12 Dining Room Trends in 2023
1.

Leather Upholstery
Leather upholstery makes a bold statement and good quality leather upholstered chairs tend to be hard wearing and long lasting, which means that this trend also ties in well with the desire for greater sustainability. Buying leather chairs doesn't necessarily mean that you're restricted to a choice of black or brown, either, because there is a sparkling array of leather chair colors to choose from.
---
2.

Cord Upholstery
Other materials that will prove popular in upholstery are velvet and cord. Cord has been evident in sofas and living room chairs for some years, and it is now making its way to dining room furniture and other items around the home. Like leather, it is durable. However, it does love lint and animal hair and it can become matted, especially if used roughly and regularly, which can leave it looking worn.
---
3.

All White
The all-white look is out of fashion in kitchens but very much coming into fashion in dining rooms. White walls, white furniture, white ceilings, and white drapes. You don't have to choose brilliant white for everything: there are various subtly different shades to choose from, allowing you to add a little design to the room, but white is crisp, refreshing, and fresh. It also does a really good job of enhancing any natural light that you get through doors and windows.
---
4.

Bold Colors
If all-white isn't your thing, whether for practicality or any other sake, then fear not: bright and bold colors are also in, enabling us to celebrate being able to turn the dining room back into a dining area. You don't have to go overboard and if you're not ready to paint the walls purple, you can add color by introducing accent pieces throughout the room. Alternatively, go all out, and throw color everywhere.
---
5.

Japandi Design
Japandi combines the Japanese minimalist design ethos with the Scandi natural design that is heavy on wood. It's popular in bathroom design and throughout the house, and it lends itself perfectly to the dining room because it allows for wooden table and chairs, with added elements of Japanese design thrown in for a unique finish.
---
6.

Sustainability
Covid has dominated headlines for the past two years, but climate change has also been a prominent feature. As such, sustainability is a sure-fire trend and this can include your dining room design. Use sustainable materials, upcycle old furniture, and create something that will make you feel good when you sit down to dine. Reclaimed furniture looks great, too, and it means that you can finally put those wooden chairs in the loft to good use.
---
7.

Round Tables
The round dining table allows for more intimate conversation, and it better utilizes the space you have available, which is especially beneficial if you have limited room for a table and chairs. The table can be made from wood, or it could be reclaimed or made using sustainable material. As long as it's round, it will be on trend.
---
8.

Marble Tabletop
Marble is an ancient material but is actually rarely really seen in the dining room. A marble tabletop screams luxury, and the polished material reflects light so it really catches the eye as you enter a room. Fortunately, marble goes well with wood, which means you don't have to have stone plinths as chairs and can have some wooden models instead.
---
9.

Tablescaping
This is the year to celebrate friends and family, and especially to celebrate being able to spend time with them again. Effectively, use any opportunity to invite people over for dinner, and use that as an opportunity to dress your table. Tablescaping is all over social media and rather than simply setting places for everybody, it typically requires the design and implementation of a theme for the table. A tablescape can be simple or complex but it should be effective and memorable.
---
10.

Fur Rugs
Borrowing from the Scandi design style again, fur rugs are luxurious and look inviting and comfortable. While they might be more commonly found in living rooms and bedrooms, they also make a great addition to a dining room. Place them under the table, next to the table, and even use them to decorate your benches or chairs around the table.
---
11.

Smoked Glass
Glass is beautiful, transparent, and reflective. It can make a real impact when used to create ornaments or as a lightshade, but this year will see smoked glass take the place of clear glass. Thing lightshades and light fittings, vases, and even smoked glass tabletops. As a light fitting, smoked glass allows the light to escape, and because it is smoked it bathes the room in warm light and isn't too bright.
---
12.

Hanging Plants
You don't have to create your own indoor gazebo, but hanging plants are fresh and they can perfectly complement a natural tablescape design, too. Choose plants carefully and make sure that you can easily water the ones you choose without watering the light fittings and the table below.

Are Dining Rooms Still Popular?
While a lot of people appreciate the extra space that a kitchen diner combo offers, having a separate dining room enables you to prepare food away from the prying eyes of your guests. They won't see the panic in your eyes as the food catches or burns. Over the past two years, we have also seen the additional benefits of the dining room, thanks to its use as an office, classroom, yoga studio, and more.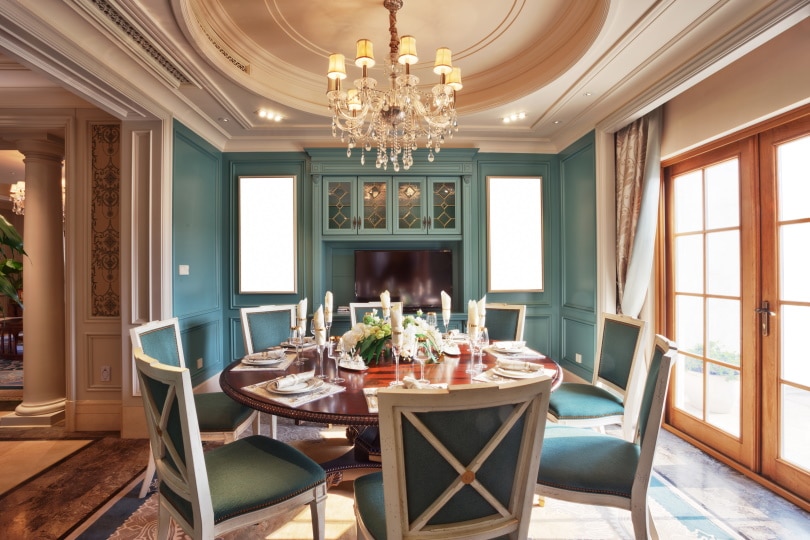 How Do You Modernize A Dining Room?
If you don't want to embark on a full refurbishment of the dining room, you can always buy rugs to dress up the floor, change your dining furniture, and find a statement piece that adds an injection of color and character to the room. Even small changes can have a big impact and becoming a tablescaping aficionado means that you can offer a different dining experience every mealtime.

Conclusion
Obviously, a lot of people are still having work from home and the dining room tends to be a convenient space to double up as an office or classroom. However, most of us are also now permitted to have friends and family over for meals, so it is a great opportunity to update and refresh the dining room space. Use the trends above for inspiration and to find the perfect looking dining area for your home, but don't be afraid to add your own character and charm for the best results.
---
Featured Image Credit: Ernest_Roy, Pixabay