23 DIY Basement Stair Ideas & Design Tips (with Pictures)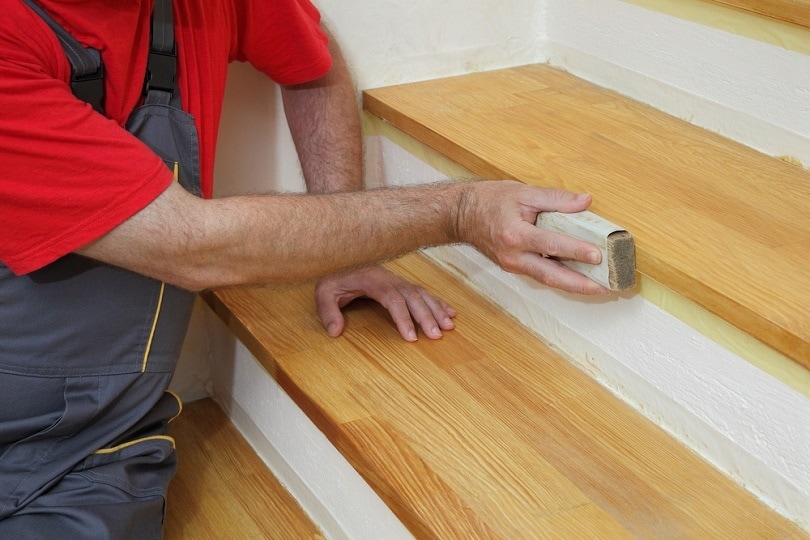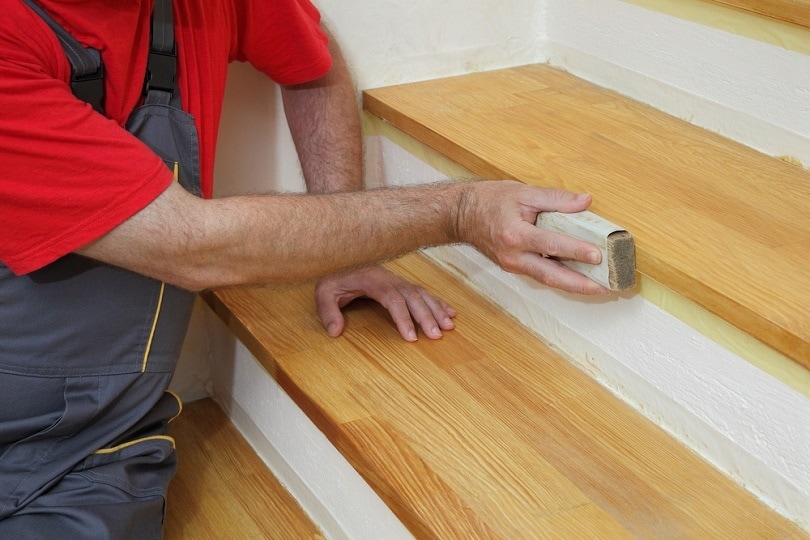 If you are thinking of remodeling your basement, don't forget about the stairs. Though staircases are often forgotten about during the remodeling stage, they can set the tone for your basement. Still, it can be tough to know what to do with stair space since it serves a functional purpose instead of a decorative one.
To help get your creative juices flowing, we have tried to find a variety of basement stair ideas to help give you some inspiration. Feel free to mix and match these ideas to fit your dream basement design.

1.

Hidden Safe
If you have valuables or anything that you want to be kept from the general eye, transform beneath your stair space into a hidden safe area. All you need to do is extend a wall, door, or bookshelf beneath the stairs. Place the safe behind the wall, just be sure to make the wall so you can open it!
---
2.

Painted Flower Stairs
Transform your stairs into a whimsical dream by painting roses and flowers on each riser. As you can see in the example provided, standing at the bottom of the stairs gives the illusion of flowers creeping up your stairs. This idea works for any design idea, too, not just flowers.
---
3.

White Paneling
Not everyone likes the creative or rustic look. For a more modern and crisp appearance, design your basement stairs to be all white with simple wall paneling. Even though white may sound like a boring color, it can elevate any stair case, especially staircases that run the risk of being dark and dreary.
---
4.

Pattern Stairs
No matter what your taste is, decorate your basement stairs with pattern on the risers. Whether you like traditional designs or funky flavors, add decorative patterns to the risers to give your basement stairs your own personality. You can make your own designs or search online for templates.
---
5.

Runners
Sometimes, you don't have much extra money to spend on a renovation. If you find that you don't have enough money for a dramatic stair redo, simply add a beautiful runner down your carpet. Wholesale Carpets has stunning options to add to your stairs. Feel free to add your own flair by selecting a carpet that matches your personality.
---
6.

Rubber Stair Treads
If you have kids, you might want to opt for a stair design that accounts for their messy shoes and potential for slipping. Add rubber stair treads to keep all of the mud and junk downstairs, away from your carpets upstairs. Uline gives some crucial information about rubber stair treads.
---
7.

Wine Cellar
For a more adult look, utilize the underneath area of your stairs by putting a mini wine cellar. Though this will obviously be a more expensive option, it will definitely look stunning in any basement. Make the doors glass so that all visitors can view the beautiful wine cellar underneath.
---
8.

French Doors
Instead of putting a regular door at the top of your basement stairs, install a beautiful French door. These doors will make entering the ground level luxurious, inviting, and bright. If you need wider options, then opt for a pair of French doors that open out.
---
9.

Metal Risers
As you've probably noticed by now, risers are one of the greatest ways to revamp your basement stair space. For a much more elegant look, decorate your stair risers with a metal front. This look is definitely unique, and it is unlikely for your other friends to have a similar design. Pair it with a hardwood top, and you have stunning stairs instantly.
---
10.

Pipe Handrail
All stairs need a handrail to help people stay balanced when going up or down the stairs. Replace your boring handrail with one that looks like a pipe. This gives your interior an industrial look that is surprisingly modern, unique, and fresh.
---
11.

Copper Risers
Copper risers are completely cool and modern. At the same time, copper is a timeless material that will work now and in the future. Ryan Saghain's copper stairs are just one example of how you can use copper in your basement staircase.
---
12.

Geometric Designs
Geometric designs have been very popular among home decor for several years now. Incorporate the trend within your basement stairs by painting the risers with geometric shapes. You can either do straight lines, squares, or diagonals.
---
13.

Ombre Stairs
Give your basement stairs a fresh look by painting the risers ombre. Ombre is when you gradually change the shade of the color as the stairs go up or down. This gives the illusion of the stairs nearly melting into one another. You can go for a bright color, such as the stairs found above, or you can do more mellow subdued colors like blue or gray.
---
14.

Horizontal Railing
Most railings you see are vertical, meaning they go up and down. Switch up your railings a bit by making them horizontal instead. Horizontal railings are just as effective, but they give a more unique and modern look to your basement staircase. With these types of railings, all you need to do is paint them a simple color to match the rest of the basement.
---
15.

Wood Walls
Decorate the entire staircase by putting wooden paneling on the walls. If you can't afford actual wooden panels, then you can get wallpaper that looks like wooden panels instead. This gives the staircase a rustic and warm look. If you have wooden stairs, make sure that the wooden panels on the wall are a different color and shade to give dimension.
---
16.

Floating Stairs
Floating stairs don't have risers. Instead, the backs are open, giving a floating effect. Though these probably aren't the best choice if you have small children, they are incredibly attractive and modern. Add this to any basement in which you intend to entertain more mature guests.
---
17.

Glass Railing
If your basement staircase is closed off and looks dark, consider taking out one of the walls and replacing it with glass. This glass wall will open the room and bring in a lot more light. If you don't want the entire wall to be glass, then you can simply make the area beneath the railing glass. This design will likely require a professional since it involves removing a wall.
---
18.

Spiral Staircase
Spiral staircases can give you a lot more room in cramped basements. There are tons of options to choose from for spiral staircases. You can either hire someone to build a custom spiral staircase, or you can buy one premade. Either way, a professional will likely be needed to install such a staircase.
---
19.

Bright Spindles
Add a pop of color to your basement stairs by painting the spindles and stair risers of bright color. Like in this example, you can paint these spindles and risers a bright red. Any other color will work too. Just make sure that it pops and stands out against the rest of the staircase's materials.
---
20.

Bottom Gate
If you have babies or pets, you might want to put a gate at the bottom of the basement stairs. Instead of opting for one of those hideous premade gates, make a rustic and stunning baby gate using pallet wood. This option will likely be cheaper than buying a traditional baby gate, yet it is also more attractive and secure. It really is a win-win in terms of appearance and safety.
---
21.

Stone Risers
Add dimension and texture to your staircase by decorating the risers with stones. Small stones look natural and elegant. Don't worry, you don't have to glue individual stones to your risers. Instead, there are tons of wallpapers and stickers you can add to the back of the risers that have a stone design. This makes this option affordable and easy to install.
---
22.

Couch Under Stairs
Make the most of the under stair space by placing a small couch underneath it. This gives guests extra seating room, and it makes the basement look more put together. This may be an especially great design option if you have children who like having sleepovers. You can even consider designing the couch so that the top can lift off, giving you extra storage space underneath the cushion.
---
23.

Paint Rug on Stairs
If you love the rug on stair look but are afraid of slipping on the rug, paint a rug on instead. All you need to do is paint on the top and riser of each stair. This gives the illusion of a rug, even though the stair is completely even and flat. You can mix or match designs, such as in the example above.
---
Featured image credit: sima, Shutterstock